Do you think jueila or samantha lied about talking on Webcam? I actually believe samantha. Jueila made it seem like they were great friends and talked to her daughter on webcam, but samantha acted surprised when told that. I don't think she wanted to call jueila a liar so she just said that she didn't talk to her on Webcam instead of saying anything else because people like jueila. Impossible to know who was telling the truth, but as a pure guess, I'm with you. I think Sam is telling the truth on that one.
Did u believe Sam's apology on "after paradise?" Why or why not? All she apologized for was not admitting to her text relationship with Joe earlier to the group. Do I believe it? Tough to say. If she wasn't getting crucified on social media would she have apologized? Probably not. But that doesn't necessarily mean because someone is basically "forced" to apologize that they don't mean it. I don't know. I'm trying not to think about it much anymore since there's a lot we don't know.
Why is sam getting bullied and sent death threats like kaitlyn, yet Chris Harrison didn't say anything about it on the after show? He actually interrupted her and talked over her when she said she got death threats. Regardless of the lies she told, nobody deserves death threats. It's sad that people get so involved in the show that they get so mad over what these people do and say. Very sad.
Kaityln must have lived with her parents if she never had a job. Nobody knows what she did for a living besides dance instruction, but don't know where she taught or who she taught. She never answers anyone about it either. I think she probably learned some type of dance and maybe taught it for free, or just said she did so she could try and get on dancing with the stars. Anyone who is am advanced dancer in any type of class like hip hop, ballroom, or Latin dance could teach a class. Especially if that class was for children or beginners. I would know as I took a few classes and then taught the community for free for beginners and kids, and said I taught dance instruction on my resumes since I was in high school and didn't have much of a background with jobs. A class was 6 months long. If she actually was a dance instructor that got paid then she would at least say who she taught or even where she taught. Clare crawley said she was a hair stylist and told where she worked. Normally contestants don't have a problem telling people where they worked. If she didn't have a paying job then she most likely was living off of her parents or with her parents.
Didn't you say she went to beauty school but didn't finish? We all saw how well she cut hair lol
Seems like her and Sean are just living off of appearances and what she made off of the show with no plans to have a job soon. She has a blog and I think has plans on making t shirts. Lol I just never liked her season. It had nothing to do with her having sex with nick and telling Sean he was the one before she did. It has to do with the fact that it was a boring season and she annoyed me with her "fat old man" laugh, her jokes, her rapping that she thinks is good, and the fact that all she did was make out with people. It was the first season I didn't watch all of besides Ben's season. Pretty good assumption they are living off appearance fees, endorsements, and her money from the show considering neither have them have worked a day since July 27th.
Did u see how Jorge the bartender is now on twitter and instigram? Lol strange how a bartender that was shown on tv maybe for 2 mins now has a following. If Clare's raccoon has a following, a real live person like Jorge getting one doesn't surprise.
What do u think of jaclyn's plastic surgery? Did u think she was better looking before her nose job, etc or after? I think she looks better now minus the hair color.
Why did you think jeord went to the fantasy suite with Ashley if he didn't like her? Why did he keep going back to her? Was it just to stay on tv like jueila did with mikey, or do you think that he was trying to figure out if he liked her or not? Was it for money? I think I read that you said that the longer u stay the more money u make. I think Jared was too nice to say no. And contracts are different. Some people were paid per day, some were paid per episode, and some got a flat contract to come on.
I feel like Ashley was me back in 7th grade when I had my first boyfriend and was very immature. She needs to date around and learn who she is and what she wants. The stuff she said like she is "going to be ruined forever" and how she wrote him that very long letter was something a little girl would do. She really is a " little girl trapped in a woman's body." She is pretty but it would be hard to date her. I couldn't if if was a guy.
Love your spoilers! Looking forward to daily links and seeing who Bens girls are!
Comment: Yeah, I don't think any of are convinced Ashley is ready to be in a relationship with anyone. Nor would any sane guy who watches this show want to be in a relationship with her right now either. No one wants to deal with that.
______________________________________________________________
Hi Steve,
I'm planning on going to Vegas with my family (I'm 23, sister is 20 and my mom) later this year and was hoping to hear your suggestions on hotels/restaurants/things to do for first timers.
Thanks!
Comment: I get asked this a lot and it all depends on your budget and what you're interested in doing. Without that, I have no idea which direction to lead you in. There's stuff for all ages out there, not to mention restaurants, shows, pools, etc.
______________________________________________________________
Deflategate, Kaitlyn Jenner, Samantha-Joe-Juelia…
"What are 3 things I never want to hear about again."
Comment: Couldn't agree more.
______________________________________________________________
Hey RS!
Weird question I thought of while watching BIP… Whatever happened to Dave good? After bachelor pad 1, he kinda disappeared didn't he? What's he up to now?
Comment: I believe he moved to FL shortly after BP and has been there ever since. No idea what he's doing now though.
______________________________________________________________
Hi Steve,
Did you catch the part of After Paradise where Samantha said (twice) that she had gotten death threats? Chris Harrison totally ignored her, which I though was hypocritical after he made such a big fuss about Kaitlyn's death threats. So, it's NOT okay if your lead gets death threats, but if this happens to the girl you're trying to portray as the villain, it's no big deal? Granted, I'm sure Samantha brought that up to get sympathy, but I still thought Chris was a hypocrite. Chris Harrison a hypocrite? No way! Yeah, he can get that way.
What is your read on Samantha? She strikes me as just another fame seeker who's too dumb to realize she can't control her edit. But not as a manipulative villain. What do you think?
Comment: I see that. She definitely went on the show for attention, to promote her clothing line since now more people know her, and I just think she had no idea what she was getting into since nothing happened to her on Chris' season.
______________________________________________________________
Hi! Huge fan, obviously! Been following forever since my Mom would always spoil everything for me by reading all of your posts before each season. Naturally, I got hooked.
Anyways, just had one question that has always been confusing to me:
Each season, especially on Bachelor/Bachelorette, the contestants always say week such and such, when really, it's only been a few days. And now on BIP2, they have been saying it's week five and whatnot…so, what's the ratio from days to weeks or vice versa? How does it all add up?
Thanks and keep up the amazing work!!! And by the way, super jealous you got to go to the Taylor Swift concert! Side question: do you prefer her musical style now, or did you like her when she was more country?
Comment: They tell the contestants to speak in "episode time," not real time. Filming was 20 days total, but the show is six episodes. So rather than say, "Here we are in week 3," they just have them say "week 6."
Although I liked her in country, I've always liked pop/Top 40 stuff so I'd say I like Taylor's current stuff better.
______________________________________________________________
(Subject): The After Show…did you notice?
The last minute of the after show last night when the credits were rolling…the body language was really interesting… when everyone stood up and chatted with each other. Jerod, standing behind the couch, kept his eyes on Ashley as though he was waiting for her to look his way. Ashley, on the other hand stood in front of the couch, completely ignored him, didn't acknowledge him or even looked his way and actually turned her back to him.
Comment: I didn't notice. My Fantasy Football draft was Monday night and had already started towards the end of "After Paradise," so I had it playing in the background but wasn't watching.
______________________________________________________________
Hi Steve,
I have some comments on BIP & the after show.
I am a sucker for all things Bachelor, but I am not a fan of this season of BIP and it's format. 4 hours is way too much time, I usually forget that there's an episode on Sunday night and by the time it's on again Monday I don't care to go back & watch 2 hours of Sunday's episode. And I will not record the season because it will clog up my DVR. 4 hours is waaaaaay too much this season. I agree.
And the after show… It feels awkward and it's uncomfortable to watch. From what I hear, most people don't like the co-host Jenny and I completely understand why. She is a terrible interviewer and comes off way too strong and aggressive. She called Ashley S. crazy to her face without really talking about her behavior or trying to get Ashley's perspective of her time on the show, which should be the point of the interview. And her backstage stunt with Samantha, yelling in the background, fell flat and uncomfortable. She didn't want Samantha's side of the story. She was talking at her, not to her. No, Jenny isn't liked by a lot of them that's for sure.
After you posted the Jake & Vienna breakup I started to watch clips of past seasons and Bachelor Pad. Bachelor Pad was actually interesting and I remember why I liked the show better than The Bachelor/ette. It was fun to watch and the drama was much more entertaining, while they had probably the same amount of relationships formed out of the show. Less pressure for couples to get together since they were there for a reason other than "finding love" led to more real relationships.
But I was thinking of ways that BIP could work better and had a few ideas, just for fun..
– They could start the season with 2 different camps. Maybe one would have 6 guys/4 girls, form couples and vote 2 guys off. The other would have a similar setting. But then the groups would meet, and contestants would go on dates with the opposite group and leave their original partner.
– Or they could have a core group that does not get sent home, 3 guys and 3 girls. Then have new contestants come in and the core group can date/pick anyone. Their picks would stay and incoming contestants who don't get picked go home.
Basically the format they are using now feels lazy and tired. I want to enjoy it because I love trashy reality tv but this show doesn't do it for me. While they are getting a good size audience, I hope they think of something better for next season!
Comment: Good ideas. Will they be implemented? Probably not. I'm sure this will be roughly the same format going forward next season.
______________________________________________________________
Hi Steve!
Long time fan of you and your site. I'm not writing to tell you you're wrong about the ending of BIP, as there are obviously things you know that I don't. I just wanted to know if you're still positive Jade and Tanner are engaged.
I took notice in the preview Tanner saying to Jade, "I can't give you those rose." Automatically I thought "well that's probably just because he wants to give her a ring first instead!" I also just figured that Jade is crying so much and saying "I hate him" as a result of the fact that Kirk broke up with Carly, and Jade is upset for her best friend.
However, in the clip of Tanner saying "I can't give you this rose", he is wearing a blue shirt. In the clip of him putting a ring on her finger, the guy is a wearing a yellow shirt (I attached pictures of both scenes, even though you may have already seen them).
Basically, my only question is, do you still stand by your words that Tanner and Jade are the engaged couple? Could it just be the editing? I'm sure those editors know how to be pretty crafty and know how to throw people off.
Again, I'm not here to tell you you're wrong, that you suck, or whatever else people normally tell you when you get the ending wrong. I just wanted to know if you're still certain that Tanner and Jade are engaged. Thanks Steve! I truly appreciate what you do and I hope that Jade and Tanner are the engaged couple, as you've been saying all along.
Comment: It's impossible for me to prove it any way, so all I can do is say what I've said for two months: Tanner and Jade are engaged. What you're being fooled by is the editing. You'll see on Monday.
______________________________________________________________
As a male, are you as attracted to the spell-binding Samantha as the rest of BIP? I'm a 33 mom of two, and married, but I am starting to be jealous of the girl! She's got some game! I miss my youth…HUGE fan of your site and the show. #ineedalife #desperatehousewife #ilovedan
Comment: She's extremely attractive. And she knows it and uses it to her advantage like most attractive women.
______________________________________________________________
Hi Reality Steve!
I stopped by our local "Drug Mart" this evening (in SW Ohio) to purchase a heating pad. Imagine my surprise when I noticed the "cover model". I won't lie, I audibly gasped and giggled. The staff looked at me like I was a freak. This made my night. Hope it makes yours! Keep up the great work!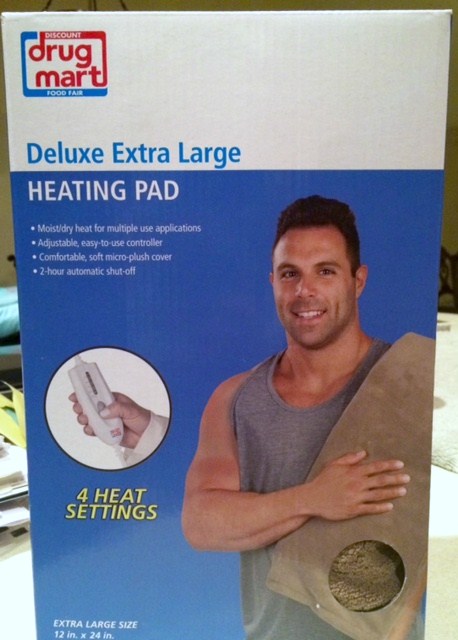 Comment: Hey, if this show leads you to modeling for heating pads, I guess some people will take whatever they can get.
______________________________________________________________
Send all links and emails to: steve@realitysteve.com. To follow me on Twitter, it's: www.twitter.com/RealitySteve. Instagram name is "RealitySteve," or join my Reality Steve Facebook Fan Page. Talk to you tomorrow.