Finally, it's over. All the drama, the 2 minutes of dates we get to see, the "who is Samantha into this week" storylines is done. We have finally moved on from "Bachelor in Paradise" as everything I told you two months ago played out exactly as it should've, and we're moving on. However, a few things to get to before your recap as this is the last week of full columns. Remember, tomorrow is going to be BOTH your final "Reader Emails" and "Dr. Reality Steve" of the calendar year, with the live video chat happening tomorrow night because I'm out of town on Thursday for gambling related purposes. Go figure. Next week, we begin back up with the return of "Daily Links." Since I'm not back in town until Monday, "Daily Links" will appear starting on Tuesday, and continue throughout the end of the year. Sure there might be a couple days here and there that I miss, but ultimately you can come back here every day starting next week for links to stories in the reality TV/entertainment/pop culture world, along with my thoughts. And oh yeah, we've also got that little thing called the "Bachelor" starting up soon that I'll be spoiling as it's being filmed, so yet another reason to keep it here for the next two months.
Speaking of the "Bachelor," as I tweeted out and mentioned in my video chat on Thursday, I was going to be announcing the start date for filming in today's column. "Bachelor" filming starts Thursday night, Sept. 24th, with most of the girls arriving on the 21st to get situated in the hotel, shoot some ITM's, and do their high school yearbook head shots for their bios. I think a few are gonna arrive Sunday the 20th, but everyone will be there by the 21st, and the limo entrances will be on the 24th. As we know now, a lot of dates early in the season in LA are spoiled on social media, so that will be happening once filming begins. I will start releasing some of the girls once the season rolls around as I've got quite a few already. I've also gotten some information on where they're headed this season but waiting to confirm on a couple of those. Once I get confirmation, I'll let you know. In addition, and I know I have to tease this because it's something I can't run with, but I've got something for you readers that I think you'll enjoy this season. It'll be a few months before I can talk about it, but I hope you like it when it finally comes out. Can't say anything yet, but it's something I've never done before. Won't happen til probably December but I think you'll like it. Probably the biggest coverage this site has ever had.
So I tweeted out the other night when Jared was leaving the show about someone in the "Bachelor" family that he's been in contact with recently and what the status is with the two of them. Well the person in question was Becca. They've been doing the whole incestuous Bachelor family flirting, and they were supposed to see each other when he was in LA last week for "After Paradise." What happened? Nothing. Apparently he never heard from her when he got in town, even though she had said they would. So now it looks like our little Becca basically just likes every guy from the franchise judging by her tweets and Instagram posts and is loving the attention. Does that mean she'll go on Ben's season? Nothing is confirmed at this point. We have no idea what producers have in mind for his season yet, so anything at this point is pure speculation. We know Becca has interest in Ben, but so do many former contestants. IF, and that's a big IF, but IF they decide to bring a former contestant on, I'm sure it'll only be one. They're not gonna stack his season with all these former contestants. They've got their cast. At the most they'd throw one in there. We'll find out later. Pointless to discuss now.
Speaking of former contestants, Nikki Delventhal from Chris' season will not be going on Ben's season. Just wanted to point that out. Hell, you probably don't even remember her from Chris' season. I do. She was kinda like Samantha in that she was super attractive, got no air time, and you barely knew she was there. Anyway, she's now a Soul Cycle in New York City, so if you want to take her class, have at it. I tell you this because I will be at one of her classes over Thanksgiving weekend when I'm in NY for a wedding. Oh this should be good. I've done spin class before, but this is a bit different I guess. I'm sure I'm in no way prepared for it and it'll kick my ass, but oh well. If you're in the NY area, feel free to give her class a whirl and let me know what I'm in for.
We've known all season that Tanner was engaged to Jade. A couple weeks ago we had the emailer who showed us Jade accidentally left her location on for a Periscope she did that showed she was in KC. Well, apparently Jade gave it away again that she was with Tanner when she posted a recent picture. Here's the email I got:
_____________________________________________________________________
Hi Steve,
I'm a big fan of your column. Like many viewers, at the beginning of each season I swear off spoilers but more often then not my willpower wins over.
I know that despite your very accurate and reliable spoilers people still cast doubt at every turn so I wanted to pass along some information I found by super-sleuthing.
Jade posted a photo on her Instagram yesterday relaxing on a deck with her dog. A few people said in comments that she was at Tanner's place so I checked out his Instagram for some photographic evidence. I hit the jackpot-
See below.
She's obviously still with Tanner and your spoiler once again was spot on balls accurate.
Thanks again for all your good work!
A loyal reader and fan,
The deck looks pretty similar, no?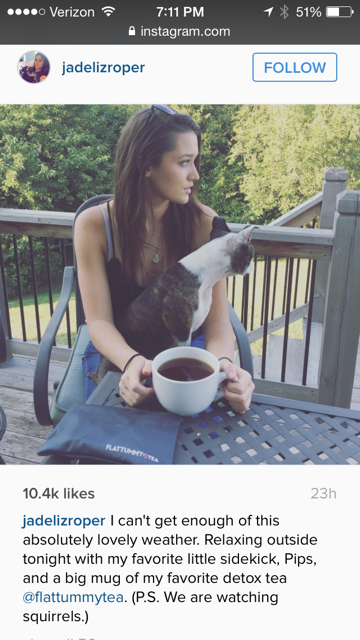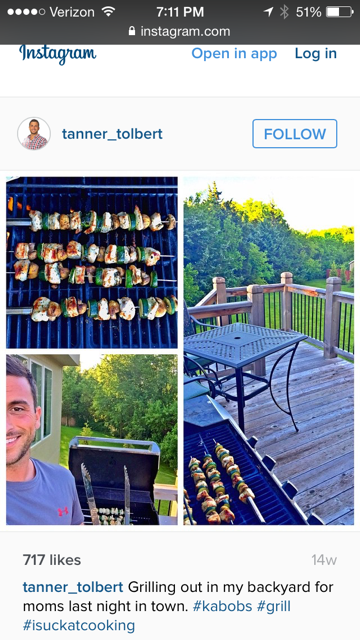 _____________________________________________________________________
Comment: Yeah, not that we needed any more proof, but another "whoopsie" on Jade's part. I can only imagine which girl from Ben's season is gonna give away the ending this year. Can't wait.
Ratings are in for the last two nights, and they suffered because of the holiday weekend. Sunday's ratings saw 3.8 million viewers and a 1.0 rating, down from 4.3 and 1.3 respectively the previous week. Last night's finale drew 4.8 million and a 1.4 rating, down from 5.2 and 1.5 last week. Although "After Paradise" was up to 3.9 million viewers and a 1.1 rating from the 3.8 million and 1.0 the week before.
Nell Kalter has your RHOC recap where she talks about a bunch of plastic, botox'ed out women in their 40's discussing which party they want to attend next and whatever the hell else they do on that show. Let her describe it for you. I can't. I don't watch.
And your poll question for this week is now that this season is complete, and we have two seasons in the book, which summer "Bachelor" programming do you like better? Not that "Bachelor Pad" has any chance of coming back because it doesn't, but just curious which one you like better.