Filming underway last night. If you saw my tweet, you saw me retweet an Instagram picture from a woman who was hanging out at the hotel where the women were getting into the limo heading over to the mansion. Of course, she couldn't get a close enough pic because they basically kick everyone out of the lobby when the girls are coming down and lining up to get into the limos. Same hotel every season. The girls are put up at the Sheraton Agoura Hills, which is just a couple miles from the mansion. I think it was Andi's season where someone there actually got a couple shots of the guy's lining up in the lobby and sent me over pics. Nothing much you can tell from that picture I posted last night since it was too far away, other than you could see a couple girls in the distance. No idea who it was though. Producers were pretty quiet on social media last night other than Fleiss tweeting a picture of Ben with his newborn son, Ben, that he had with his new wife who's half his age but are totally in love. I always like pointing that out. And then Robert Mills had a couple tweets talking about what a great night it was like I told you he would. Today is an off day where the girls who made it move into the mansion, then dates will begin filming tomorrow. Some dates will be captured all over social media and if they are, I'll be retweeting them. And some dates will be private and nothing will get out. Never know date-by-date which ones will be public and which ones won't.
-Since my links yesterday went up before his column went up, here is Stephen Fishbach's recap of the "Survivor" premiere, told from a contestants point of view as he was playing. Granted, since he obviously knows the end result and more than what he's revealing, it'll be interesting to see if he gives any hints or clues out whatsoever. Just based on the edit Wed night, he seems to be in the minority alliance on his tribe. So unless he makes it to the merge, I think he can be in trouble.
-My world was turned upside down yesterday. My TV world that is. I mean, Ryan Atwood impregnated Sgt. Nicholas Brody's wife! Now, if you don't understand either of those names then basically we can no longer be friends. Or ever be friends in the future. I think the most humorous part of the story is that Morena Baccarin filed for divorce from her husband in July. And now in September, there's an announcement that her and her co-star on "Gotham" are expecting. Gee, I wonder why Morena got divorced? Can't quite put my finger on it.
-And in other TV news that'll make your head spin, Blair Waldorf and Seth Cohen had a baby girl and named it Arlo. Of course they did. How is Summer Roberts reacting to this? Or Nate Archibald? Can we get their reactions to this? Kind of important. What happened to our boys from the "O.C.?" This is unacceptable.
-Those who have followed me long enough know that I thoroughly enjoy "Couples Therapy" and it's one of my favorite shows on TV. Well, it starts up again in a couple of weeks, and here is the season long trailer for it. I will say that this season's cast has to be one of the most unknowns they've ever had. Talk about randoms. Yikes. Hell, I'll still watch though. Judging by the preview, they're still doing the same formula of having the episode where they go into an abandoned house and let them smash things with a hammer all while screaming out how much they hate their mom or dad or ex. Good times.
-With "Survivor" starting back up, there are obviously a lot of places to go to read people's recaps. You've got one right here with Bryan Fischer's recap. EW.com has Dalton Ross' recaps along with a Jeff Probst interview. Then of course there's the very popular "Rob Has a Podcast" with Rob Cesternino. And also you have the "AfterBuzz" show as well. Well, someone else has thrown their hat into the ring. Parvati Shallow, one of the top 5 players to ever play this game, is now doing a video recap every week, called "Survivor Real Talk." Only one tiiiiiiiiny thing that separates hers from all the rest. Here it is: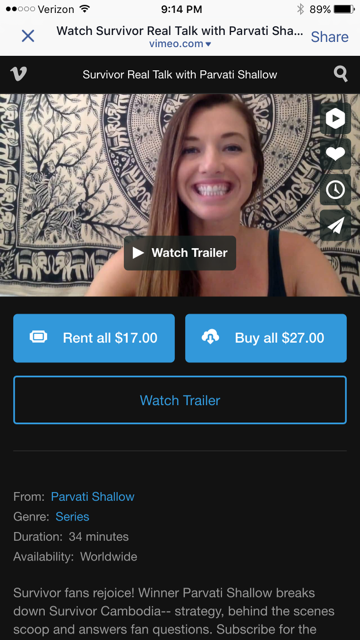 You're a great player Parvati, and we all respect someone's opinion who played the game as well as you did, but why am I gonna pay $17 to hear your thoughts on the show when I can get just as good recaps and insight for free in other places. $17 to hear you talk about the show? Wow.
-Yesterday, the TV show "Growing Pains" turned 30 years old and we got an update on the cast and what they've been up to since. Pretty amazing to think that the little homeless boy the Seaver's took in for 24 episodes ended up becoming one of the most famous actors of all time. Who would've ever thought that? And that Kirk Cameron, who was about as big of a teen star as you could imagine back in the 80's, would end up being known way more for his bashing of homosexuals than for anything in the acting/directing world.
-Uh oh. Lookie who might be hopped up on pills and booze. Well if that appearance on HSN a week ago was any indication, there's probably something to this story. Or she could just be playing the role of blonde ditz and this is just how she acts and sounds every day and Radar is blowing something way out of proportion. Could definitely be the case.
-Remember Corey Clark from "American Idol?" I believe it was season 2. Anyway, he was the guy who claimed he was hooking up with Paula Abdul, she was paying for his clothes, and favoriting him in the competition because they were sleeping together. Well, I know you may find this hard to believe, but he was arrested yesterday for violating a protective order that his ex wife has against him. Seems like a very credible guy. Although, I remember watching the 20/20 piece they did on him went that scandal went down and actually found myself saying, "Well damn, maybe he was sleeping with her."
-Pitbull is developing a drama for Fox called "305" which will center around Miami. Wait, hold on. Pitbull is from Miami? How come he's never told us this in any of his songs? Or ever given us the area code for the city? This is brand new to me. I'm stunned.
-Leah Remini is about to blow the lid off Scientology as she has a tell all memoir being released soon called "Troublemaker." Uh oh. You don't want to make those zealots angry. Watch out Leah. You might wanna get 24/7 security protection once you go scorched earth on that church. Look, all anyone really wants to hear is how much of a looney Tom Cruise is. That's it. Tell us how high the lifts are in his shoes. Tell us how much Katie got paid to sign the contract and pretend to be his wife for 5 years. And tell us every other crazy rumor surrounding the guy and we'll be happy.
-After Vytas was the first one booted from "Survivor," he did the obligatory conference call with the media. What's interesting (and he told this to Dalton Ross as well), is that he says Varner went off at Tribal Council and basically told his old school guys he was flipping to the new school, and none of it was shown. Kind of an important thing to show, don't you think? Because I really had no clue why Varner voted the way he did from everything we'd seen heading into tribal.
-Guys, if you have a few pennies to spare, you might wanna float them Tori Spelling's way. Apparently she's broke and hitting friends up for some money. Ok, this is just sad. After all the money her and Kelly made from their little boutique store? Or any money that Noah may have given her when they were living on a boat? Or how about you track down Dylan and the gobs of money he inherited and maybe ask him for a loan. So many options here Donna. I'm sure they'll bail you out. And hey, now that David is single again, maybe you guys can re-invest in the "Peach Pit After Dark?" I'm just full of ideas.
-Man, what horrible timing I had last night. So I'm watching the Cincinnati/Memphis college football game, when this graphic came on the screen:
Man, Gunner Kiel is one heavy QB. He should probably go on a diet. pic.twitter.com/ZLYrKyTmGq

— RealitySteve (@RealitySteve) September 24, 2015
I wonder if anyone in ESPN's graphics department got fired over that one. Whatever the case, not 10 minutes later, this then happened to Gunner. Ouch. Not to mention last week he suffered a concussion and had to leave their game as well. Probably safe to assume he'll be out a while.
Send all links and emails to: steve@realitysteve.com. To follow me on Twitter, it's: www.twitter.com/RealitySteve. Instagram name is "RealitySteve," or join my Reality Steve Facebook Fan Page. Talk to you tomorrow.