As we all know, social media has pretty much changed the game when it comes to spoiling and the "Bachelor." So many different ways that social media can be a help to me when I'm piecing things together. But also many times, something that looks obvious might not necessarily be the case. As I always say, nothing on social media is an absolute certainty. You can't believe everything you see on it. Sometimes, yes, what someone tweets or Instagrams very much can tell a particular story. But you have to remember that the show is fully aware of this now, and they will use social media to try and trick people into believing certain things. Case in point Nick last season. I gave you pictures of the guy showing up on Kaitlyn's season, yet, we see a few tweets and Instagrams from him over the next couple weeks, which is the show trying to pretend that Nick wasn't on the show. He's the only person they've ever let use social media while they were an active contestant on the show. So with that in mind, you can't immediately assume that just because you see something on social media that it's true. Keep that in mind as the season continues to unfold over the next several weeks.
Take for example Elan's Instagram yesterday of the Grand Canyon: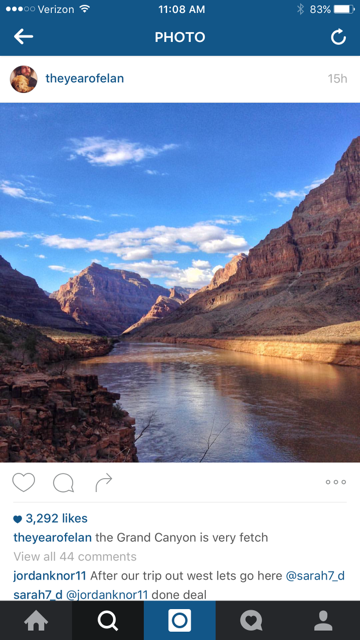 Does that mean the show was filming at the Grand Canyon yesterday? I don't know where they were yesterday, but I don't think they were there. They did a date last year in the second episode at the Grand Canyon (Chris and Megan's 1-on-1). I highly doubt they'd go back to the same place for the same date in the same episode one year later. Plus, nothing in that picture says it was actually taken yesterday. He just posted it yesterday. So who knows? I don't think they were there though. They've never gone back and done the same date in the same location in back-to-back seasons. Not to mention, Elan never gives out where they are. I guess we'll see once I get more information.
Now, when Verdugo Hills High School tweets this out last night, pretty safe to assume the show filmed there this weekend:
Did you know The Bachelor filmed at Verdugo this weekend? This is the school for you! Go to http://t.co/JQMtNCxH9w pic.twitter.com/LYZLM3Qjsp

— VerdugoHillsDons (@VerdugoHillsHS) September 29, 2015
As for my tweet from the night of the ATFR. I addressed this in yesterday's column, but in case you missed it, this is what I tweeted out the night of Kaitlyn's ATFR on July 27th:
Interesting note about the live ATFR that I'll share a little later on…

— RealitySteve (@RealitySteve) July 28, 2015
What that was is I was made aware that a girl in the audience that night was actually a finalist for Ben's season. Her name is Hannah Kahn. This is who she is, what she posted that night, along with pics after the fact:
Cute girl. However I can report today that Hannah is NOT on Ben's season. She actually made it through final casting and was accepted to be on the show, but for whatever reason, didn't end up making the final cut. When I look deeper into her Facebook page and bio, it says she works for "Extra" TV and started working there in June. I gotta believe she didn't do the show because she'd just gotten hired there and leaving so soon probably wouldn't look too good. Oh well. A few of you have asked me since that tweet what was I referring to. Well, that was it. I thought Hannah would end up being a contestant, but she's not. Had all her social media, pictures, and bio ready to go. As for the "first" I mentioned in a tweet last week, I'll be telling you that soon enough. I just don't know when "soon enough" is. Onto your "Daily Links…"
-So last night on DWTS, we learned that Kim Zolciak has been forced to withdraw from the competition because of what the rules state. She was able to dance and rehearse, but couldn't get on a flight because doctors wouldn't allow her. So she was eliminated last night. In this DWTS recap for "Glamour," Tony Dovolani talks about if she should be able to return. He's already started a petition for it by posting on Instagram. Something tells me she's going to be allowed to next week. We all know she's not winning, so why not let her? Are people really going to be that upset if she returns and dances for a couple more weeks?
-Nell Kalter has her RHOC recap up for your reading pleasure, and also informed me that there's only 2 two episodes left this season. Which is great. However, it's then followed by a THREE-PART reunion show. What? Can you imagine if the "Bachelor" had three "Women Tell All's?" I can barely handle one. That's embarrassing. Like they couldn't wrap everything up into one reunion show they have to milk it for three weeks. Ugh. Glad I don't watch this show.
-Looks like Kaley Cuoco can't wait to get divorced. Paperwork has been filed citing "irreconcilable differences." Translation: I'm hotter and way more famous than him, so this ain't working. She's also running to the courts to get back her maiden name. The ink isn't even dry yet and she's wiping the "Sweeting" off her last name like it's a disease. Gee Kaley, tell us how you really feel about your 21 month marriage to a guy you knew for 3 months. Wait, no need to. We already know.
-Usually I save all sports stories until the end, but I didn't want this one getting lost in the shuffle. If you don't like very vile, offensive, crude, foul language, then I suggest you don't read this story. However, it's important and should be read. You've been warned. Julie DiCaro is a sportswriter you've probably never heard of. She wrote a piece describing the awful harassment she's gotten on social media just for being a female. And trust me, she isn't the only one who gets it. Unbelievable how brave people can be behind a computer. This is truly disgusting and only furthers my stance on why I think Twitter trolls are some of the worst humans on the planet.
-Brian Austin Green is still wearing his wedding ring and trolling around Hollywood with a giant grin on his face. Did they not sign a pre-nup or something? Or is he smiling because he has another Hollywood 10 all lined up and ready to be his next wife. I mean, say what you will about the guy, but in succession this guy bagged Tiffani Amber Theissen and Vanessa Marcil, then wifed up Megan Fox. That's some serious game.
-I hope you're sitting down for this one. It might make your head explode. I hope you take this news lightly and don't let it affect the rest of your day. Ready? Deep breath. Exhale. Ok. Phew. This is a toughie. I hate to break this to everyone, but "Keeping up with the Kardashians," fakes their scenes. I know. I know. There there. Let it simmer for a little bit, then join us back here in reality. Devastating news I tell ya'. I can't believe such a fine, upstanding show would actually re-shoot scenes months after the fact to re-tell a storyline. Amazing.
-Jessica Seinfeld, Jerry's wife, recently spoke to People and told us the reason Jerry married her. No, not because she was funny. Or that she was hot. Or that she was loaded. Nope. He married her because she makes a mean chicken parmesan. Hey you know what? Anyone that makes a mean chicken parm I'll wife up tomorrow. That's my favorite meal. Props to you Jerry. Now, lets discuss your relationship you had before Jessica when you were in your late 30's and you were dating that 17 year old Shoshanna. Yeah, kinda goes unnoticed now but that was totes creepy.
-I'm not sure how in the world they would do this, but BYU-Idaho has banned man buns as part of their school dress code. We all have heard the stories of the "code" at BYU schools – no drinking, no drugs, no sex. But now no man buns. Is this really some epidemic sweeping our college campuses that has to be done away with? I don't see it. Then again, we are dealing with the Mormon church here and to say they don't have some bizarre rules would be an understatement.
-If you've read me long enough, you know how much of a "Back to the Future" nerd I am. Like, the amount of times I've seen those movies is incomprehensible. I no facts and dates and info that'll make your ears bleed. Anyway, if you know that, then you must know how geeked I am for Oct. 21st. That's the day Marty and Doc (and Jennifer) visited the future back in "Back to the Future 2." So they are releasing a special documentary that looks back on the franchise, and now Doc Brown and Professor Strickland will be in attendance for one of the screenings. Outstanding. I could go on for days about those movies, but I'll spare you.
-So as we know, Kim Zolciak has been forced to withdraw from DWTS because of her medical condition. Well, we have no idea what actually caused her to have a mini stroke last Wednesday, but one theory is too many plastic surgeries. Kim Zolciak? Plastic surgeries? No way!!! I don't know if that's the case, but I'd probably lean more towards the inordinate amount of extensions she wears. Could that be a cause? No? Well ok then. Just a suggestion.
-As some of you may know I'm a fan of the TV show "Nashville." I didn't know until yesterday that Hayden Panettiere actually suffered from Postpartum depression in real life as well. I'm guessing that's why it was probably easy for them to write it into her storyline last season, and into this season. Seems to me like she's over it, which is good. Now if she'd just go back and make a cameo on "Heroes" as Clare, everything would be right in this world. I'm into "Heroes: Reborn." Was a little confused by things in the premiere, but I'm sure it'll all work itself out. Lets hope so.
-Another thing we can hope for: a "Goonies" reboot. Granted, I've never been a fan of Hollywood recycling old movies, but for the "Goonies" I may have to make an exception. Sean Astin says he thinks it'll happen in our lifetime. Now, if they just completely reboot the franchise with a whole new cast telling the same story, that would suck. But if it's a sequel 30 years later and the original cast is part of it, that'd make more sense. Man, two "Goonies" stories in the last week. What's next? "Girls Just Wanna Have Fun" getting a reboot?
-Holy taste buds, Batman. Oreos are coming out with a new flavor that just about might put me over the edge. Cinnamon bun Oreos could be considered crack in most states. The thing is, I've NEVER been an Oreo cookie guy. Ever. Not even to just open it up and lick the icing. Sure, I've had them in the past, but I'll eat Chips Ahoy every day of the week and twice on Sundays over Oreos. But Cinnamon bun Oreos? Hmmmmmmm.
-When I read this headline that a Twin Peaks girl died, I felt bad. I frequent Twin Peaks on occasion for their lovely décor and fine cuisine. But then I realized they were talking about the TV show "Twin Peaks" and couldn't care less since I never watched an episode.
-And finally, Jimmy Kimmel last night "ended" his 10 year "feud" with Matt Damon. Here's how it played out in case you missed it.
Send all links and emails to: steve@realitysteve.com. To follow me on Twitter, it's: www.twitter.com/RealitySteve. Instagram name is "RealitySteve," or join my Reality Steve Facebook Fan Page. Talk to you tomorrow.