Make no mistake, the 4 hours of programming we got this past Saturday night on all things 90210 pretty much made my weekend. Once the Notre Dame/Clemson game had finished, I watched all 3 things I had recorded on my DVR. The Unauthorized Beverly Hills, 90210 movie, the Tori Spelling Lie Detector special, and then that show about all the scandals involving the show, all of which I link to in today's column. I could probably write 10 pages on everything I saw this weekend. The show was such a major part of my late high school and all of college life, it's crazy. If anything, all that programming did this weekend was make me want to go back and rewatch every episode from the beginning, like I did 3 summers ago. Hmmmmmmm, kinda busy right now but maybe I'll get around to it at some point. Was the movie good? Of course not. It was campy, horribly acted, and only covered the first 4 seasons. Except for the Kelly character, nobody looked like the people they were portraying. But man, that actress who played Kelly looked EXACTLY like her in her high school years. It was pretty freaky. I swear there were times when I thought I was watching Jennie Garth.
As for the Tori Spelling stuff, that was way more interesting than the movie. Just look at everything we learned:
-She admitted to sex with Jason Priestley
-The dress Tori was wearing the night she lost her virginity in real life was worn by Shannen Doherty in some of the most iconic group photos of the cast
-Her dad, worth $500 million at the time of his death, really did only leave her $800,000 in his will. And I thought that was just a myth. Wow.
-She failed the lie detector when she said she thought the Lifetime movie was good
-She had a hand in hiring and firing Shannen Doherty
-She admits her acting is not what got her the role of Donna Martin
-David and Donna wrote their own vows for the final episode wedding
I could seriously go on and on and on about everything they showed Saturday night. If you're a 90210 fan, I suggest watching all that programming just for the nostalgia aspect of it. Say what you want about the show, but that was really the first teen show ever to tackle the topics it did and it made for groundbreaking television. I stuck with it for all 10 seasons, and if there were ever a TV reunion I'd want to see, that would be it. Screw "Friends," or "Cheers," or "Seinfeld", etc. I want a 90210 reunion with EVERY character involved, not some half ass project where only a few return. Get them ALL together, do a movie or a short mini-series and fans would eat that sh** up. I don't care how old the characters are now. It can be done.
As for the "Bachelor," episode 4 began yesterday and they still haven't left LA. That's nothing new because Sean and Chris' season both had 4 episodes in LA before the traveling started. Juan Pablo had 3 in LA before traveling. However yesterday, the date was in Las Vegas thanks to this person who tweeted this out late last night after I'd gone to bed:
Just hanging with the next season of the #bachelor in Vegas. #luckyben #vivanacada15 https://t.co/sbRUGbfuQz

— Steven Viveiros (@svive) October 5, 2015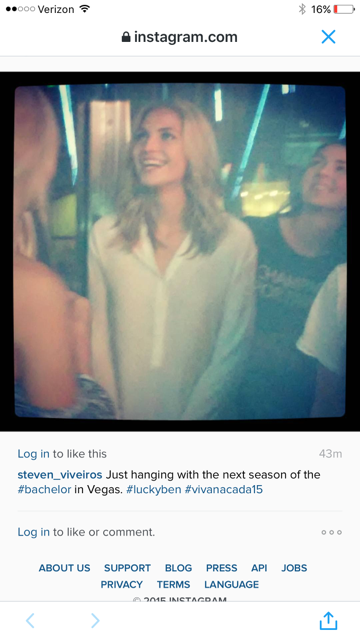 Well, I guess we know Olivia is still on the show considering that's her. The brunette behind her? I'm pretty sure she's one that I have but haven't released yet. Still trying to match up if that's her. Whatever the case, Vegas looks to just be for one date, not the whole episode. Once rose ceremony #4 happens on Wednesday, traveling will begin after that. I'm trying to get confirmed what I've been told about where they're headed this season. Hopefully I'll know more by Wednesday so I can fill you in. On to your "Daily Links…"
-Interesting study that was released. FX released ratings in the 18-49 category for all reality shows that aired in Jan-May of this year. But more interesting in that data, was the median age of those shows. Not the average age, but the median age. Go back to middle school math to remember what the median was. Anyway of the top 201 shows listed by median age, can you guess what the "Bachelor's" median age was? 51!!! Damn. Didn't think it'd be that high. Granted, I know that's not the average age, but 51 still seems about 10 years too high.
-Former "Hills" star Whitney Port showed off pictures from her bachelorette party in Mexico over the weekend and they were glorious. You know, if you like that sort of thing. When you look at the five main girls from the "Hills" (Lauren, Heidi, Whitney, Kristen, Audrina) and see that really none of them have completely bombed out in Hollywood (well, maybe Heidi) it is pretty amazing to see what that show has launched. Lauren has been incredibly successful. Whitney probably a step below that but has done decent in the fashion world. Audrina keeps getting TV gigs. And Kristen married an NFL player. So yeah, sucks to be you Heidi.
-So one of the biggest things to come out of Saturday night's programming on Lifetime of all things 90210 was Tori admitting she had a summer fling with Jason Priestley. I don't think that was too hard to figure out since it was really only between two guys. Of course, Jason Priestley took to Twitter and didn't confirm or deny anything, which basically means it happened. And hey, the polygraph test said she was telling the truth so it must be true.
-More 90210 stuff from Saturday night. If you're a die hard like myself, you probably knew a majority of these things, but if not, they are interesting to read. And if you missed the movie itself, here's 21 things we learned from it. Does it make me an uber nerd or just a huge nerd that I already knew everything that show told us?
-A few DWTS tidbits to get to today. First off, is that Witney Carson got engaged over the weekend to her HS boyfriend. I wonder if this will finally stop people from asking me if she and Chris Soules are dating? Who am I kidding? Of course it won't. All it will take is for some tabloid to put it in a headline and people will believe it. It's kind of amazing how some people will believe anything and everything they read on the internet from gossip sites.
-Tonight, Alfonso Ribeiro will be replacing Tom Bergeron as host because Tom is ailing to his sick father. Hey, lets hope he doesn't get Wally Pipp'ed tonight. Probably not gonna happen, but since Alfonso has become America's darling again after his appearance on the show, you never know. I mean, he did parlay his DWTS win into taking over for Tom on "America's Funniest Home Videos." Say what you want about DWTS, but it definitely can re-energize one's fledgling career if handled correctly. We've seen it numerous times and Alfonso is just the latest one.
-Here's something that kinda has me scratching my head. An Australian zoo has named a a baby koala after Derek Hough because, ummmm, I guess he's partners with Bindi and they like him. That's fine. But after reading that whole story, maybe I missed something, but what did they actually name the koala? Derek Hough? Look at the picture of that koala and ask yourself if that looks like something we should call Derek? Did they name it "TeamCrikey?"
-So Miley hosted SNL this past weekend, and to say it was interesting would be an understatement. If you missed it, here were clips of most of her skits. However, I guess the weirdest performance was her second musical act where sang/screamed about her dead pets. So much so to the point where she started crying during her performance. Not saying you can't cry over your dead pets, but the song/performance was just…odd.
-Speaking of Miley, she just released tour dates for her upcoming "Dead Petz" tour. Ummmm, that's it? Taylor Swift, Selena Gomez, One Direction, etc are all selling out arenas for months on end, and Miley is doing a 6 city tour over the span of 3 weeks? Wow. Don't wear yourself out there Miley. To say the demand for Miley has dropped since she turned into a weirdo would be an understatement. I can't wait til she's in her mid 30's and does the inevitable sit down with whoever the 2030 Oprah is and talks about how she looks back on her 20's and how she acted and realized how stupid she looked.
-Since it was the premiere of SNL, they obviously are going to go heavy on all the political news from the summer, and mainly the enormous amount of Republican candidates for President. Trump will be a focal point of pretty much every episode from now until next November, and Taram Killam has taken over as the newest Trump impressionist. Not bad. I think his facial and hand gestures were more Trump than the voice was, but he can work on that. Trump took to Twitter himself to praise Taran and of course rip Hillary because that's what he does. At least Hillary made fun of herself.
-We've got another reboot coming. CBS is in the process of rebooting "MacGyver" and hopes to make it part of their schedule next year. Really? Do we need this? I never watched "MacGyver" this first time it aired. Then again, CBS' average age on their shows is close to 80, so this makes sense. Now, if they were to turn "MacGruber" into a weekly TV show, that I'd be onboard for. Yes, it's utterly ridiculous and the same thing repeated over and over again, but then again, that's what most classic SNL skits are. And many of them were turned into movies like "MacGruber."
-Simon Cowell is back in the news. Man, it's been years since he's really done anything. Anyway, he cursed on the UK X Factor and took some heat for it enough to where he had to apologize. As much as Simon became a phenomenon over here, and as much as people want to see him back on possibly "America's Got Talent" replacing Howard Stern, I don't see it happening. His act worked years ago before bullying became such a hot topic. If he came back, he'd have to tone it down, and then if he does, that's not the Simon Cowell people came to enjoy. So basically he's screwed.
-And finally, you know how I feel about people who pay extraordinary amounts of money for memorabilia. It's absurd. Well, add another one to the list. Someone forked over $96,000 for Princess Leia's bikini from "Return of the Jedi." Great. Now what? Wear it? Hang it in your memorabilia room? It's just a concept I'll never understand. Obviously if you're paying $96,000 for a bikini, money isn't an issue for you. That's not the point. All the people who spend this much on memorabilia are pretty well off. If somebody making $100,000 bought this, then yeah, that wouldn't make sense. But it's usually rich snobs who have nothing better to do with their cake, so they purchase meaningless stuff like this. Enjoy your bikini.
Send all links and emails to: steve@realitysteve.com. To follow me on Twitter, it's: www.twitter.com/RealitySteve. Instagram name is "RealitySteve," or join my Reality Steve Facebook Fan Page. Talk to you tomorrow.