From the time Fridays column was posted, pictures got out this weekend of every date that Ben had. As we know, the girls arrived Thursday night at the Indianapolis airport, then began filming Friday morning. I had posted the pics from the airport Thursday and the early Friday morning pictures of them walking as a group together in Warsaw getting ready for that day. As is the case most seasons, in the episode before hometowns, there's two 1-on-1 dates (with no roses given out), and a group date where whoever gets the rose automatically secures a hometown date. A couple times in the past they've done three 1-on-1's and a group date, but that's been the exception. This season was just like the schedule I posted on Friday. 3 dates Friday, Saturday, & Sunday, with a rose ceremony tonight, travel day tomorrow, and hometowns beginning on Wednesday. Obviously a lot of questions regarding my tweets yesterday afternoon as the emails and replies to it came pouring in with a lot of you not understanding how Becca is getting a hometown before the rose ceremony even takes place tonight. I'll explain later in the column. But first, for those that don't follow along on Twitter where all this was spoiled over the weekend (along with some pictures from Friday I didn't post), here was your weekend recap of the dates:
FRIDAY:
The girls were seen Friday morning walking around shooting their "Welcome to Warsaw" video package, even though they'd arrived the night before. This happens quite often where the group arrives at night, but then they have them shoot the next day to pretend like they just arrived.
The final 6 filming in Warsaw, IN! #thebachelor @RealitySteve pic.twitter.com/pyxO1Urn2Z

— Kaitlyn Terpstra (@Terpstrakb) October 23, 2015
A couple hours later, Ben and all the girls were out on a boat…
PIC: More shots of the group on a boat pic.twitter.com/MyPM7cyed0

— RealitySteve (@RealitySteve) October 23, 2015
For clarification, that afternoon I had tweeted that Ben's 1-on-1 that day was with Emily Ferguson. That was wrong and it was corrected hours later when Ben and Lauren B. showed up at Rex's Rendezvous. I hadn't seen any pictures, but I was told about a short blonde that Ben was seen with, but hadn't seen any pictures. So apparently the info I got just didn't clarify their definition of short since the only short blonde left was Emily. But Ben is 6'4″, so maybe that's why the girl looked short to that person. I guessed it was Emily and ended up being wrong for a few hours. That's what I get for guessing without having seen pictures. Of course once Ben and Lauren B. arrived at Rex's Rendezvous, it was obvious he was with Lauren all day after meeting the girls on the boat and never with Emily…
They're here!!! Kiss at the door!! ????#thebachelor #rexsrendezvous @benhiggi pic.twitter.com/AKNBfoFWNX

— Melanie Van Ness (@Melsue16) October 24, 2015
Saw the bachelor! #AHHH @RealitySteve pic.twitter.com/amPtE56AU0

— Ali Weir (@AlicynLeAnn1712) October 24, 2015
A better pic of the kiss! #thebachelor #rexsrendezvous @benhiggi pic.twitter.com/gZ6losgO08

— Melanie Van Ness (@Melsue16) October 24, 2015
@RealitySteve, my friend took his for me. She said they were very affectionate and Ben looked really happy. pic.twitter.com/lJ0QhmDpoQ

— Abbey Lynn (@abs9201983) October 24, 2015
Not 5 minutes after Ben and Lauren B. had shown up at Rex's Rendezvous did I get sent these pictures from earlier in the day of them together. If only I had gotten them sooner, obviously I would've never reported that his date was with Emily.
During the day, Ben and Lauren visited the Baker Youth Club where Ben used to work, and they met up with some of his friends. Also in attendance were Indiana Pacers Paul George and George Hill, along with head coach Frank Vogel. Once they were inside Rex's later that night, people already inside were not allowed to post pictures, hence the reason the only thing on social media was pics of them entering and leaving. But inside, they also met up with some friends of Ben that night as well. And I was able to get a hold of this picture from inside: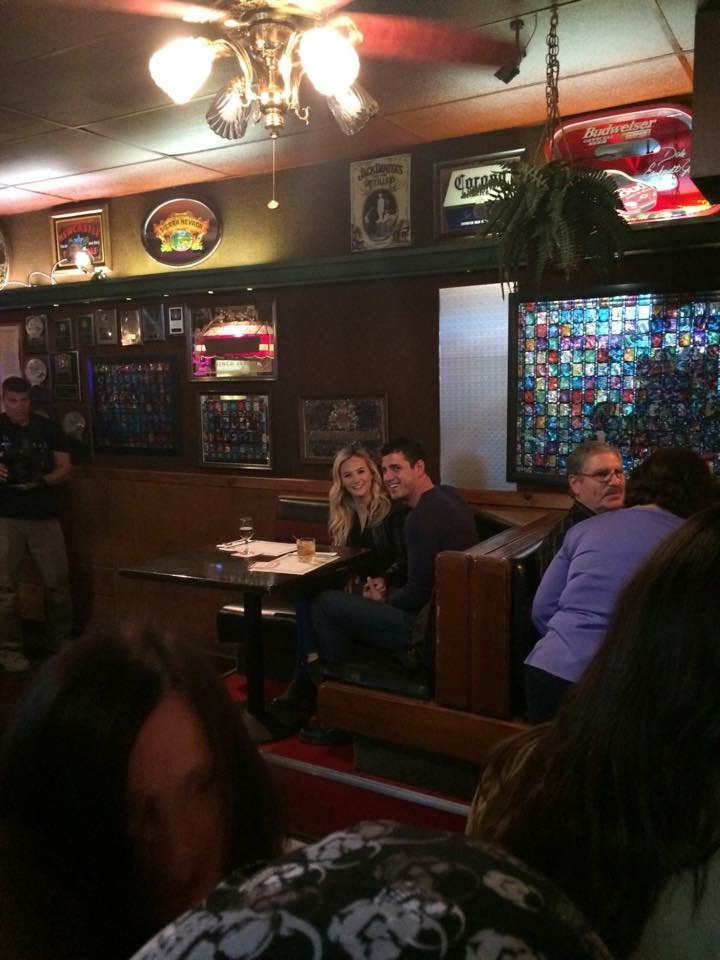 SATURDAY:
Saturday was interesting because for the longest time, everything was quiet on social media. You knew any dates filming in Warsaw were going to get spoiled because it's basically impossible to have filming in a small town like that and nothing get out. Then on Saturday around 5:00pm CST, this picture popped up on Instagram and we realized why no one had seen anything in Warsaw that day. It's because Ben and his date took a roadie to Wrigley Field in Chicago for a private date…
(SPOILER): Ben is on a 1-on-1 date Wrigley Field today. pic.twitter.com/XvbRf7jtfa

— RealitySteve (@RealitySteve) October 24, 2015
(SPOILER): the 1 on 1 is with JoJo Fletcher.

— RealitySteve (@RealitySteve) October 24, 2015
Now granted, because I was wrong the previous day on Emily and this picture was blurry, within 10 minutes I got 5 emails asking me if I was sure that was JoJo. People kept swearing to me it was Becca. I posted it was JoJo because I knew it was JoJo. What's funny about that is, it's obvious that "Janet C Davies" was not supposed to post that picture, because within minutes of me tweeting it out, she had deleted it from her Instagram. Womp woooooooooommmmmp. Too late. Sorry Janet. Whatever the case, that was the only picture from Ben and JoJo's date that got out so everyone give a nice, warm thank you to Janet for providing us with that.
SUNDAY:
Yesterday was a group date with Caila, Amanda, Emily, and Becca. No part of the group date portion actually got out on social media, but for at least a month we've known they were setting up a carnival in Warsaw last night for a date. With only Amanda showing up with rose in hand, we knew that she'd gotten the group date rose, thus securing herself a hometown date, unless they decided to change the rules or something, which I highly doubt. There are tons of pictures on Twitter and Instagram of Ben and Amanda last night at the carnival so I won't bombard you with all of them. Here were just a few I was given and some I retweeted…
VIDEO: Ben and Amanda arriving together. pic.twitter.com/xLkUw2vfxG

— RealitySteve (@RealitySteve) October 26, 2015
Couple more pics… pic.twitter.com/fgs5GKLhMO

— RealitySteve (@RealitySteve) October 26, 2015
Standing in the cold for almost 5 hours was well worth seeing @benhiggi ?????????? pic.twitter.com/W2JMOgkrW7

— Abby Kwiecien (@abbskwiecien) October 26, 2015
Video of Ben and Amanda kissing: https://instagram.com/p/9SLLLOFrJU/
However, the biggest news to come from yesterday and the one most asked about were these three tweets I sent out yesterday afternoon:
It's impossible to keep a secret when basically all of your friends and family run their mouths. The email count up to 5 now.

— RealitySteve (@RealitySteve) October 25, 2015
(SPOILER): Becca will be getting a hometown date next Fri the 30th in Shreveport, LA. On her bday. Just like last season.

— RealitySteve (@RealitySteve) October 25, 2015
Just ask her friends, family, or sisters. Keep getting emails they're telling everyone. Silly.

— RealitySteve (@RealitySteve) October 25, 2015
The most asked question was, "If the rose ceremony hasn't taken place, and Becca didn't get a rose on the group date, how is it known that she is getting a hometown date?" Simple. This is a television show. They have to plan in advance. Producers contact families during the the final 6 portion (and sometimes earlier) of the show and prepare families for hometown dates. They can't just spring it on them after tonight's rose ceremony, so they make sure everything is in place. Producers talk to Ben for hours every day. They know who his final four is. Hell, I think most of the girls have a pretty good idea who he's taking to hometowns. But to answer the question, no, it is not uncommon for the families to know before the final 6 rose ceremony takes place if their kid is coming for a hometown. Becca is getting one this Friday in Shreveport, LA on her birthday, just like last season with Chris. When 5 different people email me in a span of an hour to tell me they heard Becca is getting a hometown, that's pretty solid info. And also shows that someone in the family or close to them can't keep their mouth shut.
Now, is it possible that since this was reported yesterday production could be so pissed that they take Becca's hometown date away and give it to someone else? Possible? Yes. Do I think it'll happen? No. Of course they're not happy something like this would get out before the rose ceremony takes place, but nothing they can do at this point. I didn't hear about any other families having their dates set up, so it just so happened Becca's friends/family/relatives have big mouths I guess. Oh well. Not my fault. I just report what I hear.
Anyway, the rose ceremony is tonight and we know that Amanda is getting a hometown as well as Becca, based on the info I received. Will I have the other 2 in the final four confirmed before tomorrow's post? I don't know. I hope to. But I can tell you it'd be really surprising if it wasn't Lauren and JoJo. Doesn't take a rocket scientist to figure this out. But hopefully I'll get confirmation before tomorrow's post and we can go from there. You know what's exciting? I'm heading to Orange County this weekend. And Amanda lives in Orange County. Will I be able to spoil her hometown date as it's happening? Stay tuned….
By the way, BIG update coming tomorrow as well. If I get the final 4 confirmed, that'll be a bonus. But will have some more info for you tomorrow, as it'll be my last post this week since I'll be gone the rest of the weekend.
Send all links and emails to: steve@realitysteve.com. To follow me on Twitter, it's: www.twitter.com/RealitySteve. Instagram name is "RealitySteve," or join my Reality Steve Facebook Fan Page. Talk to you tomorrow.