Ok, so I lied. I'm able to squeeze one more column in before I take off since I was able to confirm yesterday evening that Becca was eliminated at the rose ceremony in Indiana, thus leaving you with a final four of: JoJo Fletcher, Amanda Stanton, Lauren Bushnell, and Caila Quinn. Kinda shocked Becca got eliminated at #5, because once I saw her get to final 6, I just figured she'd made final 4 and get eliminated soon thereafter. But no, Ben sent her home on Monday night at the rose ceremony. Then again, he told her not to show up in the first place so it makes sense. Yes, I understand that there are plenty of you who have contacted me to say you don't believe that happened. Well, based on what I heard and what I saw, I believe it did. Guess we'll agree to disagree on that one. With that said, I'm just happy that after today, I don't have to talk about Becca for another couple months until the show starts. It started to get to be a bit overwhelming continuing to answer the same questions about her, and now that she's gone, none of it matters. She's not winning and she's not gonna be the "Bachelorette."
You know, I'll say the same thing about Becca now that I said all throughout Chris' season. Nice girl, very attractive, likable – and much too normal for this show. She's not the type of person they cast on this show. She doesn't fit. She's not dramatic, she's not a drinker, not a partier, doesn't sleep around, etc. Not saying everyone they cast does, I'm just saying, she's definitely not a Type A personality that they love. I never knew why she did it the first time, and I'll never understand why she went back again. I mean, I get why she did and what she'll sell to America, I just don't buy that she had to go back on. But this show likes casting returnees, Becca obviously made it clear she had an interest in Ben and has a following from last season, it's going to draw interest to the unspoiled, she gets to promote product on social media, and got another mini vacation. However, judging by Becca's social media stance last season (and her family's), she/they obviously cares waaaaaaaaay too much about what the public thinks of her. And all they're going to do for 2 months while she's on is probably fight the edit she's getting. Which goes against going on the show in the first place. But that's neither here or there. Just something she's gonna have to deal with.
As for hometowns, this is the tentative schedule I believe the order will go:
Today 10/28: Amanda Stanton (Orange County, CA). Hey, I'm headed there shortly. But Olivia has a volleyball game today that I have to take her to, so looks like me catching Amanda's date in person isn't gonna happen. Damn.
Friday 10/30: Caila Quinn (Ohio). Not sure where in Ohio her parents live, but that's where he hometown will be.
Sunday 11/1: JoJo Fletcher (Dallas, TX). Damn. I leave Dallas for OC today and I'm probably gonna miss Amanda's hometown, and I'm not back til Monday, so I'm gonna miss JoJo's here. Crappy timing.
Tuesday 11/3: Lauren Bushnell (Portland, Oregon).
Like I said, it's tentative at this point, but I'm pretty confident that's the order they're shooting in, with the rose ceremony on Wednesday, November 4th in LA somewhere. My tweet Sunday about Becca getting a hometown date on Friday was true to a certain extent in that producers had contacted the family and set up the date and location for their date, but as mentioned in Monday's column, they contact all families about possible hometowns. Especially down to the final 6. And I was aware that could be the case with Becca as I stated, but from what I gathered, it was pretty solid. So that information ended up being wrong. It had nothing to do with word getting out, and then they got upset and took Becca's hometown date away and gave it to someone else. They don't care that much. Becca's time had come on this show to go home so he sent her home.
Now, as promised, I said I would give you my "prediction" of how I thought it would shake out once the final 4 was established. Granted, I thought Becca would be in the final 4 over Caila so I was wrong there, but that really doesn't change much. From everything I've heard, this season has essentially been over since about halfway through. By all accounts, Ben has been pretty clear about wanting Lauren in the end, so much so that it's apparently become obvious to the rest of the group, which in turn hasn't made some real happy. They've all kinda seen the writing on the wall from what I hear. I mean, look at what Leah Block wrote on Lauren Russell's Instagram. Already throwing shade at Ben: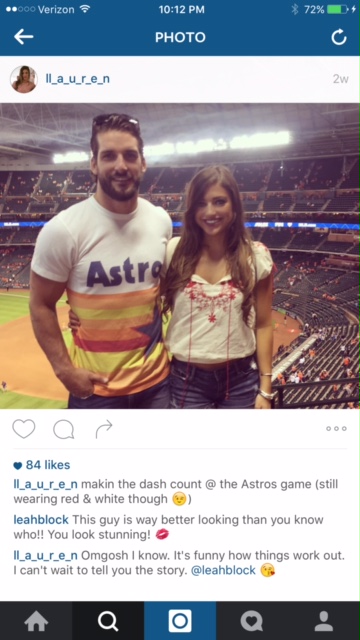 You know what's funny about this? When the show starts, I'm sure there will be numerous ITM's of Leah telling us how hot she thinks Ben is, what a great guy he is, and possibly how she could see herself as his wife, etc. But the second she gets dumped, she runs to social media and now he's not attractive. So petty. Someone is still a little pissed off I'd say. Something tells me Leah is not going to handle social media criticism well AT ALL this season. Like will be one of those that retweets all positive things said about her, but will respond to people who don't like her by citing "it's just editing," "you don't even know me," etc. I can say it til I'm blue in the face, but they'll never listen. These contestants have no idea what's coming to them in January, and they'll handle it as they see fit. Some better than others, but most of them won't be able to handle negativity.
So at this point, put Lauren as your final 1, and the rest of the order doesn't really matter all that much. It would be a MAJOR upset at this point if Ben doesn't pick Lauren from everything I'm hearing. And since I hear that JoJo is a really good candidate for next "Bachelorette," I'd say she's probably gonna finish third. Remember, no "Bachelorette" besides Trista finished 2nd on her season. DeAnna doesn't count. I'm talking someone who got dumped in the end in favor of someone else. And every "Bachelorette" they've chosen in 11 seasons has finished in the top 4 of her "Bachelor" season. So who finishes 2nd and 4th between Caila and Amanda is a coin flip. I'll go with Caila at this point. So I say Amanda goes home next, JoJo gets eliminated after overnights, with Caila and Lauren as your final 2, and he'll pick Lauren. Obviously subject to change, but from what I've been hearing, he's been all about Lauren since probably halfway through filming, and everyone can see it. We'll see how it all plays out.
And finally, since yesterday's post on the remaining girls, I updated quite a few of their profiles with info and pictures. You can either go to yesterday's post and see what's added or go to the Ben's Girls page in the navigation bar. Was able to add pictures to Jami (she's friends with Kaitlyn), Tiara, and Amanda. Also, confirmed that Maegan Miller is in fact in the cast, so now your 28 girls are all there. Amanda Kremer's audition tape is still online and it's actually pretty funny. (Man, that picture I had of her yesterday was about 7 years old. Looked nothing like what she looks like now). I'm sure this will probably get taken down soon, so check it out as soon as you can:
So there you go. I'm outta here til next Tuesday, but follow me on Twitter as I'll retweet or post any info/pictures regarding hometown dates happening over the next week. Talk soon.
Send all links and emails to: steve@realitysteve.com. To follow me on Twitter, it's: www.twitter.com/RealitySteve. Instagram name is "RealitySteve," or join my Reality Steve Facebook Fan Page. Talk to you next Tuesday.