Everyone, send all your love to Jamaica today since Ben will be making his final decision in a few hours. Seems like just yesterday it was Sept. 24th and 28 naïve, young, stars-in-their-eyes, future Instagram and Twitter product promoters stepped out of the limo thinking that they would be Ben's fiancé at the end of this journey. Well, that day has finally arrived for one woman. Who will it be? Well, I've told you who I think it'll be, but lets see if it plays out like that. As I said earlier, I'd definitely be shocked if it wasn't Lauren Bushnell. Weird things have happened on this show before, so I guess anything is possible. But yeah, I'd be pretty stunned if it wasn't her based on everything I've heard. And I've heard plenty this season which you are just days away from finally getting. Just consider it my early Xmas present to you. I mean, I could sit on this stuff until Jan. 3rd if I wanted to, but hey, I'm not that mean. So you will be getting your episode-by-episode spoilers very, very soon.
Since I'm so close to revealing everything, just like last season, get your guesses in for some of the teasers I've already released. Granted, I don't expect anyone to know any of these since none of them were spoiled on social media, but hey, it's a little fun game to play anyway. Hey, maybe I'll be surprised and someone knows some of these answers. I remember last season that when I put these teasers out and people started guessing, of all the emails I got, I think one person got one answer right to one of the questions. I like seeing where people's heads are at regarding the season. Since I last posted these teasers, there's been an update to a couple of them that are in bold. So send me your guesses and I'll let you know if you're on the right track with your answers.
-There is a movie promotion tie-in this season for one of the dates
-A couple of world famous athletes were part of a date
-A couple of repeat dates that we've seen from previous seasons – one a group date and another a 1-on-1 (this was spoiled in the :30 promo. The hot air balloon date was a repeat of what Chris & Britt did last season)
-The Vegas group date, each girl had to perform a "talent." One was declared a "winner" by the crowd. That girl did not end up getting the group date rose
-At least 4 people were eliminated or left before a rose ceremony took place (make that 5)
-A parent was involved at some point this season (not referring to Ben's)
-Chris Harrison "planned" one of the dates this season
-There is a 2-on-1 this season, but unlike last season went Chris booted Kelsey and Ashley I., Ben does keep one over the other
-Somebody got two group date roses
I wanted to share something with you that I received yesterday in an email. And I'm only sharing this because it's relevant to the season. Plenty of times I'll receive emails about contestants and I take everything with a grain of salt. Some of it ends up being true, some doesn't. But read this email and then I'll explain:
"Hey Steve!
Not sure if this would be useful to you at all, but I actually sat next to Caila Quinn at the Cleveland (really more Akron area) auditions at the Hard Rock Rocksino this summer. I knew she would probably get on the show…she was wearing a SUPER sparkly white dress, perfect hair and makeup and spent almost the entire time flipping her hair around and making duck faces for pictures that I do not think were being taken. She also kept dancing in her seat to nonexistent music, which was slightly obnoxious. To me, she came across as very fake, but more power to her! It worked since she got on the show. Someone with the show walked by us, stopped and did a double take to look at her, and wrote something down, so I had a feeling she impressed someone. I also snuck a peek at her application because she was twirling it around like a psychopath, perhaps as a prop for her dance routine to no music. Lots of canned answers to the questions, plus I got to see her name. Reminded me of a less dorky Ashley Iaconetti, but definitely someone who is going to ride that wave of Bachelor fame until the last possible second."
I share this because, well, this is basically EXACTLY what I've heard about Caila this season. Here are some of the things I've been told that describe her: "center of attention," "Disney Princess," "Little Miss Perfect," "weird," "always on for the cameras…" Sooooo yeah, looks like this person who saw her even before all this started had her pegged just by sitting next to her. Basically, I think Caila will be one of the more polarizing figures this season. I have a feeling she's gonna be someone that the audience will either love or just flat out be annoyed by. That's the impression I'm getting. I mean, is it really that far fetched to think this is true when in her HS senior year yearbook she was voted "Best Hair," "Best Smile," "Biggest Flirt," "Most Likely to Date a Supermodel," and "Most Likely to Host His/Her Own Talk Show?" Probably not.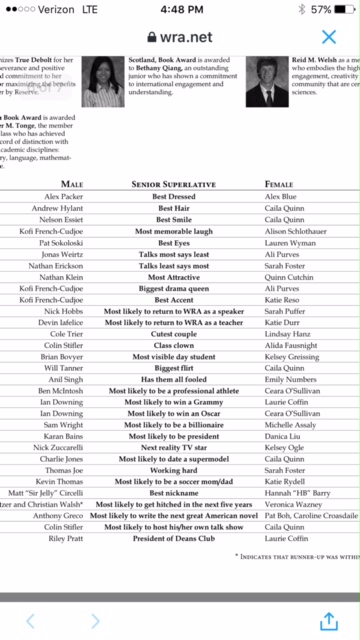 I haven't decided which side of the fence I'm on yet since I haven't seen her, so we'll see. But if you want an early update on Caila, there you have it. Be prepared.
When I release the episode-by-episode spoilers, I'll fill you in on what I've heard regarding the rest of the girls this season with a little "word association" game. Never done this before but I've heard quite a bit so I figured I'd share. All you've seen so far is a few social media pictures and a few of them on dates. Other than that, there's been nothing about the show itself and who did what. And that's what I'm here for. We're almost there…
Send all links and emails to: steve@realitysteve.com. To follow me on Twitter, it's: www.twitter.com/RealitySteve. Instagram name is "RealitySteve," or join my Reality Steve Facebook Fan Page. Talk to you tomorrow.