-Immediately we pick up where we left off last week as Ben has pulled Olivia aside to talk to her about some of the concerns the other girls are voicing. OMG is he gonna let her go? Is he gonna take away her rose and finally Olivia will be gone? You know how I always say time and time again that way more people DON'T know about the spoilers than do? This was a perfect example of it. Obviously those of you who have read me for years, follow daily, and knew this back in October that Olivia didn't get sent home in Mexico City understand, but I'm telling you, just seeing the comments of people on Twitter, social media, etc it's staggering how many really are clueless to the spoilers. Ben tells Olivia maybe she isn't connecting with the women. Olivia: "Target on my back…people hated me…finding me aggressive…I can't win…these girls like painting each others nails…doing each other's hair…I like to read books…I wanna talk smart things…" For someone who wants to talk smart things, that's a hell of a sentence to put together. We could dissect Olivia's edit til we're blue in the face. It's pointless. I told you 2 ½ months ago she didn't get along with the other girls, we're seeing that play out now as all of them seem to have had a problem with her during filming, and the show has turned into the Olivia show for the last 5 weeks. Is what it is. Not to mention, everyone that asked all season why the girls don't like Olivia, she basically just spelled it out for Ben right there. Whether it's intentional or not, she comes across as above everyone else and that turned everyone off.
-Rose ceremony time. Amanda, Olivia, and Lauren H. safe with roses. Ben: "Incredible week…excited for what's next…all makes sense…thank you for these dates…this is the hardest rose ceremony ever…until next week when I say the same thing again…"
Caila: Her date with Kevin Hart and Ice Cube seems like it happened in 2010.
Lauren B.: I'm just gonna remember February 8th as the day everyone freaked out and thought the spoiler is wrong. Don't think I won't remind you of tonight's freak out come March 14th.
JoJo: Slowly starting to become more of a major player this season.
Becca: I don't think this was what Becca had in mind when she returned for a second time. She's barely been a blip on the radar.
Leah: If Becca's barely been a blip on the radar, Leah has basically been a ghost. Until tonight's episode.
"Ladies, Ben, it's the final rose tonight. When you're ready. Even though none of us have a clue who Jennifer seems to be at this point, hey, at least she'll make an outstanding candidate for BIP."
Emily: Well of course they're keeping her. She's been bad mouthing Olivia for two straight episodes so it's only natural to pit them against each other on the 2-on-1.
-We are now in the Bahamas. No cheesy camera phone footage of the women on the plane, no map with a paper plane flying from Mexico City to Bahamas to give us a geography lesson either. Just boom! We're in Bahamas and the weather sucks donkeys right now. Overcast, windy, and rainy pretty much every day they were there. Boooooooooo Bahamas. Chris Harrison informs the girls that there will be a 1-on-1, group date, and 2-on-1 this week. Caila gets the first 1-on-1, and we start in on the wrath of Leah this episode. She's basically pissed Caila now has her second 1-on-1 and Leah's been on nothing but group dates. Ben comes and greets the girls and is basically showing more cleavage than all of them. Someone might wanna tell Ben there's a reason you have buttons on your shirt. It's to button them. Leaving your shirt open down to your naval is strictly reserved for dbags and models. And from what I can tell, you're neither. Fasten those top ones Ben. Even Steff from "Pretty in Pink" thinks you look ridiculous…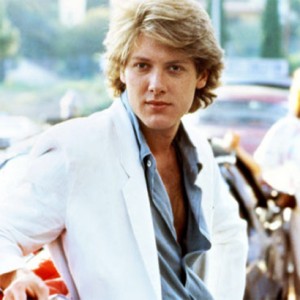 (By the way, I'd just like to mention that this month is the 30 year anniversary of "Pretty in Pink," and select theatres are re-releasing it this Sunday on Valentine's Day, with supposedly footage of the original ending that was shot where Andie ended up with Duckie. I may or may not have bought my ticket to this a month ago.)
-Once Ben and Caila head off to their deep sea fishing date, it's time for Leah to whine some more about why the hell she's still there. Trust us Leah, we're all asking ourselves the same question. Hell, I thought you just snuck on set about episode 3 or so. She's crying to Lauren H. saying she doesn't understand why Caila gets a second 1-on-1 when all she's been on are group dates. "I've been told if you don't get a 1-on-1, you're pretty much done." Well, I will say this for Leah. That might've been the smartest thing ever said on this show in the history of ever. I think Leah is starting to see things a liiiiiiitle more clearly now. Translation: I'm toast and my time on this show is numbered. She says she feels like a total fool, she lives like 10 minutes from Ben and she could've easily met him at a bar or something. Well, Lace lives close to Ben as well and look how that turned out. Outside of Andi and Josh, the proximity of where you live to lead matters about as much as the engagement at the end of every season, which is, very little.
-Is it just me, or did they literally show two minutes of Ben and Caila's time on the boat? They talked a few sentences, kissed, a quick clip of them fishing, then jumping into the water. That was it. Then again, the first 20 minutes of the show had to wrap up what happened in Mexico City, so we still had to squeeze in 3 Bahamas dates this episode in 20 less minutes, so, I guess not showing them doing anything important on the boat makes sense. The good stuff was at their dinner anyway. And by "good stuff" I mean, totally confusing that no one understands. Before dinner starts, Ben says in an ITM that "I'm worried if I can get below the surface with Caila." Is that a euphemism for "Hey, is this chick ever gonna let me get in her pants or no? Because if not, she's gots to go." Or something like that.
-Then, the confusion begins because, well, I'll let Caila explain it to you. "I feel like I love you…I don't know why I can't show it…my greatest fear is that I can't completely fall in love with somebody. It feels like I'm gonna hurt you." Huh? Come again? You love him, but you don't. You wanna be with him, but you can't show him you wanna be with him. You feel like you love him, but you can't completely fall in love with somebody. I don't think anyone had a f***ing clue what Caila was getting at in this conversation, other than submitting her resume for the "Bachelorette" gig. Of course if she gets it, that's what her whole storyline will be about. But lets not get carried away here. They can make storyline around anyone they want for the lead. Just because they showed Caila saying that last night doesn't mean it's a lock. Is she a candidate? Yes. Does she have a good chance? Yes. But nothing has been decided yet.
-The confusion continues. Caila: "I feel like you're the right person…I know I'm falling in love because I feel like I'm being understood…I want to feel understood…I understand you in a deeper way…I feel I want you in my life…I feel happy." Caila certainly feels a lot. And I'm sure Ben feels like he's getting sick listening to this girl constantly give all these feels, yet not really explain what any of it all means. You want to feel understood? That's great. Then stop having these long drawn out explanations on all these feelings that no one can understand, including the guy sitting right in front of your face. Maybe that'll help. I'm sure this was very calculated on Caila's part, and if there was anything I could possibly draw from that all-over-the-map speech, it's that she's leaving herself an out for when/if she gets dumped. Since we know how it plays out, I think Caila knew exactly what she was saying at that dinner – even though none of us had a f***ing clue. Somehow, some way, Ben gave Caila the rose. When in complete confusion and doubt, just kiss them and give them a rose. Makes things allll better.