Yes! Only 3 weeks away from the finale and it's on to next season. Granted, I've been working on next season for a while now, but I'm talking for their audience. Most people aren't even thinking about "Bachelorette" they haven't named one yet, but my mind is already there. I've got a few of the guys lined up for next season that I'll reveal closer to when the season is starting. Also, I think I have a pretty good idea of one of the locations they're headed to within the U.S. Maybe I'll share that next week. I don't know exact dates of when they'll be there, but when four different people have come to me with info about possible filming there, along with the fact that producers were out scouting the location earlier this month, probably a good chance they're headed there. It's certainly not a place I'd ever think of in a million years, nor is it a place I'd ever even heard of before. But hey, not my call. Looks like they'll be there and I'll tell you about it soon once I get a few details shored up.
Chris Harrison's Yahoo.com blog is up now where you can read a whole bunch of nothing. As of this posting, Ben's blog for People.com hasn't been posted yet, so I'll have to include that tomorrow. In the meantime, you can check out Nell Kalter's Vanderpump Rules recap which is up. I think Jax did something stupid this episode. It's a complete guess since I didn't watch and don't follow the show, but it seems like the whole point of even having him on the show is to do something stupid each episode. Lets hope I'm right.
Get your "Reader Emails" and "Dr. Reality Steve" emails in for this week. Again, I'm shooting for 10 "Dr. Reality Steve's." Last week we came up one short. Right now I believe I have 4, so lets see if we can at least double that. C'mon, I know a lot of you have relationship/marriage/sex issues. That's what I was put on this earth for. To help you with that.
Ratings are in from last night, and the "Bachelor" tied a season high in overall viewers and set their season high in ratings. Their 8.5 million viewers last night tied it with episode 6 (remember last week's 7.1 million was due to going head-to-head with the Grammy's), and it garnered a 2.5 rating in the 18-49 demo, which bested the 2.4 rating on episode 6 by .1 of a point. I'm great at math. I could be the next Chris Harrison. Hey, all he's doing is subtracting whole numbers. Like last night he subtracted 2 from 3 to tell the ladies there was only one rose left. I just subtracted decimals, so that makes me Billy Bad Ass.
One thing I wanted to talk about in regards to the "Bachelorette" is the constant chatter emailed/tweeted/texted to me about "they're talking to so-and-so about the Bachelorette." Really? Do you know how many people they talk to about it? Numerous people every year. And do you know what those talks consist of? Essentially a whole bunch of fluff. But rather than take my word for it, I spoke to a few former contestants who had this "Bachelorette" interview before. Of course, they shall remain nameless, but I'm talking about people that were brought to LA, and sat down and met with producers about the gig. Here were the types of questions they are asked during that hard hitting "interview":
-What are reasons you would want to be "Bachelorette?" What are some reasons you wouldn't do it?
-What are your needs if you do do it?
-Can you see yourself being the "Bachelorette?"
-What would be hardest thing for you?
-Are you ready for this?
-Are you over whoever broke up with you?
So when you hear people say, "Oh Becca/JoJo/Caila met with producers about being the Bachelorette," these are what they're talking about. These "interviews" give the girls no confirmation that they're getting it, they're just talking you into it IN CASE they need you. So it really means nothing if you hear "So-and-so met with them about 'Bachelorette.'" Yeah, and so did others. Just like I said before, until one of these girls is packed up, flown out to LA, and moves into that house where she stays, nothing is finalized. "But I heard she signed a contract." Doesn't matter. Becca signed one last season and didn't get cast. Wasn't even in the TWO girls they decided to go with to start. "But they hired her a personal trainer and shot her intro video." Doesn't matter. Nick and Arie had both of those done for them and they didn't get the lead role. Obviously one person will ultimately get the role, but just because you're hearing someone met with producers and they're talking to them, it really means nothing. They have EVERYONE thinking they're the one that's getting chosen, yet, obviously they're lying. So just keep that in mind going forward.
Another interesting note that happened last week which kinda went unnoticed in "Bachelor" world but could end up being relevant. Did you see where ABC fired their President of Entertainment, Paul Lee? That same Paul Lee who said in January at the TCA's that he expected the next "Bachelorette" to be "non-white" and "diverse." So does that mean we can dismiss what he said now? Not sure. Especially since he was replaced by a black woman, Channing Dungey, making her the first ever black network president. That certainly makes things interesting. Does she stick with Lee's idea of a "non-white" "Bachelorette," or is it back to usual for the franchise? We'll find out soon enough.
Speaking of black contestants, a really interesting column posted last week that interviewed 10 former black contestants from past "Bachelor" and "Bachelorette" seasons. Very candid answers from a lot of the contestants, not to mention how varied their responses were. You can tell some of them hated their experience on the show and would never suggest it to anyone of color, yet some enjoyed their time and praised it. It's always interesting hearing any former contestant being candid about their time on the show. It's the one thing that disappoints me most about what I do is that it's basically impossible for me to interview former contestants and get them to open up about what really happened. Sucks.
A contestant from this season Lauren Himle spoke with a local Michigan outlet talking about her time on the show, and if she had any more glowing praises about everyone and everything involved, I'd swear her name was Caila. Although she did throw in that all the girls put on weight, so that was funny. But yeah, this was basically her audition for Paradise, which I will guarantee you she'll be on. One of the biggest locks of this season.
You know who I'm guessing would LOVE to be on Paradise? Amanda's ex-husband. He spoke, yet again, to another tabloid trying to defend himself saying he's a great dad and blah blah blah. Then of course ended it with saying he'd totally go on the "Bachelorette." This guy is doing nothing to dispel the image that Amanda has given to us of him. Keep it going, buddy. You're doing a hell of a job.
Speaking of Amanda, in case you didn't know, she and Lauren are BFF's since they're constantly posting on social media together. I don't follow either of them, but someone who follows Amanda on Snapchat sent me this picture and video she posted of the two of them together Friday night. I'm gonna go out on a limb here and say Lauren likes to get her drink on. Think she was overserved a tad that night? Ha ha great pic. As for the video, it was only one of those :03 snaps that Amanda sent, and at high speed to boot. So don't blink, you might miss it. It's a good one though.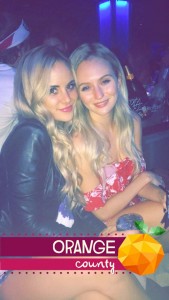 And finally, as for Amanda, even though we get at least one single parent on this show a season, do you think if the lead isn't going to pick them they should eliminate them before kids get involved? Weigh in.