-Next hometown is in Portland, Oregon with Lauren B. Now if you read the spoilers, Lauren's hometown was filmed last, so for TV purposes they moved her to the second slot last night, Caila 3rd, and JoJo last, I'm assuming, because hers had the most drama. Although not sure if you caught one thing when Lauren's dad was saying to Ben how he's probably met other families by now, and Ben chimes in "a couple…" Oops. Continuity error. Fire that intern. Anyway, Lauren's big thing is she tells us she's already in love with Ben "but I haven't told him that." Pssshhh. Like you even need to at this point. He's putty in your hands at this point. You could probably tell him that you have a UTI and he wouldn't care. Would probably try and treat it for you on the spot too. When they meet up he does lift her and kiss, but no spin. Lauren's much taller than Amanda so we can't call her a spinner. However, considering her choice of occupation, all we want to know at this point is if she's a charter member of the Mile High Club? I guess we'll have to wait and find out. Or never find out.
-She welcomes Ben to Portland, which is also known as the "city of roses." She forgot to also mention it's the city that drafted Sam Bowie ahead of Michael Jordan in the 1984 NBA Draft, which basically put a curse on the entire franchise. You don't think so? Ask them how they felt about a 15 pt lead heading into the 4th qtr of Game 7 of the 2000 Western Conference Finals against the Lakers, only to lose by 5. Great memories. And oh yeah, you also took Greg Oden over Kevin Durant. So Portland, while you may be the city of roses, you're also horrible NBA talent evaluators when you have a high pick in the draft. But enough about Rip City and your long line of losing teams, we see Lauren show Ben the "Keep Portland Weird" sign that Mandi had in her intro video. They hang out at Pioneer Square which has a bunch of food trucks from which they scarf down their lunch from. Looks quite healthy. No wonder Lauren H. said all the girls gained weight in that interview. They ate crap from lunch trucks! Not the most nutritional meals on the planet last time I checked.
-She then took Ben to a whiskey library where they had a bunch of different whiskeys, and now Ben can't even remember the name of the last girl whose hometown he was even in. What was her name again? The one with the kids? Oh yeah, Amanda. Whiskey > kids is pretty much what Ben is convinced of right now. And why wouldn't he be? Although if he's not careful, too much whiskey might lead him to kids. Or whiskey d**k. One of the two. They head to Lauren's parents house where he's going to meet her dad Dave, mom Kristen, sister Mollie, and two brothers, Bryant and Brett. If only there was a white picket fence around their house, this family could be a Norman Rockwell painting. Although, maybe Norman would have to include Lauren in the picture behind bars in an Indio prison for that little Coachella mishap last year. Meh, no biggie. However, coupled with her pic Friday night with Amanda all lubed up, maybe someone needs one of those breathalyzer tests for her birthday. I'm sorry, I gotta see those again…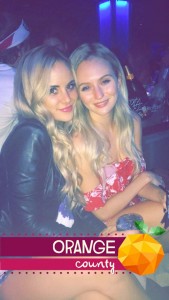 Schmammered.
-Her sister Mollie has questions for Ben. Like, loads and loads of them. You can just tell Mollie is an uber fan of this show and can probably recite all past hometown dates, winners, and who's hooked up with who. I just get that vibe. Mollie: "How do I know you're not saying the same thing to all these families?" Well, you don't and he is. So I hope that answers that. Mollie: "What makes her stand out to you?" Ben: (starts crying) "I can't put it into words…I feel real lucky (sniff sniff)." Well not that you need any sort of proof of anything that I told you 3 months ago, but hey, if you did, you just got it. The guy got choked up talking about Lauren to her sister. Did he get anywhere close to that with anyone else's family? Not a chance. This is a slam dunk and has been since I was even reporting it was Lauren while filming was still going on. This is a bigger slam dunk that the Trailblazers holding a 15 point lead heading into…woops. Bad example. But you get my drift. I don't need anything I see on the show to prove any spoilers because, well, I just know he's with Lauren and have for a while. But there are some that need to see proof/pictures/videos/credit card accounts etc. Last night you got it.
-When Ben talks to Lauren's dad, it's all about getting the perfect line out there for him to buy. Her dad was skeptical about the whole thing because he said that he and his wife dated for years before getting married, and now Ben might do it in such a short time. Ben's answer: "When I make that commitment, and get down on one knee, it's because it's real." Well thanks for clearing that up, Ben. Because the numerous failed engagement previously on this show give Dad a whole bundle of hope that you can be #2 in 20 seasons to actually marry the final girl you choose. You haven't been convincing enough yet, so daddy Dave needs some time with Lolo. Yes, her nickname is Lolo. Sounds like a Brazilian soccer star. Dad reminds her that there are three other girls in the mix and to not get too excited yet because "I don't want my baby Lolo hurt." Although that made Lolololololololololo cry, deep down she's probably been picking out how many carats she wanted since about Vegas. "Ok dad, I hear ya'. Thanks for the advice. But you have no idea. I got this guy so sprung on me right now, he'd probably eat food truck cuisine off the ground if I had it in my hand right now."