The one bad thing about being gone last week was coming home to a DVR full of things I have recorded and finding the time to catch up on them. I know, first world problems. But when it comes to my life, yeah, that's about the extent of my daily struggle at this point. So many shows to get to and was only able to watch a few since returning on Monday. And then once I get behind, I end up giving up on shows. Like, I still haven't seen one episode of the new "Real World" season yet, but they're all recorded. I basically only got caught up on Idol and "Survivor." Somehow I managed not to see anything in regards to what happened last Wednesday, so that was refreshing to watch last night. Although, we've got 10 people left this season and honestly, I don't have a vested interest in any of these people. Like, outside of Thai, which of these people is even likable enough to root for? Hell if I know. Then again, coming off last season's "Second Chance," there was no way this season would be able to do better. Oh well. I'll still watch, but it's not nearly as good.
In case you missed my tweet from late last night, my sources ended up being correct I was able to confirm that the "Bachelorette" is currently filming episode 5 in Uruguay. JoJo was on a date last night at the Capi Bar in Punta del Este. After leaving the bar with her date, they walked on the street and were then treated to a fireworks show. Granted, the pictures are far away and I don't know which guy she was with (or if this was the night portion of a possible 2-on-1 date), but this was them last night…
In this picture, you can see the fireworks in the distance…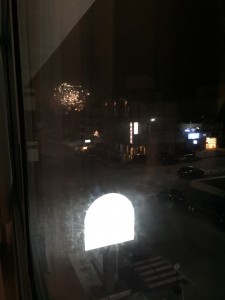 So with Uruguay being confirmed, I'm even more confident now that Thailand will definitely be another location this season. When? I don't know. Could be next episode, could be the episode after that, or could be overnights and final rose ceremony. We'll see. Going by my schedule, tonight should be the rose ceremony in Uruguay with a travel day tomorrow as they head to their next location.
And oh yeah, this picture Fleiss tweeted out yesterday of JoJo…
Looks to me like a beautiful woman falling in love… #TheBachelorette pic.twitter.com/rSGZh4vhyH

— Mike Fleiss (@fleissmeister) April 5, 2016
…was not actually taken yesterday. That was back from when they were still in LA. You gotta remember, Fleiss doesn't travel with the show until they get to the final rose ceremony. So all he's doing is getting pics from producers and reposting them. It's such nonsense and his tweets are so full of nothing, it's laughable at this point.
Daily Links
-Unless this is another one of their elaborate pranks, which by all accounts doesn't seem to be the case, Rob Kardashian and Blac Chyna are now engaged. Is there where I'm supposed to congratulate them? Because isn't it a forgone conclusion that at some point in the next 6 months to a year we'll see a headline that reads "Rob Kardashian and Blac Chyna Call Off Their Engagement?" It's inevitable, right? I guess tabloids can enjoy it and go crazy for now, but c'mon. Lets be real. These two are never walking down the aisle.
-Basically Amy Schumer is running the comedy world right now and everything she says or stands for holds a ton of weight. Sorry, no pun intended considering the story. But she blasted Glamour magazine for referring to her as plus sized, and because Glamour basically doesn't want any bad press, of course within minutes they issued an apology. Unfortunately, this is the world we live in. If you're a prominent female in Hollywood, your looks will always be talked about no matter what. Is Amy Schumer plus sized by definition? No. So yeah, she had a right to be like, "Huh? WTF?" Good for her for calling them out. However, I highly doubt this level of thinking is going away anytime soon.
-Whether you still watch Idol anymore or not, I'm sure at some point in the last 15 years, you had a run of at least a few years where you watched it religiously. If you did, last night's Idol retrospective was a great trip down memory lane. Very well done, talking about how it started out, how it barely made it on air, to how it became a global phenomenon. Seeing the footage from the first auditions was hilarious. Like literally Simon, Paula, and Randy were sitting behind a table that had an oversized kitchen table cloth with an "American Idol" sticker on it. Talk about low budget. Even though this week is the finale, creator Simon Fuller says Idol is not going away and will eventually be back with a completely new makeover. That I have no doubt of. You repackage that thing and people will watch. Will it ever reach an average of 33 million a week like it used to? No. Nothing on TV does anymore. But it can succeed.
-Speaking of the Idol finale this week, it's been announced that season 1 co-host Brian Dunkelman and season 2 "star" William Hung, among others, will participate in the finale on Thursday. You know how people can tell you where they were at certain points in their lives, like when 9/11 happened, or the Challenge shuttle exploded? I can tell you exactly where I was the day William Hung sang "She Bangs" during his Idol audition – right in front of my TV fixated on what I was watching. So much so that I was recording it, brought it to work the next day, and everyone in the office I was working in gathered around and we ran that thing on a loop for about 10 minutes laughing our asses off. At the time, it might've been the funniest thing I'd seen in a while. Of course nowadays, the show could never do that because some group would complain that's bullying, which essentially it was. Times have changed.
-Quite a few of you have asked since the beginning of the year when is UnREAL coming back. Monday, June 6th to be exact, and also they've started a web series with last year's popular character Faith, called "The Faith Diaries" that's now airing. She was the southern girl who made hometown dates only to discover she was a lesbian. The Faith Diaries follows her "journey" as she moves to LA to start her career.
-Not that anyone should be surprised, but Mischa Barton was eliminated from DWTS on Monday night, finally putting her out of her misery. Sure, she tried to put on a happy face and say she had a great time, but that was about as sincere as Chris Harrison was in his tweet on Sunday saying he "ran into" AshLee Frazier in Houston. So not the least bit surprising to hear that after the elimination, Mischa had another meltdown afterwards and basically everyone is glad to see her go.
-With The People Vs. OJ Simpson wrapping up last night, Marcia Clark has been everywhere on the talk show circuit discussing the show and her upcoming book. Here were her thoughts on the show, along with many other things. Re-living that circus in 2016 was must-see TV. That show is going to clean up at the Emmy's for all the incredible performances some of those people put on. I could watch another 20 episodes of that show. I'm bummed it's over. Seems like they could've done more than 10 episodes easy, but I get why they limited it to what they did. Great show that gave a ton of behind-the-scenes stuff that I don't think people grasped at the time.
-Jodie Sweetin is still alive on DWTS after surviving the bottom three this week and yesterday headed to Disneyland to prep for Disney week next Monday night. The fact she was already in the bottom 3 certainly doesn't bode well for her chances of winning this thing, but regardless, it's not like we don't know Nyle already has this thing in the bag. Please. One of the easier seasons to call. He's the best dancer and, oh yeah, he's deaf to boot. Of course he's gonna win.
-Apparently there's something called the BMI Pop Awards next month. Never heard of it. But they're doing something that's looooong overdue. They've named an award after Taylor Swift – The Taylor Swift Award. And you'll never guess who's receiving it this year. Taylor Swift. I think they should just rename the show the Taylor Swift BMI Awards presenting the Taylor Swift Award to Taylor Swift. I don't think that's overkill in the least bit.
-I've never watched John Oliver's HBO show, but I always see the clips when some segment he does goes viral. Like this past Sunday's rant on the Yankees, who have become ridiculously elitist when it comes to the tickets they sell behind home plate. Well, John Oliver put them in their place Sunday and followed through with his promise, as during yesterday's home opener, two guys dressed as Teenage Mutant Ninja Turtles, sat in the section behind home plate, basically as a giant FU to Yankee brass. Well done.
Send all links and emails to: steve@realitysteve.com. To follow me on Twitter, it's: www.twitter.com/RealitySteve. Instagram name is "RealitySteve," or join my Reality Steve Facebook Fan Page. Talk to you tomorrow.