Obviously a lot of reaction yesterday to what I teased regarding this season on Twitter and in my column. Again, can't say much now because I'm waiting to see how things play out, but overall I'd say it's just more silliness when it comes to this show. I know a lot of you have a hard time accepting that this is a television show, but just always keep that in mind. This is here for your entertainment. This is not the show that it used to be. This show is about building a brand, traveling, meeting new people, being on TV, meeting other people from the franchise, becoming the next lead, hooking up with others on BIP, and about 84th on the list, it's about finding a spouse. I know you all want JoJo to find the man she's going to be married to until the day she dies, but I think you need to start tempering your expectations for these people. It's unrealistic. Have there been couples that have made it from this show? Absolutely. Will JoJo be one of them? Maybe, maybe not. But there's just too many outside factors nowadays when it comes to this franchise that make it that much more difficult to the couple to be believable, and to actually make it. Lets see how JoJo's season finishes up in the next couple weeks and I'll be able to give you a clearer picture of what I'm talking about. Just never lose sight of the fact that this is a television made to generate ratings and to hold your attention for 11 weeks.
As you know, Jordan's hometown date yesterday, and if you were following my retweets, you saw that a lot of the students at Pleasant Valley High School in Chico, CA were freaking out that JoJo and Jordan were there. That's where Jordan went to high school along with his more popular brother, Aaron. Someone did tweet at me yesterday saying there were rumors Aaron was seen in Chico yesterday, but I haven't been able to confirm or deny that. Even if he was, it certainly doesn't change what I had told you a couple weeks ago – Jordan and Aaron don't have much of a relationship, so that'd be nothing other than ABC trying to get a cameo from arguably the best QB in the NFL on their show. If he did show up at the hometown, it's basically all an act. Sure, it's his brother and I'm sure he cares about him, but any sort of footage of them acting all buddy buddy just wouldn't be realistic to their actual current relationship.
As for the day portion of their date, here were some of the tweets that went out from the high school yesterday…
Ran out of class chased them around campus for 20 min got yelled at by the camera people but worth it #bachelorette pic.twitter.com/4dcb1HlB0L

— ashley (@ashlitaaa24) April 25, 2016
Shout out to Ms.Volk for letting me out of class = talking to Jojo? pic.twitter.com/XnSvBXMmEH

— Kayla Joyce (@kaylajoyce68) April 26, 2016
— Kaycie Holland (@kaycie_h) April 25, 2016
— Kaycie Holland (@kaycie_h) April 25, 2016
JOJO AND JORDAN?? pic.twitter.com/BkN0dIGaFX

— Madi Alloway (@Madialloway24) April 25, 2016
Jojo, the bachelorette, in Chico today!! Why are all these celebrities coming here lol pic.twitter.com/TqGAxpOQ3T

— Jordan Ataide (@TheJordster1995) April 25, 2016
One girl actually had a :08 second video of JoJo and Jordan walking arm and arm that I retweeted, but she's since deleted it, essentially meaning she was bullied by producers to take it down. That's what they do for God knows what reason. So stupid. So basically we got pictures this season from two of JoJo's four hometown dates – Jordan and Robby. And in both of those hometowns, we see her making out with each of them. That last pic of Jordan, then this one that I forgot to include last Friday with Robby…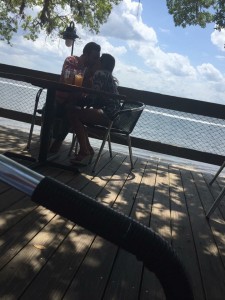 Also yesterday, we got the first promo of the season for JoJo. It was shown during DWTS, but a couple hours beforehand, Access Hollywood had released it and I retweeted it. In case you missed it, here it is…
There are 5 guys you see doing their limo entrances, 4 of which I've already identified for you: Jordan Rodgers, Robby Hayes, Grant Kemp, and that was Luke Pell coming in on the horse. The other guy was the next one you can add to JoJo's Guys list at the top of the page, and was also the one up front wearing the light blue shirt in the final 8 we saw in Buenos Aires…
______________________________________________________________
17. Alex Woytkiw: (Pronounced Y-Q, hence the Twitter and IG screen names) 26, originally from Florida, but currently lives in Del Mar, CA. Both brothers are just out of the Marines. Has a twin brother Adam and who has a wife Sarah. They were raised by a single mom, Loren. Looks like Alex was a weightlifting champion back in high school as well.
Facebook – Alex Woytkiw
Twitter – @real_alexyq
Instagram – alexander_yq
@RealitySteve bachelorette filming in buenos Aires today pic.twitter.com/ItdenHyxmQ

— Kelsey Kinser Evans (@kelskevans) April 8, 2016

______________________________________________________________
So since the first promo was released, I'll give you a few teasers for the season. One of them was already given out, when they showed Luke coming in on the horse. Here are a few more things to expect this season…
-Someone comes in riding a motorcycle
-Someone arrives in a Santa Claus suit
-One guy comes in getting introduced by a group of other people
-Two guys on the season have somewhat of a "history" together
-There is somebody who appears that you will recognize
-Someone jumps in the pool on the first night
-One guy "makes it snow" during a cocktail party
-A date this season is unlike any other one we've seen before. Well, we've seen it, just not done this particular way
And then here's a guess you can make on something. ONE of the following statements is true. The rest aren't.
A) A guy refers to JoJo as "naggy"
B) Someone very drunk ends up shoving a producer
C) One guy tells JoJo he thought Caila was gonna be the "Bachelorette"
D) A guy accepts a rose, then changes his mind
E) JoJo tells one of the guys to "get the hell out of here"
Those are just a few of the things you'll see this season. There will be more teases coming soon, along with the answers to those.
Send all links and emails to: steve@realitysteve.com. To follow me on Twitter, it's: www.twitter.com/RealitySteve. Instagram name is "RealitySteve," or join my Reality Steve Facebook Fan Page. Talk to you tomorrow.