It's been a whirlwind 24 hours. Non stop emails, texts, phone calls, meetings, etc. Fun times I tell ya. Let me first get started with a couple corrections to make from yesterday's column. As I tweeted out then added to the column yesterday afternoon, I incorrectly reported that Ashley & JP were going to be on next season's "Couples Therapy." So I apologize for that. With that said, I'm pretty sure they did film a show. I just had the wrong one. My guess is they did "Marriage Boot Camp." I'm waiting for confirmation. Also, totally drew a blank on a couple of BIP contestants on the cast list yesterday, along with you can cross a couple of them off. Lace and Lauren H. will most certainly be on. Rachel Tchen has a boyfriend, so you can cross her off. Also, you can cross off Courtney Robertson. I heard she's not doing it. Whew. Anything else I screwed up on? No? Ok we're good. I hope.
Jojo did her conference call with the media last week, and you can read her answers here and here. Nothing too spoilery since she can't give anything away, but enough to hold your interest to see what her overall thoughts on everything were.
The better stuff came in recent days when JoJo made sure to point that the story that her ex Chad told to the tabloids was false, as were the rumors she was talking to Nick before the show. Look, I expect her to say that. But she's lying about Nick. The funny thing is, as cocky as Nick is, I'm surprised he hasn't made some sarcastic remark on social media about it. She absolutely was in contact with Nick before the show. And if there were ever any sort of court order for her to turn over her phone records, you'd see Nick Viall's number appear. Simple as that.
Yesterday, JoJo went on Entertainment Tonight for a sit down and basically denied all the Jordan stuff. So yeah, she admitted what we all knew and that's that she saw online Jordan Rodgers was going to be a contestant on the next season. Do I believe when she said that's all she saw and never did any digging? No. And of course she's not going to admit they were in contact. That wouldn't be smart of her, nor would they ever want her to acknowledge that happened. But it did. Again, if there were ever a court order done to turn over her phone, or she was hooked up to a lie detector test and asked the same question, she'd fail.
Here's an interesting look into the legal side of spoiling when I was interviewed by the Hollywood Reporter.
Contestant Will made this video and, well, I don't know why or how to explain it. So just watch so Will can extend his 15 minutes as long as he can…
And finally, yesterday I told you I was gonna go back to the person who emailed me on April 15th and ask if they wanted their email printed in regards to Grant's ex-girlfriend, Jen Green. They said they had no problem with me printing it. So here you go…
"Hi Steve,
I'm torn between letting karma work it's magic and selling out a total fake. Since this email is in your inbox, I have chosen the latter. There goes my karma.
My best friend met Grant Kemp on a plane in 2014. Flight 268 (take note). They were both traveling back to San Francisco for the holidays and he ditched his family in the front of the line to sit next to her. She called me the second she got off the plane and told me all about their conversations, their hilarious flight attendant, and the make out session that ensued during the last hour of the trip. I told her this sounded like it was straight out of a movie.
He pursued her like crazy and soon enough a romance blossomed. Shortly thereafter, I was convinced my best friend had found the one. He was a kind soul, understood her sophisticated sense of humor, and made quick friends with her inner circle.
It takes girls like Jen a long time to find the right person to date. She's gorgeous, incredibly funny, and has a successful career as a reality tv producer (Ironic right?).
Jen was highly critical of his "body building career" when they first started dating and encouraged him to get out of it due to possible steroid usage and his body image issues. Over time it morphed into the pursuit of a "modeling career," which I am convinced he is paying money out of his own pocket for (think of Barbizon- also check out all the "followers" he has on instagram. They're robots, Steve!! Robots! He must pay for them or something.) Not to mention the "agencies" he has listed on his IG, which are either out of business or fake all together… Despite all that, Jen was a supportive girlfriend and it seemed they were in it for the long run. Over the summer he GOT A TATTOO OF THEIR FLIGHT # IN ROMAN NUMERALS ON HIS ARM. Wonder how he explains that on the show… I attached a pic I took with them that day: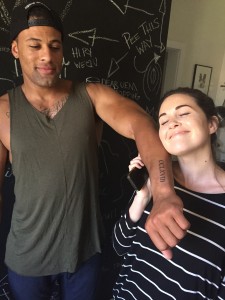 He spent thanksgiving, christmas and new years with her and her family and by this point he was constantly talking engagement, kids, family etc. I mean, if this pic doesn't scream "I love Jen" I don't know what does!
At the very end of January, Grant abruptly broke up with Jen – OVER THE PHONE while she was out of town filming another show. He gave little to no information as to why they were breaking up and canceled a trip to see her to speak about it in person. He just left her in the dark.
Jen had a feeling something else was up considering there were no signs of problems in the relationship- Cut to her texting me a few weeks ago saying, "You're going to think I'm crazy, but I think Grant is on The Bachelorette." With a little digging she got to the bottom of it and what do you know- Grant Kemp, firefighter from San Francisco, here to FIND love! That's odd… he already had love!
The creepiest part is that Grant met all the Bachelor producers through Jen over the summer while she was working with them on a different dating show.
Prior to February, Grant had a separate/normal instagram and fb page (covered in photos of him and Jen), but he deleted it once he got on the show. If you look at Jen's page (@jen.not.jenn)- you can see she's a genuine person and that she was very much in love with this guy. I'm sure Jojo already realized his reasons for going on the show having sent him packing already, but I hope he's happy with the sacrifice he made to fulfill his lifelong aspiration in life: gaining more instagram followers!
What a time to be alive.
-Jen's Friend"
Sooooooooo there you go. A little more detail to the story that was tweeted out on Monday night. Grant actually took to Twitter to respond to that tweet and basically went into the semantics of it. He said he applied for the "Bachelor" on Jan. 25th and got contacted the next day. Of course, he seems to be missing the whole point here but whatever. That's his response to his breakup with Jen. And if you dig further, you'll see that Grant was engaged to a Nicole Hausman before he met Jen. And before that, he was…forget it. My head is starting to hurt. You get the point.