Yes, today is my birthday. Thank you to everyone who's already emailed, tweeted, or Facebook messaged me already. This old man appreciates it. Sorry, couldn't do another Vegas birthday this year. Timing just didn't work out. However, not ruling out something for JoJo's finale. I'll keep you updated. As for me, I just wanna say how disappointed I am in myself that my bowling game was not up to par this past weekend. Granted, it'd been a while since I'd bowled and was coming off a minor hamstring injury, but I'm not here to make excuses. No sir. I expect better than a 148 and 122. Especially considering Nicholas bowled a 131 in one of his games. Granted, it was with the bumpers, but still. Don't think that didn't have the highly competitive Olivia stewing all night long that her brother destroyed her. If there's one thing I learned this past weekend, it's that my niece and nephew compete against in each other IN EVERYTHING. Seeing who can open the door to the car and sit down the fastest? Check. Running to the restaurant and opening the door first? Check. It's never ending. I don't remember me and my sister being like that growing up. Probably because I killed her in all activities.
I haven't even talked about the season preview teaser that aired at the end of last week's episode. We got a few answers in there in regards to the spoilers. You can switch Chase and Luke's spot up. The previews clearly showed Chase went to Thailand:
So Luke got eliminated after hometowns, and Chase got eliminated after overnights. It's been updated in the episode-by-episode spoilers. If because I was wrong about this you think this might mean I'm wrong about the ending, ummmmm, don't know what to tell ya'. It's not. Just had these two mixed up. Actually, I just wanted people who were filling out Bachelorette Brackets to be wrong about one thing. Kidding. I had been given info that Luke made it to Thailand and was eliminated there, but obviously wasn't the case.
Get your "Reader Emails" and "Dr. Reality Steve" emails in for this week. I didn't push it enough last week and we ended up with only two "Dr. Reality Steve" emails. Right now I think we have three, but I'm gunning for between 8-10. "Reader Emails" is kinda on the lighter side now as well, so get those in today so tomorrow will be a fun happy day of reading.
Ratings are in and, as expected, they dipped because of the holiday. But compared to Kaitlyn's Memorial Day episode last season, they were a little better. Kaitlyn drew 5.3 million viewers and a 1.6 rating, while JoJo drew 5.8 million and a 1.6. With a double episode next week on Monday & Tuesday, I expect both will be back in the 6 million viewer range, with both hovering around the 2.0 mark for ratings.
JoJo's blog is up at People.com, where she for some reason tries to convince America that Chad was just caught up in the emotion of everything. Yeah, either that or he went off his cycle for a couple days. Chris Harrison's blog is up for Yahoo as well, and honestly, I didn't read it. I'm guessing it doesn't say anything important.
Mike Fleiss decided to have a little fun on Twitter last Thursday, giving out 3 names of people who are coming to Paradise: Lace, Ben Z., and Caila. I could've told you that night he was full of it and, well, he's since deleted the tweets. Ben Z. and Caila I've heard are out. Lace is doing it last I heard. No, she doesn't have a boyfriend. So just like all his tweets during filming of JoJo's season, ultimately he gave you nothing. As for the actual cast, I'm hearing these girls from Ben's season will be part of the original cast:
Emily & Haley Ferguson
Jubilee Sharpe
Amanda Stanton
Leah Block
There could be more but I'm hearing those are pretty solid locks to be on the original cast. Others will be brought in later. Contestants arrive this weekend with filming beginning early next week. I'm hearing the location is the same place they filmed last season – Playa Escondida in Sayulita, Mexico.
We all saw Chad on TV last night making a complete ass of himself. But frankly what's worse is what this guy is doing on social media. Take for instance his little feud going on with Christian right now. Christian posted this to his Instagram a couple days ago promoting the show.
This same picture was posted on the The Bachelorette Fan Page where Chad felt the need to call Christian out for it. His comment has since been deleted, but I was able to catch it before it was: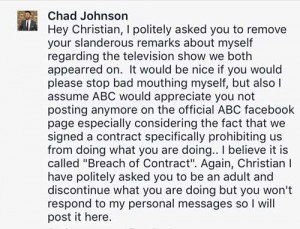 Geez. Sensitive much? All Christian said was, "What you lookin' at Chad?" And that warranted THAT response? If that wasn't bad enough, apparently Chad isn't done trolling some of the guys. So although Chad is doing nothing but bringing attention to himself on all social media platforms (his IG account has his email, FB, Twitter, and snapchat names), the guy decided to buy the domain names of four of the guys on the show and re-route them to his Instagram page:
www.derekpeth.com
www.robbyhayes.com
www.chasemcnary.com
www.alexwoytkiw.com
And yes, it was Chad who did this because all you have to do is a simple domain name search on the registered owner of each of those sites and it links directly back to Chad. Seriously, this guy is losing it. So he wants to have fun with everyone on social media and say he's entertaining and having fun, yet the guy takes any mention of him in a negative way and goes to the bullying card. Really? Buying some of the guys domain names? Not cool.
Lets face it, we know this show has turned into a social media pissing contest. Basically, everyone is out to promote themselves in any way they can, whether positively or negatively. Chad is digging all the attention he's getting from the show, since it's driving up his Instagram followers. Too bad he's still pretty far back in the pack right now. Lets take a look as of this morning, who has the most followers on Instagram:
Jordan (jrodgers11) (124,000) – He had a head start being a former college QB. Not surprising.
Luke (luke__pell) (21,700) – Gained about 5,000 in the last 4 days.
Christian (mrchristianbishop) (22,100) – His plan is working. Is constantly IG'ing, FB'ing, and Tweeting out show related clips and news stories.
Wells (wellsadams) (17,600) – Gaining popularity.
Grant (grantkemp) (17,100) – Although his ex claims most of his followers are bots.
Alex (alexander_yq) (16,600) – Probably surprised about his numbers the most.
Robby (roberthunter89) (15,500) – I expect him to be in 2nd place by the end of the season. Constantly hashtagging #TeamRoJo on every post.
James Taylor (jamesmccoytaylor) (13,400) – Will finish top 5 by end of season I imagine.
Derek (dpayth) (9,000) – I see him losing steam.
Chad (realchadjohnson) (9,000) – He's gained 4,000 just since Friday.
Those are the most notable guys up to this point. I'll be curious to come back to this column the day after the finale and compare the numbers. It's all about social media now. You market yourself well enough, you increase your followers, and the more things that can come your way.
And finally, today's poll question centers around, who else? Chad. What do you think?