It's Chad's world right now. We're all just living in it. Yeah, I'm sick of him and I'm sure most of you are too, but hey, only one more night of him (for a while at least). Anyway, with UnREAL starting back up last night, I can say I was much more excited for that than anything this show gave us. Since UnREAL is really the only show I watch on Lifetime, sometimes I sit there and wonder how it's possible they get away with some of the things they do. For instance, I had no idea you could say p***y on cable TV. I mean, I know I'd heard it before, but I figured it was HBO or Showtime. Not to mention we get to see Rachel getting tagged from behind against a window 2 minutes into the episode. Amazing. Hey, keep it coming. It was certainly quite the doozy to kick off season 2 last night. Hope you were all following along on Twitter last night. It won't be a weekly thing where I live tweet it, but, I will definitely be giving my thoughts on the show as the season goes along. Very curious to see where the Quinn/Rachel relationship is headed this season, especially with Chet not being out of the loop anymore by a long shot. Are they going to make two different shows all season like Chet suggested? No way that happens, right? Guess we'll find out soon enough. Again, if you're a fan of reality dating shows, UnREAL is a must watch. Takes you behind the scenes to what really goes on in shows like these. Pretty eye opening to say the least, but nothing I haven't been telling you for years.
Ratings are in from last night, and as expected, they bounced back after last week's holiday episode, also beating Kaitlyn's episode 3 in the same spot. Last night drew 6.8 million viewers with a 2.0 rating, the same rating they got the night of the premiere. This was up from a 5.8 and 1.6 rating on Memorial Day last week. Kaitlyn's third episode last season (a week after Memorial Day), drew 6.4 million and a 1.9 rating. Tonight you can expect a dip since this is not a typical "Bachelor" viewing night. Hell, I had people on Twitter last night asking why I was saying Chad goes home tonight. Even though last week ended with them saying there's two episodes this week, even though this week's episode opened with "the first of a two night Bachelorette special," and even though I mentioned all last week how there would be back-to-back episodes this week and no new episode next week, people still had no idea there's a new episode on tonight. I think these are also the same people that think this show is real.
JoJo's blog is up now at People.com and although there isn't anything in there that's too terribly shocking, she did admit that when Evan was telling his "sex story" on stage that day, she had no idea he was talking about Chad. None. Wow. I know you're in a bubble when you're on this show, but man, how did she miss that one?
With episode 4 happening tonight, I'll have a recap up tomorrow meaning that on Thursday, I'll be combining "Reader Emails" and "Dr. Reality Steve," so it gives you an extra day to get those in. Kinda low on both of them as of now, soyou're your questions in to be answered on Thursday. There will be no live video chat on Thursday night. I'll return in a week from Thursday for your next one.
Ok, so if you haven't been keeping up on Twitter since Friday, a few "Bachelor in Paradise" casting announcements. Filming for BIP begins either today or tomorrow. I'm sure producers and Mike Fleiss will let us know which night it is on Twitter. This cast is ever changing, and it's kinda hard to predict who is the original cast and who is coming in later, but I'll do my best. Remember, the original BIP cast gets released while filming is still going on, then they will randomly fill guys in who are JoJo's season, but not yet eliminated on TV yet. Last year, People.com posted the initial BIP cast (as much as they could because plenty of the guys were still "competing" on Kaitlyn's season), on June 10th, so I would expect roughly the same this season. That cast announcement should be happening in the next few days. Here's everything I can give you up to this point:
-On Friday, I spoiled on Twitter that Sarah Herron will be appearing again on BIP. She was on season 1 of BIP and had that awful ending with Robert after things went south during their overnight stay. She'll be part of the original cast.
-On Saturday, I tweeted out pictures of Chad at the Houston airport heading to Puerto Vallarta, confirming his appearance on BIP.
-On Sunday, I retweeted a photo of Amanda at the airport, confirming her appearance on BIP.
-Then yesterday, I confirmed that Nick Viall (God help us all), is gonna be on Paradise as well this season. He. Just. Can't. Stay. Away.
So for the original cast, here's who I'm pretty sure is part of it:
Ben's Girls:
Haley Ferguson
Emily Ferguson
Leah Block
Lace Morris
Izzy Goodkind
Jubilee Sharpe
Amanda Stanton
JoJo's Guys:
Evan Bass
Grant Kemp
Chad Johnson
Alumni:
Sarah Herron (Sean's season, BIP 1)
Nick Viall (Every season ever)
Other names you will/possibly see appear at some point this season, if not part of the original cast.
Ashley Iaconetti (Chris, BIP 2)
Carly Waddell (Chris, BIP 2)
Jared Haibon (Katilyn, BIP 2)
Jonathan Holloway (Kaitlyn, BIP 2)
Lauren Himle (Ben's season)
Jennifer Saviano (Ben)
Jami Letain (Ben)
Shoshanna I-don't-want-to-spell-her-last-name (Ben)
Vinny Venteria (JoJo's season)
Christian Bishop (JoJo)
James Taylor (JoJo)
Obviously there are more people who will be appearing, and some of these names may even be in the original cast. I'm just relaying everything I've heard up til this morning. Names like Josh Murray and Jef Holm are still being floated out there, but I haven't heard a solid confirmation either way if they're on or not. Just because you don't see a name on here doesn't mean they won't possibly be on the show.
Now lets get to America's Biggest Douchenozzle, Chad Johnson. Since he likes trolling anyone who crosses him (he's added more domain names to his list I gave you last week, which is illegal by the way. It's called cybersquatting Chad, you might want to look it up), why not have a little fun with him? Got an email on Friday from someone who had seen Chad's profile on Match.com that he had up until he left to film JoJo's season. I didn't know if it was possible for this guy to be any more of a narcissistic, meatheaded ass hat than he already was…until I read this profile. Seriously? What woman would want to email him after reading that self-indulgent piece of garbage. This guy deserves everything he gets post show on social media, and then some.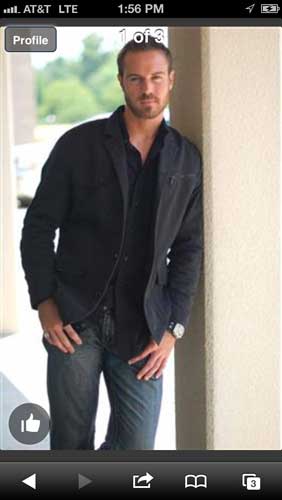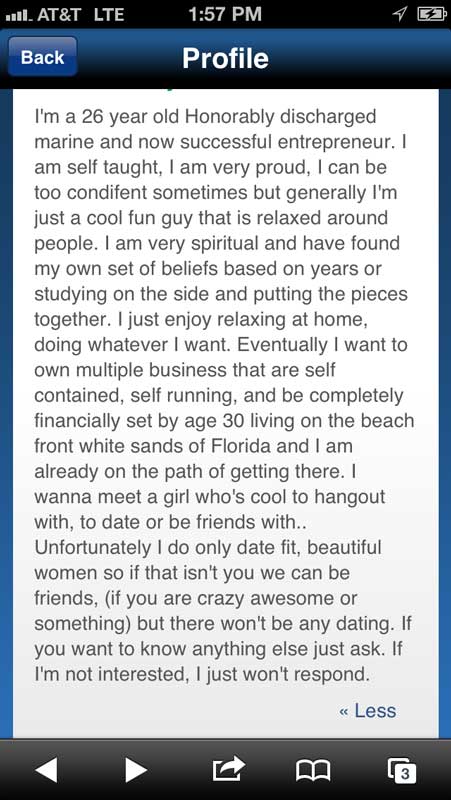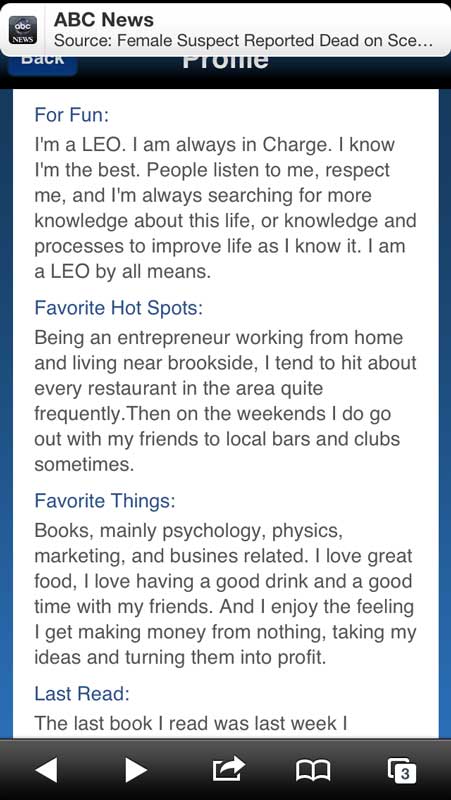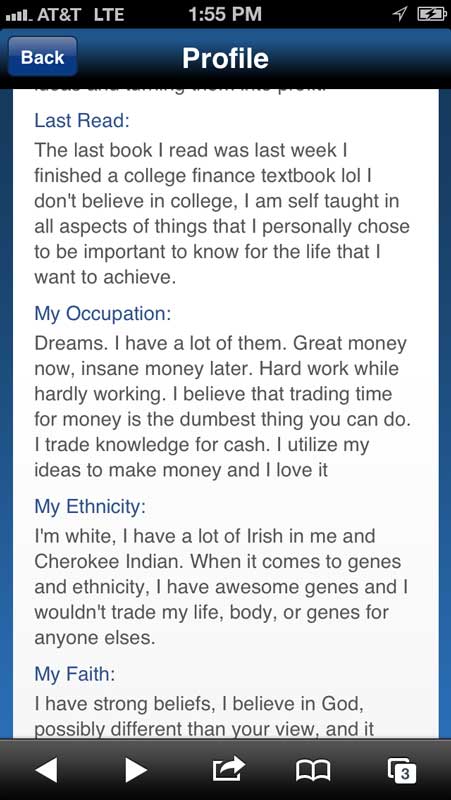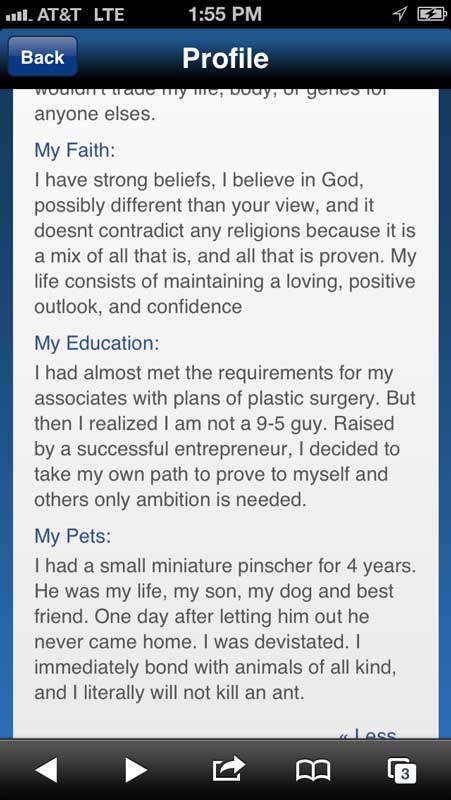 Ooooohhhh, honorably discharged from the Marines? Did he perform a Code Red? Did he rat out Private Santiago? Why do I have a feeling there's more to Chad's discharge from the Marines than he's letting on? I had no clue about what this guy did in the Marines, how long he was in it, etc. No idea. But now reading that he immediately puts it out there on his dating profile he was honorably discharged, it certainly makes you wonder what his deal was. Anyone want to do some digging on why he was honorably discharged, be my guest. I don't have time for it. I'm busy folding my socks and organizing my underwear drawer today.
With the start of UnREAL last night, for those that didn't know, that idea came from a short film called "Sequin Raze" made by Sarah Gertrude Shapiro, that was just released to the public yesterday on this website. If you've got 20 minutes today, check out the short film that turned UnREAL from a short film into a successful TV show:
And finally, they dedicated a whole hour to the group date last night, yet barely any of it was actually on the date itself. It was Chad, Chad, and more Chad. So I ask you this. I know he goes home tonight, but is it too much?