I'll admit, I do love it when the show makes a gaffe and I can point it out. Yesterday, it wasn't necessarily the show that did, but whatever happened, it certainly benefitted me. Watching this show from 7-9pm CST, then watching UnREAL right afterwards, I don't get to typing the column until 10pm CST on Monday nights. It's a beast and takes me a while. So imagine my pure joy yesterday when a few people emailed me to tell me that Hulu had posted episode 5 yesterday morning. Oh happy happy joy joy. That made my day. So I watched it yesterday morning, wrote a lot of my column yesterday afternoon, and was basically able to sit back and enjoy the show without as much writing during it. Although I use the word "enjoy" loosely. Must've been a screw up on Hulu's part, because not two minutes after I tweeted out I'd seen the episode, it was already taken down. Sorry. Guess I shouldn't have said anything and they probably wouldn't have caught it. But hey, at least for one episode, it made my life easier.
I know I mentioned this Thursday, but Tuesday are much higher traffic days so I want to make sure you all see this. I'm having another party in Vegas this year, and you're all invited. It's limited availability (we can do about 60 or so), and we're only 5 weeks out, which is less time than I gave you last year. It's going to be Friday night July 29th at Mandalay Bay. Essentially exactly what I did last year, except it's not my birthday this time. Last year we had around 50 people show up, it's free, there was food, open bar, and the first annual Reality Steve Bachelor Trivia game, where I gave away prizes for first and second place. Same thing this year. Food and open bar and the trivia game will return. Gonna do things the exact same way as last season. If you are interested, you need to email me immediately to get put on the "tentative" list. If you are flying in, once your flight is booked and you show me your flight itinerary, you will be on the "confirmed" list. I do it that way since it's very easy for someone who lives close who's driving to say, "Put me on the list, I'm in" then flake at the last minute. And with limited amount of space, I can't have people cancelling. Last year on the guest list, only 2 people who were confirmed didn't show, so that was good. I just figure if you're booking a flight to come, there's much less chance that you'd flake out on that. If you are in a neighboring state, or are driving, you obviously can still come, but I would just need to see a hotel confirmation. So email me today if interested. In terms of hotel, you don't have to stay at Mandalay Bay. You can if you want, but it's not mandatory since you can still get into the hotel and up to my room if you're not a guest. But if you do want to stay there, I could probably get anyone interested around a 20% discount off their room rate that's currently running on their site, so let me know.
JoJo's blog for People.com is now posted and the most interesting thing she says talks about her ex-boyfriend Chad, and the drama his interview with In Touch caused. Here's what she wrote:
"Chad and I dated for years, and we shared so many good times. We will always have so many memories together. But we broke up. And that break up was hard on both of us. I fought so hard to let go, and it wasn't until I met Ben last season that I was truly able to do that. But as you saw when I returned home to Dallas last season for my hometown date, Chad couldn't let go.
It was no different when I came home after the season. He was hurting, and it pained me for him to be in so much pain. I did spend time with him, but it was never with any intention of rekindling a romantic relationship. When I left for The Bachelorette, I thought we were in a good place. I thought we were back to being just friends. But seeing that article, reading that he questioned my intentions for doing this, it just hurt me so much."
So she is admitting that when she got back from Ben's filming, "I did spend time with him." See, that's where the waters get muddied. Considering how many past contestants have gotten back with their exes after filming, is it really that hard to believe that maybe, at some point, JoJo and Chad were messing around? Of course not. Now, maybe JoJo didn't have any intention of it rekindling anything, but do you think she made that known? I'm really supposed to believe that these two with a history like they had, spent time together and nothing happened? C'mon. It's just not believable to me. Their exes. Ex sex happens all the time. A lot of people do it. And considering these two were on and off for years, it's really hard for me to hear her admit they absolutely spent time together, yet, nothing EVER happened. Just not believable to me. But hey, consider me a skeptic.
Let talk about that final rose ceremony clip from last night where the editors did a hell of a job pulling the wool over people's eyes. Here it is in case you missed it:
Now if you watch it straight through without any dissection, it seems like the guy she dumps did her wrong. But a closer look reveals how much of that was voiceover work and stuff spliced in versus what we actually saw coming out of JoJo's mouth. Big difference. Let me show you:
The beginning is a shot of her walking on the beach is her voiceover saying, "Coming into this, I wanted to find love." Then we cut to an ITM and see JoJo saying the word "and I found it with a man,", but THEN it cuts away and goes to a voiceover of her saying, "that will not be able to love me the way that I said I wanted to be loved.". So yeah, that part is spliced together to make you think the guy she's found can't reciprocate those feelings. But that isn't the case.
Then following that, we get this sequence: When she's on the altar looking at the guy (Robby), we see her say to him, "I fell in love w you." Then the camera pans away and she says "and I still love you." Then back on her face you see her say "but what you did to me", then they pan away AGAIN and that's when we hear "it's not right. But I wanted you to know. It's really hard for me to not accept", then we are FINALLY back to her face and see her saying "this love.". So yeah, basically a bunch of smoke and mirrors to try and screw with you, but basically she's upset about dumping Robby because she says she loves him, cries hysterically, but then obviously gets over it before Jordan arrives. They just never show any of that part.
All you need to do is watch this promo clip UnREAL released a month ago to see how simple it is for the editing room to create a whole different story that isn't there:
Also, in next week's episode preview, we see this shot of the Argentina rose ceremony: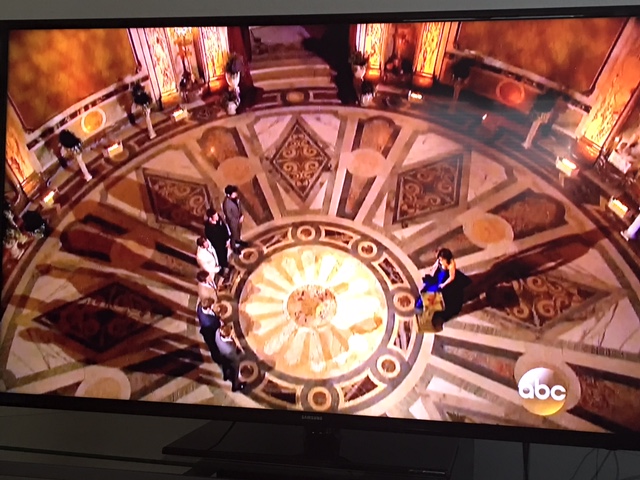 As you can see, there are only 6 guys standing there. Derek was eliminated on his 2-on-1 date, and Wells isn't in that picture, meaning he was either let go on his 1-on-1, or left at some other point in the episode. Bottom line is those 6 guys standing at next week's rose ceremony all make it to the following episode, which is episode 7. So none of those guys get eliminated, and JoJo walking out and saying "she can't give him a rose" is all manufactured drama since we know all them advance.
Lets talk "Bachelor in Paradise." As you saw in my tweets yesterday, your original cast is now complete.
Girls:
Leah Block
Sarah Herron
Haley Ferguson
Emily Ferguson
Lace Morris
Jubilee Sharpe
Izzy Goodkind
Amanda Stanton
Carly Waddell
Guys:
Grant Kemp
Evan Bass
Vinny Venteria
Chad Johnson
Daniel Maguire
Jared Haibon
Nick Viall
Filming started last Wednesday, June 8th. It should wrap up the beginning of next week. Other names that you will see this season appear that I can report on now are: Josh Murray, Caila Quinn, Christian Bishop, Wells Adams, Jennifer Saviano, and Ashley Iaconetti. There are three other contestants from past seasons as well who arrive that if I just gave you their faces, I'm pretty sure 99.9% of you wouldn't even remember their names. And if just gave you their names, I don't think you'd be able to recall their faces or what season they were on. But in any case, those will all be revealed in due time when I post all the spoilers once filming is over.
Here are some mini spoilers in terms of those names that I gave you. These people are all home: Sarah, Jubilee, Vinny, Chad, and Christian. More will be home shortly I assume.
Now, lets talk about Chad. First, about his "Bachelor in Paradise" appearance. As we know he's already home. Well, that's because on the very first night, he got belligerent drunk, told people they could "suck Bachelor d**k," got into an argument with Lace, called her the Cee You Next Tuesday word, and was basically out of control. So the next morning Chris Harrison kicked him off the show. But I'm sure that was all the editing, right Chad? I know he went on Kimmel last night and blamed the editing, but I'm not sure how he's gonna blame the editing for his drunken behavior getting kicked off "Bachelor In Paradise" after one night.
As for yesterday's big news regarding Chad, in case you missed it (and pretty impossible since every major outlet is covering it now), he spent time with Robby's ex-girlfriend Hope Higginbotham over the weekend in Tulsa and decided to post this Instagram about it.
Here's what I can tell you from what I know. He's lying when he said on Kimmel and alluded to they randomly ran into each other while traveling. That's complete BS. This was planned. Not sure how long they've been talking, but one of them contacted the other, they spoke, and next thing you know, she's in Tulsa making out with him. I have no idea if they're dating, if he's trolling her, if she's trolling him, whatever. There are a lot of conclusions one can draw but nothing is definitive now other than they definitely planned to meet up. But it certainly calls into question both of their character. Does it change the fact that Robby was in talks with the show while still in a relationship with Hope? No. Because that happened as well. But that was 5 months ago. Not a smart decision on her part to get involved with this guy, and who knows what these two are up to, but just wanted to lay out for you what I know. Good luck you two. You'll need it.
So with that said, here's today's poll question: