-They are headed to Punta del Este, Uruguay and half the guys can't even pronounce it. I'd love to hear them try and spell it. Then again if I'm being honest, I guess I don't know the correct pronunciation. I've always pronounced it YUR-uh-gway. Is that the American way to pronounce it or universal? Do the natives pronounce it OOR-ew-gway? I looked it up. Here's our answer:
[yoo r-uh-gwey, -gwahy; Spanish oo-roo-gwahy]
So yeah, I was pretty much dead on. Except for knowing how to spell words when trying to pronounce them. All I know is that I'm pissed Uruguay doesn't have two "a's" in it since the easiest joke to make would be "You can't spell Uruguay without 'Raya'." I mean, c'mon. That's a layup. Especially with Jordan having the first date of the episode. Date card: "Lets seal the date." Oh boy, in Jordan's mind, I think that means a liiiiiiiiitle something different than what JoJo is implying. Jordan sets up the theme of this date by saying, "She knows I'm the kind of person she can trust." Oh totally. And if JoJo wants, I could forward her the email addresses of all the girls that emailed me and she can ask them directly if she can trust you. I'm guessing you wouldn't want her doing that. Of course not.
-At the beginning of their date when they're riding on the yacht heading to go play with seals and JoJo is all up in Jordan's biznazz in her bikini, we get quick shots of the guys back at the hotel discussing Jordan and Derek puts himself out there as the guy who doesn't trust him. "If there was one person I could question here, it'd be Jordan." Can't imagine why anyone would say that? Such a stand up guy. All the while, Jordan and JoJo are making googly eyes on the boat, groping, leg locking, making out, and otherwise not having a care in the world about what anyone's saying or caring about what's going on back at the hotel. UNTIL…
-The guys are getting haircuts and randomly In Touch magazine is sitting there on the tables for them to read. You know, because I'm sure the people of Uruguay are dying to know about all the US entertainment gossip at all times. In 31 previous seasons of this show, we've never seen something like this where the show address tabloid stories DURING filming to use as a storyline. So obviously these magazines were purposely shipped to Uruguay so that this would be a talking point for the episode. Please, please, please I hope no one tells me they thought this scene was done organically and these guys just happened to stumble upon this mag. Now that's funny. The guys don't know what to think, they're bothered by what JoJo's ex said in the article and they want to hear her side. In case you still haven't seen the story, this is what her ex Chad said.
-What's funny in all this is Chris Harrison is always the mouthpiece of this show to constantly trash the gossip rags and say nothing they write is legitimate, yet, they'll use that to advance one of the storylines on their show. Oh ok. Back to Jordan's 1-on-1 and he tells JoJo, "I mean every word I say. I'm falling in love with you." Damn, dem' some powerful words coming from Jordan. Then again, I'm sure if you asked his exes, they'd say he told them the exact same thing. Over dinner is where JoJo tells the wacko story about how she "met" one of Jordan's exes in Dallas and she told her that he wasn't a good boyfriend. I'm not a great body language reader, but I'm pretty sure Jordan's body language was saying "Oh f**k" at this point. Call me crazy. And then the sip of water in the middle of all of it was the equivalent to the classic "I'm-gonna-repeat-a-direct-question-you-just-asked-me-back-to-you-so-I-can-dig-for-my-answer."
-JoJo: "Was there cheating?" Jordan: "Well…errr…ummmm…no, not physical cheating, but enjoying talking to girls I shouldn't have." Sooooooooo, cheating. I mean, he's just a horrible liar, flat out. I think "Blank Space" was written about Jordan. Did he date her at some point? I'm sure he did. Hell, he's dated half of Nashville, why not throw her into the mix. Hey, why not start a conspiracy theory that Jordan was the cause of Taylor and Calvin's breakup. Hiddleston Schmiddleston. I'll go with Rodgers. Jordan basically tells JoJo there was no cheating and he has nothing to hide, and whaddya' know, she believed him. I think Jordan could've told her at that point, "You know, I saw Bigfoot once. And he was partying with the Lochness monsters while unicorns were trying to get into the party" and she probably would've believed that too. Man, I think every guy would love to have a girlfriend like JoJo. Just buying everything you say left and right without a doubt in the world. Must be nice.
-She tells him that last week he told her that he was falling for her but this week he said he's fallingin love with her, and that really impressed her that he threw out the big L word. Oh honey, so much to learn. You honestly in your heart of heart think that a guy who's on his first date with you, who's interested in a career in media, and knows what he has to do to say the things you want to hear, honestly believes he's falling in love with you on this show? After one date? You truly believe that? Ummmm, you're a moron. But she gives him the rose anyway, and they live happily ever after going dancing in the streets of Ooroogwahy together like star crossed lovers. Hey JoJo, I believe TSwift said it best when she said, "Cuz you know I love the players, and you love the game." These two couldn't be better matched for each other.
-And in case you missed it, during Jordan's date, this tweet was posted from a Jordan Pruitt, former contestant on the "Voice":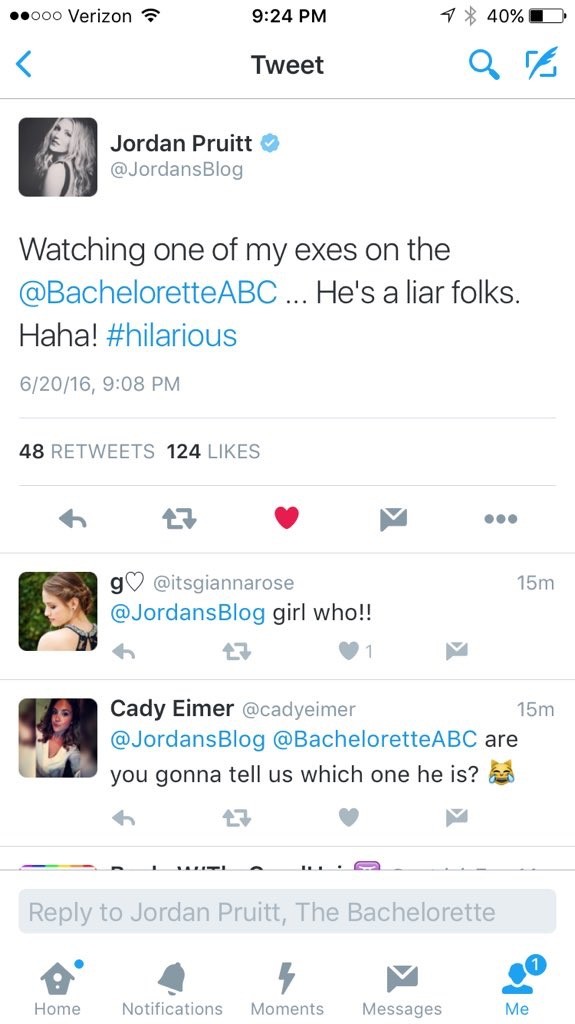 I had to post a picture of it since she deleted it shortly thereafter. A lot of people were asking her who she was talking about and she got bombarded, so I guess she decided to delete the tweet. She was referring to, who else, Jordan Rodgers. So although she's deleted the tweet, unfortunately for you Jordan Pruitt, expect tabloids to be blowing up your inbox this morning trying to get a story from you. Amazing what social media has turned this show into.