We're at a point right now in the "Bachelorette" season where things are gonna start to get ramped up. Crazy things happening, tabloids going nuts, and every story imaginable will start hitting the newsstands every Wednesday most gossip rags are released. This happens every season. This is nothing new. And every one of these magazines are going to have salacious headlines that are attention grabbers to make people buy their magazine. It's a given. That's what they do, it's how they stay in business. You don't see headlines on tabloids of how great things are going in relationships. That doesn't sell. It's always about cheating, or pregnancy rumors, or who's the new person who's dating who, or some past drug scandal, or celebrity feuds. Wash, rinse, repeat to all of these every season. And yes, sometimes tabloids are accurate with what they report. But more often that not, and it's basically impossible to know the exact percentage, most of the stories are exaggerated versions of the truth, or just flat out lies. It is what it is. The "Bachelorette" world is such a popular topic among the tabloids, which adds to the reasoning as to why people go on this show. A lot of them feel that any publicity is bad publicity. So they don't mind what's in the magazine about them, as long as it's in the magazine.
If you were following along on Twitter last night, I'm sure you've seen what went down. I'm not going to go into a huge breakdown of this today (I'll save that for Tuesday), but the basics of the story are this:
ET Online posted this story yesterday that Jordan Rodgers had an active Raya account. Something I told you all last week. What they were able to provide was a screen shot of his profile. Well, a phone took a picture of another phone with his profile on it because, as I mentioned last week, if you're on Raya and you screen shot profiles or conversations, you get booted off the app. Jordan responded with this:
Completely false.Acct inactive since Feb + completely cancelled exact min phone was returned 2 me in May- Fact check https://t.co/T4kuOYknLb

— Jordan Rodgers (@JRodgers11) June 23, 2016
About 30 minutes after Jordan's tweet, I had an email exchange with someone who called him out for lying because her friend had just seen Jordan's Raya profile when she was on her account, which was yesterday at 5:51pm PST. So she sent me the screen shot.
Just got this email 18 minutes ago. Kaboom. #FactCheckMyAss pic.twitter.com/fs9thbCbyb

— RealitySteve (@RealitySteve) June 23, 2016
Then Jordan, seemingly backed into a corner, decided to write this diatribe that basically made matters worse for himself: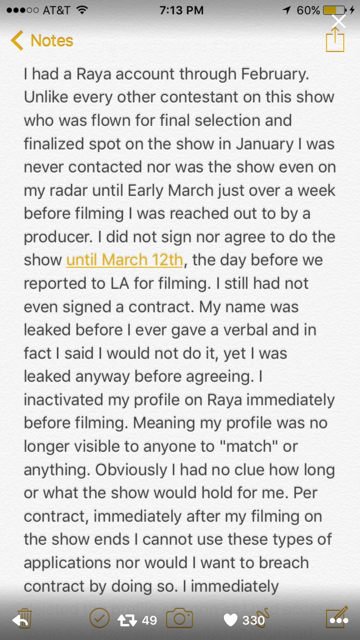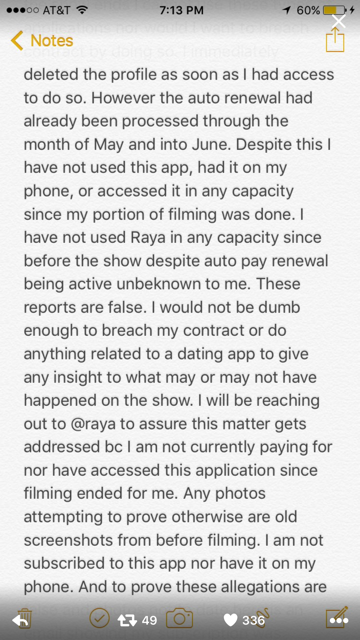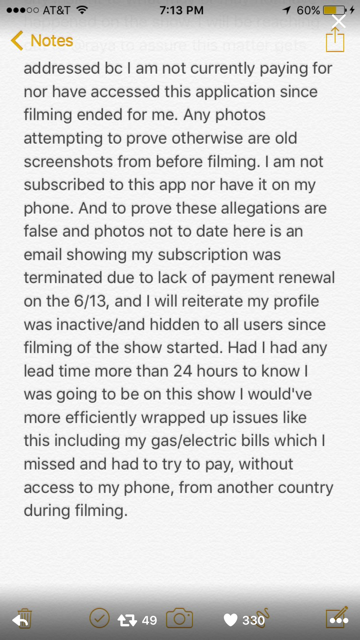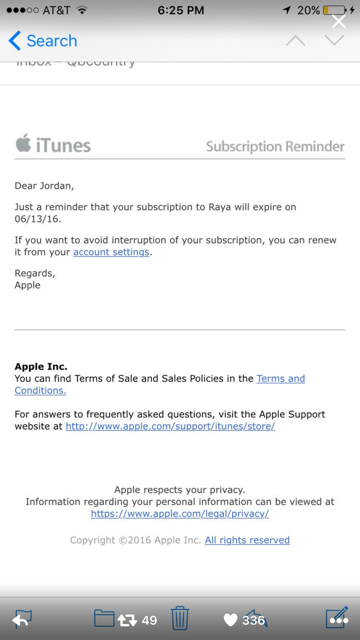 So there you go. I'm gonna let all that marinate with you for the next four days and I'll lay out my thoughts on Tuesday. But just ponder these questions while you're at it:
-If Jordan was a single man, or was never chosen by JoJo, why would he be so quick to tell everyone he cancelled his account right when he got his phone back in May? What would he care if he wasn't trying to defend himself? Hell, Robby and Grant's Bumble accounts are active right now. People have sent me shots of those. You don't see them writing diatribes talking about start dates, auto renewals, etc.
-JoJo's best friend tweeted at me "this story is false" after I posted the ET Online story. About two minutes later she deleted her tweet. Again, why would JoJo's best friend run to Jordan's defense?
-That screenshot he took of his bill is laughable. All it says is that his subscription will expire on June 13th. Great. How do we know he let it expire? Just proves to me that account WAS open from the time of filming until at least June 13th. What a moron.
-The argument of, "He couldn't be that dumb to be on his account since he's been back" holds zero water. Really? Need I remind you that tabloids HAD PICTURES of Ben Flajnik after filming doing this with women, and he was the actual BACHELOR and engaged to Courtney! So yes, it is possible to be that stupid and make poor judgments.
-And with Jordan's "letter," he basically made someone out to be a liar. It's either him or JoJo. Jordan claims he was never an official contestant on the show until a day before he left for filming. Even the US Weekly story that came out 11 days before filming confirming him he says he had never signed anything and hadn't decided yet. Fine. I can believe that because I did hear he was added very late to the process. So that matches up. However, now that puts into question JoJo's story (as if it wasn't already a flimsy story) of "meeting" an ex of his in the winter who warned her about him. If Jordan wasn't a contestant until the day before filming started, it calls into question even more this BS story of JoJo meeting with one of Jordan's exes long before that.
There are so many things wrong with what Jordan wrote in that letter and he's basically making things worse for himself. Jordan, you say you completely cancelled your account in May when you got back. There are screen shots of your profile still showing up on people's accounts as late as yesterday at 5:51pm PST. I'll let the viewers decide on this one. Good luck.
UPDATE: Jordan has just posted this this morning on Twitter to still show the whole world he swears he hasn't been on Raya since before the show…
Contacted Raya tech support for further confirmation. pic.twitter.com/AMPtaJYIdT

— Jordan Rodgers (@JRodgers11) June 23, 2016
On to lighter news, yesterday Texas Monthly released a feature they did on me that's on stands for their July issue. It's about an in depth of a piece that's ever been done on me and the site and hits on a couple things many people don't know about, namely the stalker I had/have. I don't like to talk about it much and I doubt I'll ever get into detail about it since, well, you probably wouldn't even believe the stuff that was done to me. Hell, I lived it and I still don't believe it. Not to mention my ex that knew everything the stalker did because I had to tell her, then ended up doing it herself as well and blamed it on the stalker since it was consistent with the stalker's behavior. Been a rough few years. And you wonder why I may have a hard time trusting and believing people. But regardless, hopefully you'll enjoy the profile.
Now lets get to your Dr. Reality Steve emails, shall we?
________________________________________________________________
Dear Steve,
My friend, let's call her Katie, is 40 and has been dating this guy, let's call him Winston, for about two years now. Winston is in his early 40's as well. Winston still lives at home with his mom, but stays at Katie's place up to 5 nights per week, so he lives with her 70%+ of the time. They've talked about moving in together, but apparently he is unable to leave his mother's house due to financial reasons, he says he is a key contributor towards her mortgage and she can't manage the payments on her own. Given his age, to me, it seems ridiculous to be financially tied to a parent at that point in life, but I digress.
Katie moved in March into a new, smaller apartment—much nicer area and nicer apartment, but not as big. She went from two bedrooms down to one but she also went from living next door to some pretty sketchy people, to living in a lovely part of the city across the street from a park. Katie works at home so not having a separate room for her office is causing issues, she says she doesn't want her office in a 'shared space'. Her apartment is filled with their/his stuff: clothing, desk, air filters/purifiers, plus he is an Amway rep so has energy drinks and vitamins stacked all over the place. It's a complete mess, so she wants to move again, into another 2 bedroom apartment so her office can be in a separate room and there is more living space for the two of them. BUT, Winston doesn't contribute financially AT ALL towards Katie's rent and she is maxed out on what she can spend.
As her friends, though we are cautious about offering unsolicited relationship advice, it is ridiculous that she would consider putting herself out financially or moving back to an undesirable location in the city to accommodate Winston when he isn't ready to make any commitment to her. Even more ridiculous to us is that they are both in their 40s and have been together for 2+ years. If they aren't ready to make a commitment by now, we feel like they never will be. We think she doesn't want to let him go because she's afraid she won't find somebody new at this stage in her life. He actually told her that she was ruining their here and now in their relationship by focusing too much on the future.
She says she loves him, but this living situation is not working practically or financially and it causes her a lot of stress. There are also other issues in their relationship, he is religious (he is actually a part-time pastor), she is not (she identifies as atheist). Plus, they don't to mesh with each other's friends at all. As her friends, how do think we should approach this? She is stubborn and we don't want to alienate her. My personal approach has been to wait until she brings something up, listen and offer friendly advice. When he made the comment about wanting her to focus on the future, I scoffed a little and told her it was beyond reasonable for her to do so given they had been together for over a year. Since then, she hasn't said anything specific about their relationship, just that she wants to move to a bigger place. Do we bring it up again? How should we broach the subject with her?
Curious in Canada
Comment: The first thing that struck me was not just the fact that he's a 40+ man living at home with his mom, but, that he can't move because he pays the mortgage and she can't manage payments on her own. Ummmmm, he can move out and still make the payments. It's not that hard. Sounds like an excuse to me.
Tough approach for you guys since it doesn't sound like wants to or even will listen to what you have to say. The whole thing is pretty screwed up. It just doesn't sound like the ideal situation because this guy doesn't even want to help pay her rent even though he's there 5 days a week. Not to mention the differences you said they have in their relationship. She probably has reached a comfortability with him where she doesn't want to let him go for fear of finding someone else. And that's never a good idea.
I think the approach you're taking is the approach to go with. Wait until she brings it up before you say anything. And when she does, offer your advice. If she doesn't listen, that's not on you. Not in an attacking way, but just tell her you think it's weird he can't pay him mom's mortgage if he moved in with her, that he doesn't help her out with her rent, etc. So at least she knows those are your concerns and maybe it'll set something off in her head. Probably not, but, at least your side is out there. My gut feeling is these two will eventually part ways. Too much baggage here.
________________________________________________________________
Hi Dr. Steve!
I think you do an awesome job answering these letters. I think you may have missed your calling as an advice columnist.
I was reading your advice to the girl who has roommate issues and unwelcome guests. I have a similar situation only with my husband.
My parents visit my family (me, my 2 kids, and my husband) about every 6 weeks. They sleep in our guest room. My mom is a little ditzy and spoiled. She is not mean but she'll leave lights on or fans running or open a drink without finishing the first and it drives him crazy. He also can't stand to listen to all her "gossip" (I call them updates) on friends and family. He is barely civil to her. He tries to avoid being in the same room with her and if he is then he's on his phone disengaged. He used to try and fake it but he's over it.
His behavior is obvious (eye rolling, sighing, loudly throwing away soda cans) and she tries her best to be helpful but she is never going to please him unless she just stops visiting. On top of his barely pleasant behavior my husband also gripes to me about her. I try to listen and be understanding because I get it. But I'm nice to his family I think he should man up and do the same for me. They live in Houston and we're in Dallas. I try to visit them twice a year with the kids so he gets a break but with school it's just easier for them to visit us.
My kids are still little and adore their grandparents. They sit in the front window waiting for my parents to pull up and they count down weekends until their next visit.
Should he suck it up and deal with it? Should I come up with a different arrangement? Or should I keep smiling and pretending that everything is fine hoping that he'll decide to play nice?
Stuck in the Middle
Comment: The ol' my-husband-doesn't-like-my-parent dilemma. All you can do on your end is talk to your mom privately and politely tell her just to remember to do certain things when she's over. I don't think asking your mom to maybe shut off the fan or throw away a can is asking much. She can do that. The gossip thing is probably in her nature and will be hard to get her to stop, but it is something you can still say, "Mom, we don't need to know about that stuff" without her getting offended. Just not in front of him.
On his end, sure, he could probably do a better job of hiding it. You should just talk to both separately. I don't think this is a major issue per se. Your mom just annoys him. It happens. So your mom can do better job of taking care of things on her end and your husband can just pretend to be civil when she's there. Is your mom aware that he doesn't care for her, or is she oblivious? If she has no idea, then for the time being, you should be fine I think. She seems to be off in her own little world, so this is just more of a pain for you. Tell her privately, tell him to just deal with it, and hopefully both will get better.
________________________________________________________________
Hi Steve,
You said your Dr.Reality Steve emails are low so I'll send you 2 situations, one for me and one for my friend
1. My fiancé has the worst luck with jobs. In the time span that I have known him I can't even count how many jobs he has had. Most of the time it's not his fault- the company either shuts down or it's a temp job or he gets laid off. Sometimes it is his fault though either he calls in too many times or he just quits without another job lined up. We moved in together about 3 years ago and at the time I didn't want him helping with bills (he has offered several times) because I made almost double what he did. I would've felt too guilty and basically would've taken his whole paycheck. He pays mostly when we go out and buys groceries and things for the house. I feel like that's more fair than taking his whole paycheck. My reasoning is I bought the house by myself and paid for all the bills myself when I lived alone, but if we move somewhere different, I want him to help. He is good with his money though, knows when to splurge and if he makes a big purchase, it's something he has researched. He had a rough childhood, some traumatic things happened that most people do not go through so he isn't exactly emotionally stable when things get rough. So when he loses a job, (whether it's voluntary or not) I feel like I need to be to be here supportive instead of disappointed or upset.
On the other hand, I've worked for the same company for going on 8 years. I would never quit without another job lined up. Yes I am lucky, but I have always worked hard, rarely call out, and if God forbid something happened, I would apply anywhere and everywhere. I would get in touch with anyone I could to get a new job. My concern is we want to get a bigger house once we get married, something that will require us to split the bills but how do I get him to have the same drive and urgency that I do? I'm afraid we won't be able to get a bigger house because of his unsteady income or we will and he will quit and i'll be stressed about how we will pay for bills. He has a degree, but it's a rough field because it's a niche market and we would have to move to a different state so for now he does what he can get. This sounds like it's going to be an issue that's not going away. It's not like this is a 6 month thing or whatever. You said you moved in 3 years ago, so I assume it's been at least that long where he can't keep a job. The bottom line is, no, he doesn't have the same drive and will as you. And probably never will. That switch doesn't just flip overnight unfortunately. So basically you're stuck dealing with this until he changes his ways. Is that something you think you can get through? Hoping he finds a job and settles down? If it is, then stick it out. If it's not, then I wouldn't. But again, he's your fiancé so I understand it's a pretty big decision to make. Just know that his lack of job motivation doesn't look like it's getting rectified anytime soon.
2. About a year ago, I was out at the bar with my single friend. She lives in a trendy part of town with bars within walking distance. Neither one of us (when I was single) has ever been the type to go to bars looking for a guy. It was always just to drink, have fun, and relieve the stressful week. If it happens, great, but that was never the sole purpose of going out. Anyway, we were walking back to her apartment and these 2 guys (also walking back to their apartment) started hitting on us and she invited them to drink some more beers at her apartment. It was maybe 2 am at this point and they stayed for about an hour or so hanging out. I didn't think she was interested in either of them, because she normally would pull me aside. I was outside talking to one of them and he asked me about my friend-is she single, do I think she's interested, etc. I said I didn't know if she was interested. After they left, I told her about him asking me about her and she was upset that I didn't mention it sooner. So we chased after them (straight from a movie) and caught up and they exchanged numbers. Earlier in the night, we had all talked about wishing this good breakfast place was open. We invited them to come back over and would just drink more until that place opens at 6. He came back but just him the other guy wanted to check on their friend who they said was passed out on the couch. So the 3 of us drank, talked, watched movies until 6. I would've left them to be alone but she wanted me to stay. We had breakfast and then he kissed her, said he wanted to see her again (a few hours later) since he would be going back to the same bar that afternoon to watch a football game. Well she went to sleep and didn't text him until around 5pm he never responded. She tried texting again a few days later. no. response. ever. Who does that? Neither one of us can figure it out. Why would he spend 5 hours with someone if he wasn't interested? If he was just looking for some a**, I would think he would've just made some excuse to leave before breakfast. Or maybe the "friend" that was passed out on the couch might've been his gf. It was the right number because he did the "I'm calling you now you have my number". This whole thing is being brought up again because she received a text from someone she doesn't know recently asking how she's been and believes it might be him. Not long after this, she met her now bf and this guy was the last guy she gave her number to. I'm just blown away by the whole thing because it looked to me like they were hitting it off. I know it doesn't really matter now lol but we both would still like your unbiased opinion.
Comment: You're right. It doesn't matter now. She has a boyfriend and this was a year ago. At least you understand that part. With that said, who knows what his deal was? Maybe he was just drunk and horny, and the second he left there, he never had any intention of seeing her again. I wouldn't spend much time dissecting one night a year ago where your friend hung out with a dude for 5 hours and never heard from him again. Probably happens to women every weekend in every city in America. Just chalk it up to a guy who wasn't really all that interested but made it seem like he was.