We are headed down the home stretch finally. A lot of goodies coming up, but most importantly, the best part is we are done with this season in 3 weeks. That makes me a happy man. Next week is hometowns, the following week is the overnight dates on Monday the 25th, followed by the "Men Tell All" on the 26th (more on that later). But with two weeks of not having episodes this season, I'm glad we've gotten to this point finally because this season couldn't be any more predictable. It's been known from the get go where this was headed, nothing has changed, and we're set on a course headed straight for the sun. What is it? A large fiery ball at the center of our solar system, but that's not important right now. Passenger Joe Solucci is carrying a bomb. A bo-. No, not a bo-, a bomb. Ok, if you don't get those references I will never be friends with you ever in a million years. Don't even look in my direction.
There are still a few spots available for the party in Vegas on the 29th. If you haven't heard, it's pretty much a Fan Appreciation Party at Mandalay Bay that's open to anyone. If you are flying in, I would just need to see a flight itinerary. If you're driving in, I would just need to see a hotel reservation. There's going to be food and an open beer and wine bar, so, how could you pass that up? Also a trivia contest where prizes will be given out. So it's certainly not too late to get your name on the list. Once a flight itinerary is shown or a hotel reservation is shown, you will be on the confirmed list. Should be a good time. Last year was a lot of fun so I decided to do it again. If interested, email me as soon as you can to get on the list.
Chris Harrison's Yahoo blog is up where he says a whole lotta nothing. JoJo's blog for People.com is also up where she gushes about how Jordan is essentially the greatest human being alive, so there's that. But more importantly, our very own Nell Kalter has her usual Tuesday double duty for your viewing. First is her Are You The One? episode 4 recap covering all the hilarious shenanigans that show has to offer, followed by her award winning (well ok, in my eyes)RHOC recap. Go read them. You'll be a better human being for it.
Get your "Reader Emails" and "Dr. Reality Steve" emails in for the week. We are low on both of them, but usually you guys come through on Tuesday's and Wednesday's. Lets do it again. I mean, don't you want to ask me for the 100th time why Jordan and Aaron don't have a relationship? C'mon. You know you want to be #101.
The "Men Tell All" tapes this Saturday in LA. I'm sure it will mostly center around Chad since, well, the world seems to revolve around what he does nowadays. He made sure everyone knew this past weekend he was hanging out in LA with Grant's ex-girlfriend Jen.
hey @RealitySteve, Chad is at it again. this time with Grant's ex hahahah #Savage pic.twitter.com/Nohg7NbEIw

— Brianna (@briannitagg) July 9, 2016
I wouldn't read too much into that since I'm hearing Chad is still spending time with Robby's ex, Hope. And will again soon. So basically the guy is doing everything he can to keep his name out there and he's been successful at it. He's also going to be appearing on Stassi Schroeder's podcast at some point this week. Once he does, I'll be sure to include the link to it. I can't wait until he takes zero responsibility for anything he did on TV and blames it on the editing. He's mastered that.
And speaking of Hope, she took to Instagram last night to share her thoughts of Robby basically throwing their entire relationship under the bus when he was talking to JoJo. This post has since been deleted. Good thing I had a screen shot of it last night: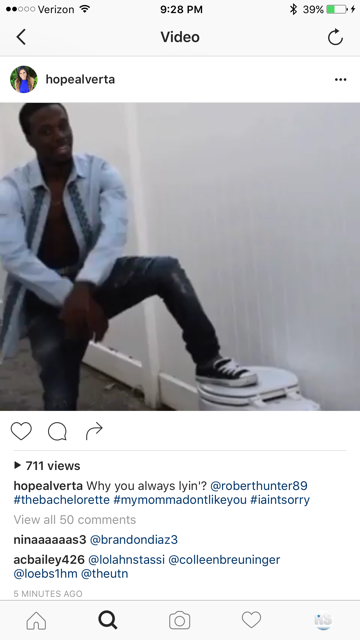 And of course Robby's dad felt the need to chime in leaving a comment like this: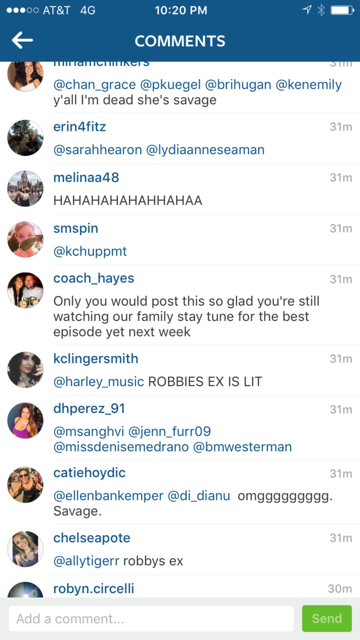 That line doesn't even really make sense. "So glad you're still watching our family?" He's acting like their family is on every episode. And apparently Robby's dad enjoys punctuation as much as Robby enjoys wearing socks. Which is to say not at all. There should be three periods in that sentence and there's zero. "Stay tune" for next week? Dad, just stop using social media. You're embarrassing yourself.
Anyway, what's interesting about the MTA taping this weekend is that it's taping before the Hometown AND Overnight date episodes have even aired. Usually in the past, it tapes the Saturday before the Monday Overnight Date episode, so they have to show the audience the Overnight date episode first so they can understand the storyline and why the #3 guy is there. So I guess that means they'll have to show the audience BOTH episodes now? If they didn't, the audience wouldn't understand why Luke and Chase are in attendance. Man, what a long day. Sorry if you're attending that taping. I guess we'll know more after Saturday, but that seems to be how they have to handle it.
In case you missed it yesterday, all your "Bachelor in Paradise 3" episode-by-episode spoilers were posted. Seems like it's going to be one giant sh*t show as expected. My guess is the first trailer will be shown at the "Men Tell All" taping this weekend, meaning we'll see it on July 26th when the MTA episode airs.
Hey guess what? Another Chad story. So a while back I had posted his Match.com profile that somebody had seen from late last year. Well, now someone found his Tinder bio and wrote about it. For those thinking that maybe it wasn't his, Chad confirmed it on Twitter the other day:
Fine. You caught me. But we both know you swiped right ?#TinderWinner #TheBachelorette #NoLotterlyWin4U https://t.co/13jIkkVeNi

— Chad Johnson (@realchadjohnson) July 10, 2016
So yeah, can someone go digging on E Harmony, Plenty of Fish, Bumble, and every other dating app to find Chad's profile? I'm sure he's got some on those as well. We could create a whole page of all of Chad's dating profiles and have a good laugh at them.
______________________________________________________________
So I got this email in regards to that posting by one of James' family members on a message board. Looks like they're at it again…
"You know that TexAgs post by James' supposed Aunt or Uncle saying he was playing at the Tap last Friday night? There was another post by the same guy (I think it is his Uncle actually based on some pictures that were posted) on another forum that I think is behind a paywall. Link is below, but not sure if you can access it without a password UPDATE: (Yes, it is. You have to create an account). Here is the link to the thread if you can access it:
http://texags.com/forums/74/topics/2760079/next
Anyways, nothing earth shattering, but thought this was interesting and goes to what you always say about the show. Context is that someone asked his uncle on the thread about James the question "why did James tell on Jordan Rodgers about the poker game or whatever?". This was the Uncle's response:
Total set-up. JoJo had asked James 3 times "i heard something had happened with Jordan. What was it about?" James, thinking nothing about, dismissed it without comment. JoJo then tells him " Wells told me about it and I'd like to hear it from your perspective".
So James, figuring if Wells had already told her, said what you saw on TV edited. Thing is Wells hadn't said anything. Producers had JoJo lie to incite that scene cause James wouldn't take the bait the first 3 times asked. He thought it was no big deal about a stupid board game.
That's why you see Jordan giving James a hug at the ceremony. He said they were laughing about it and are good friends.
So much manufactured drama, which is why these shows are stupid.
James told a funny story about Chad. I asked if Chad was as much of a nutcase as it appeared. James said "even worse". He said he heard a noise at midnight. Everyone was wiped out and asleep. He gets up and walks to one of the areas the group hangs out and there sits Chad with a huge bowl of ice, just chewing piece after piece. James asks him what the heck he's doing and Chad says, and you can't make this crap up, "I chew ice 20 minutes at night and 20 minutes each morning to keep a firm jaw line."
Rofl…James turned to walk away and said "pour that stuff on your head and go to bed. You're gonna wake the whole house!"
Anyways – I thought it was an interesting tidbit about Chad – what a complete douche nozzle."
_______________________________________________________________
So today's poll question I figure is appropriate with only a few episodes left in the season: