A lot has been going on recently, especially in recent days, so I figured I might as well finally address it. For a while now, things have been going back and forth and I don't think any of us really knew the true story behind everything. There are a lot of things happening in the world, usually stuff I never address because it's such divisive content and basically it brings out the worst in people. But when it's everywhere on social media, and I like to think I have somewhat of a voice on these sorts of things where if I present a logical explanation, maybe people will at least listen to a side that they hadn't thought of before. Maybe they won't. But I feel stuff like this has gone on too long for me not to at least weigh in on what's been happening, because frankly enough is enough. It's out there. We might as well talk about it. No hiding anymore. So I'm going to make this as short and sweet as possible: I'm #TeamTaylor. Any questions?
Lets immediately get to last night's episode and what to expect next week. I can tell you that despite how they make it look with JoJo wailing away over Luke's last minute "I Love You" admission, she does eliminate Luke at the rose ceremony. Basically, Luke's response is he thought she already knew. He's stunned, he can't believe it, and he thought they were on the same page blah blah blah. But yeah, even more of a set up to make him the "Bachelor" next season. As for the overnight dates, I can tell you that on Chase's date, JoJo accepts the fantasy suite card, but while they're in the fantasy suite she tells him she just isn't feeling it, and she lets him go right there. Ouch. Major blue balls on that one. Not like, literally when they are rolling around in bed, but when they get back to the fantasy suite and are talking, that's when she lets him go. So Chase is sent home before the rose ceremony and Jordan and Robby are your final two. Both Luke and Chase were at the "Men Tell All" this past weekend and are called up to the "hot seat" to discuss their eliminations. I've heard Chase is still a little bothered by JoJo accepting the fantasy suite card, but then not going through with it. All your MTA spoilers will be up tomorrow.
Nine days away from the Reality Steve Fan Appreciation Party in Las Vegas. There are a few spots left if you're interested, email me ASAP. It's first come first serve at this point. Costs you nothing, free food and open beer and wine bar, plus the 2nd Annual Trivia Contest. I've already written the questions. Tough to say if they are easy or hard because, well, this is my job so they seem easy to me. We will be periscoping it again like last year, so, if you want to follow along, you can. Granted if you're on the east coast, it probably won't be starting til midnight for you. But it should be fun. Thanks to everyone who's already coming.
For those that missed it, the return of the live video chat was Thursday, and outside of glitches in the beginning which I'm pretty sure I have corrected, things went well. The best feature is now that you can go back and watch if you missed it, and you can scroll through every question I answered, and go directly to that question in the broadcast. I'm sure that helps people who don't feel like watching an hour of me answering questions when you have no idea what I answered or when I answered it. So skip down a few posts on this page you'll see last Thursday's broadcast. All you have to do is create an account, or sign in through Twitter, Facebook, or Google. We're back again this week for anyone that wants to participate.
Get your "Reader Emails" and "Dr. Reality Steve" emails in to be published this week. Plenty of time for you to ask me, "OMG, what happens with Luke next week?" Well, stick around a few more paragraphs and I'll tell you. But get those emails in as I'll be answering those the next couple days. Also, check out Nell Kalter's RHOC recap up now for your viewing pleasure. If you wanna read her "Are You The One?" recap, scroll down one post.
Another funny "Robby begging people to promote him story" from yesterday. You probably missed it because it wasn't up that long, but Chase Chrisley from that God awful show on USA posted a pic with Robby yesterday that I luckily got a screen shot of: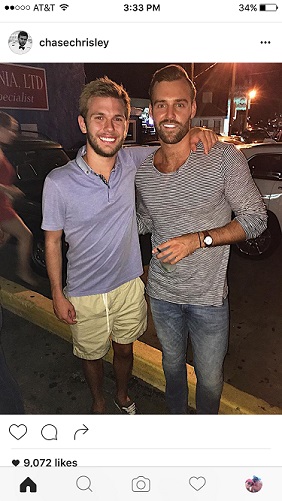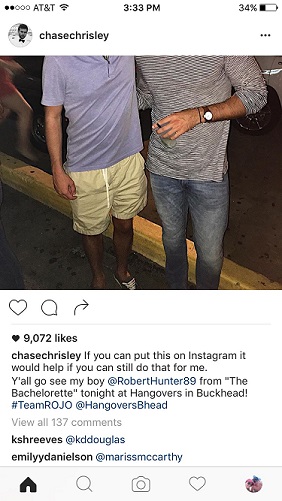 I say luckily because it was taken down shortly thereafter since moron Chase forgot to delete what was obviously Robby's message to him about "putting this on Instagram because it would help." Essentially the same exact wording he sent to JJ and Tanner in private messages that Chad posted. The guy is trying so hard to get his name out there in hopes to be the "Bachelor" and become more relevant, and he's failing miserably. But hey, good effort.
So lets get to the nuts and bolts of last night's hometown with Robby, and that surrounds his claims that he didn't break up with Hope to go on the show and, according to his exact words, they "broke up over Christmas break after a fight and he hasn't spoken to her since." Lie. You saw the Christmas pajamas picture I posted 2 months ago that I had to refresh people's minds about on Twitter last night:
Then a month after Italy, on Xmas Day, they take this pic together. pic.twitter.com/y7XFBPpeJs

— RealitySteve (@RealitySteve) July 19, 2016
So do you honestly think after that day he never spoke to her again? Exactly. So it already throws his credibility in question. If there's a part of you that does want to believe him and think that the Christmas picture is the last time he said a word to her and that was the night they got in a fight and she slapped him, well, apparently he wasn't too affected by it because they spent New Year's together this year as well: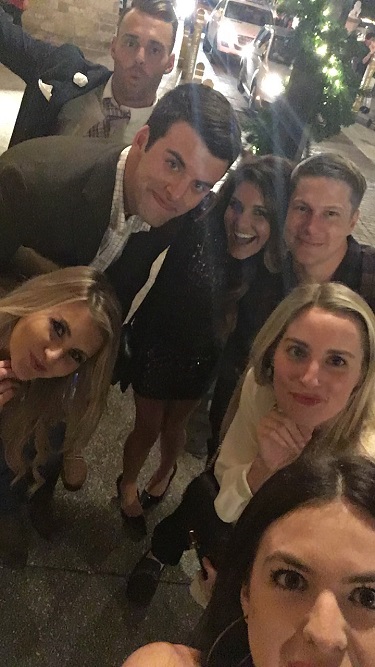 You got Robby saying last night the relationship was over 9 months before he actually ended it, yet, in November of last year, the two of them took a trip to Italy together. Then you have the Christmas pajama picture, then you have the New Year's picture. So his timeline is obviously a lie and he's trying to protect himself. Look Robby, plenty of guys have broken up with their girlfriend to go on this show. It's not like you're the first. But when you try so badly to cover it up, and do a horrible job of it, you're making it look worse for yourself. The bottom line is there is no chance that he wasn't in talks already with the show while he was still talking to/together with/hooking up with Hope, his girlfriend of 4 years. So it's just not believable that breaking up with her had ABSOLUTELY NOTHING TO DO with you coming on the show.
After all that played out last night, I figured it was time to get Hope's side of the story. Robby and his family have certainly been spewing their side on the show and on social media, so why haven't we heard anything from Hope other than an IG post last week saying, "Why you lyin?" That's really it. I emailed Hope requesting an interview and received this response from her yesterday.
_______________________________________________________________
Hi Steve,
Unfortunately, I will not be able to follow through with the interview you requested. It has been brought to my attention by the opposing party that any further actions on my part, will result in negative consequences. Many people (including myself) have been deeply hurt by the situation, and I do not want to add to, or prolong the negativity. I never signed up for my previous relationship to be advertised to the world, nor did I sign up to have America judging my past as well as my future. With that being said, only Robby and I know the words spoken and events, leading up to our break up toward the end of January. I do apologize for the inconvenience. I hope that you can respect my wishes to move on, and leave that part of my past where it should be… in the past.
Best wishes & thanks again,
Hope
_______________________________________________________________
Wow. So now Robby and/or the family is threatening her if she speaks? How classy. If that's the case, then I'm absolutely fine with her not doing an interview. Sure for selfish reasons I would've liked to have spoken with Hope, and it sucks she was bullied by them not to talk, but I'll respect her wishes. However I think that email tells you all you need to know about this situation and how ridiculous it's gotten. I "hope" for everyone's sake, they get over themselves.
And her roommate Alex never said anything either. As I tweeted out last night, I've never spoken to, emailed, texted or had any contact with Alex before. Hell, I didn't even know Hope had a roommate until it was mentioned on the show. But this morning, Alex emailed me about my tweet from last night:
_______________________________________________________________
Thanks Steve, I appreciate the tweet from last night. I never spoke to anyone ever, and people need to remember there's always a receiving end to hurtful untrue statements.
Alex
_______________________________________________________________
So today's poll question is simple. Do you buy Robby's story?