We are headed down the home stretch. Only one week to go. Tonight is the "Men Tell All" where essentially, nothing will get accomplished. Yes, I'll have a recap up tomorrow but it won't be nearly as detailed as previous ones just because that show is so choppy, edited, and basically the same thing every season. So tomorrow's recap will be combined with "Reader Emails," so get your emails in the next couple days. And I will be posting "Dr. Reality Steve" on Thursday, just really early in the morning since I have an early flight out to Vegas on Thursday morning. We have no more spots available for the party Friday night unfortunately. I think I'm even a tad over capacity by a few people, but I expect a few to cancel last minute or just not show up. I hope that's not the case, but I wouldn't be surprised if they did. Remember, if you follow me on Periscope, you will be able to follow along with the Trivia Contest that night if you'd like. Should start around 9 or 9:15pm PST on Friday night. Granted, you can't win anything and it'll be much easier for you than the people in attendance since you can Google all the stuff, but hey, you can at least pretend like you're there with us. Looking forward to Friday night and meeting everyone who's coming.
JoJo's blog for People.com is now up, and basically just reiterates what she said on the show last night. Went with her gut when it came to Luke, and wasn't feeling she thought she would feel when it came to Chase. So yeah, not much else there. More importantly, our Nell Kalter has her double duty Tuesday, as she recaps Are You The One? episode 6, and also, another crazy ass RHOC episode, so enjoy those.
Point of correction from last night. A lot of people were tweeting at me saying I was wrong once Luke was eliminated last night. I didn't realize until last night that I had changed the spoiler in the episode-by-episode spoilers page back in May, but didn't change it on the "Final Four Breakdown" column, so that had people confused. Which is still weird to me that A) people going to my site last night chose THAT column to look for the spoilers. Like, lets say you hadn't been to my site since May, and you clicked on "JoJo's Spoilers" last night. The first column you'd see on that page is the "Episode by Episode" spoilers. Why someone would just skip that and go to the second column on that page (where I forgot to correct the initial spoiler), I have no idea, and B) Even with me not correcting it in that column, the bigger issue is how many times in my column have I mentioned Luke gets eliminated at #4 since then? I've lost count. Especially last Tuesday's recap where IN THE TITLE it says "What Happens on the Overnights." So yeah, just a little weird seeing quite a few on Twitter last night tell me the spoiler was wrong. Obviously it wasn't, but it just showed how little people seem to have paid attention to anything I've written since then.
So did you see the article in the NY Post last week talking about dating in NYC? Pretty funny. Not to mention, former "Bachelorette" contestant Michael Garofola was featured in it saying he dates five times a week – yet still hasn't found anyone. I'm just curious of how many of those are from the franchise because he's been notorious for that. I hear all the time about how hard it is to date in NYC, so I guess this shouldn't come as a surprise. But an interesting read if I you live out there.
The Hayes' family is at it again. No, not Robby with his constant #TeamRoJo hashtagging, or the mom with her lying, no, this time it's his brother Patrick. Someone matched up with him on Tinder and this is his profile: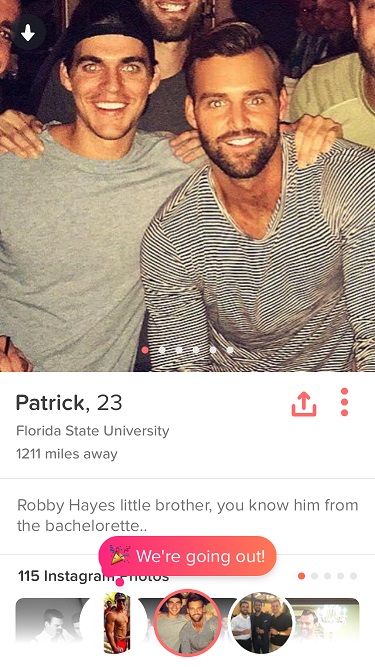 Really, dude? THAT'S how you present yourself on a dating app? I'm the younger brother of the guy on the "Bachelorette?" That's just sad. Apparently there are no levels to which this family won't stoop to let people know how much they love being a part of this show. Hope that works out for you Patrick. Good luck with using your quasi-famous, 15 minutes of fame brother to try and get laid. Doesn't make you seem desperate at all.
I'm sure you saw at the end of last week the story of Ben Higgins running for political office in Colorado, only to drop out of the race a day later. According to this local reporter out there, here was the reasoning behind Ben's withdrawl:
Source close to Bachelor Ben campaign says ABC pushed Ben out of the race threatened to take away bachelor cash & even stop Ben's wedding

— Joe St. George (@JoeStGeorge) July 22, 2016
Basically source close to @benhiggi says ABC was scared of having politics in franchise, would have cost him millions #copolitics

— Joe St. George (@JoeStGeorge) July 22, 2016
Things I learned from Bachelor Ben source-Disney lawyers very powerful and don't want their hit franchises muddied with politics #copolitics

— Joe St. George (@JoeStGeorge) July 22, 2016
If that is true (which I expect it to be), can't say I'm at all surprised. I'm more surprised at why the show would even let it get to this point before getting to him and saying, "Uhhhh yeah, that ain't happening." This has been rumored for a couple months now. It's not like all the sudden Ben sprung this on them. And if you're Ben, how would you not want to get something like this cleared immediately with the network to see if it's ok to even do? When you sign on this show, they basically own your life for a full year. And even after that, you're not allowed to just go all scorched earth on them. You'd think every "I" would've been dotted and "T" would've been crossed before he even announced he was running. Just looks bad now that he pulls out one day after declaring. But hey, gotta get that wedding paid for, so I guess we know what's more important to him. Sounds like he wouldn't have made a great politician anyway.
Your poll question revolves around JoJo's choice to send Chase packing. Was it too late?