Hey Steve,
Love your site!!!
So I have a few questions for you.
1. Do you think that Jojo is still not over Ben? Otherwise why would she always bring him up? I don't think I saw any of the bachelors/ettes mentioning their ex so much! (Side note: Isn't it funny how Ben and Lauren said they would definitely watch this season and now they claim they don't have time for it? I guess JoJo would stir some drama in the household!) I also think that JoJo seems very insincere this season, kind of disappointed because even my cold heart felt sorry for her when she was sent home. I think it was more so to keep the narrative of her storyline this season, and reminding people Ben told two women he loved them, which is essentially what she did. I'd say she's over him.
2. So I was wondering why does the bachelor/ette never "reconnect" with the exes when they break up with the winner? A lot of the time the reason for elimination is that the relationship just didn't progress fast enough so I would have thought that maybe in real life there was a possibility of the bachelor/ette dating their exes again? Has that ever even happened (not counting Jason Mesnick)? Probably because they feel like they're going backwards if they do. And some probably feel a little silly if they did.
3. What are your thoughts on the latest episode of unREAL??? Which one?
4. Lastly, few days ago you posted you're #TeamTaylor. Is it because you fundamentally dislike the Kardashians and find Taylor Swift super attractive, or you genuinely believe that TSwift is in the right?
Thanks in advance!
Comment: All of the above.
________________________________________________________________
Hi Steve!
It's not really easy to make me laugh, but your description of Luke's mouth catching flies kept a smile on my face all day! So, thank you for that! It was hilarious.
I know that Luke will probably be the next bachelor, and I also know that the "ladies" (um, when can we start saying "women"?) love him, BUT, not so long ago, we had a farmer, and now we have a Texan cowboy/singer? Ugh, I hope you like country music! Well they never referenced Luke's singing career once on JoJo's season, so maybe they'll keep that off his season?
My main reason for writing in today is that I have been to Thailand in May- one of the hottest months of the year. I took part in a Thai wedding, which took several hours outdoors with no shade, and the heat and humidity were nothing like I've ever experienced before. I live in Tokyo, where the summers are usually in the low/mid 90's, and the humidity is about 85%. But Thailand must have been over 100 degrees with the same amount of humidity.. there's nothing worse than sightseeing in that kind of weather, with sweat coming out of every pore of your body, from the moment you step outside. It is uncomfortable, and can be embarrassing also (boob sweat!)
Thailand is beautiful, with many interesting World Heritage Sights, but I would highly recommend (to you and your readers) researching the best time to go!
Hope you have a great party!
Comment: I can imagine it was scorching there. Chris Harrison said in one of his blogs or an interview the overnight date rose ceremony where Chase came back was the hottest one they've ever had.
________________________________________________________________
FYI, I watched like 2 minutes of Ashley I's Periscope from last night (she kept begging for BIP questions, and no one was asking any) and she said "Luke's season" and something about how that all the casting is basically complete for "Luke's girls" so how unless you know a producer really well, you're not getting on his season. So just more support for you saying Luke is going to be the Bachelor.
Comment: Well, one of the final casting weekends is this weekend, that I know. As for it being Luke, I fully expect it to be him.
________________________________________________________________
RS,
Since we know how much producing and coaching go into the show (thanks to you and Unreal), doesn't the lead know the contestants are being set up? And, even after watching the show back, don't they see how the producers bring up drama, elicit ITM sound bites and then edit it in?? Jojo should know they've all be told to tell her they love her, etc. Save for Sharleen, who has kept her wits about her, it appears everyone else just panders to the producers and still feeds into the drama, the leading questions, the crying, bitching, etc, etc.
Thanks, keep it up!
Comment: Yes, they do. And yes, the lead is aware since they were all previously on a previous season. They're also aware that by signing on the dotted line to be the lead, they're putting on a television show and have to go along with things. So there's your answer.
________________________________________________________________
Reality Steve- I find it interesting that the third hour of the Today Show does a weekly recap of the Bachelor/Bachelorette when they aren't on ABC. One would think you wouldn't want to advertise for a show on a different network.
Comment: A lot of shows that aren't on ABC talk about the "Bachelor/ette." Entertainment and talk shows talk about what the hot topics are. "Bachelorette" is a huge pop culture topic. Everyone talks about it.
________________________________________________________________
First, I love your site, have always loved your site, and always will.
My questions are in regards to Men Tell All. I know that it was filmed prior to the fantasy suites episode airing so I am wondering about the audience. Are they actors?…employees of the Bachelorette? Do they play them the latest episode for reference or is it not necessary?
Thanks!
Comment: They're friends of friends, they're people who sign up to be in attendance, and you basically have to have an in to get into one of those shows. It's not just open to anyone.
________________________________________________________________
Hi Steve,
On social media, you see contestants/producers in pictures together and they seem to be pretty chummy. Given how manipulative the producers are, don't the contestants resent them? Do the contestants not really realize they're being manipulated? Or do they just understand it comes with the territory? Maybe I'm putting too much stock in how UnReal portrays the producers, but they seem like awful people.
Very curious about this.
Thanks!
Comment: They do. But they're in on it as well. Well, most of them. Some hate the show and never have anything to do with it when they leave, but they're the exception, not the rule. Most of these people love the attention and want to be in their good graces. You don't want a network against you. So they know where their bread is buttered and try not to ruffle feathers.
________________________________________________________________
I have a question about the fantasy suite dates. Does the Bachelor/Bachelorette have a day or two break between Fantasy Suite dates or do they do them back to back?
Thank you,
Comment: Yes. A day in between each one. Wasn't always the case though in the past.
________________________________________________________________
Hey Steve-
So do Jordan and Robbie have real jobs? Why are their professions just listed as "former" athletes?
Comment: Because the show likes to put stupid "jobs" for people, which sets up their character.
________________________________________________________________
Hi Steve,
I thought you'd get a chuckle out of this one. Apparently one of the contestants on The Bachelor Australia got "so excited" at a rose ceremony that she ATE HER ROSE. Ya.
http://jezebel.com/contestant-on-the-bachelor-australia-is-so-excited-to-g-1784448886?utm_campaign=socialflow_jezebel_facebook&utm_source=jezebel_facebook&utm_medium=socialflow
Anyway, keep doing what you do; I couldn't watch the franchise without you to make me giggle!
Comment: That is awesome. Lets see who ends up doing that on a future season now, since I'm sure we'll see it. Just ramping up the weird factor.
________________________________________________________________
Hey Steve,
Do you think in hindsight that Jojo regrets her choice? Or was it Jordan since the beginning and Robby was just left as "runner up" by process of elimination anyway?
Comment: It was always Jordan from the second she found out he was cast 11 days before filming even started and they were in contact. No one else ever had a legitimate chance. It was over before it started.
________________________________________________________________
Hey Steve!
Too bad you can't play the part of a match maker and reunite Ben & JoJo. He was so more "right" for her than Jordan. Isn't there some way you could influence that to happen? That would really make a big hit on the Bachelor/Bachelorette ratings! I have heard that Ben & Lauren aren't hitting it off and that there were lots of things he found out about her after picking her over JoJo. I kept thinking and hoping that there may have been some slim chance that they may just bring Ben back at the very end. What an explosion that would be – the ratings would be off the chart. Just sayin' what a GREAT happening it would be!
Comment: This is looney tunes.
________________________________________________________________
Apparently now Robby is now even hitting up unofficial Instagram accounts to get endorsements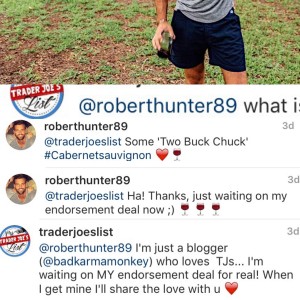 Comment: Is anyone the least bit surprised by this? I'm certainly not.
________________________________________________________________
Hi Steve, congratulations on all of your success with spoiling the show. I can't wait for you to be validated once again tonight. I have a few questions.
1. If JoJo and Jordan put on a united front on ATFR tonight, how long do you think they will fake this relationship? A few months would be my guess.
2. I know that there was some chatter about JoJo possibly going on dwts, do you think that she will do it or that maybe due to Jordan being so fame-hungry and because of all of the publicity surrounding him, do you think that he would do dwts if they offered it to him? There's never been a "Bachelorette" on DWTS outside of Trista, and that was the very first season of DWTS. For whatever reason, they've never asked the female lead. Not sure the reasoning. But if there was one they would have on, I wouldn't be surprised if it's JoJo. And she would do it. Helps her build her entertainment resume. Oh wait, you mean she's gonna pass so she can flip houses? Bahahahahahahahahahahahahahahaha.
3. I saw that Ames Brown from Ashley's season got married this past weekend. I just was curious what you think of him? I always thought that he was one of the most educated and sincere people from this franchise. To a girl?
4. Being that Ben could not run for senator in Denver, does his contract end a year from when his season started airing in January or from when the actual finale was taped in November? Neither. A year from when the finale aired in March.
5. I have to say that I admire Michelle Money for coming forward about giving up her baby boy at 15. I was just wondering if you ever knew anything about it before her announcement being that you were friendly with her? I did.
6. Do you know if ABC has a time frame for when they will do Ben and Lauren's televised wedding?
Thank you
Comment: No.
________________________________________________________________
Hey Steve!
Big fan of your site. This is my first season reading your spoilers before watching the show, and it makes it a lot more entertaining. Keep up the good work!
Here's a reader email question for you—perhaps a little early, given the finale is tonight. But it makes it all the more sense since we don't know how ATFR is going to play out and what they'll say JoJo and Jordan's relationship status is.
How much influence do you think you and your site have on the ultimate relationships of the contestants? Even though the show is grounded in theatrics, some of the couples do wind up getting married, having kids, etc. Assuming JoJo's intent after Thailand WAS to get married to Jordan (even if he had other plans), do you think your posts and information leaks have had a specific, significant impact on her (and by extent, other contestant's) decisions post show that the tabloids just wouldn't? Obviously you're reporting what you verify and don't bear ill will toward the contestants. But fans do turn to your site for the truth as opposed to headlines. It's kind of meta to think about the Reality Steve site impacting the ultimate result of the reality show.
That's my deep thought for Monday. Thanks again for the great work! Hope the Vegas party was a blast.
Comment: Well, the Jordan playboy stuff and Robby's ex storylines were definitely brought into the show this season because of what I was reporting. Does it have an effect on the contestants? I'm sure it does to some extent. But each case would be different, and without asking each one personally how much it affected them, I wouldn't know.