Ahhhhh, it's good to have "Paradise" in full swing, isn't it? Or maybe not? I just know the 2 hours last night, plus the 1 hour tonight, plus the 1 hour "After Paradise" show to follow up tonight, ugh, it's just too much. Especially since "After Paradise" basically sucks. I think Jubilee, Leah, and Lace will all be on tonight, along with Diablo Cody. I'm sure they'll ask lame poll questions to get the audience engaged, even though they'll ask questions that any spoiled viewer will already know the answer to. With as successful as "Watch What Happens Live" is, you'd think someone over at ABC would have a better idea how to run this "After Paradise" show. The problem is, it's crap. It's seriously a waste of an hour. When you bring on contestants who are still on the show (i.e. Lace tonight), she obviously is going to be so tight lipped about anything. And then having Jubilee and Leah there really adds nothing since they lasted one episode. Then the celebrity guests really add nothing of value since they're not gonna trash a show they were invited on to, so it's just this 60 minute suck up fest that accomplishes nothing. But again, just like last season, anyone who can lie to the screener of that show, then sneak on and get in a "Reality Steve already spoiled the whole season" when Chris Harrison takes calls, I'll give you one gazillion dollars.
Ratings are in from last night, and they're pretty on par with BIP 2. Last night's audience drew 4.5 million viewers and a 1.4 rating. The first Monday episode of BIP 2 last year (remember, they aired Sunday & Monday) drew 4.7 million and a 1.3 rating. Last year, the Sunday night episode was always at least a million viewers lower than Monday's episode. This season, I expect Monday's episode to be at least a million viewers higher than Tuesday's episode, just because Tuesday's is split up into a 1 hour show, then one hour aftershow. Not to mention, people are used to watching their "Bachelor" programming on Monday nights. Anytime it airs on any other night, it draws lower ratings. Hence the reason BIP using up two nights a week is dumb.
Someone brought this to my attention and I thought it was interesting. Kaitlyn wrote a blog last week that she posted about JoJo's finale. I have to screen shot it here so you can read it because she deleted the blog post over the weekend and hashtagged it with #radiosilence. Here's what she wrote: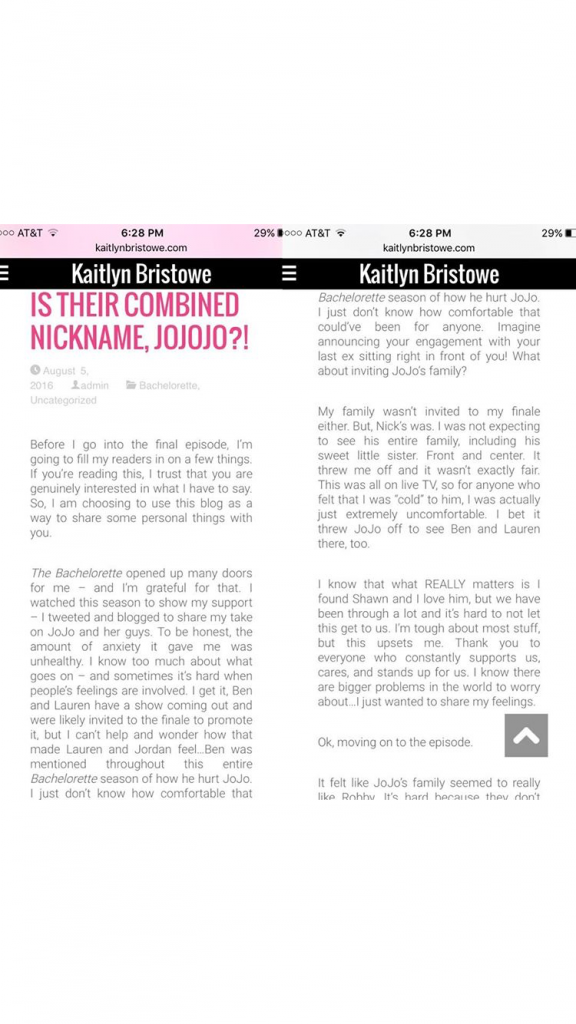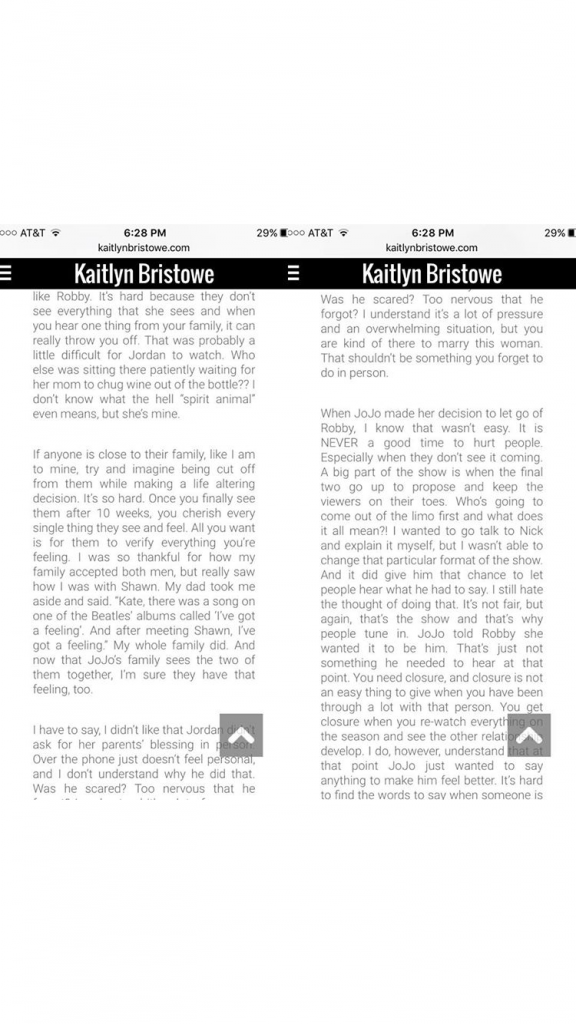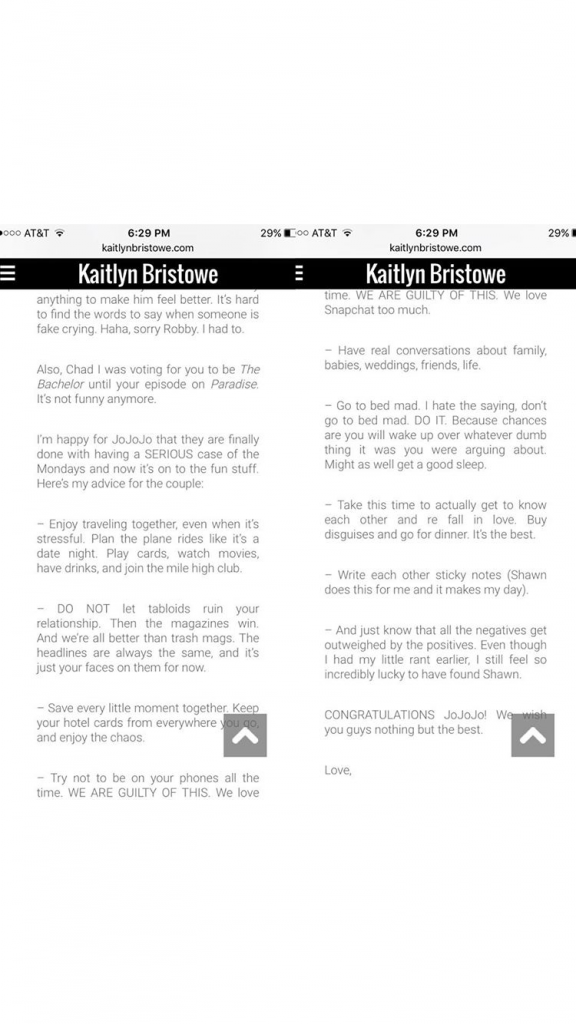 I really don't see anything wrong with it. In fact, I applaud her honesty. Kaitlyn and I may disagree on a few things, but one thing I will always give her props for is her honesty. You can tell she is not one who'll ever keep her mouth shut about the show. She'll never really go scorched earth on them, but for a former lead, she definitely has some very toeing-the-line opinions about how the show is made. Good for me because I love reading stuff like that when it comes from contestants. But probably not something the show takes too kindly to. I have no idea if the show told her to take this post down or what, but I thought it was a good read and definitely appreciated her candor. Would be interesting to know what happened here since, really, was it that bad? I've read way worse things about this show.
I'm not sure what got into TMZ, but all the sudden they're really thinking they have BIP exclusives, even though these have all been out for a month. If you saw my tweets over the weekend, Josh and Amanda are doing a horrible job of keepin their relationship secret. However, TMZ seems to think they're out front and center on these stories and breaking the news. The same day I tweeted Josh and Amanda were seen at the Orange County Fair last week, they post these pictures of them, and make sure to tell people they're engaged. Uh huh. We already know. Then today, they're at it again posting a picture of Lace with her "Grace" tattoo that she and Grant both got on their overnight date. Congrats TMZ. Again, that's been known for a month. But hey, keep ankle biting this site without giving credit. Makes you look read credible.
In case you haven't been following "Celebrity Marriage Boot Camp," Michelle Money opened up last week about having a son at age 15 and having to put him up for adoption. We've known Michelle from this show for at least, what, 5 years now and this is the first time this story has ever gotten out? I'm glad it got out the way it did on her terms and I commend her for being able to share with everyone. I'm guessing that was not easy to do, especially when she's had zero contact with the son since birth 19 years ago and she doesn't even know if he knows that she's his mother. And that's not the only thing going on in Michelle's life. She also has a new boyfriend, PGA Tour golfer Mike Weir. Whew. Glad I don't have to keep that a secret anymore either. Good luck to them.
After watching last night, I'm still trying to determine who I feel worse for: Evan having to listen to the things Carly said about him or, GULP, Nick Viall of all people after having to deal with Josh. What do you say?