Not a whole hell of a lot to recap regarding last night's show, but a few points to make:
-The biggest thing brought to my attention the last couple days has been Josh's and Amanda's tweets regarding something editing isn't showing you regarding Josh "stealing" Amanda from Nick. Well, Mama Murray came to the rescue this morning and put it out there what all the fuss is about. Here's what she wrote on her FB page: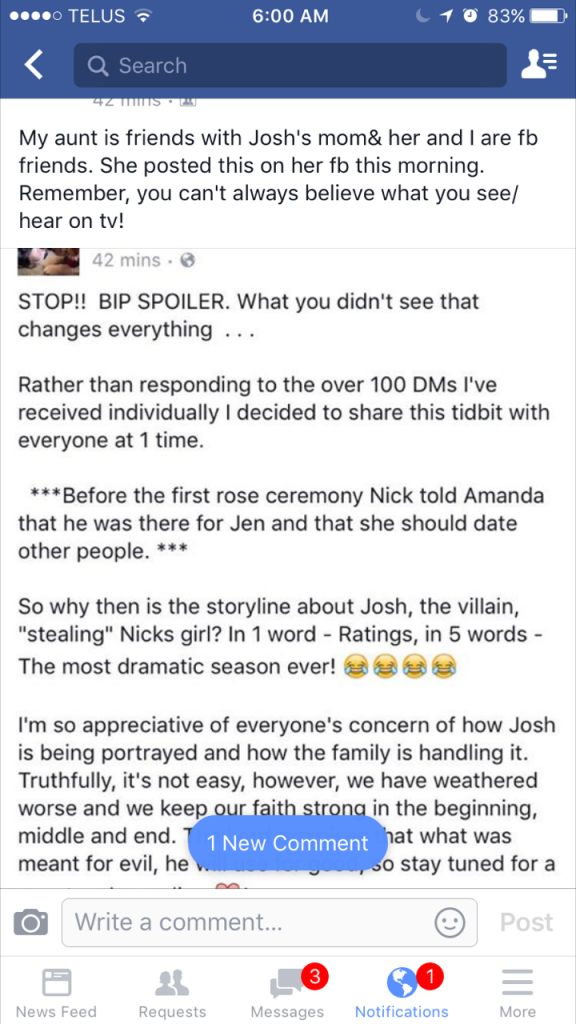 And believe it or not, that's actually accurate. That's what happened. Nick liked Amanda, but he was there for Jen. As I mentioned when I gave you the spoilers, you figured they were going to make a big deal out of Josh "stealing" Amanda from Nick. I wouldn't necessarily call it stealing. Just more so than they're gonna play up the "Josh got the girl over Nick again" angle, when in reality, he really didn't. I mean, in a sense that Nick had a date with her first then Josh arrived and was attached at the hip to her from then on, yeah, I guess. But the show is making it worse than it actually was. Hence the reason I never even bothered covering that part in yesterday's recap, since it's overplayed.
-Now, did Josh and Amanda need to suck face the whole episode? No. I think that looks worse than the whole "stealing Amanda" angle. It's not necessary. Granted, I'm sure there were plenty of times where their faces weren't stuck to each other, but you can't control the edit. The show wants to make it known they were close the whole time and in the process, they are making all the viewers vomit while watching them swap spit.
-Yes, Carly and Evan are still together and engaged. Say what you want, but I have no idea how Evan is taking this. I saw Carly did show a tad of remorse last night on Twitter when she posted this:
Man, at the time I thought I was funny about the date w/@ebassclinics ….but in retrospect ??more asshole than funny. #BachelorInParadise

— Carly Waddell (@carlywaddell) August 9, 2016
…but still, no guy in Evan's position can possibly be happy watching that back. Well, unless of course you want to capitalize on endorsements and social media marketing and REALLY want to get married bad, well then, I guess you'll put up with anything. To me, that's not enough for me to want to deal with someone like that. But then again, I live in reality and I'm not them, sooooooo….
-I honestly have no idea why Sarah would keep someone like Daniel over Christian. Doesn't make a whole hell of a lot of sense, and usually when that's the case, producer involvement has a lot to do with it. I don't know if that happened in this particular case, but I wouldn't be surprised if it did. For some, Daniel is comedic value for the season because of his mindless rambling about nothing and Christian just wasn't a dominant enough character on his season, or this one, to justify him sticking around. But hell if I know.
-As for what the hell Evan was doing trying to steal Amanda away from Josh, that seemed 100% producer driven. Like, why? What possible signals did she give him to think he had a remote chance with her? Usually when I see a girl's tongue firmly implanted in another's guy's mouth for hours on end, I'm probably staying away from her as a potential mate. Now, Evan will no doubt stir up the Andi stuff next week with Josh since, well, that's why they wanted Josh on the show. To bring out the Andi stuff and get him all fired up. So I think Evan going after Amanda is more a just a byproduct of having him confront Josh over the Andi allegations and not because he actually thought he had a chance.
-Besides the Josh and Amanda tweets, the most asked question from last night that I got was, "Is Chris Harrison not hosting 'After Paradise' this season?" My answers is I don't know. Sean and Michelle really never said if that was permanent or not. I guess we'll find out next week. I actually think that show could work if they structured it better. Really? Did we need 5 contestants bunched together on the couch answering questions? Have Lace and Chad out there and give them 2 or 3 segments. That was somewhat interesting. But there were too many moving parts and not enough time given to things people wanted to hear about.
-Cut out the stupid poll questions, and get rid of Skyping with fans. No one cares. If you want to Skype with occasional celebrity, I get it. But random fan watching parties who are put on the spot and really have nothing say? No thanks. Unless they're going to plug my site or the spoilers, it seems kinda silly and very under produced.
-I think next week, things will get interesting with the arrival of Caila, Jen, and Ashley I. That'll bring some of the goods. But the biggest question will probably still remain, "Does Josh let Amanda up for air to breathe or will he keep sucking her face until it loses all circulation and turns blue?" Tune in next week!