Hi Steve,
I just have a few questions about some Bachelor-related folks:
1. Do you know if Caila and Jared are still attempting to date? I believe I remember you said that from what you heard, she wasn't super into him or something. I think they see each other, but I don't know how serious it is.
2. Are Becca and Robert Graham dating or at the very least, hooking up? From what I've been told, no. They work together though, that's why she's always with him.
3. Are Wells and Ashley I. attempting to date? I remember she gushed over him while JoJo's season was airing and you could tell that she would zone in on him on Paradise.
Comment: I'm still not sure. I have no answer as to how many times they've hung out since the season ended.
_______________________________________________________________________
Multiple unrelated questions in one, so I do apologize for that, but…
1. I know you don't think anybody comes on this show with the best intentions, but obviously there have been contestants such as Whitney, Tanner, and others that seemed down to Earth and more sincere, and that they don't take themselves too seriously. Then there are others like Jared that seemed normal at first and then got completely sucked into the Bachelor nation way of things to the point they seem to have lost their individual identity. Which contestants do you personally like, at least somewhat, for how they carried themselves throughout the show and after (besides Britt)? Which ones have you found to be exceptionally obnoxious, milking their 15 minutes of Bachelor fame (besides Robby)? I find most of them to be over-the-top, fame seeking, media whores who only care about IG and Twitter followers and what strangers think of them. Not to mention some of the more superficial people on the planet. With that said, there are a few who I've been in contact with over the years that I really like. But I'll keep those to myself.
2. You said in your recent video feed that you have heard many things about Nick to make you dislike him regardless of how he presents himself. What were you referring to? If I wanted people to know, I would've already talked about it. Just stuff I've seen and heard that make me think a little less of the guy.
3. In more recent years, you have been having to keep up with many of these contestants on Instagram, Twitter, blogs, etc. There isn't much variety between these people, they all post nonstop travel, food, and sponsored posts on Instagram. (I don't know why Smile Sciences and FabFitFun need 30 people from the same group offering discounts, hah.) Do you ever get sick of paying constant attention to their lives outside of the show? Are there any contestants you find that actually post anything interesting that isn't all about themselves or Bachelor Nation? Honestly, I don't follow many of them at all. Go look at my Twitter and IG follows. It's very few. The thing is, I don't really need to. The second any of them tweet or IG something significant, someone out there alerts me (IE the Josh & Amanda stuff all weekend). I'd never be able to follow all 25 contestants on all social media platforms every season. No way. Nor would I care to. I'll hear about them regardless, so I just do it that way.
4. Have you or would you consider creating an app format for your page? It would be much easier to navigate an app than the mobile-friendly version of the site.
Thank you.
Comment: We've talked about it. Something you could possibly see in the future.
_______________________________________________________________________
Have you noticed how Garcinia (diet pill company) has recently sponsored Jojo and Andi Dorfman? Both were recently accused of using lipo (articles saying Josh accused Andi of this) or drugs (Chad apparently accusing Jojo) and then both bachelorettes recently brought this to attention on social media and are hashtagging #garcinia. They must be getting paid quite a bit – so unsubtle.
Comment: They certainly aren't promoting it for free, I can tell ya' that. None of these people do.
_______________________________________________________________________
Hi,
Your comments regarding the improvement of After Paradise were perfect. The only thing I can add is that they need to ban Shawn and Michelle from the show…completely. Terrible hosts. The only person I know that talks and interrupts more than Michelle is Rachel Ray. Michelle reminds me of some of my college students. That is, they continue to talk long after they have anything to say.
Comment: Well that's not going to happen since Michelle and Sean are the hosts all season. The show just has too much going on at once. They need to dial it down.
_______________________________________________________________________
Hi Steve,
1. I know that you do not follow many people from this franchise on social media, but I was just wondering if you know anything about Josh Murray's family making a fake twitter account to defend him because JJ made this claim a few days ago? Do you know if there is any truth to what JJ claimed? Didn't hear that. No idea.
2. I heard yesterday from Inquisitor.com and I'm pretty sure the information was taken from the pure dwts website that a source says that a member of the bachelor franchise is being considered for this upcoming season. Have you heard who they are considering or if this is even true?
Comment: The Inquisitor? You realize that ANYONE can write for the Inquisitor, right? It's not a legitimate website and all they do is post stories that they read from other sites. It's a joke.
_______________________________________________________________________
Hey Steve,
Long time reader and find your site extremely entertaining
Two things today:
1st. I do follow josh and Amanda on social media first thing was they both made it obvious that they were in Kansas City at the same time
And now being on Twitter, Josh posted this photo of him self.. I noticed the background is very familiar to what Amanda posted on her blog last week
So my question is why is Kaitlyn and Shawn so hated for one little mistake well not little, but these two literally don't care, will they get a plenty??? I think BIP is treated MUCH differently than the big show. If the show cared, after the first pictures of Josh & Amanda got out, they would've told them to go on lockdown. They obviously didn't, meaning, they don't care. You'll never see it on the "Bachelor/ette."
And my second question is rather Becca and Robert Graham dating??!
Comment: No. I'm amazed at how many people care about this. I'm also amazed how many times I've answered this and people still ask.
_______________________________________________________________________
Questions to add…
Did the producers tell Evan to talk to Amanda? It seemed producer driven, especially with the whole situation with what Andi said about Josh in her book and Evan just going off of what he "heard." Who told him what the book said? How awkward for everyone. What a wierd situation. I didn't think he could be more awkward. He seems like a nice guy but I can see why he always gets stuck in the "protector" role with women. I'm sure Evan was highly coached by producers.
What really happened with Evan and him not waking up? My husband has sleep apnea and when it first started before he exercised and got a breathing machine, he would scare me all the time. He wouldn't wake up and just would stop breathing and wouldn't move. When he woke up to me crying and shaking him, he would have no idea that I was trying to get him up and wondered why I was upset. It was a scary situation. Was Evan just really drunk? Explained last night as he mixed medication with alcohol.
Producers sure used that situation for their benefit to get carly and Evan in the same room and bed. The medic told carly that "someone" needed to stay with him and looked right at her when she was in the room with him, and producer went to get her and tell her the medic was there. Do you know if she stayed the night with him? I have no idea.
What was the deal with the girl throwing ice water on the girls on the double date, and did lace really almost get into a fight with her? Did producers tell her to do that? She didn't seem like she wanted to be on camera and her face was blocked out, so I find that whole situation very strange. Was she just drunk? Just wierd to have a random girl throw ice water on someone on TV and not want to be on TV. Very strange. I don't know.
Did Daniel actually like Sara? The producers made him look like a jerk at first but br seems like a nice guy now. He is strange though. The kiss was so awkward. Made it seem like he only kissed her to stay or just wanted to respect her and it came off awkward. His character just seems so different than when he first came into Paradise. I don't know. The guy is weird.
I'm sure by now that Ashley knows going into Paradise that Jerod and her are just friends. Is she really that delusional? It seems like she knows who her character is supposed to be and how she should act. Producers obviously want her for the "drama" and tears. I have never seen someone her age that is that immature.
She acts like I did with my first boyfriend in the 7th grade. She is just so awkward and like a little girl in a woman's body.
She had time after Paradise to pursue him but didnt so I find it hard to believe she thinks they will be a couple. Seems naive and too obsessive. She hardy knows the guy. Is she playing a part or is that how she just is and she truly thought she and Jerod would be more than friends? I know the spoilers said that they will agree they are just friends so something must have clicked with her on an episode soon.
Thanks for making this cappy show interesting and fun!
Comment: She explained everything on "After Paradise" last night. Just a matter of if you believe her.
_______________________________________________________________________
Hey RS,
Please tell me that they are not considering Nick for the next Bachelor. I know he is not engaged but is he dating Jen at all after BIP. Nick is not going to be the next Bachelor. I don't think they are dating, but they are cordial.
A friend of mine that lives in Nashville says Evan is not very involved in the lives of his children. Do you know if Carly has met his children?
Comment: According to his ex-wife and what she wrote about him, he's not involved in their lives. I have no idea if Carly has met them.
_______________________________________________________________________
Since Andi never said Josh's name in her book, can he sue her for libel?
Comment: I don't know the exact legal ramifications of the book, but even though she doesn't use his name, it's obvious who she's talking about. We know she had a fiancé, we know the name of her fiancé was Josh Murray. I don't think replacing "Josh Murray" with a number would prevent a lawsuit from happening if he wanted to. That's my unprofessional opinion. Maybe a lawyer wants to chime in and let me know what Josh's legal recourse could be if he decided to sue for libel. I think his problem is how do you win a he said/she said argument? How can she prove he called her names, and how can he prove he didn't? Doesn't seem like he has much of a case, but that's just my outsider's opinion.
_______________________________________________________________________
Hi Steve,
I notice the weirdest things, but I think Evan may have drunkenly hurt his foot in the episode last night but producers/editing played it off like he blacked out. As I was watching, I noticed that at one point Evan had his foot wrapped up in medical tape. I rewound it and it wasn't like that a minute or two prior to that when he was talking to the "nurse." Carly asked him if he remembers coming downstairs and he told her no. My guess is he fell down the steps, maybe passed out, hurt his foot, then they reenacted it as if he had just passed out and been unresponsive in his bed so they could force the Carly storyline. I really don't want to go back and watch it again to screenshot it, but if you look closely it's there. Ridiculous editing as always!
Thanks for all you do.. Your site definitely makes watching this trainwreck more enjoyable!
Comment: We found out last night, he was having a problem with his ankles, so I could see that happening.
_______________________________________________________________________
I didn't watch Andi's season so I don't know what NIck.. but from Paradise he seems like a really normal, nice guy.. Is he really this villian they make him out to be or is it just a bad edit from his season and Kaitlyns season?
Comment: He was bad on Andi's season. People definitely think he's likable now, and that's fine. I don't necessarily find him more likable this season. I just find him more tolerable.
_______________________________________________________________________
Steve,
Thanks for posting the Ames Brown story today, it was very interesting. Someone on your video chat had mentioned that Ames got married, and when I tried to find the story myself, I found this picture: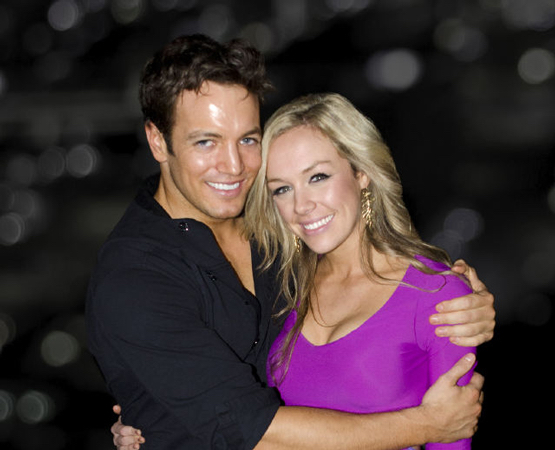 I recall that you said Emily O'brien has had several relationships after she was on Ben Flajnik's season, so now I'm wondering if Ames and Emily were once a couple?
Thanks Steve
Comment: No, she was never dating Ames. And I don't ever remember saying Emily had several relationships after Ben's season. Not sure where you got that.
_______________________________________________________________________
Hi Steve-
Just wondering what you think the chances are of Nick Viall being the bachelor? I mean, Luke and Chase were so forgettable on JoJo's season. They had little to no personality. And the producers of BIP seem to be painting Nick as this great guy. Thoughts?
Love your website!
Comment: Zero chance. It's going to be Luke. Been saying that for 2 months. Nothing's changed.