A lot of people seem to be a bit leery of this whole "Why isn't Chris Harrison hosting 'After Paradise' thing" and I really don't see it as that big of deal. Obviously the ratings do, as it's definitely down over last season. "After Paradise" that is, not the actual show. Chris did an interview with the "Hollywood Reporter" where he went into a tad more detail over why he's not hosting. Basically, he doesn't know. He was told he wasn't, the decision was made by Mike Fleiss, and he has to abide by it. He'll be back hosting "Bachelor" and "Bachelorette" when it comes around, so missing out on a 1 hour gab fest during a summer show that really doesn't have much substance to it, to me, isn't that big of a deal. I guess some think otherwise, but, really anyone can do that job. Sure, Michelle and Sean don't really have any chemistry and all they're doing is bouncing stuff off the people on stage and there really isn't much flow to things, but other than that, "After Paradise" is what it is. This isn't some Emmy award winning show that underwent a major overhaul. It's a silly one hour after show with a bunch of former contestants. Lets not make this out to be more than it is, people. Daddy Harrison will be back in his role in a month or so when "Bachelor" begins filming.
Ratings are in from last night and the show got it's highest ratings of the season with 5.1 million viewers and a 1.6 rating. Pretty much on par with what they did last season on the third Monday of the season.
Nell Kalter's RHOC recap is now up for your viewing. Nell is now a free woman in that she doesn't have two shows to write about anymore on Monday night's with AYTO now over. So go check out her work on last night's episode.
We are very low on "Reader Emails" right now for tomorrow, probably the lowest amount of emails I've ever had on a Tuesday before, so get those emails in to be answered in tomorrow's column. "Dr. Reality Steve" already has 4 emails, so that's good for a Tuesday. With four already, it'd be nice to get 8 by Thursday, so get those in as well.
The biggest news since we last spoke broke late Thursday night when Jordan Rodgers ex, Brittany Farrar, took to Instagram to call him out for his lying, and showed proof of it. It was taken down then re-posted three different times since then, but I managed to get screenshots of what she posted, so for those that haven't seen it by now, here you go: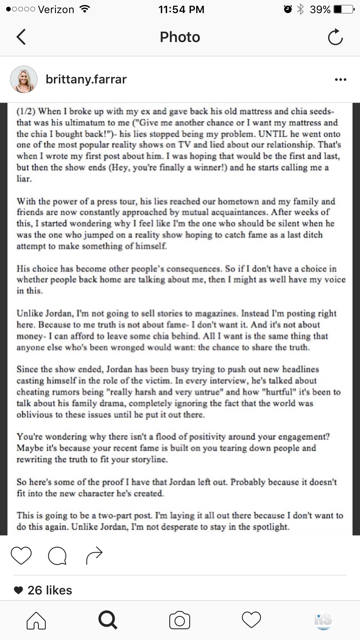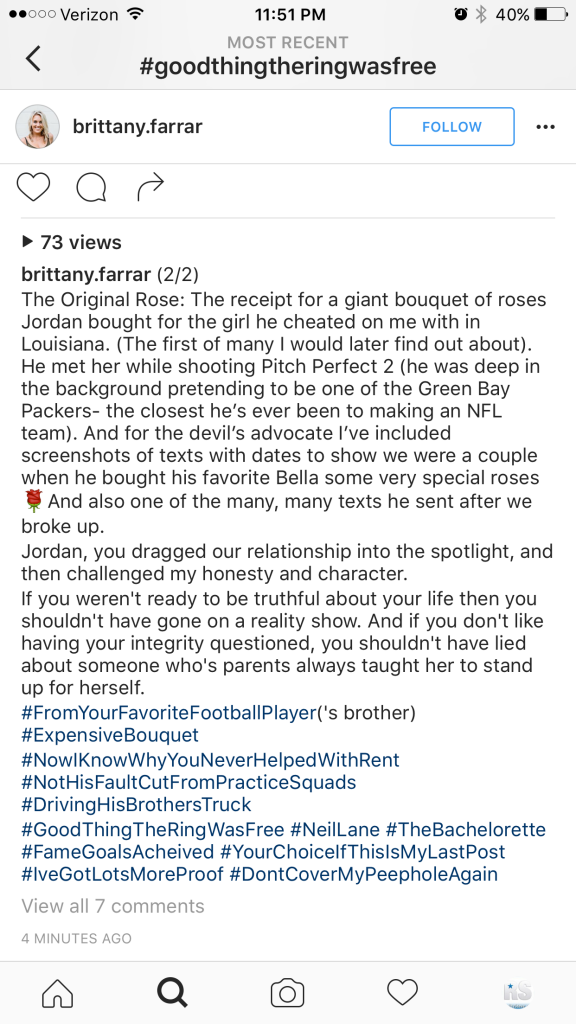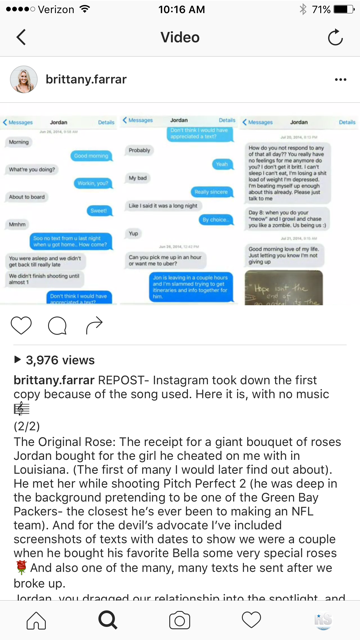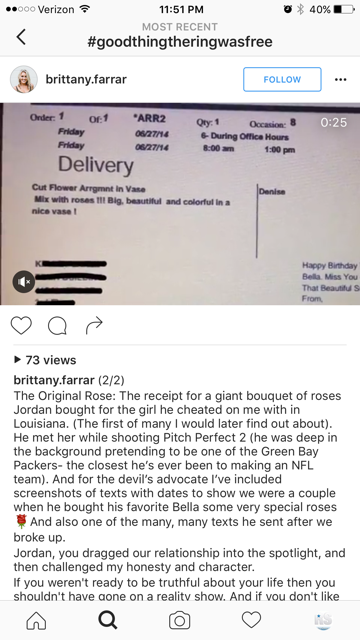 Brittany remember posted on IG back on May 23rd, the night of the premiere, calling Jordan out for being a cheater – and hasn't said a word since. Like, I thought we were gonna get something every week after that, but she laid low and never said a word. No tweets, no IG's, no interviews with tabloids – nothing. So the argument that she just wants her 15 minutes of fame, and to let it go and leave them alone, sorry, not buying that. If she wanted to, she could've easily spoken to a tabloid for an exclusive and got paid. She didn't. She's posted two Instagrams in 3 months. I hardly call that someone who's out for fame. And did people not read exactly what she posted? She specifically said in her post that her post back on May 23rd was the only thing she planned on saying, until Jordan called her out post-show so she defended herself. I don't see anything wrong with that. Why is Jordan allowed to call her a liar and she can't respond to the allegations? And not just respond with, "No, I'm not." She actually gave us proof to what she posted back on May 23d when she said he cheated on her when they were together.
This was all stuff I had reported during the season when I was telling you it was well known within that circle that Jordan hooked up with someone during the filming of "Pitch Perfect 2." I even showed you the email I got along with the picture of Jordan in the pool with the girl, whose name I didn't release and face I had whited out. Well, after Brittany's IG post on Thursday, it took maybe 4 seconds for people to figure out the girl he cheated on Brittany with was Kelley Jakle. She was in both movies as one of the Barden Bellas but didn't really have many, if any, speaking parts. So yeah, that case was solved rather quickly. And for the record, Kelley had no idea Jordan was with Brittany when they hooked up on set because Jordan told her they'd broken up. Of course he did. That's straight out of the Cheating 101 handbook. Slick move, J.
Also, this notion that Brittany is crazy because she has texts from two years ago? Huh? I have every text conversation I've ever had still saved in my phone. If you scroll all the way down to the bottom of my texts, there's one from 2012 on there. I highly doubt that me and Brittany Farrar are the only two people on this planet that don't delete texts. So to call her out for that just seems ignorant. Plenty of people keep their texts. Especially ones that suspect their boyfriend is cheating after a couple years together. I'm flabbergasted by how many people called her out for this, when I don't it weird in the least bit a girl kept texts from a guy she used to date that she suspected was cheating.
I don't think someone who's said 2 things in a matter of 3 months is someone who's out for attention or looking to be famous. She's already somewhat famous and certainly isn't pining after Jordan or trying to break them up. Do people actually read things or just skim it and not read what she actually wrote? How can anyone think that her IG post was a shot to try and win Jordan back or to break up Jordan and JoJo? She couldn't be any more specific about why she did what she did. I think people should probably pay attention more. Granted, just like anything else in this franchise, the dorks who worship the ground Jordan and JoJo walk on and are buying their farce of a relationship are the trolls who took shots at Brittany, and normal, rational people, or people who are indifferent on the matter, can actually look at it objectively. Britanny's IG is not going to convince everyone she's right, nor was that her objective. But if Jordan can call her a liar in public and say everything she said was hurtful and untrue, I don't see any reason why she's not allowed to come back and say, "Oh yeah? Well it is, and here's proof." I'm sure this is pretty much over and I doubt Brittany will do anything else, but I applaud her for sticking up for herself, especially when what she said is 100% true and it's not like she's just making sh** up. None of this should be news to anyone who followed this site during JoJo's season. This was all stuff I reported months ago. Brittany just provided the proof.
Nick sure had himself an interesting week didn't he? What's gotten into this guy? Since when did someone bestow the responsibility upon him to become the show's mouthpiece to all media outlets? Holy crap. Is there an interview request he WON'T do? My gosh. I know I posted this in last Wednesday's column, but for those that missed it, here was Nick last Monday night on the Afterbuzz TV show:
Then on Tuesday, he sat down with Juliet Litman from "Channel 33's" podcast, to essentially say the exact same things, just to a bigger audience (and he references the plane videos that I posted for the first time that I can ever remember):
This week's Bachelor Party featured Nick Viall — two years of talking trash came to a head https://t.co/MsIdgEG9PD pic.twitter.com/jqD4svXVgm

— Juliet Litman (@julietlitman) August 20, 2016
I will say this for Nick: he's being much more articulate and his answers are well thought out in these interviews, and he's really doing a good job of explaining aspects of the show that the average fan doesn't see or doesn't think about. These are both very good interviews. Do I agree with everything he's saying? No. But I do agree with a lot. My biggest issue is he seems to be getting into semantics when he keeps beating on his drum that "there's no editing on this show." Really Nick? C'mon. And I see what he's getting at, where he's saying they're showing you the important things because obviously this "isn't the Truman Show," and there's only 80 minutes of TV a week with numerous hours of footage. I get it. But he really seems to be buddying up to the producers and kissing ass here for some unknown reason.
Yes, there's plenty of material left on the editing room floor. And yes, what they show you is all part of a storyline. And yes, they can't show you something that didn't happen. We get that part. But Nick never goes into the concept of "frankenbiting" or how when you show bits and pieces of a conversation and completely change the context of that conversation to make it look a completely different way than it came across, that's editing at its finest. It's like the producers even convinced him with their "there's no editing on this show" line and he's buying it. Nick of all people should know this. And he knows it's a highly produced TV show and storylines are in place that make producers focus on certain things. But don't tell us that producers don't specifically tell people to do/say certain things, or coerce people into doing things. Yes, they still have to agree to do it, but Nick is making it seem like the producers are barely behind it. That's where he's wrong. And there are plenty of contestants in the past who will say how awful the producers were to them and how they treat certain people, which makes Nick's argument a moot point.
One thing I will absolutely agree with him on is the fact that nobody ever complains when they get a good edit. That's the best thing he said in either interview. These people only seem to complain when a bad edit is shown and then they have to defend themselves. Well then don't go on the show. Your contract that you sign for this show specifically states that the show can surprise, embarrass, mimic, make fun of, and even manipulate any situation they want. It says it right there in the contract! So complaining about it afterwards is your own fault. But when someone gets a good edit (take Nikki for example), will they ever say after the fact, "Well yeah, but you should've seen how I treated some of the handlers. Or what I said that DIDN'T get shown." Of course not. And that's where Nick hits it on the head. But that doesn't mean there still wasn't editing done on the show. I think he made some excellent points in those two interviews, and I think there's some things that weren't brought up and he didn't address, which he easily could've been called out on. But if you have the time, I suggest listening to both of them to get a better idea of the inner workings of the show.
This week's poll question is rather simple: