-There was another mini storyline also going on last night, and that was Brett and Izzy. Bottom line: Izzy dumped Vinny for Brett, Lauren Himle shows up, Brett makes out with her, likes his connection and her 13 year old voice better than Izzy, he tells Izzy he'd rather try and bang Lauren, and Izzy leaves. The funniest part of Izzy leaving on her own is, well, 1) That decision to dump Vinny was now made about 50 times worse when the guy she dumped him for dumps her in a matter of two seconds when a new girl arrives, and 2) the phone call to Vinny in the car accomplished nothing. Not only because Vinny wasn't receptive to it but, ummmmm, did the producers of this show forget that Vinny and Izzy were just on "After Paradise" a couple weeks ago and we know their resolution? Showing us what happened back in June when we just got a live update in August was fairly counterproductive if you ask me. Not to mention the fact when she called him, she started off by saying "I chose to leave Paradise…" Ummm, no you didn't. Brett threw you out like 3 day old lunch, so THEN you decided to leave. Big difference.
-I don't really think Vinny and Izzy are seeing each other right now. I know we saw the TMZ video of them the day after "After Paradise" at LAX and on the same flight back to the east coast and her resting in his lap, but hey, that's par for the course for this show. Just because two people in this franchise are close, or are hooking up, or are hanging out all the time and posting on social media, doesn't mean they are exclusively dating. I've lost count of how many people from this franchise I've heard about hanging out/hooking up together but weren't dating. I'm not even sure these contestants know what the word dating means. Hell, I've heard on more than one occasion where someone THOUGHT they actually were dating one of the guys, but then I happen to be in contact with another female from the franchise and she's telling me that particular guy is hitting on her. So yeah, puts me in a very awkward position. I will tell you that when it's happened, I just stay out of it. I keep all my relationships within the franchise separate from people.
-I know it's a weird dynamic, and yeah, frankly sometimes I do want to say something and alert someone that I know is being played or cheated on, but that's not my part. Because it could then set off a chain reaction and I just don't want to be a part of it. It's one of the few things I dislike about this job. I've been put in some seriously awkward positions by people that I'm talking to, but I can't even tell them it's an awkward position because they have no idea who else I speak with. Does that make sense? It's not confusing to me because I'm living it, but I could see where you might be confused. Yeah, it's happened. More than once. And it sucks. But it's pretty much how I keep track of who's been with who and who's hooked up with who. Word travels fast within this franchise, that's for sure. I know your reaction will probably be, "Pleeeeeease, tell us who you're talking about." Ha ha that's funny. If I didn't tell the people directly involved, why would I share it publicly? There are some things better left unsaid. Unless I decide to write a book someday. I guess then it could be interesting since time will have passed. I don't know. Still don't really feel comfortable doing that. I'm just thinking out loud now. Moving on.
At the cocktail party before the rose ceremony, there was really not much up for grabs. The only rose in question was Wells, and if he'd give it to Ashley, Shushy (by the way, that's my cute little nickname for her because I don't want to spell the whole thing out) or Jami. He meets with all three at the cocktail party and here's what happened:
-In his talk with Jami, she was really interested in like his life and stuff. Then they made out because, well, apparently Wells is now got more game in his pinky finger than everyone else combined. Who knew he'd turn into Rico Suave on this show? Especially considering we knew there'd be no way he'd end up picking Jami.
-With Ashley, I don't even really remember much of a conversation, other than she was confident and they kissed. A lot.
-With Shushy, she just wanted to leave. There was definitely plenty left on the cutting room floor regarding her exit, because that basically came out of nowhere. I think in the season preview we even saw her cursing the camera in that green dress, which we never saw last night. Just know she wasn't happy with the show, told them off, and her exit was a little more dramatic than that.
-So now the rose ceremony begins, and most of these were quite obvious:
Josh to Amanda
Nick to Jen
Grant to Lace
Evan to Carly
Brett gave his rose to no one because he felt he didn't quite have a strong connection yet. Although in another editing blunder that seems to happen once a season, when Brett was giving his speech, you could see Ashley already had her rose. Here he is before giving his rose out, then the very next shot of all the girls standing there. Woopsie.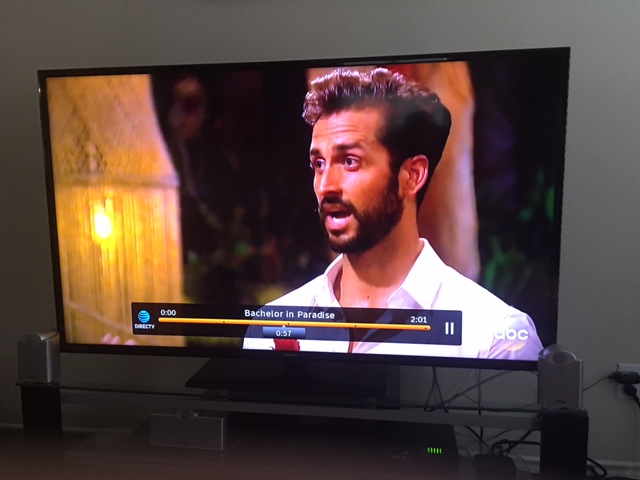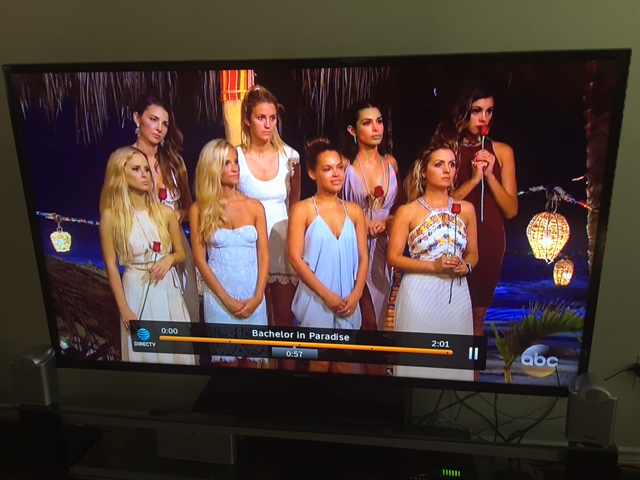 Wells to Ashley. Gee, you don't say? Maybe if the editors didn't have a brain fart, we would've been surprised.