I have a little homework project for myself this weekend. After yesterday's reveal of four of Nick's women for the season, the overriding reaction was, "They're so young!" Ummmm, have you not watched the show for the previous 31 seasons? This is what they do. The cast never changes. Only the lead does. We've seen the same ages (outside of Byron's season) for every "Bachelor" season ever. And that's not just a blanket statement. I can prove it. I just need to find that link that I posted from earlier this season, when one of my readers decided to do the math, go through every previous season, and give me the mean, median, and mode age of every season of the "Bachelor" and "Bachelorette." Once I find it, I'll share again, but for all those that are flabbergasted at how young Nick's cast is, apparently you haven't paid attention to previous seasons. I'm sure I'll say this 1,000 more times this season: they do not care about finding Nick age appropriate suitors for him. Never have, never will. They care about producing a TV show with mid 20's girls who aren't bigger than a size 2. Is it sexist? Of course. Yet 8 million people are tuning, and have tuned in, for the last 31 seasons. So why change? It's who they are. These women were cast before Nick was ever chosen as the "Bachelor" as well, something they also do every season. Once people can take the oxygen mask off their face and take a deep breath, they'll realize that Nick having girls between the ages of 23 and 25 on his season really isn't that big of deal.
I know "Survivor" premiered on Wednesday, but since yesterday was dedicated to revealing some of Nick's women, there were no "Daily Links" to update you on all things "Survivor." Well, here you go. After being gone for a while, our resident "Survivor" recapper Bryan Fischer is back with his recap, along with goodies from Dalton Ross over at EW.com, Stephen Fishbach's People.com blog, and Andy Dehnart over at RealityBlurred.com. Some good stuff here. Check out all these links.
Bryan Fischer – Survivor recap
EW.com – Dalton Ross' recap
EW.com – Dalton's questions for Probst
People.com – Fishbach's blog
Reality Blurred – Andy Dehnart's recap
People.com – Rachel exit interview
-If you follow enough of the "Bachelor" people on social media, you'll know that a lot of them are in Vegas this weekend for the IHeartFestival. Reports are that Chase McNary was spending an awful lot of time with right wing political commentator Tomi Lahren last night. I've been on Tomi's show a few times as you know, but I'm not close enough to ask her personally what happened. Here was the pic of them sent to me from last night: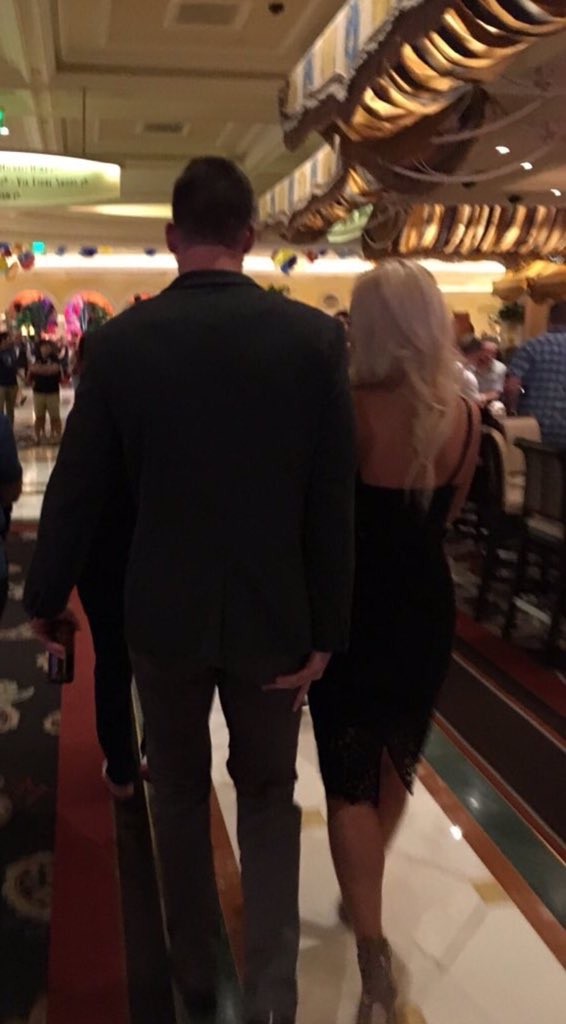 If you look at their social media pages recently, easy to see that Tomi and Chase have had a back and forth. Now we see they were "together" last night in Vegas? Not hard to put two and two together here and make an assumption that's probably right. My guess? They're just looking to make America great together. Two attractive mid 20's individuals in Vegas spending time together. That never happens! But hey, it was probably just to discuss politics, drink juice boxes, and then go about their separate merry ways. Oh kiddos. Get ready, because there are very few people that can get the trolls to spew hate, venom, and vitriol more online than one of Tomi's "Final Thoughts." I took a picture with Tomi after one of our shows together and posted it, and you'd think I had an intimate dinner with Satan by some of the reactions it got. Calm down people.
-For those still curious if Michele Fitzgerald from last season's "Survivor" is going on Nick's season, she officially put an end to that rumor yesterday when she went on "Rob Has a Podcast." She talks about it around the 1 hr 18 min mark. What's funny is, not surprisingly, the story reported by US Weekly was completely blown out of proportion. She never even applied for the show. She was at a casting call, but it was to support her friend. Yet somehow the story turned into Michele was gonna be a contestant.
-As we know, Tanner and Jade are the next season of "Celebrity Marriage Boot Camp" which premieres in 2 weeks on the WE channel. They released their first trailer for the season, and of course to draw everyone's attention, they focused on one sentence that Tanner said in a 2 min clip, which just happened to be really the only clip that I even saw Tanner and Jade in. Considering these two haven't once mentioned on social media anything about being on the show, my guess is they're just hoping this thing ends sooner rather than later.
-So the Brangelina stories continue. Reports were that CPS and then the FBI were gonna get involved because Brad allegedly abused son Maddox on the infamous plane fight a week ago that started all this. Now comes reports there's video footage of that incident which will exonerate him, as he claims he never touched the kid. I wonder how much tabloids are trying to pony up for a video like that? $50k? $100k? $500k? I really have no idea. But this is the biggest story going right now. If someone has video footage of the fight, you can bet your ass some publication will pay an arm and a leg for it.
-SNL has announced who is hosting the season premiere next week, and it's going to be "Suicide Squad" actress, Margot Robbie. Are they really asking if she can be funny? At this point, who cares? It's Margo Freaking Robbie. They've had numerous past hosts in the last 42 seasons who haven't been funny. Like that's even a prerequisite to host this show. Let me tell you something: I don't care how great, or not great, of an actress Margot Robbie is. She could bomb for all I care. I'll take 90 minutes of her reading the phone book for Christ sakes. We're behind you, Margo. Or at least I am.
-We haven't had a weird celebrity baby name in what? At least two weeks, right? Well, that all came to a screeching halt yesterday when Adam Levin and Behati Prinsloo decided to name their child Dusty Rose. Did I mention their child was a girl? What girl wants to be called Dusty her whole life? Unless she's working the pole or wants to be a wrestler, I'm not sure Dusty is a great name for a girl. Call me crazy.
-Amber Rose says after 2 weeks, she's already lost 8-10 lbs on DWTS. I think a lot of people who go on this show really do it to get in shape because it's impossible not to. And if Amber has already lost 8-10 lbs because of it, then props to her. With my astute attention to detail, I will say that I can pinpoint one place that Amber hasn't lost that 8-10 lbs from: dat ay-uss.
-Earlier this week, I had a story on Kim Kardashian saying she "doesn't GAF" about showing her nipples, which was basically like telling us the sun is hot. Well, People.com then decided to give us a timeline of every time a Kardashian bared their nipples and it's essentially the greatest piece that magazine has ever written. Saved me a hell of a lot of work, that's for sure.
-And finally, LA Clipper Blake Griffin had baby #2 with his girlfriend yesterday, a baby girl. Why is this news? Well, I just find it interesting since the mother is former USC basketball player, Brynn Cameron, who just happens to have a a 9 year old son already with former USC quarterback, Matt Leinart. Did I mention Brynn already gets $15k a month in child support for their son, Cole? I don't want to jump to any conclusions here, but do you think Brynn has a type? Just curious.
Send all links and emails to: steve@realitysteve.com. To follow me on Twitter, it's: www.twitter.com/RealitySteve. Instagram name is "RealitySteve," or join my Reality Steve Facebook Fan Page. Talk to you tomorrow.