In case you didn't check Twitter or go back to the site 2 hours after I posted yesterday, there was a correction made. Found out that one of the girls I posted yesterday, Karli Gaines, is not a contestant this season. She applied, was in talks with producers, but after that I'm not sure how far she made, but she definitely isn't on this season. It happens. Usually one or two a season I post ended up not making it. Lets hope that's the last one I'm off on. So just because I'm a great guy and didn't want to have a day where I only released one contestant, I replaced Karli with Whitney Fransway, who you can see in yesterday's post, or go straight to Nick's Girls page which has all 6 I've released thus far. After I posted Whitney, a few of you brought to my attention JoJo has a picture with Whitney almost 3 years ago on her Instagram. Yes she does. It's because Whitney used to date Matt Nordgren, he of "Most Eligible Dallas" and he being someone who has one of the worst reputations in this city with women, and Matt is/was friends with JoJo's ex, Chad Rookstool. So that's how JoJo and Whitney knew each other back then. No idea if they still keep in touch now or if they're close, but for those who mentioned the picture yesterday, that's the connection. I'm already beginning to question Whitney's judgment now knowing she once associated herself with Matt Nordgren. Holy crap that guy gets around.
Anyway, on to yesterday where again, if you want spoilers for Nick's season in real time, you might want to follow me on Twitter. I'll always post here the next day what I released the day before, but some need to know everything 3 seconds after it happens. Well, you can get that on Twitter. Yesterday Nick had a 1-on-1 date in Newport Beach. They first took this boat around the Balboa Peninsula. Although it's from a distance, you can see the two of them being filmed if you zoom in: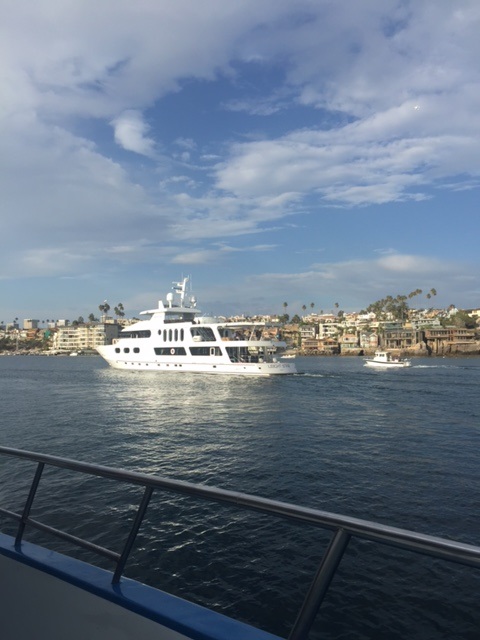 Once they were back on shore, and many hours later, they had a dinner table set up on Main St. in Newport in this area: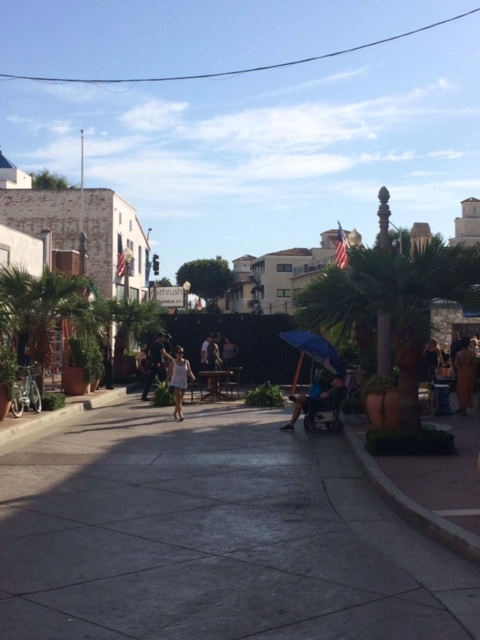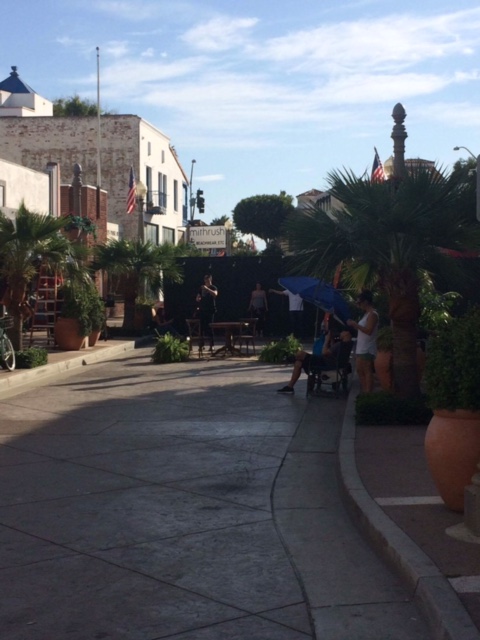 At the end of the night, they took to riding the Ferris Wheel at the Balboa Fun Zone. While they were on the Ferris Wheel, another boat circled the harbor that had a video board on it which kept displaying messages like this: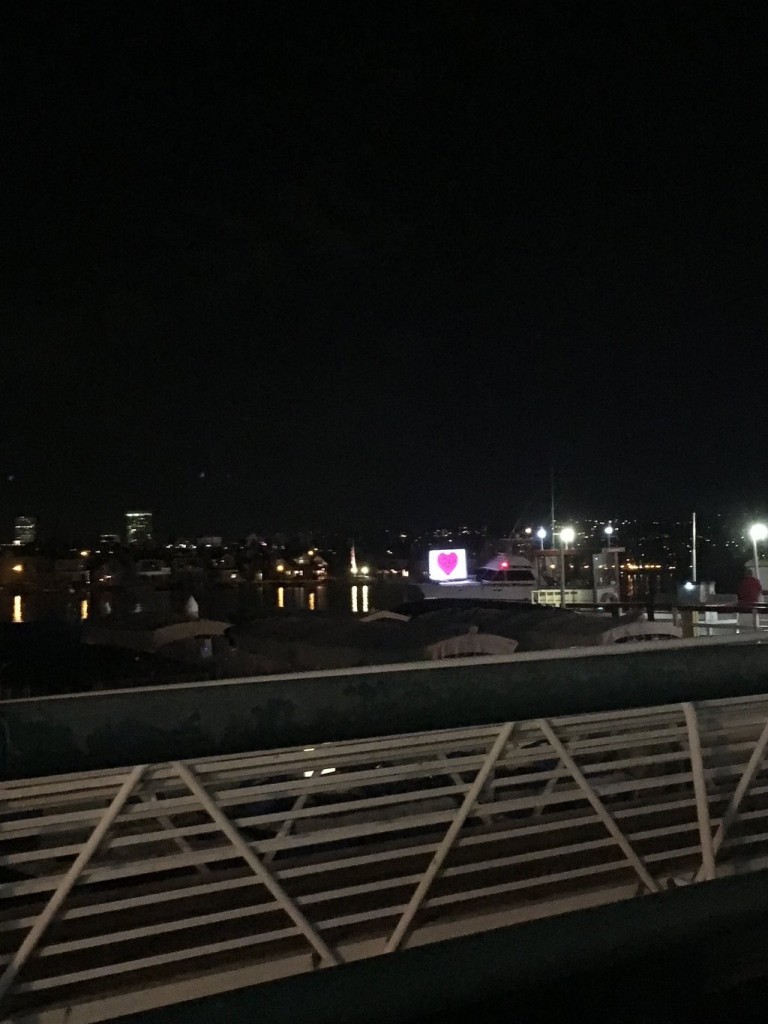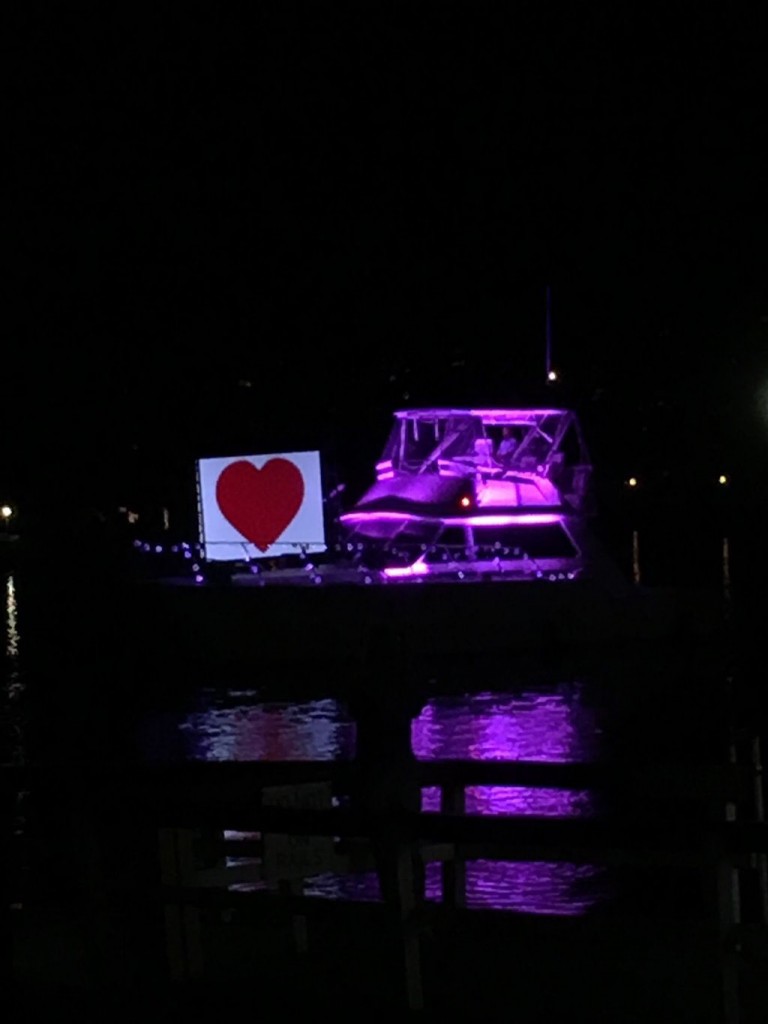 Another message was of their names (more on that in second), and then another video said "Kiss Kiss Kiss." Well, I don't know if the producers forgot who their lead was this season, but certainly Nick Viall didn't need to be reminded to tongue down a living, breathing female he was on a date with, did he? This is Nick Viall we're talking about. He doesn't need any producer prodding to play tonsil hockey with a girl, thank you. He'll make out with her then have sex with her and get dumped immediately thereafter dammit! He's Nick Viall! Anyway, after the video board displayed the "Kiss Kiss Kiss" message, Nick obliged and they made out on the Ferris Wheel. Yeah, it's blurry and far away, but Nick is getting him some: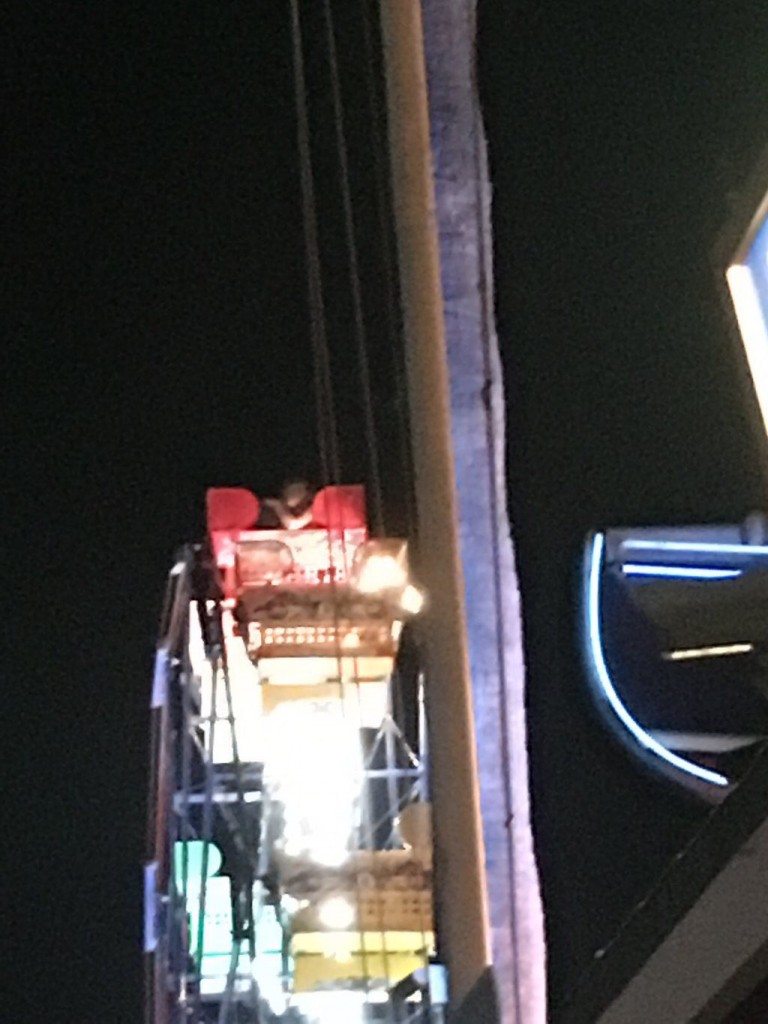 The girl he was on the date with is someone I haven't released yet, so I'm gonna hold on to her for a liiiitle bit longer. Don't worry, you'll get her soon enough. Lets just say her name starts with "D." In due time you'll know who she is.
And oh yeah, another little teaser for ya' – we already have another first in "Bachelor" history that's happened this season. Unless I'm completely forgetting, I'm pretty sure something that happened on night 1 has never happened before. What is it? You'll know soon enough.
Daily Links
-Haven't heard any JoJo and Jordan news lately so E! decided to give us an update. Not really much there and it's almost like they were fishing for a story. Obviously they're still together, but in terms of how serious it is, if they really like each other, is it a business relationship, no one really knows. What I still find most fascinating is the whole JoJo/Nick dynamic before JoJo's season started that no one really explored. Nick has never referenced it once, and JoJo denied she'd ever met him, which is a flat out lie. So if he's lying about meeting him, she's hiding something. And what happened after she got back from filming? You mean to tell me they were NEVER in touch? Hmmmmm…
-Katy Perry naked. That's basically all the headline I needed to grab my attention. Granted, it's not what you think and she's joining this whole political stuff getting people to vote, but hey, I can enjoy a pixilated Katy, can't I? Apparently today, Madonna joined in this same movement and well, ummmmmm, just doesn't have the same effect as Katy naked now does it?
-Rob Kardashian decided to tweet sister Kylie's phone number because he was mad he didn't get invited to his own baby shower. He did it twice. Because he's Rob Kardashian and no one knows really what the hell is going on with that guy. Unfortunately I missed the phone number. Would've liked to have called Kylie, asked what's up, and maybe shot the sh** with her for 20 or 30 min. She totally would've picked up and talked to me. I just know it.
-Brad Pitt released a statement regarding his family situation, and it basically sounds like something that was written for him. He's not attending any premieres for his new movie because he doesn't want his family life to be a distraction. Fair enough. Makes sense. Of course he'd be bombarded with Angelina questions if he did go to his movie premiere so I applaud the guy for staying home. Now go make "Oceans 14" and we can call it even. 11 and 13 were great. 12 sucked ass.
-Kiefer Sutherland says that ending "24" was like a breakup. Ya' think, Kiefer? I still haven't recovered from it. Yes, "24: Legacy" starts in February, and yes I'll watch, but it just won't be the same. I know Kiefer does have an executive producer title on the new "24" even though he's not on it, so I guess I can always hold out a glimmer of hope that he can make an appearance down the road at some point. In the meantime, I'll continue to cry myself to sleep eating Bon Bons while binge watching season 5. It was real what we had Kiefer. It was real.
-Liev Schreiber and Naomi Watts are the latest Hollywood couple to call it quits. Who knows the real reasoning behind any of these couples' breakups. I just always assume that one, or both, just want to sleep with other people. These couples rarely are working on the same projects together, so usually they are away from each other for months. That's not easy for a normal couple. Now just imagine you're a famous Hollywood star who can get strange in any city and in any bar/restaurant you walk into. You'd be naïve to think cheating doesn't happen in a majority of Hollywood marriages/relationships.
-Gwyenth Paltrow celebrated her 44th birthday yesterday by going makeup free. Lets hope she doesn't do that for her 45th. Or any other day for that matter. I'm kidding. Sort of. I know Gwyenth Paltrow is famous, and I know she's been around Hollywood circles for years, but for the life of me, I can't think of that ONE role that made her big. Or was it numerous roles? Come to think of it, I don't know if I've ever seen anything she's been in other than when she hosted SNL a few times. I'm sure I have, but I'm forgetting.
-As you saw on DWTS last night, Len Goodman is taking a few weeks off because of his prior commitments to "Strictly Come Dancing" overseas, the show that spawned DWTS years ago. Not sure why this was news last night since this seems to happen every season. Or maybe this decision was made last minute. Not sure. Probably not since Julianne was added back on as a judge this season. They probably knew he'd need time off at some point.
-Speaking of DWTS, how weird was Monday night's show? Have they ever done it like that where it was just dancing and zero feedback from judges? I know it was because of the presidential debate, but it kinda felt like a waste of time. And plenty of the other dancers agreed. They should've just skipped Monday night and done everything last night. Seems like it would've worked better. Although I'm really enjoying the behind-the-scenes stuff we get on those sporadic Tuesday episodes. Hearing what the judges are saying and commenting on during the dances, along with pre and post conversations between the dancers. I find that stuff interesting. Too bad we don't get it every week.
-I know this is a couple days late, but if you're a sports fan, Monday night was the best "reality TV" sports could offer. Just a day after Marlins pitcher Jose Fernandez died, the Marlins played their game after canceling Sunday's. One of the most emotional players through it all was second baseman Dee Gordon. He happened to lead off Monday's game. And did something he hadn't done all year. You couldn't script this stuff. One of the best baseball moments I've seen in 41 years on this earth, if not the best. Awesome moment.
Send all links and emails to: steve@realitysteve.com. To follow me on Twitter, it's: www.twitter.com/RealitySteve. Instagram name is "RealitySteve," or join my Reality Steve Facebook Fan Page. Talk to you tomorrow.