Really no reason as to why David S. Pumpkins is today's featured picture other than it's Halloween and I feel that it's appropriate. Not to mention, David S. Pumpkins is essentially the greatest random character SNL has created in the last 10 years and I hope he makes cameos every Halloween episode from now until Tom Hanks dies. Even Vulture.com took the time to break down why David S. Pumpkins is becoming an internet sensation. Lets face it, it's David S. Pumpkins world and we're all just visiting. Eventually we'll all die off, but he will always live on. And if I would've known there was a way to purchase his outfit for Halloween, maybe I would've broken out of my Halloween tradition of never wearing a costume and purchased one before they all sold out like hotcakes. Maybe next year. Lets hope they restock so older guys like me don't need to waste time getting makeup or anything else that'll take me more than 30 seconds to put on. Gimmie a pumpkin jacket and pants and I think I'll be good.
So lets get to the "Bachelor" filming, where we're at, and what I'm willing to share at this point. If you saw my tweet on Friday, you'll know that we are down to our final 4. The rose ceremony in Bimini, Bahamas was Thursday night, and hometowns began filming yesterday. I gave you one of the final 4 on Friday, and that was first impression rose recipient, and our first black contestant ever to make it to hometowns, 31 year old lawyer from Dallas, Tx, Rachel Lindsay:
(SPOILER): Only took 21 seasons (33 if u count 12 Bachelorettes), but we have our first black F4 contestant: Rachel Lindsay, 31, Dallas, Tx pic.twitter.com/deJPluSOXY

— RealitySteve (@RealitySteve) October 28, 2016
I can also give you another one of the final four: Raven Gates, 25 from Hoxie, Arkansas.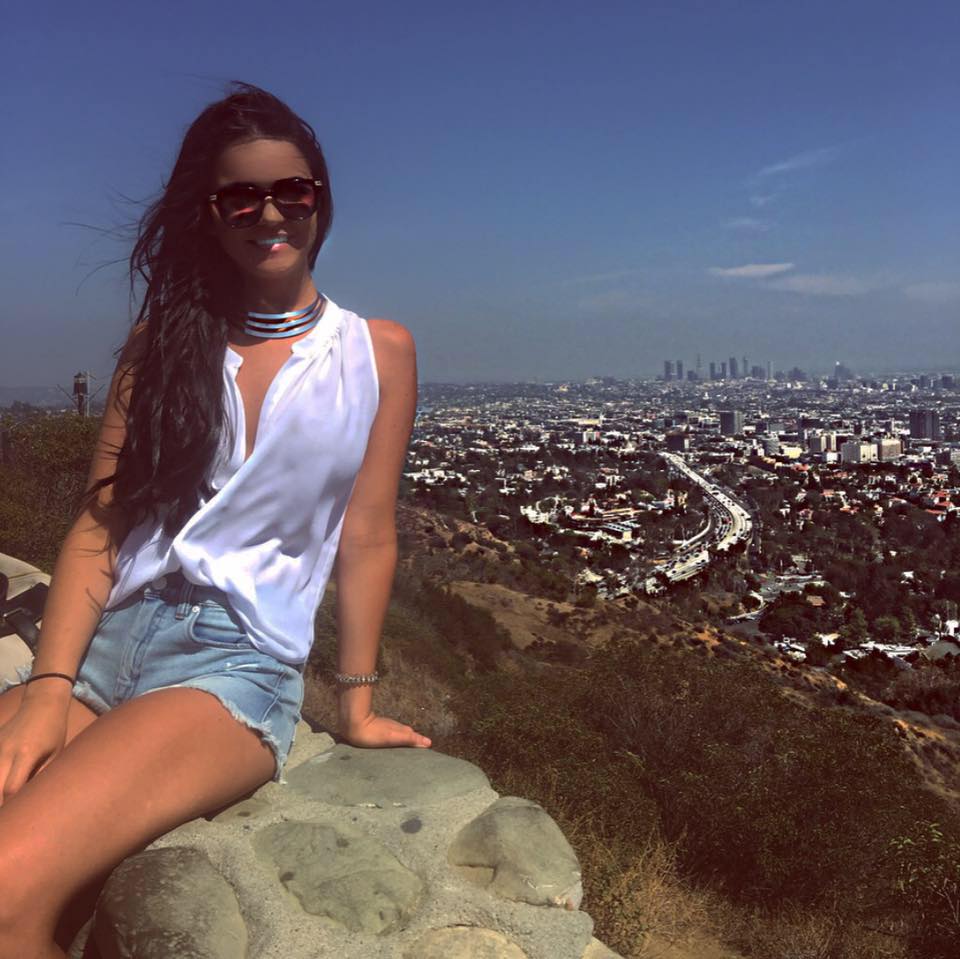 Raven's hometown date films tomorrow in Hoxie. Being Hoxie is quite small, probably a good chance that pictures will get out. If not, then oh well. Just know her hometown date is tomorrow.
It's been interesting this last week or so considering no pictures have gotten out from the Bahamas, or of the first hometown date filmed yesterday. Just because pictures aren't getting out, doesn't mean anything weird is happening with the season, or they're changing things up. Everything is exactly the same. They are down to 4 girls. 4 girls are getting hometowns being filmed this week. I've given you two of them. I know who the other two are. I've even told a few people I know who the final 4 are. The only thing I don't know (outside of Raven's tomorrow obviously) is which order they're being filmed in. But knowing who the final 4 are, and knowing the filming schedule of the show, I know that the hometowns are being filmed Sunday, Tuesday, Thursday, and Saturday this week. I know one was filmed yesterday. Just don't know which one of the other 3 it was. As I mentioned last week, I will determine when I release the other 2 girls in the final four based on what gets released, or not released, on social media during hometown dates. Why? Well, because I don't have to. Hell, I might wait until filming is completely done to finally reveal everything. I honestly don't know yet. I'm not on any sort of time crunch to post it since nothing else is being reported by any of the major entertainment outlets, and never will. Fine by me.
Sometimes hometown dates all get out on social media. Sometimes three of them do. Sometimes two of them do. Sometimes only one of them does. And sometimes none of them do. There's no rhyme or reason as to why. Every season is it's own season and mutually exclusive from others in terms of social media activity and what gets out versus what doesn't. I can't control it. This season, ever since New Orleans, social media activity has been quite scarce. Which makes my job that much more fun. At least to me it does. Because now I hold a ton of information that you can't just get by being spoiled on social media. Who was in the final 6? Who made the final 4? Is it 4 girls I've already released? Who went home on group dates? Who's this Vanessa girl that Life & Style reported had an early 1-on-1 date? Is she still on the show? If not, how/when did she go home? Who's the villain this season? Is there more than one? All questions I have the answers to which you'll know in due time. So lets see what, if any, hometown dates gets spoiled on social media this week before I reveal any more. Again, and I say this every season, you're going to get your spoilers. It's just a matter of when, not if.
Daily Links
-So we had the story last week about the rumors surround Val and Amber Rose dating, that he neither confirmed nor denied, which was essentially a confirmation. Now comes word about their first date, which was a night out to dinner in LA. Don't you love when outlets report about first dates and use sources to say "they were really into each other," and "they sat very close to each other?" I'm sorry. That's not a story. Basically tells me you know nothing about the date. Anybody could've said that. There's nothing "exclusive" about those quotes.
-Since there was no "Daily Links" on Friday, wasn't able to post this story about Figgy from "Survivor." We can all take deep breath and breathe a sigh of relie now as she confirmed that Figtails is no longer, and it has to do with something she found out after they got back from filming. Hmmmmm, I wonder what it could be? My guess would be it's because he had a girlfriend or something. I mean, if she was totally into him on the island, then she gets back, finds something out, and now they no longer are together, can't really think of much else it could be, you know?
-Hilary Duff and her new boyfriend sure ruffled a few feathers (get it?) for their Halloween costumes this year as they pissed a ton of people off going as a pilgrim and an Indian. In today's day and age, it's just not something even worth doing. No idea what they were thinking with those costumes, and I guess their apology after the fact shows how much they realized they screwed up. When I was in middle school, a pilgrim and an Indian would've been a common costume. Not anymore kids. Hey, at least they apologized.
-This Mariah Carey/James Packer broken engagement keeps getting interesting. First it was he couldn't handle her spending, then it was her camp saying he blew a gasket and he's the one with issues, then the latest is she's banging one of her dancers. Whatever the case, the stories from this relationship are far from over it seems. My question is what happens to the gazillion dollar engagement ring he bought her?
-With Halloween tonight, all the celebrity parties were this past weekend (along with everyone else's parties), so we got to see what people went as. I'm happy to report that for the 29th time in the last 30 years, I didn't get dressed up for Halloween. Just not my thing. But Kylie Jenner did. I know, shocking right? She went with something a little off the beaten path, but revealing nonetheless. I mean, Christina Aguilera's outfit from her "Dirty" video, which was like 14 years ago is kind of a random costume to break out, no? Yes maybe, but it certainly didn't make it less outstanding since that's one of Christina's best songs and most underrated videos of all time. Who didn't want to see Christina in a bikini doing some underground boxing back then?
-You know who else got dressed up for Halloween? I-love-my-body-so-much-now Ariel Winter did. And she went as a Playboy Bunny. Since Ariel had her breast reduction, she'll be the first to tell you how much she loves her body. Don't believe me? Just check out her Instagram. Non stop provocative pictures, and she's still in her teens. Once "Modern Family" goes away, I'm predicting not so good things for her unfortunately. Already a jacked up home life, has been body shamed to the point where now she flaunts it every chance she can get, and she's a child "superstar." Never a good combo. You hope someone like this doesn't go off the rails, but, all the makings are there once her run on "Modern Family" ends.
-Derek Hough's blog about last week's performance from Marilu is up now. Didn't realize Marilu was going through so much sh**. Probably why her routine felt totally off last week. And Derek is in "Hairspray?" Totally forgot about that until I read him make that mention and now it's all coming together. Of course, when we inevitably get the "Grease 2" live musical, Derek has to get a role in that, right? He better or else I'm rioting. Hell, I'm rioting if "Grease 2: Live" doesn't happen at all.
-I know the last two links I've posted of Tara Reid have been of her unhealthy looking body. Well, we know Halloween parties were this past weekend and Tara decided to participate, which couldn't have been a worse idea if she tried. I honestly thought that was fake. Tara didn't used to be 200 lbs did she? Where is all that excess skin around her waist coming from? I'd say she needs a cheeseburger, but that wouldn't do her justice. This has just become sad at this point.
-A couple sports stories to end the column today. First comes from yesterday's game in England between Washington and Cincinnati, which ended in a 27-27 tie. Ridiculous. Especially since Washington had the thing won, but their idiot kicker completely shanked an easy 34 yard field goal to win in overtime. But the greatness happened afterwards. Some German TV reporter was getting an on field interview with Washington kicker Dustin Hopkins when this happened. I'm shocked Dustin even bothered to do an interview after the game, let alone with some dude who looked like he was part of some local high school sportscast. Very bizarre.
-Over the years, Deadspin has always reported on the raucous Buffalo Bills fans who always seem to be up to some drunken hijinx at their games. Usually fans in the tailgate crashing through things, or belligerent drunks getting in fights after the games. Yesterday's was a different story. This happened during the game when a fan threw a dildo onto the field. The first clip was what was released yesterday that got everyone talking. Then Deadspin one upped themselves by getting footage of what happened after the dildo got on the field. Nice work.
Send all links and emails to: steve@realitysteve.com. To follow me on Twitter, it's: www.twitter.com/RealitySteve. Instagram name is "RealitySteve," or join my Reality Steve Facebook Fan Page. Talk to you tomorrow.