It's been a long two months since I was first given information regarding where the show was headed for overnights and final rose ceremony. A little backstory: In August, I was given a tip about where they were going. Seemed legit, but obviously most tips I get need to be vetted out. I even mentioned back in August I was told where they were going but I needed more time to confirm it (also mentioned it was somewhere they'd never been). Well, time just kept flying by and I could never get it double sourced. In fact last week, something popped up that had them in a completely different location than what I had heard back in August. But that turned out to be nothing, so the original info I got back in August was confirmed to me a few days ago and now I can finally report it. In regards to where we're at, there will be a hometown date today and I believe it is the last one, with the rose ceremony happening tomorrow. So they'll be headed overseas this weekend. And oh yeah, the final 4 rose ceremony is NOT in LA like it usually is, because they're headed east to Europe, so it really makes no sense to leave out of LAX. Anyway, whoever the final three are going to be, I hoped you packed some sweaters, scarves, and your snow jackets…
…because overnights and final rose ceremony this season is going to be in Finland. I've never been to Finland, nor do I have any real interest in going there, but it certainly isn't somewhere tropical like they like to do. With that said, I decided to pull up the ol' trusty Weather.com site and check out the weather this time of year. Granted, I don't know what part of Finland they'll be in, so I just typed in the capital of Helsinki and based it off that. Yeah, this certainly isn't any beach weather and you can leave your sun tan lotion at home ladies…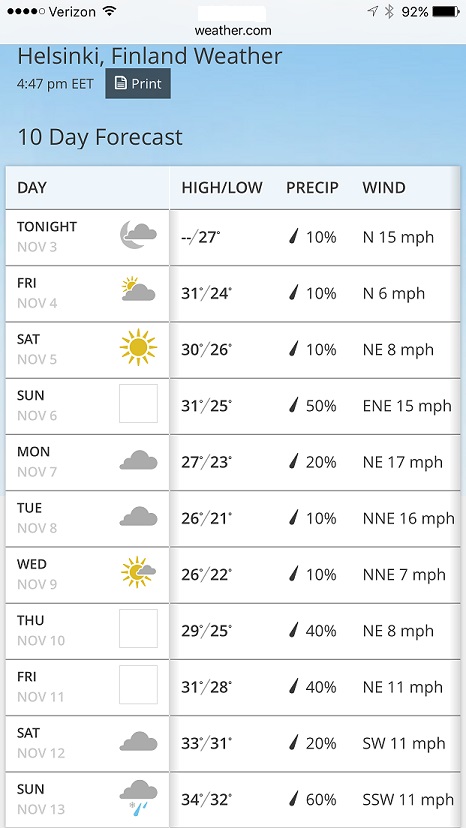 In regards to the hometowns wrapping up today, IF (and that's a big "if" considering nothing has really gotten out publicly since St. Thomas) something gets spoiled today on social media for the final hometown date, then I'll retweet it and fill you in on some details. A few of you have emailed me since Monday asking why don't I just spoil the final 4 right now. That's easy: because I don't have to. There are things I feel comfortable holding on to because no one else is reporting anything that I've seen. Whether I posted the final four last week or whether I do it at the end of the season, it's still being reported here first, so to me it doesn't matter that much. Same with Final 6. Same with the ending. So I just figured I can put it all together in the end for you since the answers are still gonna be the same. Whether I report which 6 went to the Bahamas the day it happened or after the season is done filming, it's still the same since no one else has a clue. Now, if the hometown date today gets out, then I'll probably address it tomorrow. But I guess I'd be kinda surprised if it did since nothing has been getting released lately. We'll see. I'm all ready to tell you who has today's hometown if it gets leaked on social media and somebody sees them filming. If not, then it'll just be another piece to the puzzle when I release all the spoilers at the end of filming. Either way works for me.
Daily Links
-Here's all your "Survivor" goodness today. EW.com and RealityBlurred.com have your recaps, with our recapper Bryan Fischer and People.com's Stephen Fishbach's coming tomorrow.
EW.com – Dalton Ross' recap
EW.com – Probst Q&A
Reality Blurred – Andy Dehnart's recap
-I know I'm a day late on this but Jimmy Kimmel did his 6th annual "I Told My Kids I Ate All Their Halloween Candy" bit and it failed to disappoint. This year, he even threw his 2 year old daughter into the mix.
-Tiger Woods found himself a new younger blonde to impersonate the two previous blondes he was married to and dated. Safe to say Tiger has a type, no? Does he just only date fembots? Geez, show a little diversity Tiger. Not sure how long it'll last (my guess: not very), but I hope she knows what she's in for. You know, being muzzled by Tiger, never will be able to speak to any outlet without his permission, and basically his arm candy for all his events. Hope her contract was proofread by her lawyers.
-Not that the city of Chicago gives a rat's ass at this point, but the phone call Scottie Pippen's now ex-wife was released to the public two days ago. Again, like they care about Scottie's temper. Scottie will probably lead the parade this week as you could tell any local any bad news this week and they'd probably brush it off with a, "Yeah, that's great. Did you hear we don't have a 108 year curse on our team anymore?" Man, Scottie played this perfectly. Release the worst possible news on the best possible day in city history.
-Today is Kendall Jenner's 21st birthday, and just to rub it in more to the average American that they will never be like her, she went out and bought a $52,000 couch and wore a $9000 dress last night. That's normal, right? Being 21 years old and being worth more than some third world countries. Lets just hope she stays on the straight and narrow and doesn't go off the rails at any point. Oh yeah, and lets not forget the matching Ferrari's her and Kylie posted last week.
-The new cast of "Famously Single" on E! was revealed yesterday and it's full of just as many no-names and WTF's as the first season's cast. As I broke last week on this site, "Bachelorette" bad boy Chad is on it, along with Karina Smirnoff, that one dude who was on last season, that dude from Jersey Shore and a bunch of other nobodies. Man, I loved not watching last season. I can't wait to not set my DVR and not watch this season either. If he wasn't already, Chad is slowly becoming a bigger laughingstock in the franchise.
-Taylor Swift was the highest paid woman in music last year – and it wasn't even close. Now, it's saying this list is 2016's highest paid, yet her 1989 tour was all of 2015. So I don't know how exactly this is calculated since it seems to me she made all this money in 2015 when the tour took place, but regardless, Taylor is once again queen and Adele can suck it. She didn't even make half of what Taylor did.
-And finally, in honor of the Cubs first World Series win in forever, GM for the ages Theo Epstein had himself quite a celebration. First he had himself a nice drunken interview with Bill Murray…
Drunk Bill Murray interviewing drunk Theo Epstein is one of the best interviews ever. https://t.co/STy90yPQSc

— Joon Lee (@iamjoonlee) November 3, 2016
…then he went on the field even more drunk than that and dropped an F-bomb on live TV. Hey, when you've done what that guy did, which some thought was unthinkable (especially in a matter of 5 years), that guy could've dropped his pants on live TV and I don't think anyone would've cared. Congrats to the long suffering Cubs fans. Great night last night.
Send all links and emails to: steve@realitysteve.com. To follow me on Twitter, it's: www.twitter.com/RealitySteve. Instagram name is "RealitySteve," or join my Reality Steve Facebook Fan Page. Talk to you tomorrow.