I know the first thing on everyone's mind is what I addressed in Thursday's column and podcast. I can tell you as of now, I have no new news to report. I'm sure you might think that's a good thing, and it is – at least temporarily. Like I said on Thursday, I fully expect that something is coming. I just have no idea when. Could happen today. Could happen in a week, a month, two months, etc. I just don't know. And that's what sucks. Hell, I'd just rather get it over with and start tackling it head on then be under this constant thought of, "Is it coming today?" Again, I'm not going to be intimidated and I'm going to fight for my right to free speech. I don't necessarily think it's the smartest thing to do for them, and as I said, I was confused by some of the language in their Cease & Desist letter because some stuff was just flat out factually wrong. Almost seems like they whipped up that letter in about 24 hrs to fire it off. Amazed by the amount of errors in it. But whatever the case, I will deal with whatever comes my way and in the meantime, just conduct business as usual. Although today I'm going to do something I've never done before (I don't think). I'm gonna give you the first 3 episodes of spoilers. So after today, you'll have the first 3 episodes, and you already have your spoilers from hometown dates on. So all that needs to be filled in is episode 4 thru 7. Most of them I have the dates covered. It's some of the eliminations I might be off by an episode, so looking to nail those down.
In case you missed my tweet yesterday, this week marks the one year anniversary of the Reality Steve Podcast, and what better guest to have than the most polarizing player in Challenge history – Johnny Bananas. Love him or hate him, you can't argue is track record on that show, and no one's done it better. We talk a lot about Dirty 30, the Camilanator, how he's that much better than people at the Challenge, why the mental game is just as important as the physical part, and so much more. Anyone who watches the show, you know what Bananas is all about. He holds nothing back and will say exactly what he feels. This interview is no different. It's Bananas in his element. Sure, I guarantee he'll rub some of you the wrong way, but when you're the guy on top, frankly, you can say whatever you want because there's no one better at the game than you. Fascinating talk with a guy that I've always watched and admired from afar, and he certainly didn't disappoint. Can't wait for you all to hear this that drops on Thursday.
The other thing beginning today is the filming of "Winter Games." They're in Manchester, Vermont, and as you read this, the opening ceremonies should be happening. I'm guessing plenty of people will be out there with their phones watching as the "teams" arrive. And frankly, we still have no idea what this show is all about other than generic stuff. No details have been given. I'll be honest, I really don't care much about this show because I believe this is a one-off and not something we'll see every season. This is something thought up as some parody to combat the Winter Olympics which will be airing in February of next year. I'd be surprised if this is a yearly show for them. I mentioned some names that I heard during last week's podcast, so before any pictures get posted today, here are all the names I'd heard are gonna be on the show. Some of these are definitely on, and some of these might not end up being on. And there's definitely some that I don't name who I don't know about yet that'll be there since I don't have the full cast. I'm just telling you names I'd heard over the past month.
Men – Josiah Graham, Dean Unglert, Luke Pell, Ben Higgins, Eric Bigger, Michael Garofola
Women – Ashley Iaconetti, Clare Crawley, Kristina Schulman (but I'm pretty sure she's not there), Lesley Murphy, and two girls from Arie's season just don't know who.
Don't know why Fleiss tweeted this out two months ago:
Yes, Peter will be looking for love– and going for the gold– on #TheBachelor Winter Games!!!!

— Mike Fleiss (@fleissmeister) October 5, 2017
Peter even said in an interview after that post he didn't know why Fleiss tweeted that since he hadn't signed anything. Peter is not on the show. But I'm sure we'll see soon enough who made it on. As for the competitors from the international versions of the "Bachelor," I don't know who any of those people are. Fleiss tweeted out a few of them. The only name I've even heard of before was Jasmine from "Bachelorette: Canada." I know she's doing it. Other than that, I don't know who anyone is. But any pictures or tweets I see today of the opening ceremonies, I'll tweet out, so follow along there.
UPDATE: These pics just came in as I was about to post the column. All the guys (minus Dean) you can see in the pics. Clare is the only female visible in these pics.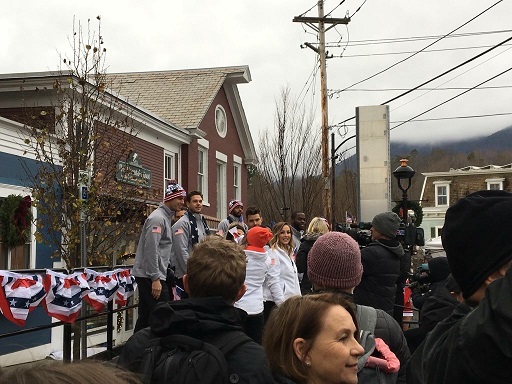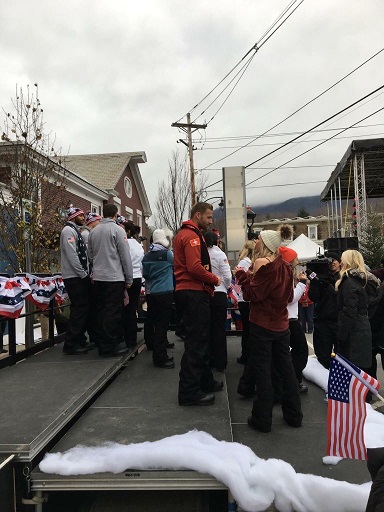 Ok, lets get to your first 3 episode spoilers for this season's "Bachelor" beginning on Page 2…