For those that still don't think this is a big deal and find this whole thing yesterday incredibly romantic, I want you to be objective and answer this question: what if this were the other way around and Blake did this yesterday? Not even talking about a totally extra AF 12 day countdown. I'm just saying what if Katie and John weren't any sort of thing, and Blake put together a 1 min video of him and a new girlfriend to announce to everyone yesterday he was in a new relationship? How would you as Katie fans perceive that? If you're being honest, the answer is you know you'd find that pretty tasteless and petty, and you'd probably feel bad for Katie that she has to see him with his new girlfriend. And you'd be right. That would be petty of him and the internet (especially the Katie stans) would absolutely crucify him. Well, it works both ways. This has nothing to do with Katie and John as a couple. No one's saying they can't date. No one's saying they aren't allowed to fall for each other. No one's even saying they might be better fit for each other than Katie and Blake in the long run. This is all about showing some respect for a previous relationship and how she handled letting the public know about John. She went the extra mile (hell, mile and a half) and I feel it was completely disrespectful.
Especially coming from a woman who in her breakup IG post (which again, she has now deleted), asked for "kindness and privacy," yet seems to not be adhering to that. She KNEW what type of attention this announcement was gonna draw. Do you think this is "kind?" Do you think this is "private?" It's the exact opposite. So she releases the 1 min IG story yesterday as a "hey everyone, I'm dating John," something that was clearly in the works weeks before. But then even more stuff surfaces:
-Then she posts this tweet:
Producing my own happiness ? pic.twitter.com/EG97siRwrX

— Katie Thurston (@katiethurston) November 23, 2021
-Then John posts this TikTok: https://vm.tiktok.com/TTPd2u1TcU/
-Then Katie posts an IG story last night selling a mug on her page: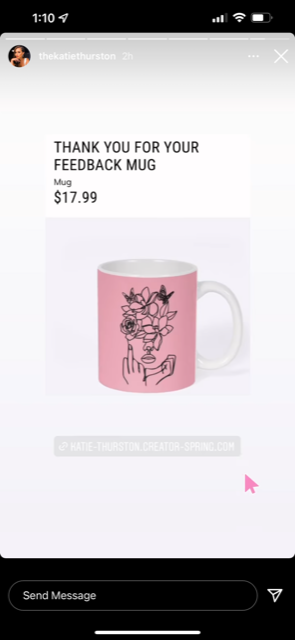 I'm sorry, it's really just rubbing it in at this point. Yes, we get it. You're dating John. And yes, you're telling us you don't care what anyone thinks. Even though she abso-fucking-lutely cares what the public thinks, which is why she made this grand announcement dragged out over 2 weeks to let us know about her new boyfriend, and that's what the sad part is. She wants to put on this tough exterior about how she's all about taking control of her own life, and what makes her happy, and middle finger to all you who don't agree with her, yet she's trying so hard IN JUST ONE DAY to let everyone know how great her new relationship is by constantly posting about it. It reeks of desperation. Great, you do the reveal and you're with John. But on the same day you HAVE to give us a video of the two of you kissing and doing piggy back rides? There's no other reason to do that other than to shove it in the public, and Blake's, face. None. Totally unnecessary in my opinion and very, very immature.
Before John released that TikTok last night, I was kinda curious how he felt about all this. Sure he's gonna stick by his girl and support her, but he was really down for this grand reveal, dragged out over a two week span (which proves this relationship started much sooner than anyone thinks), and this was all fine and dandy to him? At no point did HE think this was a bit much, over-the-top, and wouldn't be well received by the public? At no point did he think about other parties involved and maybe suggest she dial this back a bit? I guess the answers to all those questions were no, no, no, and no. Clearly. Again, their life they can do what they want, but if you think people are overreacting, I hate to tell you this, but I don't believe they are. And why do I say that?
Because Blake appeared on Mike and Bryan's podcast released this morning, and in case you haven't listened to it (at least the second part where he talks about his reaction to yesterday), you probably should. Makes what happened yesterday even more mind blowing considering what we found out from Blake:
-He was never told anything. He found out exactly when we all did yesterday and had to pull over to the side of the road to digest it.
-Had no idea there was anything going on with John, but now knows there was, at the very least, emotional cheating.
-Katie broke up with him over the phone the day after her comedy show appearance when she was supposed to fly to Canada.
-His mind has now changed about how he viewed their relationship after seeing all this now after the fact.
There's much more to the interview, but those were the main points I took from it. I suggest you go listen to it to get a better picture of how it felt to be Blake yesterday. No, Katie and Blake aren't a couple anymore. But I'm sorry, to not even inform your ex-fiance of one month ago what was coming, or of anything, again, I feel, was a giant mistake. If she truly cared about him, which is something she absolutely told us on numerous occasions she did including in her breakup post, then she should have the decency to tell this guy what was coming. She didn't and she has every right to be criticized for that.
To sum this all up, I do not hate Katie. Has my opinion of her been swayed by her actions since the break up? Absolutely. I'm sure plenty of peoples have, including her ex-fiance as evidenced by his podcast appearance this morning with Mike & Bryan. Doesn't mean she deserves hate on her social media platforms. Doesn't mean she deserves death threats. Crazy ass trolls don't need to go have a field day on her for doing this. I think she handled this situation about as poorly as one could've, she never took into account anyone else's feelings but her own, she's making it worse by doubling down and posting anything she can to continue to show us she's with John, and it's disappointing to see from someone who a month ago was asking the public, her fans, and anyone who'd listen for kindness and privacy during a really hard time of a broken engagement. Seems all for naught now knowing all this new information. Maybe Katie will be too proud to ever admit this even years in the future, but someday years down the line when she looks back on how she handled this, if she's truly being honest with herself, I hope she realizes what a bad look this was and how she absolutely could've handled it differently and with a little more grace and compassion.