Rose Ceremony #4: 10 to 6 (Washington)
1-on-1: Dotun Olubeko. The original plan was for them to go bungee jumping, but as you can see by the weather that day, I'm not ultimately sure if that's what they ended up doing. But he did get the 1-on-1 date and you definitely see them in a hot tub at the night portion of their date making out.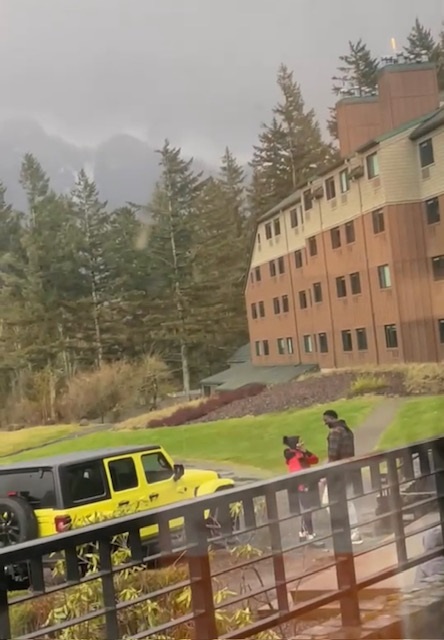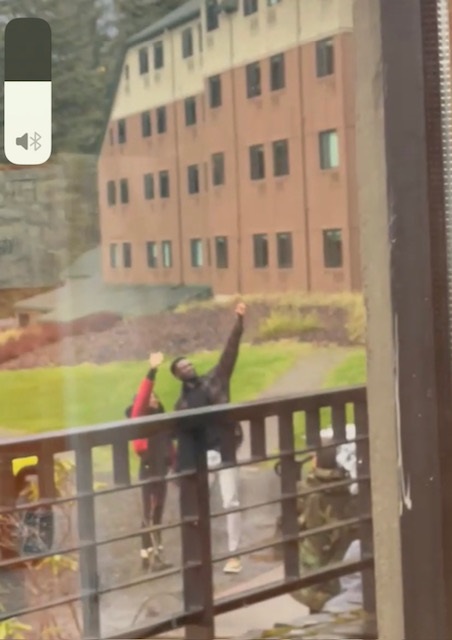 Group Date: 8 guys: Aaron, Brayden, Caleb, Joey, John, Michael, Sean, Tanner. This group date involved something with Girl Scouts.
Here was a pic that was sent to me that day where you can see some of them in the lobby preparing for the date. I see John, Brayden, Aaron, Michael, and I believe Tanner is visible.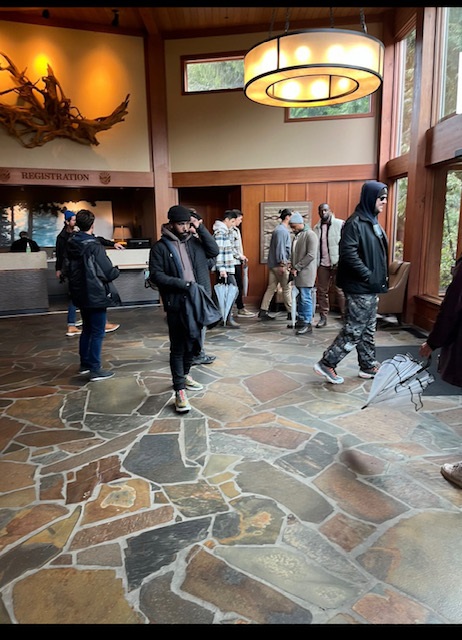 Brayden was sent home during the night portion of this group date. This clip from one of the previews is when Charity puts him in the car and closes the door behind him: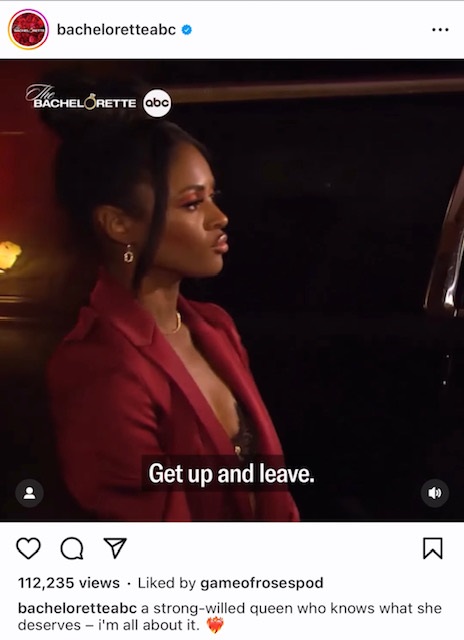 1-on-1: Xavier Bonner. Grape stomping shown in the previews.
Rose Ceremony Eliminations: Caleb Balgaard, John Buresh, and Michael Barbour. Brayden sent home during the group date.
Rose Ceremony #5: 6 to 4 (New Orleans, LA)
1-on-1: Joey Graziadei. The first day all 6 were there, Charity met with them then took Joey on his 1-on-1 outside of Jackson Square. Took a horse carriage ride around town and danced in the streets with beads.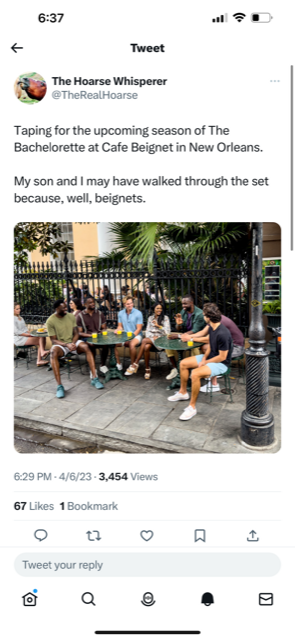 (SPOILER): Charity on a 1-on-1 date today with Joey Graziadei just outside of Jackson Square in New Orleans. pic.twitter.com/jbDeT7q0lo

— RealitySteve (@RealitySteve) April 6, 2023
1-on-1: Dotun Olubeko. Ran in the Crescent City Classic 10k race.
(SPOILER): Charity on a 1-on-1 date today with Joey Graziadei just outside of Jackson Square in New Orleans. pic.twitter.com/jbDeT7q0lo

— RealitySteve (@RealitySteve) April 6, 2023
1-on-1: Xavier or Aaron.
Group Date: Sean, Tanner, Xavier/Aaron. If you look above at those two dates that got out publicly in New Orleans, Joey's was on 4/6 and Dotun's was on 4/8. Most people assume that in between was a 4 person group date with a rose ceremony on 4/9. There was no rose ceremony in New Orleans. Roses were handed out on dates. Either Xavier or Aaron had a 1-on-1 in between Joey & Dotun's on 4/7, and it was somewhere in the Bayou. Then the 3 person group date was on 4/9. I have a feeling the long season preview tonight will spoil which guy between Aaron and Xavier got that third 1-on-1 in New Orleans. Once we know that, then we know who filled out the 3 person group date.
Eliminated in New Orleans: Sean McLaughlin & Tanner Courtad.
Rose Ceremony #6: 4 to 3 (Hometowns)
Tues 4/11 – Xavier Bonner (Ohio)
Thurs 4/13 – Joey Graziadei (Pennsylvania)
Sat 4/15 – Aaron Bryant (Texas)
Mon 4/17 – Dotun Olubeko (California)
Rose Ceremony Elimination: As of this posting, ?????
Here's what I know about the remainder of the show:
-There were 3 men who got overnight dates, one was eliminated, and two guys met her family and had last dates. Nothing I've heard thus far makes me think this season had wild ass ending, other than Charity saying in interviews she did fall in love with two guys. But ultimately whatever way she worded it on the show was worked out because she did choose someone and they got engaged in Fiji.
-Aaron definitely made the final 3 and had an overnight date. He did not get eliminated at 4 and then brought to Fiji to try and win Charity back as has been erroneously reported by Instagram pages.
-Aaron also did not get the final rose. Two reasons we know this: #1, there was video of him on a yacht party in San Diego the day the final rose ceremony happened in Fiji, and #2, he's a contestant on "Bachelor in Paradise" this summer. So unless ABC wants to ruin all suspense for it's finale with Aaron being in the final two with everybody knowing he clearly didn't win due to him being in Paradise, it's safe to say we can place Aaron in 3rd place.
-Dotun is most certainly in your final 3 due to video footage of him being seen in Fiji during filming.
-So that leaves the third person who made it to Fiji either Xavier or Joey. Back on June 12th, the ABC Bachelorette IG page posted this intro video package for Xavier:
However, unless I'm completely losing my mind, back when this was originally posted, there was this shot included in that video package: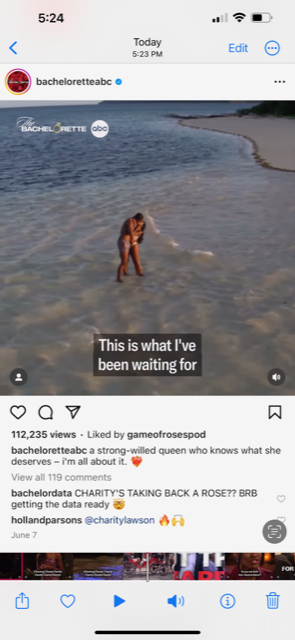 I even went back to my podcast a couple days later on 6/15 where I said that "now that we've seen Xavier's intro package, we know he was in Fiji." But now that shot has been taken out of his intro package. Does anyone else remember that shot being in there when the intro video was released? Because that shot was first released in one of the :30 season previews, and there was a debate on who it was. But when it was then seen in Xavier's intro video, that pretty much confirmed it was him. But now it's not in his intro video. Either way, IF this is Xavier kissing Charity in that shot (which is clearly Fiji), then Xavier, Dotun, and Aaron are your final 3. If it's NOT Xavier and it's Aaron or Dotun, then it's still possible Xavier made final 3, but it would still open the possibility that Joey made final 3 and Xavier was eliminated at the hometown date rose ceremony. Once that picture is confirmed 100% it's Xavier, then we know your final 3.
So hopefully in the next few weeks, I'll hear more about the season and get your winner for you. But this is your complete layout of all dates and eliminations on the season. It's great to be back. Enjoy the season.
Send all links and emails to: steve@realitysteve.com. To follow me on Twitter, it's: www.twitter.com/RealitySteve. Instagram name is RealitySteve, or join my Reality Steve Facebook Fan Page. Talk to you tomorrow.