Episode 5: (airing Jan. 30th) New Orleans, LA (13 to 9)
1-on-1: Rachel Lindsay. Date took place Wednesday, Oct. 12th. They went to Café du Monde, did some street dancing, then to a little bar where the singer Lolo performed. Rachel got the rose.
(SPOILER): A little video of Nick and his date doin a little kissy kissy. I'll tell you who she is tomorrow… pic.twitter.com/A689T1Peu7

— RealitySteve (@RealitySteve) October 12, 2016
(SPOILER): Hey, it's dancing with umbrellas! pic.twitter.com/SlHfO7AC8N

— RealitySteve (@RealitySteve) October 12, 2016
Group date: 10 girls go to a plantation mansion that's supposed to be haunted. This date took place Thursday, Oct. 13th. Vanessa, Josephine, Kristina, Danielle M., Danielle L, Jaimi, Raven, Alexis, Whitney, and Jasmine are on the date. They ate dinner, had a tour, told ghost stories, and even played with a Ouija board. All the girls stayed overnight in the mansion in sleeping bags. Danielle Maltby got the group date rose.
2-on-1: Taylor Nolan and Corinne Olympios. Date took place Friday, Oct. 14th. They went to a swamp out in the bayou. I think there was tarot card readings on this date as well. We see this in the season preview as Corinne says she's sick of basically being called stupid by Taylor. Corinne got the rose. Taylor comes back at end of night to bitch him out about giving Corinne a rose over her. Corinne's defense was she felt bullied by Taylor. Either way, didn't change anything and Corinne stayed while Taylor was sent home.
Nick cancelled the cocktail party the night of the rose ceremony, which was Saturday, Oct. 15th.
Rose Ceremony Eliminations: Jaimi King, Josephine Tutman, & Alexis Waters. Taylor Nolan eliminated on the 2-on-1.
Episode 6: (airing Feb. 6th) St. Thomas, Virgin Islands (9 to 6)
1-on-1: Kristina Schulman. Date took place Tuesday, Oct. 18th. They went to the Annaberg Ruins on the island of St. John. Kristina got the rose. Here are a couple pics from that date that I never posted before: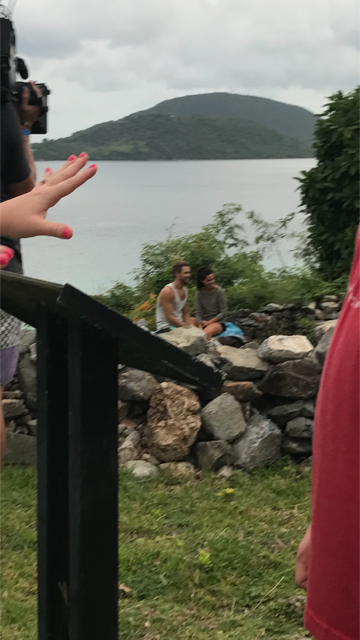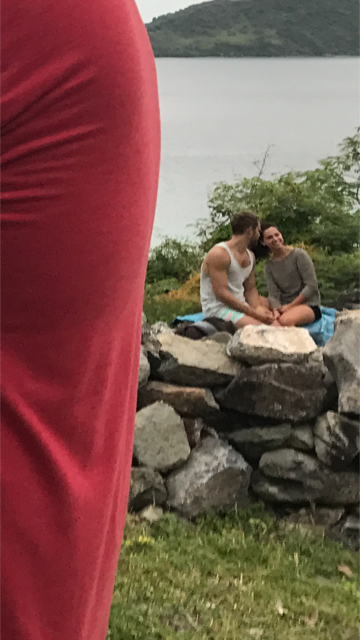 Group date: 6 girls played 3-on-3 volleyball. Date took place Wednesday, Oct. 19th. The teams were Rachel, Corinne & Raven vs Jasmine, Danielle M., and Vanessa. This picture was posted that day by someone who worked on the catamaran they used. Then he immediately took it down once I tweeted it out. Good thing I screen shot it. Sorry, bud.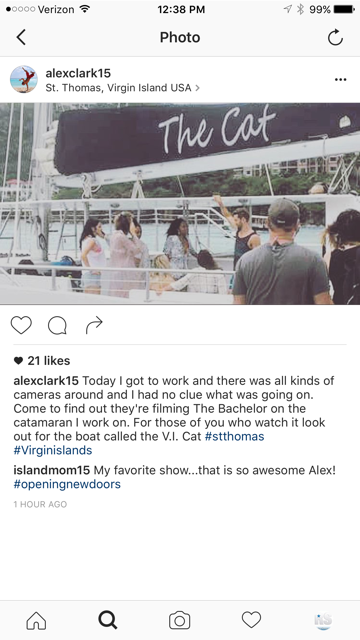 The Rachel, Corinne, and Raven team won, meaning they were going to get extra time with Nick and the losing team would go home. But, because the losing team was crying (and knowing Nick's favorite Vanessa was on that losing team), all 6 girls got to continue on for the evening part of the date. Raven got the group date rose. Jasmine was eliminated during after party, and at some point during Nick sending her home, she admits to sleeping with one of Nick's friends in the past as sort of an "f-you" as she's eliminated. I have no idea who it is she slept with, but I don't believe it's someone in Bachelor Nation. That's a pretty grand exit if you ask me. Nice. "Oh yeah, by the way, I banged your boy. Peace out."
2-on-1: Danielle Lombard and Whitney Fransway. Date took place Thursday, Oct. 20th. Helicopter takes them to a private island. He keeps Danielle and leaves Whitney stranded on the island as the helicopter flies away. Ahhhh, so Whitney is now added to the record books as one gets "stranded" somewhere, joining the likes of Peyton, Kasey Kahl, Kelsey Poe, Ashley Iaconetti, and Olivia Caridi to name a few. Must feel honored. Later that night at dinner, Danielle tells Nick she's falling in love with him, he doesn't feel the same, so he sends Danielle home as well.
After returning from the date, Nick comes in the room and talks to the six remaining girls (this is shown in the season preview), with him crying and thinking this might not work out for him. Just like every season, the lead always hits their low point and talks about never finding love, or maybe this won't work for them, blah blah blah. St. Thomas is where it happens with Nick and it's right after the he lets both Danielle L. and Whitney go on the 2-on-1 date then goes to the room to talk to the remaining 6 women.
And of course right on cue seeing Nick is down in the dumps, later that night after Nick speaks with the 6 remaining women, this is when Corinne sneaks over to Nick's room to, you know, "talk" to him. And by that, I mean try and have sex with him. This was featured prominently in the season preview. You know, where she talks about a "heart of gold, but my vageen is platinum." Nice. I'm sure mommy and daddy will be proud. That season preview sure makes it look like she had sex with him. Didn't happen. He ends up sending her back to the hotel. CORRECTION 1/30: Corinne coming to his room happens in Bimini, not in St. Thomas.
The rose ceremony was cancelled the next day and all 6 head to Bimini, Bahamas.
Rose Ceremony Eliminations: No eliminations because there was no rose ceremony. Jasmine eliminated during the group date, and Danielle and Whitney both eliminated during the 2-on-1.
Episode 7: (airing Feb. 13th) Bimini, Bahamas (6 to 4)
1-on-1: Vanessa Grimaldi. Date took place Sunday, Oct. 23rd. They went out on a boat and did some snorkeling. Quite a few quick shots of this date in the small trailer that was already released with Nick on top of her on the boat making out.
Group Date: 3 girls went swimming with sharks. Date took place Monday, Oct. 24th. Kristina, Raven, and Corinne were on the date. Raven got the group date rose, guaranteeing her a hometown date. Last group date rose of the season, and in case you didn't remember all of them, Vanessa never got a group date rose all season. Raven continued on with her date and got a concert by Adam Friedman. He and his band tweeted pics out that day.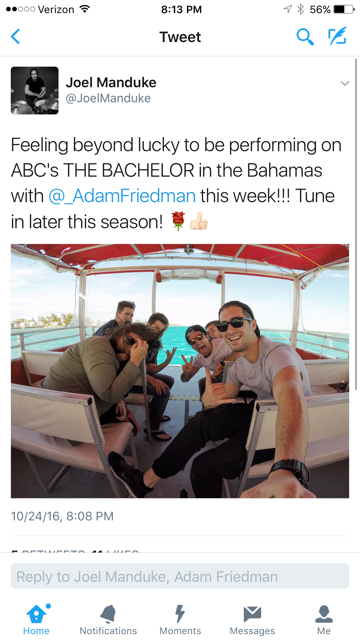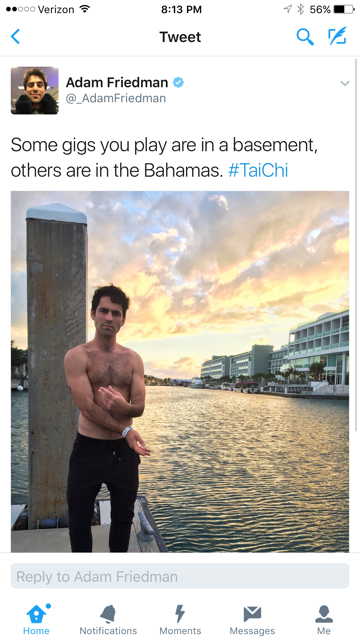 1-on-1. Danielle Maltby. Date took place Tuesday, Oct. 25th. They rode bikes around town and walked around with the locals. Danielle was eliminated during this date. Apparently she took it very hard.
1-on-1: Rachel Lindsay. Date took place Wednesday, Oct. 26th. The two of them went to some dive bar in town for drinks.
UPDATE 1/30: I originally reported Corinne coming to Nick's room looking to have sex with him happened in St. Thomas. It happened in Bimini. She tries, but Nick turns her down.
At some point during Bimini is what I'll refer to as the "Blow Up in Bimini," and it happened between Rachel and Vanessa. My guess is it must've happened during the group date, since that's when Vanessa and Rachel (along with Danielle) would've been at the room together. Hearing it got very heated and most were on Rachel's side as they weren't fans of Vanessa. Don't know exact details of the fight other than it was the most talked about one of the season, had been building for a while, and these two slung barbs at each other pretty good. I know the Vanessa crazies (bc I already see them tweeting at me) will say others were jealous of her and Nick's connection blah blah blah. Heard that's not the case. Just means that during the 8 weeks this show filmed, she wasn't all that liked by the others. It happens.
Rose Ceremony Eliminations: Nick actually came to the girl's room before the rose ceremony ever took place and sent Kristina home. So there was no official rose ceremony since there were only 4 girls left.