Episode 2: (airing Jan. 9th) Los Angeles, CA (22 to 18)
Group Date: 12 girls did a Brides & Bridesmaids photo shoot. This date took place Monday, Sept. 26th. Sarah, Hailey, Vanessa, Corinne, Danielle L, Taylor, Alexis, and Brittany were "brides", and Lacey, Raven, Elizabeth W., and Jasmine were "bridesmaids." Some of the outfits were "Beach Bride," "Shotgun Wedding Bride," "Biker Babe Bride," etc. Brittany had a wedding dress that was just leaves covering her bottom and no top. Corinne essentially was bummed she didn't get this bride outfit, was jealous, so in her Beach Bride outfit, she took her top off, and put Nick's hands on her boobs, essentially declaring herself this season's villain. All the girls were put off by this, but of course not Nick because Corinne got the group date rose. Naturally.
1-on-1: Danielle Maltby. Date took place back on Tuesday, Sept. 27th. They took a boat ride in Newport Beach and rode the Ferris Wheel at the Balboa Fun Zone. All your details of this date were covered in my column back on 9/28. Danielle got the rose. Here are some of the pictures from that day:
Although it's from a distance, you can see the two of them being filmed if you zoom in: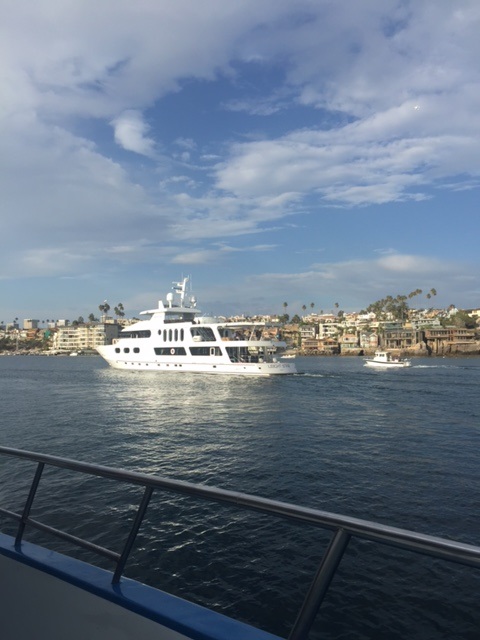 At the end of the night, they took to riding the Ferris Wheel at the Balboa Fun Zone. While they were on the Ferris Wheel, another boat circled the harbor that had a video board on it which kept displaying messages like this: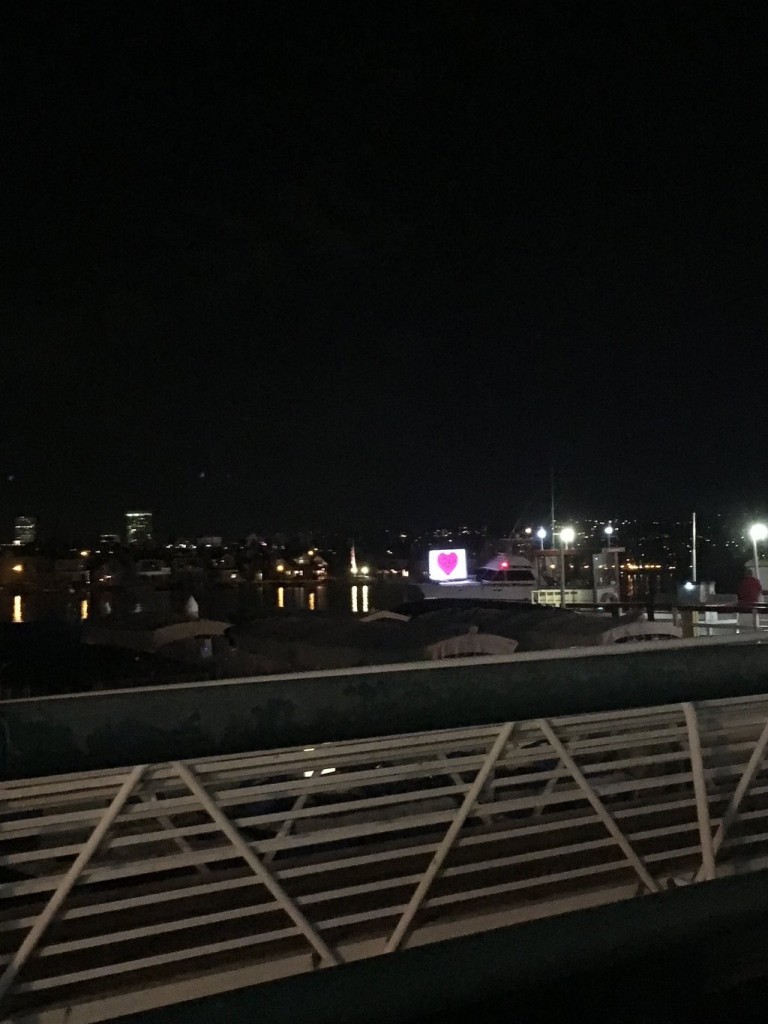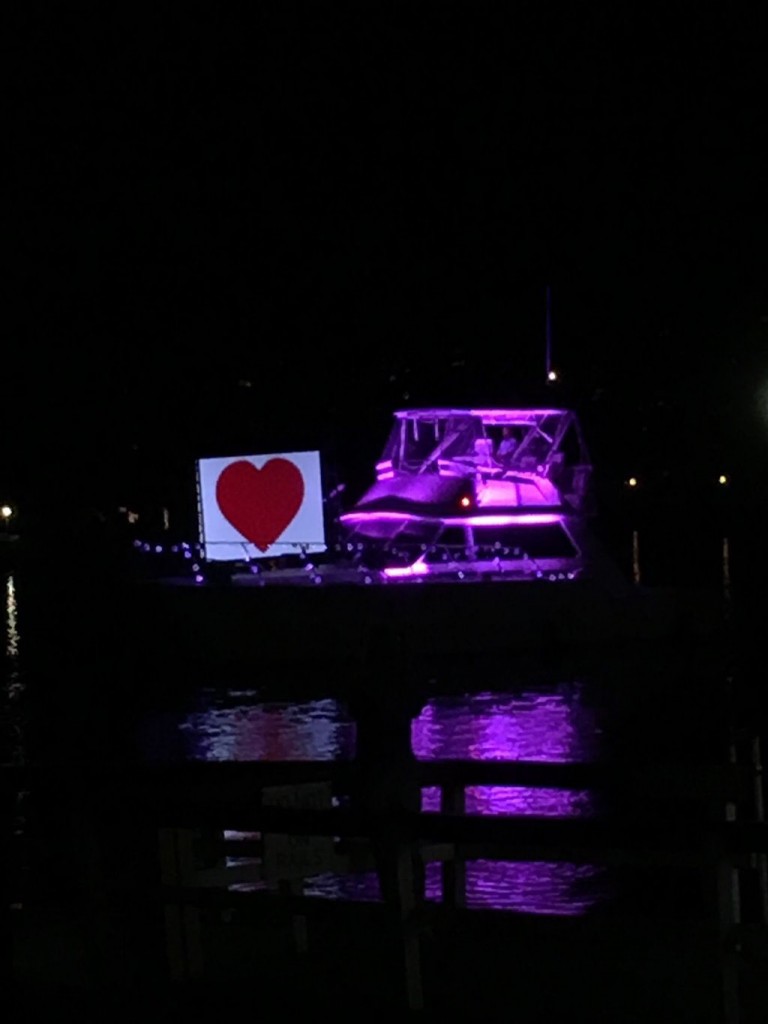 After the video board displayed the "Kiss Kiss Kiss" message, Nick obliged and they made out on the Ferris Wheel. Yeah, it's blurry and far away, but Nick is getting him some: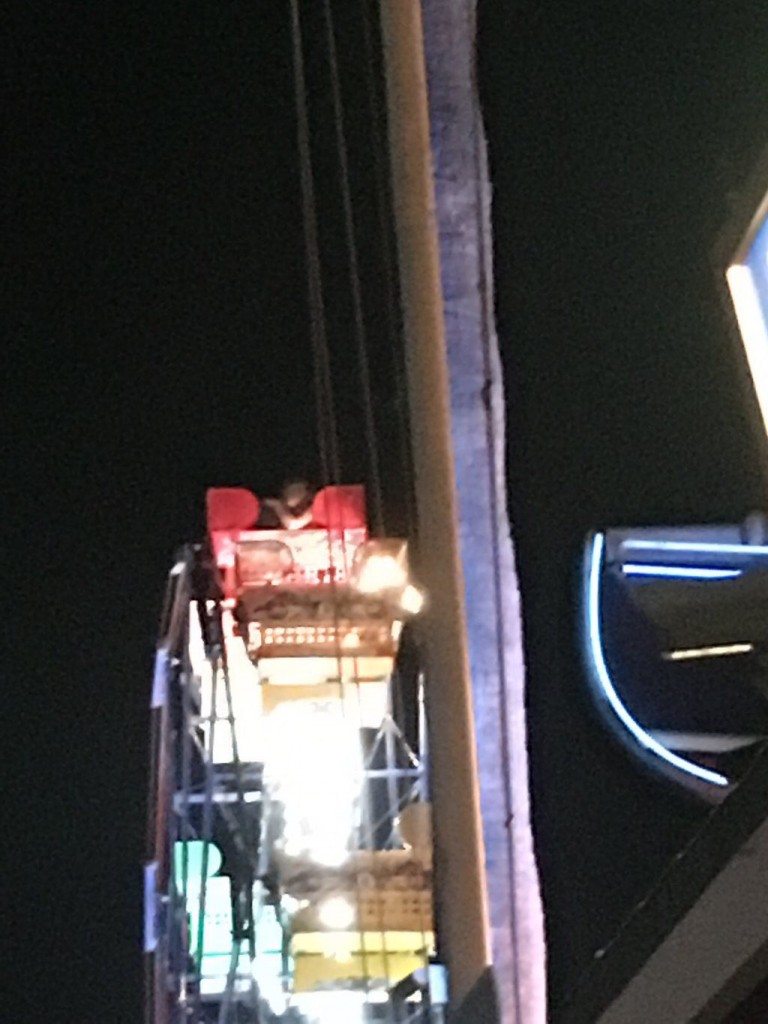 Group Date: 6 girls went to the Museum of Broken Relationships and had to "break up" with Nick in front of an audience. Date took place Wednesday, Sept 28th. Jaimi, Christen, Kristina, Astrid, Josephine, and Liz are on this date. Basically the same exact concept as the group date on JoJo's season but instead of thinking of how they were going to propose, these girls had to think of a break up speech. This was the date where you see Josephine in the previews slapping Nick across the face. That wasn't real or wasn't because Josephine was angry with him. Please. That'd be assault, people. Again, don't let the trailers and promos fool you. It was Josephine just acting out her "break up." As for Liz, apparently during her "breakup," that's where things got kind of awkward since Liz and Nick already had a little bit of a past together. Apparently this was uncomfortable, kinda like their talk on night one. At some point, Liz had told Christen about having met Nick at Jade & Tanner's wedding. Don't think she brought up the sex part, but I could be wrong. In Christen's time with Nick, she mentioned what Liz had told her (this was shown in the season preview). Nick pulls Liz aside later on that night and sends her home. Christen got the group date rose.
The 3 girls who didn't have a date this episode were Whitney, Rachel, and Dominique.
The cocktail party was on Thursday, Sept. 29th, which also happened to be Nick's birthday. Corinne was too drunk and did not attend the rose ceremony. Granted, she was already safe with a rose, but as you'll see, this is a common theme with her. Apparently at almost every cocktail party, Corinne was passed out and had to be woken up for each rose ceremony, however this was a rose ceremony she actually missed. It was the only rose ceremony she missed during the season, but it'll be interesting to see how little footage we get of her at cocktail parties since she was pretty much passed out for a lot of them.
Rose Ceremony Eliminations: Elizabeth Whitelaw, Lacey Mark, and Hailey Merkt. Liz Sandoz eliminated during Museum of Broken relationships group date.
Episode 3: (airing Jan. 16th) Los Angeles, CA (18 to 15)
Group Date: 7 girls go to the Backstreet Boys concert. Date took place on Friday, Sept. 30th. Kristina, Jasmine, Whitney, Danielle L., Taylor, Corinne, and Christen were on the date. Ashley I. and Becca were also there and got called up on stage before the girls did because, well, I'm not really sure. Must have something to do with their "I Will Appear Anywhere Anytime for Anything the Bachelor/ette Wants Me to Do Until I'm Dead" lifetime contract. This date was spoiled on Twitter in real time and covered in my column on Oct. 3rd. At the after party, Corinne started bragging about having a nanny, and that had a lot of the girls confronting her about it. Danielle L. got the group date rose.
When #bachelor @viallnicholas28 becomes the 6th member of @backstreetboys #iheartbsb #bsbvegas pic.twitter.com/bYRHqqz25P

— KoolKiwis (@KoolKiwis) October 1, 2016
As you can see from this video, the BSB had one hour to teach them the dance and then chose the girl they thought did the best:
1-on-1: Vanessa Grimaldi. Date took place Saturday, Oct. 1st. They went on a zero gravity date. Life & Style had the first pictures from this date that they posted 12 days later. Vanessa got the rose.
Group Date: 7 girls competed in track and field events. Date took place Sunday, Oct. 2nd. Alexis, Astrid, Rachel, Brittany, Dominique, Sarah, and Jaimi were on the date. Track and Field Olympians Carl Lewis, Allyson Felix, and Michelle Carter were the coaches. I believe Astrid was the winner of the actual date. Dominique was sent home during the after party. Might've been too much to drink, but not exactly sure. I just know she got eliminated during the after party. Rachel got the group date rose.
The 3 girls who didn't have a date this episode were Josephine, Raven, and Danielle M.
There was no cocktail party this episode as they had a pool party, which took place on Monday, Oct. 3rd, and Corinne's nanny comment was highly talked about causing more drama with her, along with her being overtly sexual and all over Nick (also shown in the season preview).
Rose Ceremony Eliminations: Brittany Farrar & Christen Whitney. Dominique Alexis already eliminated during the group date after party.
Episode 4: (airing Jan. 23rd) Milwaukee, WI (15 to 13)
One thing to point out that I mentioned in my column on Oct. 6th is that Episode 4 was supposed to take place in South Carolina. Due to Hurricane Matthew, they had a last second change and moved the episode to Milwaukee. The Chris Lane concert was supposed to be in South Carolina, so he was able to reschedule, but as you can see by the other two dates that were put together on such short notice, they didn't have much time to plan them.
Also, during their Wisconsin stay, Nick's friends and their wives came to the house that the girls were at and talked with all of them. Not sure which of Nick's friends these were since, well, I don't know any of Nick's friends. But was told they show up and talk to all the girls at some point.
1-on-1: Danielle Lombard. Date took place Thursday, October 6th. Another date that was spoiled in real time on Twitter then covered in my column on Oct. 7th. However, before the night portion of the date, earlier in the day Nick was at the Steaming Cup in Waukesha filming segments with family as this guy tweeted out:
Met the bachelor today and made it on tv what did you do? pic.twitter.com/2tH63v8VPM

— ålex ? (@ajarencio) October 6, 2016
While Nick was with Danielle, they "accidentally' ran into an old girlfriend of Nick's from back in the day. Like, way back in the day considering she's married with two kids now. Her name is Amber Allan, and they dated before she was even with her current husband. This was a set up by Nick and producers as Amber was contacted by them and told where to be and at what time so Nick and his date could "accidentally" run into an ex. The group of girls all did their walk around the town, Nick met up with them, he gave the date card to Danielle and their date started immediately in the Steaming Cup coffee shop, where Amber just happened to be. The three of them talked, nothing major happened, and that was that. Tons of pictures on her Facebook page if you want to see who Amber is and that storyline couldn't have been more forced and staged if they tried. Nick told them to contact her.
Some notes on the date:
-Before getting to the concert, Nick and Danielle were treated to a fireworks show, most likely at the lakefront.
-Nick's friend were in attendance at the concert
-Chris Lane performed his songs "Fix" and "For Her" (twice), as Nick and Danielle danced and kissed on stage.
-He also performed a medley of cover songs to NSync, Backstreet Boys (which you'll hear in the video), and Jason Derulo
-Nick and Danielle were only there for a total of 20 minutes.
-As you'll see in the video, Danielle wore a very loose fitting and low cut top that left little to the imagination every time her nipples kept popping out. Will be interesting to see them edit it out since apparently it was happening non stop.
–Danielle got the rose.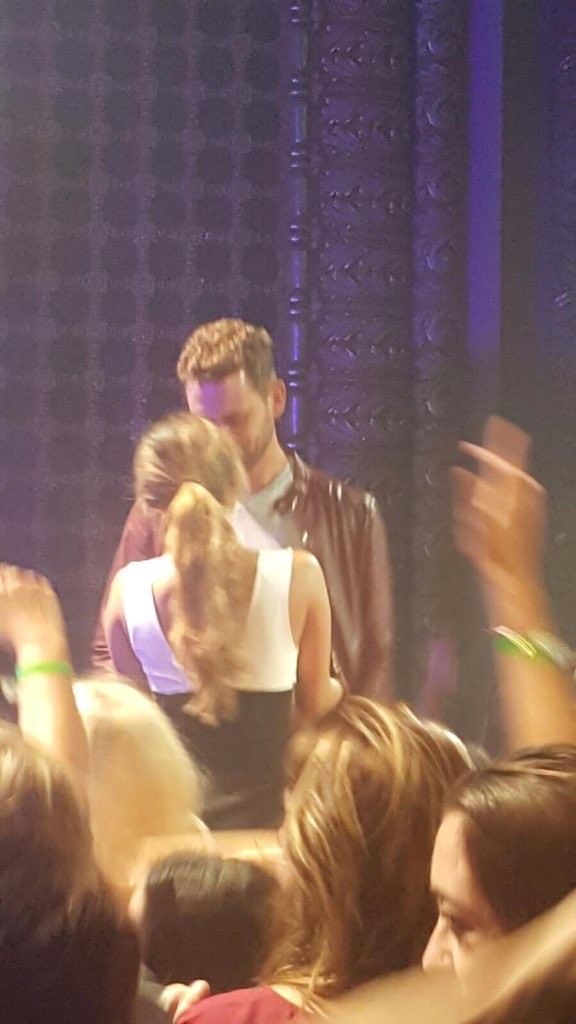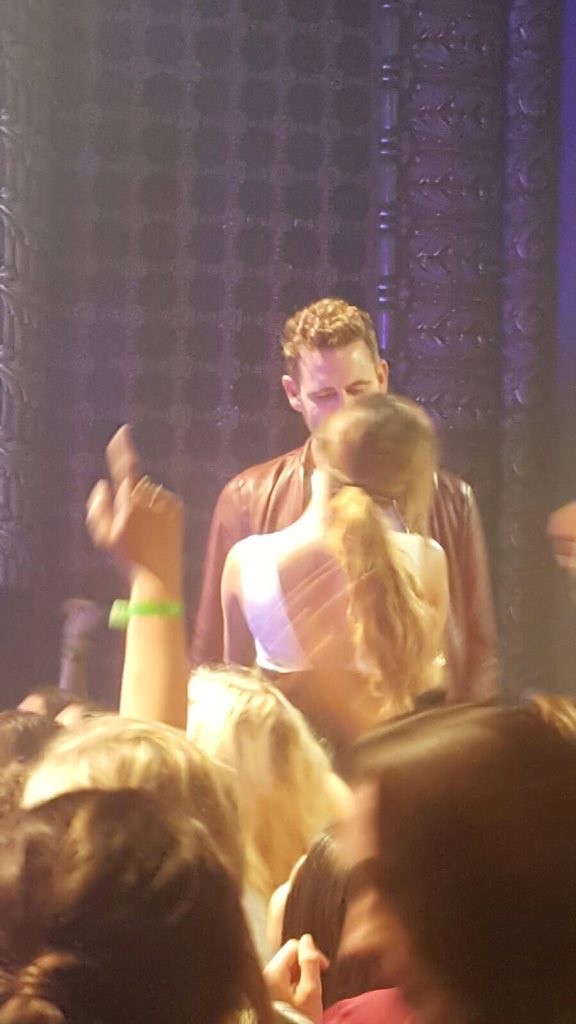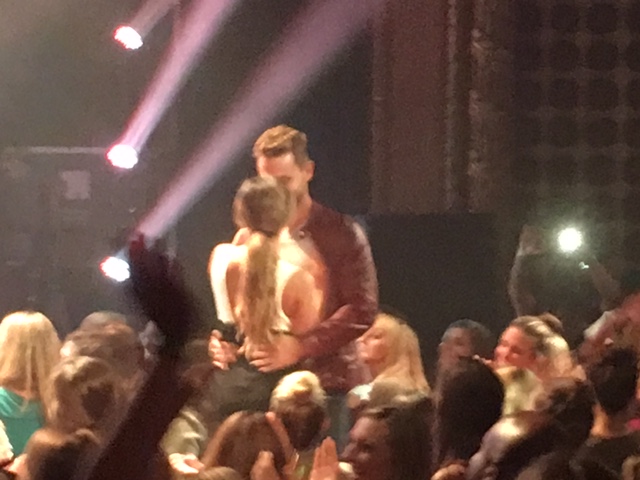 I love the freak out by the women in this video, "AAAAHHHHH her nipples!!!!"
Group date: 13 girls went to a dairy farm. Date took place on Friday, Oct. 7th. Jaimi, Josephine, Astrid, Danielle M., Vanessa, Rachel, Corinne, Alexis, Sarah, Jasmine, Taylor, Whitney, and Kristina were on the date. They did dairy farm things: milked cows, rolled cheese down a hill, etc. The girl who caught up to the cheese first won that competition. At the after party, apparently this is where drama started with Vanessa, as she told Nick & others that Danielle Lombard was fake, even though Danielle and Vanessa were supposedly friends up to that point. Whatever the case, and I'm sure we'll see more of what went down, but this is where Vanessa's edit could start taking a turn. But she "warned" Nick about Danielle on this date, which was ironically, the day after Nick had a 1-on-1 with Danielle. Kristina got the group date rose.
1-on-1: Raven Gates. Date took place Saturday, October 8th. Nick took her to his sister Bella's soccer game, then they went to Skateland. Bella's soccer team was there, along with his uncle and other family members. This date was spoiled in real time, and posted in my column on Oct. 11th. Here are pictures and videos from that date:
(SPOILER): Nick and Raven arriving at Skateland… pic.twitter.com/rtwyvV4kxl

— RealitySteve (@RealitySteve) October 8, 2016
Nick did the train with Bella's soccer team…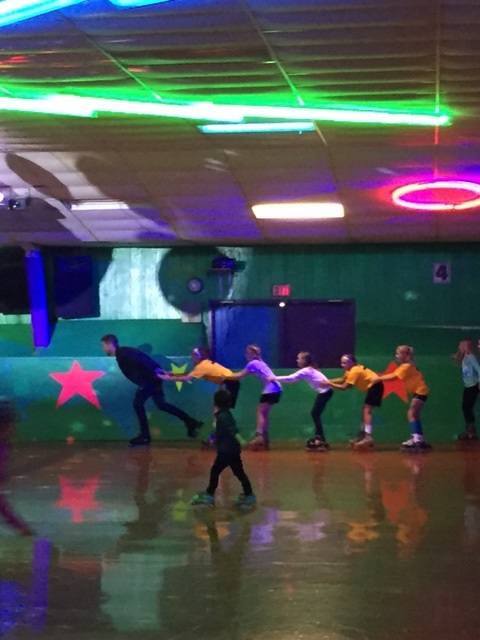 (SPOILER): Geez, did they get their own kids bday room with cake and pizza too? pic.twitter.com/andjNcW7Oh

— RealitySteve (@RealitySteve) October 8, 2016
Nick and Raven skated together a few times. One time, I think he just balanced on her to hold himself up so he wouldn't fall again…
(SPOILER): Nick and Raven skating… pic.twitter.com/5liraDZ5wu

— RealitySteve (@RealitySteve) October 8, 2016
Then they had their "couples skate." They skated to plenty of songs, but this is the only one I had recorded…
(SPOILER): You know it must be true love when you get to couples skate to Sixpence None the Richer's "Kiss Me" pic.twitter.com/KnFDuMAjKk

— RealitySteve (@RealitySteve) October 8, 2016
They also skated to "Time of My Life" from Dirty Dancing, "Blank Space" by Taylor Swift, "Thinking Out Loud" by Ed Sheeran, and "Unchained Melody" by the Righteous Brothers. Not sure which one we'll see on the show. Raven got the rose.
The cocktail party was Sunday, October 9th and you'll never believe this, but Corinne was front and center in the drama again. I guess this was one cocktail party where she wasn't passed out. Apparently this is where the Corinne vs Taylor feud hits a boiling point (and what a shocker, the next episode those two are put on the 2-on-1). Taylor being a mental health counselor with a degree from Johns Hopkins University was very opinionated about the other girls. She didn't take to Corinne all that well and called her "emotionally unintelligent." That didn't go over well and the drama ensued.
Rose Ceremony Eliminations: Astrid Loch and Sarah Vendal.