There is frankly a ton of shit to devour in this Bekah/Leo feud that happened late last week. The amount of stuff that went back and forth was numerous so I'm not going to post every IG story shot or whatever, and that's because the website JustJared.com already did. Before reading any further, if you didn't follow what happened, click on that link first and get caught up on all the mudslinging that went on. It'll make more sense when you read these next few paragraphs. The biggest thing I want to say about this story is that it is not as black and white as people are making it out to be. Let me explain…
First I want to start on Bekah's side in all this. Plain and simple, I think she just fanned the flames when she didn't need to. Does it mean she was wrong? Absolutely not. She has every right to take screen shots of conversations that women send her saying Leo sent them dick pics and post them to her IG story. Would I have done it? No. But she has a right to. Some of you agree with what she did, some don't. I think looking back on my past, there are certain things I wish I could take back that I've run with on this site. I had every right to do them, but maybe I shouldn't have or at least held back a little in what I posted. So I say this from experience in passing this on to Bekah: I personally don't think she should've done this.
I know those who disagree will immediately come back with, "But Steve, you've inserted yourself into people's problems and relationship issues before so how can you be so hypocritical." You're right. I have. And almost all of them, I've brought those people on, gotten quotes from them, or put them on the podcast to share their story. The internet is a crazy world right now. Anyone can say anything. In a case like this, when this many women are coming forward to say that Leo was basically a creep and sent unwanted dick pics to numerous different women, I think she needs to produce what these women are claiming or just leave it alone. Doesn't mean I'm approving what Leo did, far from it. But if you're going to repost a bunch of tweets and emails from random women saying he did it, you gotta produce the text messages and/or dick pics (obviously you can black box it out) to back it up. Hell, it wouldn't surprise me in the least bit if this is all true about Leo. In fact, there seems to be overwhelming evidence that he DID skeev out a lot of women by doing this. But so many of them are now running to social media and saying it, yet there isn't anyone producing the text messages and/or pics of it. They might have it and are too scared to share, which I understand. Or they might not have them anymore, which I understand as well. But that's where I think Bekah went wrong in this. Until she had consent from these women of, "Yes, here's the harassment I got from this guy, this is my name, here's what he's sent me and when," and she published it on her IG story, then she should've just stayed away. That's my take on Bekah's side of things.
Now, one recurring theme where Bekah is taking an inordinate amount of heat for that I saw on social media was, "This didn't happen to you. Stay out of it. It's not your story," is complete BS. No, it didn't happen to her. That doesn't mean she can't talk about it if she wants. Women were contacting her. No different than a random person in Boston telling me Lincoln was in a courthouse and to look into it. Because it didn't involve her she's not allowed to talk about it? That makes no sense. She can get involved because she was given information that she felt was important. Anyone can get involved in anything if they're given proper evidence/information. Just like anytime I'm given information about anything regarding this show. I determine whether or not it's worth pursuing. Ashley got the same exact shit from the masses for the Lincoln and Garrett stuff being told to stay out of it and it's not her concern, but both times Ashley produced evidence which backed up her reporting and proved her postings to be true. That's where the difference lies and I think Bekah should've vetted it out more before plastering and retweeting all the posts about Leo. Not to mention, the initial dick pic comment he left on someone's IG has been out there for months. It's not like this was a new story. So she was a little late to the party and I easily think she could've held back.
There are so many things I've been approached with that I just laid off because there either wasn't enough evidence or the person didn't want to come forward. In this day and age, unless some people are willing to put their name behind their accusations, it's tougher to just randomly come out with stuff. I can honestly tell you I've had a major story involving a contestant from this franchise for over a year now that I haven't run with. And probably won't. Would it be huge? Absolutely. I spoke to the other side in this incident for over an hour. I believe their story. But they don't want to pursue anything legally, they've moved on with their life, and they just want it behind them. But yeah, just like these women are wanting people to know on social media "Hey, Leo is a major creep," this person did the same thing. They just came to me privately with it and it was more serious than dick pics, that's for sure. They thought they wanted to talk at one point but then they changed their mind. So be it. I get that ALL THE TIME. Every season. Some more serious than others. But I've basically said that unless they are willing now to speak on the record and attach their name to it, any claims/rumors that people who know contestants want to get out there, they have to be willing to stand behind it. It becomes a very slippery slope now to just accuse on social media, throw it out there, then never expand on it and provide evidence. Someone could do that every day about every contestant if they want to just for fun. It's why I say I would never suggest someone go on this show. Sure the perks are great, but knowing all your private info could get out there, and stuff that may not even be true be said about you, I don't think is worth it. But that's just me. No one on this show thinks that way, they only look at the positives that could come with it, then get mad when there's negatives.
HOWEVER, the bigger problem in all this comes with Leo. Don't think for a second I'm on Leo's side because that couldn't be further from the truth. Bekah I just think should've not fanned the flames and I explained why I thought that. I'm looking at this objectively and giving my opinion on both sides. Look at my track record over the last year or so and the amount of women I've defended against shitty guys and given them a platform to share their experiences. It takes a lot of bravery to do that because you know the mob mentality of the media who like the person you're accusing immediately discredit you. It's why people choose not to attach their name to accusations or come forward with assaults/rapes. I get it. It's their choice and I applaud those who do because it's not easy and they know they'll be attacked publicly if they do so. When this all started with Leo and Bekah last week I never tweeted or said anything about it because there just wasn't much to say. It was a lot of hearsay going on and I was just over the whole thing. Not a whole hell of a lot to add. Women were saying Leo harassed them with unwanted dick pics, he said he didn't, and Bekah said more women were coming forward. But that all changed the second Leo released his "statement" regarding the whole situation. In case you missed it, here it was: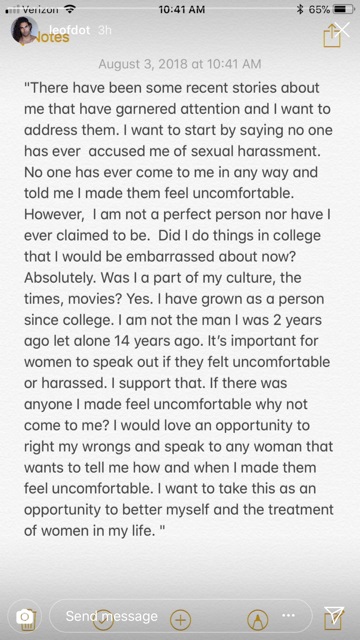 First off, if that was some sort of apology, considering the words "I'm sorry" were never used once really kills its credibility. But there are some real gems in this statement. Lets go over them shall we?
"…no one has ever accused me of sexual harassment." Ugh. Where do I begin? Yeah, it's because they're accusing you now on social media. Because they haven't accused you in the past doesn't mean it never happened. He isn't this dumb, right? Oh he was just getting started…
"No one has ever come to me in any way and told me I made them feel uncomfortable." Ummm, why should they? Do all victims call up their assaulter and ask them for a sit down over tea and crumpets? Some do, but it's very rare. And at this point, those are just words. If the amount of unwanted dick pics he sent out are true, EVERY one of them was excited to get them? If they deleted it two seconds after they got it, then yeah, you made them feel uncomfortable.
"Did I do things in college that I would be embarrassed about now? Absolutely. Wait, so you're admitting you did this? That's such a generic statement and doesn't address anything in particular. The whole statement is generic. Get specific. Did you send numerous dick pics out to women that were unwanted or not? This statement address none of that.
"Was it a part of my culture, the times, movies? Yes. This might's been the cherry on top of the whipped cream. Totally understand, Leo. Movies told you to do it, so it makes it ok. The "Hey, everyone else was doing it so why can't I" defense looks great on you. Keep that up. Totally believable. Again, WHAT was part of your culture, the times, movies, etc? Harassing women? Unwanted dick pics? I've been around longer than you on this earth. Can't remember a time we went through where that was socially accepted.
"If there was anyone I made feel uncomfortable why not come to me?"
Again, just because they chose not to tell you directly, doesn't mean it didn't happen. That seems to be his defense. No one told me I was doing anything wrong, so I must not have been. This guy's thinking is so ass backwards, I'm pretty sure he can still walk in a straight line if his head was up his ass.
"I would love an opportunity to right my wrongs and speak to any woman that wants to tell me how and when I made them feel uncomfortable." I'm sure they're jumping at the opportunity to speak to you again. Believe it or not Leo, sometimes when you act like a total creep, women don't want to ever speak to you again and would rather you just leave them alone. Has that ever crossed your mind?
I don't know if he wrote that himself, or Elan wrote it for him, or a PR team, but that was terrible. Why the thing is in "quotes" from beginning to end makes me think someone sent it to him and he didn't write it himself. But he posted it, so it's on him. He addressed nothing specific in the letter which is what he should've done to make sure we all knew what he was talking about. It was completely tone deaf and his logic seems to be that of a second grader who got in trouble at school for going along and doing all the things his friends were doing. Not too bright, pal.
The other major issue here is the threats he sent back to Bekah as sort of his retaliation. Isn't it funny how he privately sent those two IG DM's he got about her allegedly sticking a cucumber in a dog and assaulting a 14 year old boy to her is basically the same thing he was accusing her of doing? Did you notice the time stamps on the two DM's he got? So you're telling me that the day after Bekah exposes what you did to her half million followers, the VERY next day, within 2 minutes of each other (9:23 and 9:25), you just happen to get two random emails accusing Bekah of two heinous acts? You don't see how shady that could be to the viewing public? And you did end up posting one in your IG story, which means, you were threatening to sue Bekah over the exact same thing you were doing to her in return, but you're just mad because she did it to you first? This guy makes zero sense.
The only point Leo made which had any semblance of possible credibility was telling her you just can't believe everything that's sent to you. And that's true. I get it all the time. And at times I've fallen for it. That's why there's a vetting out process before I decide to run with stories I get. Most of them I don't run with. Not worth the hassle and just not enough info. But just like you claim none of these stories about you are true, why are you so easy to believe two random strangers emailing you within 2 minutes of each other saying Bekah assaulted a dog with a cucumber and touched a 14 year old boy inappropriately? Maybe you did and she didn't. Or maybe she did and you didn't. Or maybe you both did. Or maybe you both didn't. This is why the internet can be an awful place. And in the times we're in right now, accusations like this are tough to take seriously when there's no proof behind them. Doesn't mean they didn't happen and we're trying to silence people from coming forward. Just means that people coming forward need to be held more accountable. With that said, for me personally, is it easier to believe that Leo sent dick pics to numerous women than Bekah cucumbered a dog and fondled a 14 year old boy, especially considering how Leo presented that info to her? Yes. But do I know it for a fact? No, I don't. None of us do because no one provided anything of substance. And that's why I think this story will die and go nowhere.
One last point about Leo. He's trying to say that the original IG comment that started all this, which was him leaving a "you want this dick" on someone's IG five years ago was photoshopped. That's not what I've been told. Since this story broke, numerous women came to me and said when this was out there three months ago right when it first broke, people looked on that girls account from their own IG and saw that comment on her page. It wasn't a screenshot, it was live. Very easy for Leo to say it was photoshopped. Ok, then prove it. How? And since we know the girl whose page you left the comment on, why doesn't someone just flat out ask her did Leo leave the comment? And if he did, does she know him? Was it something playful? Was this an inside joke? Or was that girl legit bothered by the comment and that's why she wrote what she did. Again, someone anyone needs to come forward with something more or this is gonna die on the vine. I suggest if Bekah does have pictures and names attached to what Leo's being accused of, then she goes ahead and releases those. But this back and forth between the two of them is a lost cause when no one is giving anything substantial. "Yes, you did. No, I didn't." That's all we've heard since Friday. Can someone provide anything to make this story more than he said, she said?