Filming is underway on the "Bachelor" (two dates have been filmed with the third coming today) and already a couple things are a bit different about this season. I'll get to those in a moment. Something that isn't different is a lead who has zero interest in marrying the final girl he chooses. I know I say that every season and that's because, well, it's true. And this season is no different. Since the second he applied for Becca's season, Colton's ultimate goal was to increase his brand recognition and bring attention to his charity. It's very well known in "Bachelor" circles since he's openly told people this. As has his family. You're just gonna have to trust me on that one. But, does it take away from covering the season, making fun of it and spoiling it? Absolutely not. Probably will make it that much more fun since this charade that Colton's gonna have to put on to try and convince people he's actually looking to get married off this thing is quite a big one. I also think the producers are well aware of Colton's intentions so they just have to craft a season around that, which they've managed to do numerous times. That won't be hard.
You can listen to today's podcast on a number of platforms, but you can also tune in by clicking the player below:

Subscribe: Apple Podcasts, RSS, Stitcher, Spotify
Music written by Kate Bass
In Episode 6, Ashley and I begin the podcast by talking about the serious nature of this week's calls and how we're not experts, but we're glad people still come to us and feel comfortable enough to share their stories. Courtney in Atlanta is our first caller who has an STD and talks about the struggles of entering future sexual relationships with herpes (5:27). Then April in Colorado joins us to tell a very heartbreaking story of the depths of her depression and the struggles within her marriage (34:21). Original theme music provided by Kate Bass and the song is titled "Blink."
One thing that's happened thus far in terms of casting is that they've cast a few women who already know each other. That's very rare on this show. Sure, plenty of people get cast on this show who know former contestants – that happens all the time. But to actually know some of your fellow competitors going in? Maybe on occasion that's happened, but this season seems to be over the top. Not saying these women are BFF's, but they definitely know of each other. I explained it on Twitter over the weekend once I found out, but let me break it down a bit for you:
-Hannah Brown and Hannah Godwin (both from Alabama) competed in Miss Alabama 2017 versus each other. You can read that here.
-In addition, during last year's competition, Hannah Godwin (who wasn't competing) was working for Show Me Your Mumu. One of the co-founders was a judge at Miss Alabama 2018 (the one that Hannah Brown won), and brought Hannah Godwin to the event, pictured here. Hannah Godwin is far right, and the co-founder tags Hannah Brown in her caption since they're supporting her: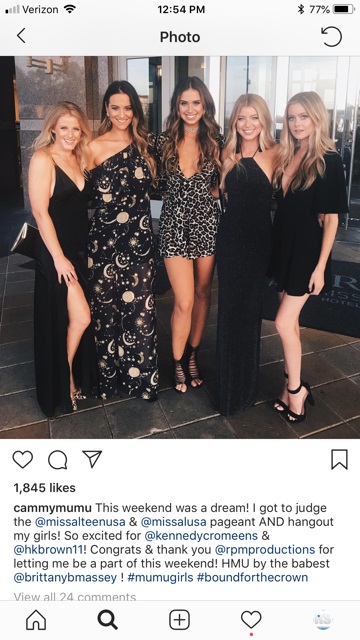 -Annie Reardon and Hannah Brown attended the University of Alabama at the same time and were in rival sororities. Hannah was an Alpha Chi and Annie was a Phi Mu. Been told that the two of them definitely know who the other one is. No bad blood or anything, and they're not BFF's either, but they know of the other one.
-Not sure if Annie Reardon and Hannah Godwin know of each other.
-There are two other women that I haven't released yet who both attended the same college together and one of them was following the other on Instagram before the show even started filming, so looks like they know each other somehow.
Just kinda strange since we've never seen this happen this much before. Something to keep an eye on if the show pits friends, or maybe even enemies, against each other.
I also reported late Sunday night that Hannah Godwin got the first impression rose. I'd say she's kind of a big deal. She had 50k Instagram followers before the show started, she's one of, if not THE main model, for Red Dress Boutique (IG: @shopreddress), and she's been the lead girl in 3 music videos that I was made aware of:
So needless to say, Hannah Godwin will be a major player this season. However, that first impression rose on the "Bachelor" is basically the kiss of death. Judging by past seasons, you can pencil in that she probably WON'T win now, as none of the last 10 first impression rose recipients on the "Bachelor" have ever won, and only 3 of them even made it to the final 4. It's the "Bachelorette" where the first impression rose has made a big deal since the last four recipients have all gone on to win. But Hannah is for sure going to be a name Bachelor Nation will be talking about for a while going forward, you can guarantee that.