Honestly, I don't really know the answer to the question I posted above. I recorded the podcast with Cassandra on Tuesday. Yesterday someone asked me on Twitter who the podcast was with, I said it was with Cassandra, and within two hours she had received a letter from legal over at Warner Horizon saying she'd be violating her contract if she appeared on my podcast. I don't think they realized it had already been recorded, but that's neither here nor there. The point being that for whatever reason, they aren't allowing Cassandra Ferguson on my podcast. Only Cassandra and I have heard the interview. There was nothing in it that was anything worse than any previous podcast guest has said. We talked about her time on Juan Pablo's season, her two stints on BIP (both appearing in episode 5), and being a single mom. I have no idea why this show would possibly have something against Cassandra coming on. You'd have to ask them. But essentially they're bullying her. I've done 97 podcasts before Cassandra. Not one of them were ever told before the podcast aired that they wouldn't allow it. This is totally bizarre, it's complete bullshit, they're absolutely bullying her, and I really have no explanation for it.
I don't record multiple podcasts at a time where I have others sitting in the can just waiting to post. A couple times I've recorded two early, but it rarely happens. So when you find out the night before you're supposed to post that your guest can get in trouble, obviously I don't want to put Cassandra in a tough spot. I have a podcast that I have to produce every Thursday because advertisers have paid for spots on those podcasts. I tried to find a last minute replacement last night but couldn't since it wasn't til about 9:00pm when I found out she had been contacted by Warner Horizon. So what I'm going to do is I got someone this morning who I'm gonna record with today, and I'll run it tomorrow. Sorry for the inconvenience. But this has never happened in the 22 months I've been doing podcasts, so yeah, needless to say I was caught off guard. Go bitch to ABC/Warner Horizon. It's a joke they won't let her come on the podcast. Yeah, like every one of these contestants are running every interview opportunity they get by ABC first. Sure they're not. So ridiculous. I've saved the podcast and hopefully I can run it at a later date.
So moving on, as for Colton's season, they are in Singapore now, as pictures surfaced Monday of a few of the women at LAX with production getting ready to board a flight there. Here were the two tweets I sent out:
(SPOILER): Here are the 7 women labeled who are visible in case you couldn't make out who is who pic.twitter.com/ZwEt79IADG

— RealitySteve (@RealitySteve) October 2, 2018
(SPOILER): Update from yesterday's picture at the airport. Can now confirm two more women: Caelynn Miller-Keyes and Cassie Randolph. pic.twitter.com/bWv2j1PYhc

— RealitySteve (@RealitySteve) October 3, 2018
So there's 9 girls who were identified in those pictures that we know are still on the show heading into episode 4: Sydney Lotuaco, Heather Martin, Hannah Godwin, Katie Morton, Cassie Randolph, Caelynn Miller-Keyes, Onyeka Ehie, Demi Burnett, and Elyse Dehlbom. Usually in episode 4 there's around 15 contestants left judging by past seasons. So there are obviously others who were there at the airport, they just aren't visible in the pictures that were taken. There's definitely 4 more that I'm pretty sure are still there, which would bring the total up to 13. I'm sure I'll find out later who is all left.
An interesting note about them doing international travel this early in episode 4, is the only other time they've gone international this early in the past seven seasons was Juan Pablo's. My guess now is they will be gone internationally for episodes 4-6 then come back to the states for episode 7, which is the episode before hometowns. We've seen 4 of the past 5 "Bachelor" seasons shoot an episode in the lead's hometown (Juan Pablo-Miami, Chris-Iowa, Ben-Indiana, Nick-Wisconsin) with Arie being the only one who didn't, although he did get a 1-on-1 in AZ with Krystal. I'm hearing they will be back in the states before hometowns, so it makes sense for them to come back in episode 7. We'll see if that happens for sure, but that's what I'm hearing.
And finally, I brought this up on Tuesday on Twitter, but it bears repeating. Remember Annie Reardon? The cute blonde who was one of the three women who got to meet Colton early when they were on "Ellen's" show? And everyone thought that because she "won" and actually got to hug and meet Colton that she'd go far?
Well yeah, she's already been eliminated and had some choice words for Colton and the other women in a snapchat that made it's way to me over the weekend. I literally had 5 different people send this to me in a span of 15 minutes or so, so this snap definitely made the rounds.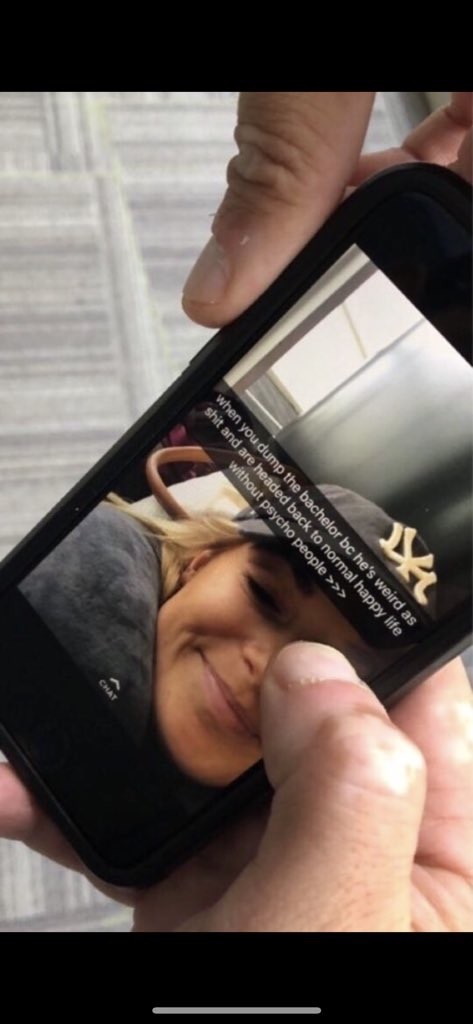 Annie was on the show for less than a week. For her to say she "dumped" the Bachelor, that pretty much tells me she wasn't liked by the others, is trying to get out in front of a bad edit she's surely to get, and will most certainly blame the editing once the episodes air. Very few contestants in the history of this show ever get to dump the lead. Maybe she realized she didn't like him and wanted off the show and told producers that, but if you honestly think she just went up to Colton and broke things off with him and left the show on her own, I can pretty much guarantee that didn't happen. They'll either show Colton sending her home or she won't get a rose at the rose ceremony. This snap clearly shows though that she wasn't into him and probably wasn't liked by the others, hence the reason she referenced "psycho people." Sounds like Annie is going to be an early season villain which, if I'm being honest, was stuff I was hearing about her heading into the show. So I guess this shouldn't be a surprise.
Anyway, if there's any resolution to the Cassandra podcast situation, I'll update here and on Twitter, but that's where we stand now. I hate how this show just picks and chooses who they want to get upset at for no reason whatsoever. It's ridiculous. Cassandra is a great girl, it was a fun interview, she had a lot of good stories about her time on the show, and now for the time being, you don't get to hear it. As I mentioned, I saved the interview, so hopefully it can run at some point. But as of now, she's freaked out by the letter she received from Warner Horizon and I don't want to get her in trouble so I can't post it. Podcast #98 with a different guest coming tomorrow.
Send all links and emails to: steve@realitysteve.com. To follow me on Twitter, it's: www.twitter.com/RealitySteve. Instagram name is "RealitySteve," join my Reality Steve Facebook Fan Page, or listen to all my podcasts at Apple Podcasts. Talk to you tomorrow.