We've all seen the comments from Caroline during the "Women Tell All" of "I know what you did…" and that's in reference to knowing how Arie treated Becca during this whole break up. Again, IG stories show that Becca was in Florida with Caroline the weekend before Caroline left to go film the WTA. So obviously she knows everything involved and has been quite vocal about it. Caroline even said in post-WTA interviews with the media that producers gave her the go ahead to say that on camera, obviously wanting to hype up what's about to happen next week. Normally would they allow that to happen? Absolutely not. But this is not a normal season and these aren't normal circumstances.
Which brings us to this past Saturday. Thanks to a tip from fellow blogger/podcaster Kate Casey, I was notified of this set up happening in the early evening at the Monarch Bay Resort in Dana Point, the same place where Tanner & Jade had their wedding: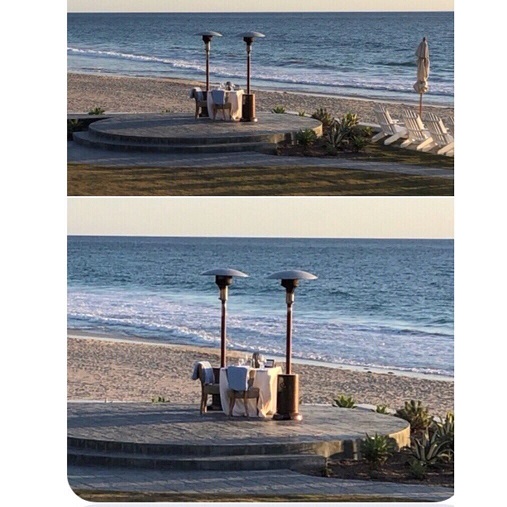 By all indications, what I'm hearing is that Arie and Lauren got engaged Saturday night. I can confirm they were there (Arie was flying back to AZ on his IG Sunday morning), I can confirm a film crew was there, and I can confirm that people there were told a "Bachelor proposal was happening." Do I have solid confirmation that a proposal definitely ended up happening? No. But if you ask me if I think they're engaged, I'd say yes. Too many things point to it and the intel is about as solid as I can get without actually getting the confirmation. So just know if next Tuesday night on the ATFR if Arie and Lauren announced they're engaged, it happened this past Saturday night at the Monarch Beach resort. Lauren is moving to Arizona and in with Arie as soon as this is all over. Yet another reason why I do think the engagement happened. Lets hope for their sake it didn't, but I'm pretty sure it did. There are already rumors out there of a pregnancy, but I think that's just people feeding into this crazy narrative. I have not heard anything about a pregnancy. If she got pregnant in the fantasy suite in November, she'd be four months along and I'm pretty sure I would've heard that by now. If she got pregnant the day he saw her in Virginia (assuming that's the first time he saw her since Peru which I believe it was) that means she'd be less than 7 weeks pregnant and I doubt that's the case. So lets not immediately start giving in to click bait stories.
This is all on Arie. He screwed Becca over, no ifs ands or but's about it. And no, not because he broke up with her. If he wanted to end an engagement because he wasn't feeling it with her anymore, he has every right to. But to do it the way he did and blindside her with a camera crew, go ahead, make all the excuses you want for him. That was bullsh** and he'll be raked over the coals for it. Deservedly so. As for Lauren, I don't really fault her in any of this because I don't believe she egged him on in any way. It was his decision. Do I think it's smart she took a guy back and is probably engaged to someone now who was just engaged to someone else SIX WEEKS AGO? No. I think it's incredibly stupid. Not to mention, the person he was engaged to was the person he chose over you to begin with. It's all ridiculously silly. But if you listened to my podcast with Possessionista a couple weeks ago, even she brought up the point that I'm guessing every final 2 girl thought at some point the lead made a mistake and would hope they'd come crawling back. It's an ego thing. So when Arie did, and she had feelings for him, she accepted. If she believes his BS and she wants to be with him, that's her decision. But to get engaged this quick? Jason and Molly dated for 10 months before he proposed. You're going to wait 6 weeks? Just stupid. Her life, her choices, but she's falling for the wrong guy and Arie is master bullsh** artist who will get tired of her and move on to someone else in a matter of time unfortunately.
Where does that leave us going forward? Right now, it's impossible to know how they're going to show what and when. I just know we're going to see all of it. I know you're all blowing me up asking which episode is going to show what things happening, and we just don't know right now. I don't produce the show. I have no idea. All I can do is guess based on how they showed things during Jason's season. What we do know for sure is next Monday night the 5th is the 2 hour finale, with the live 1 hour ATFR immediately following. The NEXT night is another live TWO HOUR ATFR. I originally thought it was one but was told late last night it was two. For Jason's season, when his finale aired, during their 1 hr ATFR is when they showed up the taped footage of Jason, Chris Harrison and Melissa and Molly on the closed set from what was recorded 6 weeks earlier. The next night is when they brought Jason and Molly out to talk about their relationship since that taping, they read a letter from Melissa (she wasn't there), and they announced Jillian as the "Bachelorette," which was all taped about a week earlier. My guess is next Monday night, when we go live to the ATFR, that's where we'll see the footage of Arie's breakup with Becca, and his trip to Virginia. They basically alluded to it in the previews last night. We'll definitely see that during the ATFR Monday night.
What we don't know is how long that'll take and if they'll bring Becca out next Monday night after we see all the footage, or, if they'll use everything as a cliffhanger to "tune in tomorrow night and hear from all the parties involved." We just don't know, and I don't think any press releases are going to give it away either, since technically the unspoiled don't even know what happens in the finale, so they can't say in a press release, "and Becca will be here to discuss everything." I know you're dying to know, but we're really not gonna know until next Monday night when the finale is airing. But you can count on the fact the ATFR after the finale will be showing the footage of the breakup and him going back to Lauren. It's just a matter if they bring any of them out live that night.
The NEXT night with the two hour ATFR on the 6th, because it's two hours, is my guess on when we'll see everyone. I don't even know where Kendall fits into all this. Maybe they'll show her on the first ATFR before they show the break up, but honestly, she's so not a factor in all this, and the fact she left with class and didn't have a meltdown, I mean really, does it matter if we hear from her? Everyone knows something major happens after the rose ceremony in Peru where Arie dumped Lauren and proposed to Becca. Bogging us down with Kendall's thoughts just wouldn't seem like a smart TV decision, but hey, that's just me guessing. I reported to you last week that Jason & Molly will be a part of the live ATFR on Tuesday, the 6th. I can confirm that Jason already taped a segment last week with Arie that's going to air on one of the two nights, and I'm still being told that Jason & Molly will be there on the 6th.
Now your next question is about "Bachelorette" I'm sure. After seeing what they've pulled in recent seasons and their last minute change ups, it's basically impossible to tell you for certain who it will be. However, everything I've told you since January stands true. I've always said Becca will have all of America behind her, she has the best built-in storyline of any previous contestant going into the "Bachelorette," and the only way she wouldn't get the gig is if she didn't want it. Everything I've been told up to this point has led me to believe she wants it, they've talked to her, they've filmed in MN, and she will be the "Bachelorette." When they're gonna make this announcement, I don't know. If we see Becca on Monday night, do they bring her back the next night and announce her? If we don't see her til Tuesday night, do they have her talk to Arie then announce her later in the show? That'd seem weird. We know the announcement will happen on one of three shows: the ATFR, GMA, or Jimmy Kimmel. But since we don't know how next Monday & Tuesday night are playing out yet, impossible to know when the "official" Bachelorette announcement will be.
So the speculation about Tia, Bekah, or Seinne, or even Kristina aren't even in the ballpark. You can't be the "Bachelorette" when they haven't even approached you about it yet. None of those girls are going to be the "Bachelorette." Everything I'm being told is it's Becca, which should surprise no one. We know they've pulled last second change ups in the past, but I really don't expect it this time. I fully expect Becca to be the next "Bachelorette" and filming begins in two weeks on schedule to where it normally begins filming. I even have some of the guys for you which I'll be releasing as we get closer to the first night of filming.
So I hope that was as clear and concise as I could be. A lot of that is fact, some is fact without proof, and some as you could read was my opinion based on things I'm told. Sucks for Becca, but by next week, we'll be a good 7 weeks removed from him ending the engagement with her, so it makes sense she'll have moved on. I'm sure she still harbors resentment towards him and the way he handled it, and I hope she lets him know about it. I wouldn't hold back if I were her. That'll be the fascinating part about next week. Nothing Arie says on that couch I'll give two sh**s about because he's gonna say and do whatever he can to save face. Becca's reaction, either the day he ended it or next Monday (or both) will tell us a lot. Arie and Lauren together will only make the Arie nutjobs happy. They are in the minority and unfortunately Arie and Lauren are going to have to deal with a ton of scrutiny. I'm sure tears will be shed and he'll say everything under the sun about how amazing she is and he did this all for her, but it'll fall mostly on deaf ears. We know this guy's game. He's been a joke since the day he was announced, he was never interested in finding a wife on this show, he was a joke during the worst rated season in "Bachelor" history, and he's a joke now. Got yourself a real keeper there, Lauren. Good luck with that. He's your problem now.