Man, I really should've charged like $5 a person for the Reality Steve Bracket Challenge considering we have over 1,600 entrants in this year's pool. And as suspected, I'm nowhere close to the top. When you pick a bunch of upsets that don't happen (only 6 of the first 32 games were won by the higher seeded team), well, then you're not gonna be anywhere close to the top of the leaderboard. Then again, if I would've charged $5, maybe a lot of people wouldn't have filled out five brackets. Whatever the case, I hope you're enjoying it so far as a lot of you are competing for that top spot. I will send a mass email out today on that site that you should all get informing you of what the prize will be to the winner. As for Vegas, I think that first weekend of March Madness might need to be added to my must do's every year now. There's nothing like rabid, screaming, almost maniacal fans losing their sh** at the end of a 20 pt blowout on a meaningless free throw or three pointer at the end of the game due to the pointspreads. Quite fascinating to watch. I remember the first four sets of games on Thursday morning, all of them were within 4 points of the spread. So while each game might've been decided straight up, there were plenty of people freaking out due to how close it came to the number. And "freaking out" might be putting it lightly. Whatever the case, great times that I definitely plan on making a yearly tradition.
While I was gone, plenty happening in "Bachelorette" world as Rachel completed all of her episode 2 dates, as rose ceremony #2 is tonight. I'll get to that in a minute but first let me catch you up on a couple things. Episode #18 of the podcast is being recorded today and will be posted on Thursday. Remember, the podcasts aren't going away just because we're in the off season. You'll get them every Thursday. This week's I'm definitely looking forward to as it's someone who has quite an interesting history with the show, so much so that they're the only person to appear 5 different times for the franchise. That's right, Chris Bukowski will be podcast #18 guest. Very much looking forward to Chris as he was someone that I, along with pretty much the whole world, were very much a critic of during his numerous appearances. However, since his "retirement," I can see he's turned things around for himself and I'm looking to dive a little more into that, along with talking about the toll being on the show took on his life, both emotionally and mentally. So look for that interview coming Thursday.
Nell Kalter's Vanderpump Rules recap is now up for your viewing. I'm not too sure what's happening in the world of SUR, but I'm gonna go out on a limb here and say that before long, Nick and Vanessa will probably be dining and hob knobbing with those people. Just seems like something he'd be into. And we'll know about it since the paps pictures of them walking the streets of LA are pretty much unavoidable at this point. I was out of town and still know where they ate dinner over the weekend thanks to their double date with Peta and Maks, and then last night them eating Republique. This is what their life is now Nick/Vanessa crazies. Get used to it. There won't be a photo op they turn down, or a product they won't pitch.
Our "Survivor" recapper Bryan Fisher had his recap ready to go as always on Friday, but since I didn't move from the sportsbook for 10 hours (and I rarely ever post on weekends), I figured I would wait until today to post his recap. Enjoy, and his column will return to its regularly scheduled Friday slot this week. That one was on me.
Nick got a 24 out of 40 last night on DWTS. Wasn't great, wasn't terrible. Finished tied for 7th place, which is pretty much where I expect him to finish this season. He'll beat Charo, Mr. T, and Chris Kattan. After that, it's up in the air. I don't see him beating any of the other 5 women to be honest. So if he's the BEST out of all the guys (which he's not), he'd finish in 6th. I think he's looking at a 7th or 8th place finish. His biggest advantage right now is Peta being his partner, and voting on this show is now more towards people voting for their favorite pros to stick around as much as it is the "celebs," and Peta is incredibly popular. I just still don't see how he finishes higher than Heather, Simone, Normani, Nancy, or Erika. Maybe Nancy? I don't know. But he's got his work cut out for him. I don't think he finishes in the top half. Too much competition. Glamour magazine has your DWTS recap with interviews and backstage news after last night's performance.
On to the "Bachelorette," as filming got underway last Thursday night at the mansion. There were a few tweets from Fleiss and Mills, but not a ton. Fleiss did tweet a group picture of about 16 of the guys, and as you can see, definitely a diverse group considering that's about half the cast in that picture…
Dudes… #TheBachelorette pic.twitter.com/Fh6mkL79gF

— Mike Fleiss (@fleissmeister) March 17, 2017
Some of the guys in that picture I've already identified for you on Rachel's guys page. Some I know but just haven't posted yet, and some I'm unaware of. But as I say every season, all in due time. You'll get all your contestants and spoilers before the first episode airs. We'll just see how much gets out publicly on social media this season.
One thing I can tell you is that Blake Killpack, who I released last week, really isn't hiding the fact he's off the show now, as he posted on Instagram he "left my adventure in LA early" because his grandpa was sick…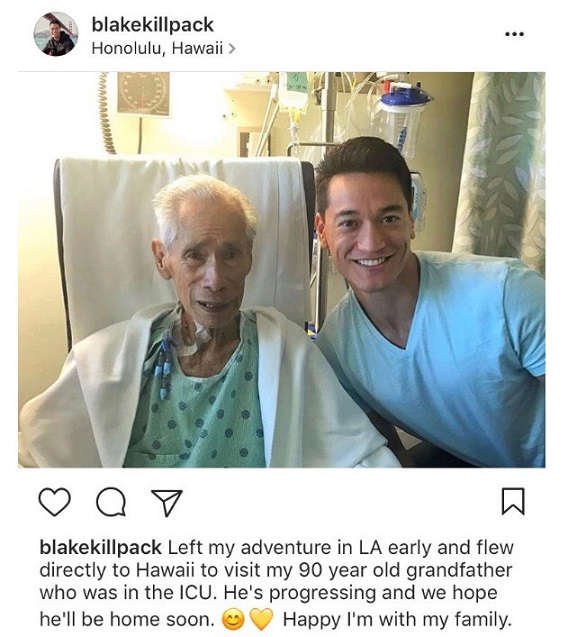 One other note to make about one of Rachel's guys: Jonathan Treece, the doctor from New Smyrna Beach, Florida is divorced. Believe he was married for a few years and got divorced in 2013-2014.
So Rachel's first date of the season was on Saturday and it was a group date. Fleiss tweeted this out…
Guess where @TheRachLindsay is now???#TheBachelorette pic.twitter.com/oGOr2ZEuqE

— Mike Fleiss (@fleissmeister) March 18, 2017
…and I think it took me a full 8 minutes to subtweet him and tell everyone that Rachel's date was at the Malibu Wine Safaris. However, they didn't do what people would normally do on a Malibu Wine Safari. They just used the location to have a Domestic Obstacle Course. The guys had to carry a fake baby in a baby bjorn, they had to vacuum, etc. Here's a distant picture of how the set up looked: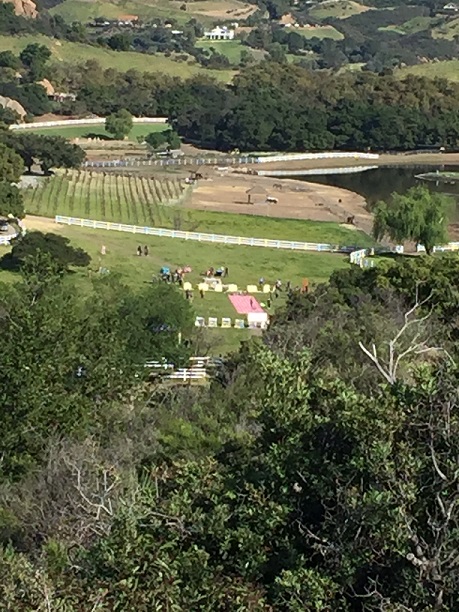 Originally I had said that there was a date at the La Quinta Resort in La Quinta, CA for Saturday, but I was off a day. That date was Sunday and it was a 1-on-1 with a guy I've already given you, Peter Kraus. Ironically, it was Peter's birthday on Sunday, so I'm sure that had a little added incentive as to why he got the first 1-on-1. I'm not sure what they did for the day portion of their date, but they had dinner off the main lobby and then there was a mini fireworks show for them later that night. Pictures are kinda blurry, but this is Rachel and Peter standing out in the lobby before dinner…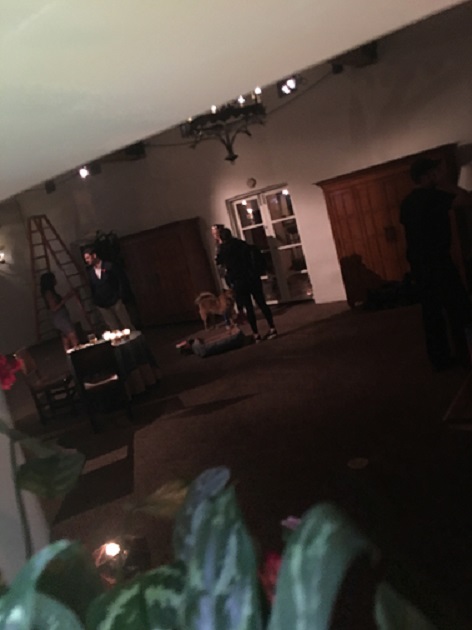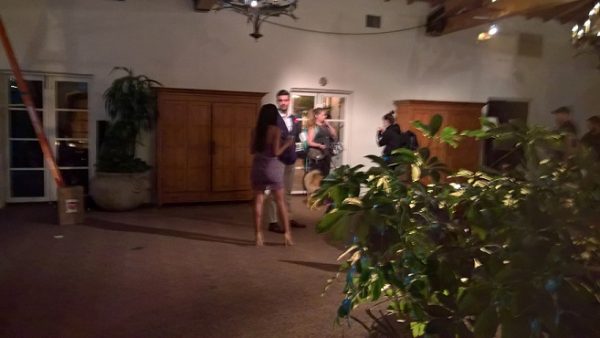 Yesterday, was the group date that the @TheBachelorTV twitter account promoted where Kareem Abdul Jabbar was making an appearance in Burbank that was open to the public. They must've cracked down on phones since I've seen zero pictures posted online from that date. It's possible stuff will up today, but we'll see.
Tonight is rose ceremony #2, and then episode 3 begins immediately filming tomorrow. The last few seasons, they've still done two group dates and one 1-on-1 in episode 3, so we'll see if they follow that pattern again. Rose ceremony #3 will be Saturday night, and then travel begins for Rachel's season. If you were following along last season, you know that for episode #4, Nick was supposed to go to South Carolina but Hurricane Matthew ruined those plans, and they re-routed and ended up going to Wisconsin. Well, South Carolina gets a re-do, and that's where they are headed for episode #4 next week. Filming will take place at the Colleton River Plantation Club in Bluffton, South Carolina, about a mile from Hilton Head. Gee, you think Chris Harrison is gonna get in a few rounds of golf while they're right next to Hilton Head? The man has the greatest gig in the world I tell ya'.
I'll be back tomorrow with the first "Daily Links" of 2017.
Send all links and emails to: steve@realitysteve.com. To follow me on Twitter, it's: www.twitter.com/RealitySteve. Instagram name is "RealitySteve," or join my Reality Steve Facebook Fan Page. Talk to you tomorrow.