Rachel's dates in South Carolina have started off as expected, meaning there are going to be plenty of pictures. Yesterday's 1 on 1 date with Dean Unglert was plastered all over social media. If you followed me on Twitter, you know that early in the day I released who she was on the date with, then once they arrived at the Russell Dickerson concert (which wasn't til midnight local time when people were told they'd be there at 10pm), tons of pictures and videos made their way to social media of them together. You'll see those below. The next two days of dates in South Carolina are also set up in public venues, so I expect pictures to get out there as well. Today is a group date is shooting on Hilton Head Island at Shelter Cove Island and Marina Stage. I'm hearing it's going to be a spelling bee. I'm guessing we'll get a lot of social media activity from this date as well. I will be tweeting those out as soon as they become available. Funny how I was just talking about Dean yesterday and his prior arrest back in college for underage possession of alcohol, and voila!, he gets yesterday's 1-on-1 date. But as I said yesterday, don't get your hopes up too high for Dean. He's not winning. I can pretty much guarantee you he'll be on Paradise though.
As for the date last night, I first found out it was Dean on the date when I was alerted that they took the Goodyear Blimp over the city and the marquee said "Rachel and Dean are on here" with a heart emoji after it:
(SPOILER): Rachel's 1 on 1 is with Dean Unglert today. Took a Goodyear Blimp ride, marquee said "Rachel & Dean in here" w/ a heart pic.twitter.com/7Q7kKrD9B2

— RealitySteve (@RealitySteve) March 29, 2017
For those that don't remember Dean, he was one of the four guys Rachel met at the ATFR show and he dropped the infamous line on her of: "I'm ready to go black and I'm never gonna go back." Chris Harrison made sure to remind everyone of that before Rachel & Dean got to the stage:
(SPOILER): Chris Harrison addressing the crowd before Rachel and Dean come out pic.twitter.com/rVAawJ09es

— RealitySteve (@RealitySteve) March 29, 2017
Then Russell Dickerson performed cover songs for everyone:
Russell Dickerson performing before Rachel and Dean arrive… pic.twitter.com/DwOWMnL0CL

— RealitySteve (@RealitySteve) March 29, 2017
Alas, Rachel and Dean made their way to the stage, and here were some photos and videos of them together…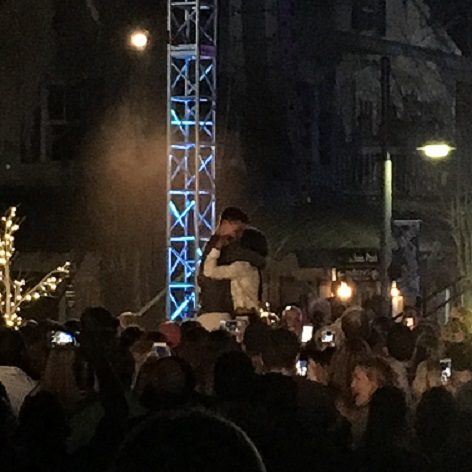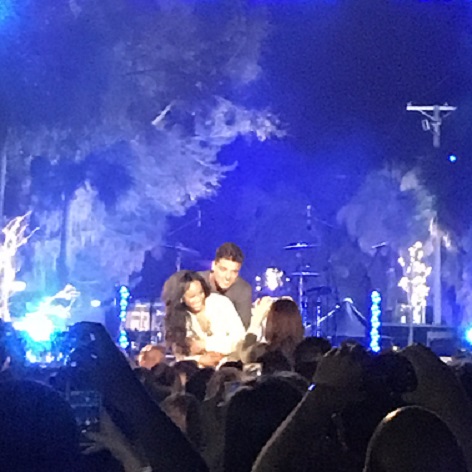 The Bachelorette is in Bluffton! pic.twitter.com/YImSTulPdJ

— Tori Simkovic (@WJCL22Tori) March 29, 2017
With the group date coming today and pictures expected to be leaked, I will be giving you more of Rachel's guys tomorrow. As I said the other day, I now have 24 of her 31 guys so far – 11 of which you can see on Rachel's guys page. I'll definitely give you more tomorrow, I just don't know how many yet but you will get some from Friday's group date that I hadn't given you yet.
Also, forgot to mention that tomorrow's podcast #19 guest, is Kelly Travis from Juan Pablo's season. If you've followed Kelly at all on social media over the years (@kellytravisty), you know she basically has zero filter. I have a feeling this could be quite the interesting podcast if you ask me.
And finally, a few of you emailed me yesterday asking why some of the "Bachelor" alums are all down in Fiji. I didn't realize this until I was notified of it, but apparently Amanda, Sarah Vendal, Raven, Whitney, Becca, JoJo, and Jordan are all down there. From what I hear, it's just for some promotional photo shoot stuff for Robert Graham's Vampped company. I'm sure you'll be seeing pictures coming from that shoot in the near future on all their IG accounts. Again, this is what the show is now. Anyone who tells you otherwise is clueless.
Send all links and emails to: steve@realitysteve.com. To follow me on Twitter, it's: www.twitter.com/RealitySteve. Instagram name is "RealitySteve," or join my Reality Steve Facebook Fan Page. Talk to you tomorrow.