I've never taken a survey about you the readers and how far back you go in this franchise. If I had to guess, and this is strictly just a guess, I'd say more than 50% of you have started watching this show on a regular basis in the last 4 or 5 years. That's still a long time. That's essentially 10 "Bachelor/ette" seasons and most of the summer shows. Because the franchise has had a resurgence in the last 10 seasons. Well for a week, we're gonna go back a little farther than that with Podcast #23 guest, Natalie Getz. She was on Jason Mesnick's season, but was the co-winner, along with Dave Good, on the first season of "Bachelor Pad." And in addition, one of the few people I can honestly call a friend from the show, as I've known Natalie for a good 5 or 6 years now. Always good for a laugh, one of the more outspoken people you'll hear on this podcast, zero filter, and currently dating all of Hermosa Beach. Ok, I'm kidding. Sort of. You'll hear more of that today. But it was great to take a trip down memory lane with her from her time on both shows. As always, if you want to reply on Twitter, reply using Natalie's Twitter handle (@nataliegetz) in your responses. Hope you enjoy it.
You can listen to today's podcast on a number of platforms, but you can also tune in by clicking the player below:

Subscribe: iTunes, RSS, Stitcher
Music written by Jimmer Podrasky
(B'Jingo Songs/Machia Music/Bug Music BMI)
(SPOILERS) Natalie joins me and we talk about her experience on Jason Mesnick's season of the "Bachelor" including the disastrous 1-on-1 date where she got sent home, her first impressions on night one (4:44), the advent of contestant "reunions" (9:48), going on "Bachelor Pad" not being told exactly what it was (12:01), teaming with Dave Good & the infamous topless Vegas date (18:24), the BP finale & how she and Dave won (22:55), post "Bachelor Pad" life and her most recent relationship (30:08), her thoughts on current franchise and how it's changed (44:20), her dating life right now which includes an excel spreadsheet (50:22), social media's importance now vs when she appeared on the show (53:34), and finally answers the Rapid 10 (1:02:19).
Facebook – Natalie Getz
Twitter – @nataliegetz
Instagram – nataliegetz
Snapchat: nataliegetz
Here are all your "Survivor" goodies this week from EW.com, People.com, and Reality Blurred.com. Our "Survivor" recapper Bryan Fischer will have his recap posted tomorrow.
EW.com – Dalton Ross' recap
EW.com – Probst Q & A
People.com – Stephen Fishbach's blog
Reality Blurred – Andy Dehnart's recap
There was no column yesterday, so I didn't have a chance to post Executive Producer Robert Mills' Entertainment Weekly Tuesday radio show with co-host Julia Cunningham. Here it is:
At the time, he mentioned that Rachel was down to four guys and soon to be three. Well we know who the final four are after my Twitter post yesterday. And as I said Tuesday, they are here in Dallas today for the final 4 rose ceremony. What we don't know is at what point Rachel's family is meeting the guys – and how many of them they are meeting. All we know, per Robert Mills, is that Rachel's family is NOT traveling to the final rose ceremony location to meet the final two guys, which is the norm on this show. Rachel's sister is too pregnant to fly, so Mills' said the guys will be meeting her family in Dallas. I'm guessing that happens today or over the next few days, all depending on how they're doing their schedule. The other minor "Bachelorette" tidbits Mills' threw out:
-Co-host Julia said she's going to Spain in a few weeks, to which Mills' chimed in that Spain "might have a Bachelorette" tie-in, hinting that that's where they could be headed for overnights and final rose ceremony.
-We wouldn't be getting the guys' headshots and bios until about 5 days before the premiere on May 22nd, which is actually pretty close to the norm. Last season, JoJo's premiere was May 23rd and the guys' bios came out May 12th.
-The next major "Bachelorette" promo will see will essentially only have quick shots of some of the guys limo entrances
As I mentioned on Twitter yesterday, Rachel's 4th hometown date took place in Baltimore, MD at the Harborview Towers with Eric Bigger. So just a quick recap, her final four guys are: Bryan Abasolo, Peter Kraus, Dean Unglert, and Eric Bigger. Dean & Eric were two of the four guys Rachel met on the ATFR. Could mean something, could mean nothing. I know I said at the time I didn't think any of them would be guys that got far. Guess I was wrong on that one. One thing Eric's confirmation in the final four did yesterday was put to rest the numerous tweets and emails I was getting saying that Jack was in her final four. Wasn't sure why there were so many hoping for Jack because as I tweeted as well yesterday, Jack's been gone since episode #4. He never got a rose on his 1-on-1 in South Carolina and was eliminated. Remember I had mentioned to you that since they went to Europe, only one public picture had gotten out of Rachel on a date, and that was the first 1-on-1 she had in Norway with Bryan. I had said that I had a picture from another date that I hadn't released yet, so I released that yesterday, and it was Eric's 1-on-1 in Nyhavn, Denmark: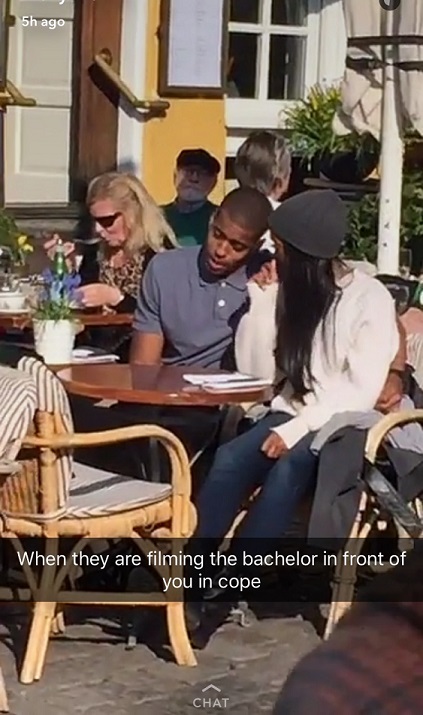 We'll see how things go from this point, and I don't know how soon I will know who gets eliminated tonight. I could find out right away, could be tomorrow, could be next week. All depends. I have no doubt I'm going to have your final four breakdown and winner before your season starts, then start filling in all your dates from Norway on, since you know every date before then because they were all public. I will keep you posted.
Send all links and emails to: steve@realitysteve.com. To follow me on Twitter, it's: www.twitter.com/RealitySteve. Instagram name is "RealitySteve," or join my Reality Steve Facebook Fan Page. Talk to you tomorrow.