Just a question and I apologize in advance if you've been asked this 7,352 times. Why do they make attendees wait in line for hours? Are they truly running behind schedule or are they just being d**ks and like the fact that people are waiting in line for hours?
Comment: It's more for the production side to make sure everything is working, ready to go, looks good, plenty of time for sound check (since a band is playing), and they don't want to have to do any of that after the couple arrives. Could they just tell the audience to arrive later? I guess. But they also need to see what everything will look like with a full crowd. But is it annoying to people who have gone? Absolutely. And it's never going to change. Whatever time they ask you to show up, just know you'll be waiting a minimum of 3-4 hours before they show up.
_________________________________
Hey Steve,
I miss the daily dose of bachelor/related news in the off-season! I also can't wait until Becca's season starts to get my burning bachelor questions answered, so here goes nothing…
1) Have you heard whether Becca played hardball re: salary for Bachelorette? Is she making more than some of the more recent Bachelorettes? Close to Emily Maynard territory at all? I sure hope so…I've never believed the reports Emily made $250k, when just a couple seasons before her, they paid DeAnna $10k for her season, something she admitted on my podcast. Becca probably made the standard $60-80k I would think, but I have no idea.
2) Lip Sync Battle, Rachel vs. Ben – have you heard any spoilers about it – who won and what songs did they perform? My money's on Rachel. Do you know when their episode will air? No, I haven't. That hasn't aired yet? I don't watch it anymore. I'm more into "Drop the Mic."
_________________________________
Steve,
I know you're not a fan of message boarders, but I HAD to send you this one. It's from that BBF place where all they do is live and die off every word you say. Some1 wrote this before u released the final two and it was them breaking down the final 3. This person is nuts! I know it'll give you a good laugh!
"don't usually follow the fliming tidbits, but Becca had me invested in her season and in no time i found myself having too much time trying to decipher how her wuv journey ends laugh out loud. So, just thought i would share my final guess. All IMHO based on my own reasonings. (sorry for elephanty post…pls dear Mods dont kick me to the curb Praying )
– Gotta admit that i have promptly bought RS's 'its Garrett all along' best seller item , until..i saw the BTS pic off camera of Becca and Blake in Bahamas. , which is huge to me, based on my interpretation of it in my previous post (sorry for the length). My opinion based on a context that i have seen time and time again, most Ettes tend to already knew who the F1 prior to HTD or after HTD at most. Didn't Ash and JP almost get caught during a secret meeting at a hotel at some point during their HTD? LOL, and Rachel was sleuthed to be saying falling in love/ in love in the spaghetti strap dress on her HTD with Bryan? (post season, she even divulged that she confessed that she was in love with him in the FS) (geee..) (on 1: 51 mark). Add to that all the HTD BTS pics,which was pretty indicative to me that Blake is her frontrunner. All intrigued me to find out more about their First Date, appeared to be very personal and memorable for Becca . And that pretty much become a fitting huge F1 puzzle to me to understand their connection, that might started with the time (and activities!) privillage Blake had being one of the ATFR guys. I did skip Arie season,so i binge watched it only to learn everything about Becca's BL and demeanor. She has unique ways to express emotions, as if she is 13-ish yr old girl laugh out loud. The grand gestures she has ever shown was when Arie told her ILY with the full head thrown back, and she did it at a point during Blake's HTD. I would say BL-wise, from the most to the least intimate : Blake-Garrett-Jason (based on the BTS pics we had). Blake had the last FD pretty much seal the deal for me to be convinced that he maybe the F1.
OTOH. I guess i could apply the process of elimination for both Jason and Garrett. I can't shake the idea that Jason probably got the episode 3 1:1 unknown date. Him getting the epi 6 date plus 3:1 on epi 7 fits the cookie cutter of Nick 1.0 (I:1 on epi 3 and 6) and 2.0 (being in the 3:1 date) to me So, i pegged him in the F2. Since i am amused by the possiblity of him getting the Nick's technicalities,i did try to search the FS line up on Andi season's archives, and look what i have found :
Episode 9 – FDs (3 – 2)
4/28: FD #1 -> Nick Viall
4/29: Travel/Off
4/30: FD #2 -> Chris Soules
5/01: Travel/Off
5/02: FD #3 -> Josh Murray
5/03: 9th Rose Ceremony
Interesting that Jason got the first FD as well Hugesmile .
and this just confirmed me that TPTB might go with Andi's FD line up for the other two guys, making Blake as the F1 and Garrett as the Chris Soules of this season (CS 1.5 as coined by Kasha laugh out loud). Honestly, i wouldn't be surprised if Becca let him go during the FD too. Just saying Smiley.
-For Garrett, IA with @BlackHalo that him getting the first public date doesn't bode well with his odd as the F1. Plus, I will compare this season with Emily as well (given that Em and Becca are both former F1s), in regard to TPTB switching things up for F1 (Jef was the one who started the epi 5-7 dates pattern,as opposed to the former 3-7 date for F1) . Its been known Colton already broke the F1 pattern with the wasted sticky epi 5-7 date LOL. So i am guessing the FIR strike will be terminated as well. Although both getting public dates, i will argue that Blake got all the "Becca' theme fitting his storyline,(although i can do without the ox laugh out loud) while Garrett's seem to be more all over the place (Granger Smith, the Transit Centre), as if his theme is his own public exposure.Translate to be their best bet to be next TB to me, which i think is due to be from this current season, as MF and CH have said this is their best crop, and considering the last 2 Bach seasons with past casts did poorly in rating.
– so i'm thinking, when was the last time they had TB from current season? it was Benji. He had the epi 5-8 dates on Kaitlyn's (irregular, double Ette) seasons, which translate to epi 4-7 dates in a regular season like this one (since they dedicated the first epi for that stupid K vs Britt election back then). Wowza! Benji's matched with Garrett's dates line up. . Furthermore, its amazing to me it seems that the type of Garrett and Benji's dates are also matched. First date : dancing in public. Second date: going to secluded place/island. (cue : the water plane )
-I have my own theory about Blake's date line up..(will post on his thread instead), but long story short, it resembled Becca's on Arie season (epi 2-7). So, throwing in my last speculation :
F1 Blake
F2 Jason
F3 Garrett = next TB
and since i am on a roll with this F1 theory game giggling , i'm gonna go ahead and predict that the finale will be an intense chemistry, head choice* (Jason) VS more subtle chemistry , heart choice (Blake). a.k.a.sweeter, less-smarmy Charlie VS more nerdy, less poetic Ryan. Sounds interesting to me
*Jason is a very successful young banker, IMO."
Comment: I have no clue what half that gibberish even meant. All that writing and it ultimately meant absolutely nothing since they had the final 3 guys and got zero correct in the placement order of how they finished. All this does is lend more credibility to what I say about message board people. I just do not care what they have to say about anything. They're irrelevant to me. That dissertation you just sent me from them only proves that further. Who. Cares.
_________________________________
Hi Steve,
I really enjoy listening to your podcast and reading spoilers. I was hoping you could provide clarity on some Bachelorette questions.
So, I also listen to Kaitlyn Bristowe's podcast at work and really enjoy it, but I noticed that her perspective towards her experience/ production seems flip flop a bit – either having an awful time with production or loving the people she interacted with.
Would you know if she is currently on good terms with ABC/ Bachelor production company (trying to get a TV wedding) or currently on the outs? If so, I think that could be a really interesting interview.
Thanks for the great work and have a great week!
Comment: I'm not sure where she's at, honestly. I've never listened to her podcast (outside of one segment for one when she first started). So I'm not a good person to ask about that. Pretty much never heard it.
_________________________________
Do you foresee Adam and Raven going to Paradise as a "guest couple" for a day and getting engaged on the show? I mean, they usually do that with couples from the previous season who are still together, so would it surprise me if they were? No. But do I know if they're going there for sure? No. I guess you'll have to follow their IG over the next two weeks, since I'm assuming if they do end up going, they'll tweet or IG about it.
Any word on the Taylor and Derek wedding happening this year on Paradise? Based on recent podcasts, my guess is not quite yet as they are still long distance. They seem happy, but I don't know if they are following the path of prior Paradise couples. I know nothing about those two and couldn't tell you one thing about their relationship.
Just tracking which show couples are still together but not married. Arie & Lauren, Kaitlyn & Shawn, Jojo & Jordan, Rachel & Bryan, Taylor & Derek, Raven & Adam (not engaged), Lily & Courtney (not engaged) and hopefully Becca & Winner. Correct? Correct. I don't think I'm forgetting anyone, but it's possible some couple is just slipping my mind. But off the top of my head, that sounds right.
Any word on Winter Games 2019?
Comment: Not yet. ABC won't release their early 2019 schedule til later on this year.
_________________________________
Hi Steve,
Rachel celebrated her birthday last weekend and in her snap story it seems there was some drama. I'm wondering what happened.
Comment: I was told nothing major. It blew over and everything's fine.
_________________________________
Hi Steve,
Just wanted it to get your take isn't it ironic that Arie and Lauren announce they're getting 'married' next year days before Becca's season starts, always has to be about them eh?
Comment: Pretty much. Yet another thing he just doesn't get. Telling everyone during their "View" appearance they made the announcement because Becca's season was coming up and didn't want to intrude on that? Great. Then tell everyone after the season. That'd be August and still 5 months before your wedding. Plenty of time to notify guests. And since it's not being televised and private with just family and friends, why make the announcement publicly anyway? It was just all backwards. This is something Arie actually said. Thank you to Amy Kaufman for putting this so eloquently:
"We wanted to announce the wedding just bc we know that [Becca's] journey was about to begin on TV, so we wanted to clue everyone in before that got started. We thought it was the most appropriate time to announce our plans and that we are doing it privately." -Arie

Wait, what?

— Amy Kaufman (@AmyKinLA) May 23, 2018

_________________________________
Hello Steve !
Is this comment considered as a "spoiler " ?
Feastthebeast is a contestant from Beccas season and he commented on blakes IG picture, so his comment intrigued me… "This dude here #goat all " = > I think he means " this dude here GOT all ." Plus, HE SAID "PUN INTENTED" .
Well, maybe its nothing but I just think it might be a hint about Blake being the winner. ?????
What do you think ?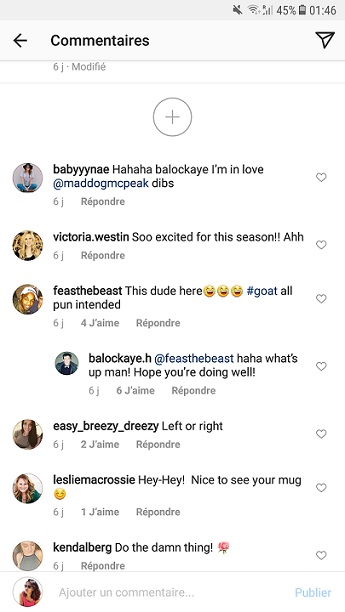 Comment: Obviously this was sent before last week's reveal. GOAT is the short phrase people use now for "Greatest of All Time." They just call them the GOAT. So yes, that's what he intended to say. He clearly liked Blake and was just complimenting him.
_________________________________
Steve,
I'm sure you are getting a lot of emails about Ashley I. and Jared so I hope you write a post about it. I'm skeptical. Why did they make a video about it and make it so public? Are they trying to get their own show or extend their 15 minutes of fame? Second, and maybe this is just me, but I have *never* had a guy put me in the friend zone and profess his love later. And what guy writes a love letter?!? I found that odd too. Usually guys like that say they're not ready or say nothing at all to keep their options open. It's also fishy that he realizes how he feels after she met someone else. Am I the only one that is not buying what they are selling here?
Comment: My best way to answer is this way: I've given up trying to figure out why some of the people in this franchise do the things they do. And publicly. This example might now be at the top of the list. I just don't get it.