-I think with over 50% of the "Men Tell All" being dedicated to the Luke stuff last night, we're beating a dead horse at this point. Luke had the chance to make things at least a little better for himself on stage, yet continually said things that make you scratch your head. Obviously it was heavily edited since his sit down with Chris Harrison took two hours in real time and we saw 10 minutes of it. There were times where it seemed like he was contrite and sincere in what he was saying, but then he'd answer a question from Chris or respond to the guys, and his words would change. If I'm him, I have one job and one mindset going into that MTA taping, and that's to apologize for how I acted, apologize to Hannah personally for coming back after she told me to leave, take back some things he said, and be done with it. But he just couldn't get there. I wish he did. It's what I preached all season for him to do.
-Luke took to social media last night to get a few things off his chest, but again, couldn't seem to say the right thing. First was his IG post:
Then after that, he posted two "truth bombs" to his IG story that he quickly deleted.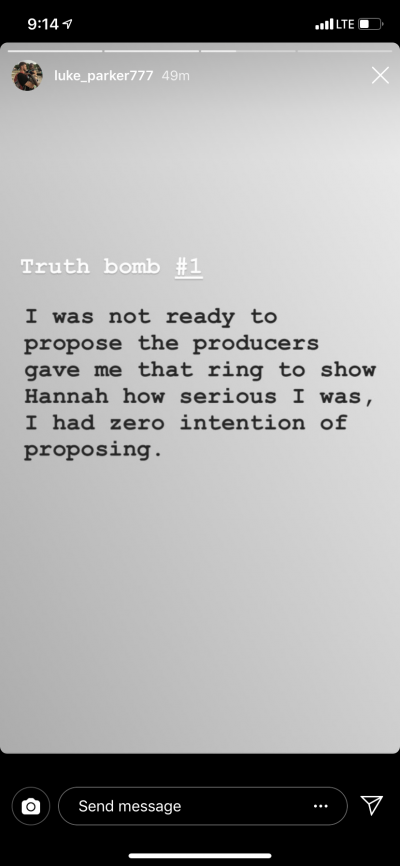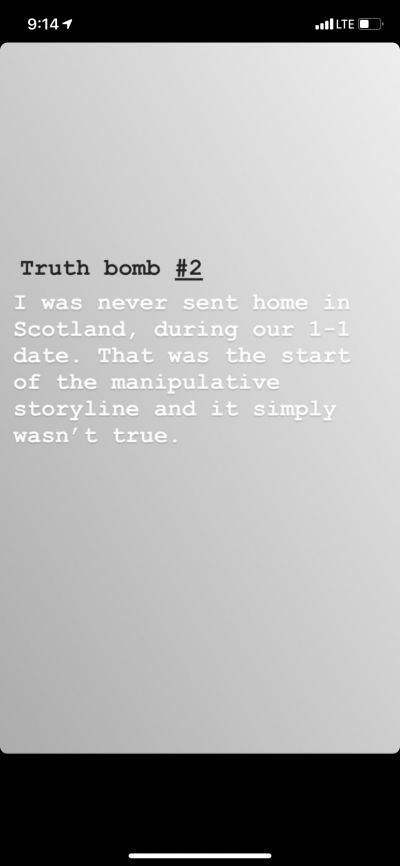 Now as for the first truth bomb, I believe that since, well, do you really think Luke just had a few thousand dollars lying around while in Greece, went to a store, bought a ring himself, and just showed up wanting to propose? Of course not. Absolutely production gave him that ring he was holding in the car for dramatic purposes. The second truth bomb I hadn't heard before, but it seems like there could be something to that since basically production can make a lot of people do a lot of things on this show. I know this will be debated until the end of time and your response will be, "Why don't they just say no?" My answer is it's just not that easy. You're in a foreign country. You can't go home on your own volition. You control nothing. You have this production team you've been around every single day since filming started who are in control of your every move. They will beat you down until you do what they tell you to do, and sometimes (most of the time actually), you just give in. Ask any former contestant and I guarantee if they're being honest, they'll admit they said or did something that was suggested to them by production at some point during filming because they just felt like they didn't have a choice. Luke was 100% wrong to go back and interrupt that rose ceremony in Greece, but, I can understand why he was put in the position he was. Like I've said, there isn't a single person in the last probably 5 years of this show I'd want to talk to more than this guy. I just don't know if it's possible.
And it's not like I wanna talk to Luke so I can have him come on and make a bunch of excuses for things he did, that's not what I want. He will get called out for specific things he said and did on this show. But I just want to dive deeper into why he said and did some of the things he did, did he realize at the time how it was coming across, why wasn't he more remorseful at the MTA, where did he see things start to go south, what was his biggest mistake in his mind, etc. So many things to go over with this guy, because ultimately, I don't think he's a horrible human being at heart. I don't. But I also don't think he has a clue about how the things he says can come across to other people, and not only does it come off as preachy and condescending, but also borders on narcissistic and controlling. It's clear he doesn't see that and without going over it with him by specific examples, I don't think he ever will.
Honestly the rest of the MTA was pointless. Yeah, JPJ and Mike got on the hot seat for a brief moment, but again, last night was all about Luke because the whole season was. Hannah came out and essentially said the same stuff she said in the dinner date in last week's episode and the rose ceremony in Greece. It wasn't anything new. She went off on him for the things he said to her, which we knew she would. The fact that the first 20 minutes or so was still dedicated to the rose ceremony, then Chris and Luke P alone took us through the first hour, there just wasn't much meat to that MTA at all. Hence there's not much to talk about because everything with Luke has already been discussed ad nauseum. Just know that from this point forward (next week's finale then 6 weeks of "Bachelor in Paradise), there's no more Luke P. on our screens to talk about. So lets enjoy that while we can.
On to "Bachelor" talk. All I can do is ask politely even though I'm pretty sure there are plenty of people who aren't reading this who won't even see it, but for those that do, please stop asking me who the next "Bachelor" is. I don't know yet. Nobody knows yet. And the "Bachelor" for the last 5 or 6 seasons hasn't been announced until the end of BIP, or the first week in September. There's no answer I can give you that will satisfy you so there's no point in asking. Is Mike in the running? Does Peter have a chance? Do you think it'll be Tyler? You've seen the "Reader Emails" over the last few weeks. It's endless. There are some things that I just do not know. This is one of them. We know who the candidates are: Peter, Tyler, and Mike, and then I guess any other previous contestant that they might wanna pull out of their ass, hence the reason it's impossible to answer your question. It's really the only thing this show can keep a secret at this point, because they have multiple people sign contracts to be the lead, so when they DO make their announcement, they're all ready to go and start filming. So even if you hear so-and-so signed, or so-and-so is gonna be it, until ABC announces it, nobody really knows for sure. So all I ask is for those of you who just read this last paragraph, I hope you get where I'm coming from now.
Also, "Bachelor Live on Stage" was announced during the MTA show last night with not a whole hell of a lot of details behind it. People.com posted a story last night explaining it a little bit more, but still not sure exactly what this is. So like you buy tickets when it comes to your town, they'll have picked out a local guy to come on stage, then the women in the audience get to go up on stage and have dates with him? In front of strangers? As they're meeting for the first time? I don't know. I just don't get it. I mean, I get what they're trying to do, and women will no doubt buy tickets to any "Bachelor" event coming to their town where they can possibly see former contestants there, but, the "experience" part of it just seems bizarre. What guy is really gonna want to sign up for this? It's not like this is a spin off show or anything either. It's just something they're doing in different cities to keep people talking I guess. I don't know. I have a lot of questions. After the first one happens, whenever that may be, I'm sure we'll get some details on exactly what the hell is going on. But as of now, this is all we have to go off of.
So next week we finally have our conclusion to the season. It will start with the final 3 rose ceremony in Greece and Peter getting sent home, then I'm guessing we'll go live to the studio for Hannah and Peter to talk about their break up. But after that, it's anyone's guess on how night 1 will end. Will we see her proposal to Jed at the end of Night 1, or, will that bleed into Night 2? I have no idea how they're gonna stretch it out, but with two rose ceremony eliminations, live conversations with Peter and Tyler (the guys who are eliminated), then a live sit down with Jed, Hannah, then Jed & Hannah I'm sure, they certainly have plenty of footage to cover two nights. Going to be interesting, no doubt. Any late information I can get on Hannah and where she's at I will fill you in on. As of now, I know that she's single, she broke off the engagement to Jed a month ago, and that's that. I'm sure Jed will share his side of the Haley story, will talk to Hannah and apologize for what happened, then I guess it's just up to Hannah what she decides to do from there with it. Does she give it another try or go about it single? We'll all finally get our answers next week.
Send all links and emails to: steve@realitysteve.com. To follow me on Twitter, it's: www.twitter.com/RealitySteve. Instagram name is "RealitySteve," join my Reality Steve Facebook Fan Page, or listen to all my podcasts at Apple Podcasts. Talk to you tomorrow.