-Of these 15 of these women I have posted today, all had their IG's public as of Sunday night. Now all of them are either deactivated or set to private.
-We do not have a repeat of the Caelynn & Hannah B. situation with two pageant women this season in Alayah and Victoria P. They both competed in Miss USA 2019, Alayah for Texas and Victoria P. for Louisiana. But nothing I've been told has said they are enemies or no longer friends. Heard nothing but good things about both of them and they definitely were cordial with each other during Miss USA back in May.
-There is a rumor circulating that Alayah broke up with her boyfriend to go on the "Bachelor." Evidence shows that they were definitely a couple as of the competition in May: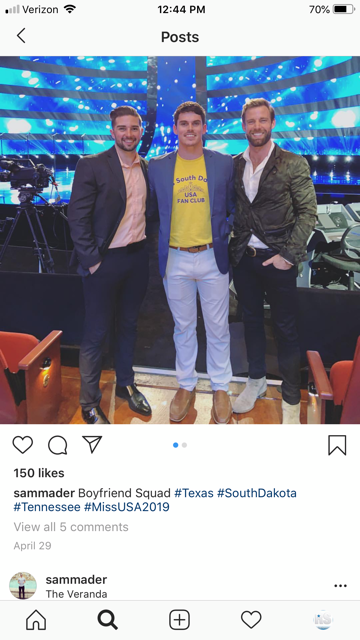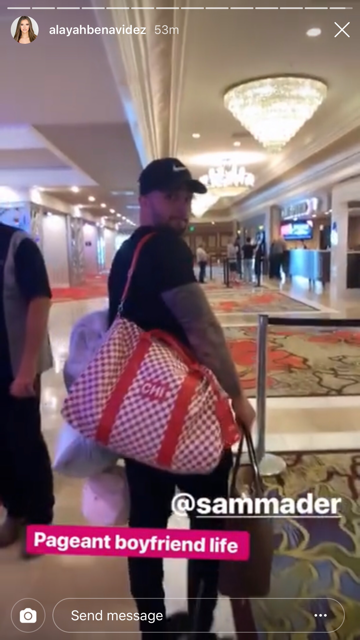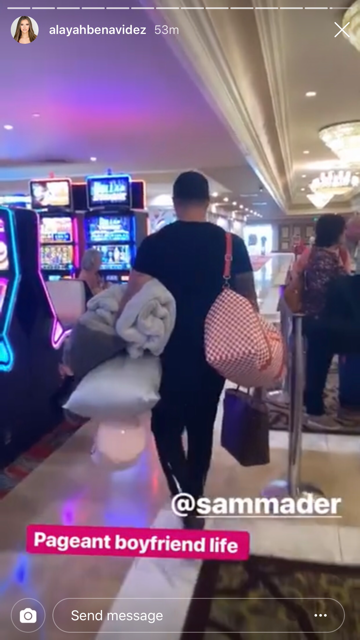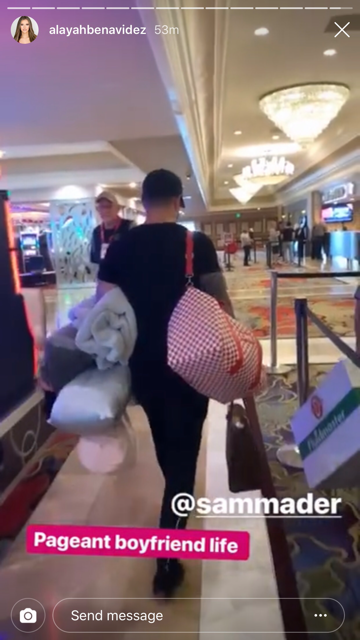 But I have no idea when the break up happened or what the reasoning was behind it. It doesn't look great on her end at this point, but I'll try and find out more details.
-Alayah has already given up her Miss Texas crown, as it was held in early September. Miss Louisiana is being held on October 19th, which would be right around the time episode #7 is ending and hometowns (ep #8) start filming. So if Victoria makes hometowns, she would not be present to crown her successor like Caelynn wasn't last year. And apparently in the pageant world, that's a big no-no. So keep an eye out for that possibility.
-Not shocking that we have two flight attendants on this season. I can only imagine what their limo entrance will consist of. I believe the current odds in Vegas of them making a Mile High Club reference are set at -750.
-We don't know how many of these 33 will make it on (I'm guessing max will be 30), but is anyone surprised of the 15 I have posted today that NONE of them are over 30? You shouldn't be.
-So far, only one divorcee that I know of: Jade Gilliland (McCrary). Jade was married for 4 years and the divorce was just finalized in May. I have a feeling this is gonna get ugly for her as there's already stuff online about her marriage and how she was in it. Accusations of fraud, stealing money, cheating, etc. You saw the screen shots on the previous page from her ex sister-in-law. Yeah, not good. Like I said in her bio, might be a chance they just don't put her on at this point.
-You'll notice that Hannah Sluss and Sarah Coffin are both 23 and live in Knoxville, TN. I don't know if they know each other. I haven't found or seen anything that shows that they do as of this point.
As mentioned earlier, I will have all other 18 girls full names released on Twitter and IG in a couple hours, then will hastily put together bios for them today and have them up for you tomorrow. Enjoy…
Send all links and emails to: steve@realitysteve.com. To follow me on Twitter, it's: www.twitter.com/RealitySteve. Instagram name is "RealitySteve," or join my Reality Steve Facebook Fan Page. Talk to you tomorrow.