Our final "He Said, She Said" with Ashley Spivey of the calendar year, and it's our most fun one yet. First off, we have a caller we've had before, Katie in Florida, who has one of the more bizarre dating/hookup stories you'll ever hear. Then for the first time since we started this, Ashley and I take your emails that you sent in and spend almost a good 90 minutes addressing those, going off on tangents, and learning things about us you may not know, like our first impressions of each other, my favorite season to spoil, what we fight over, etc. Yes, there will be some "Bachelor" talk in here just so you know, so you've been warned about spoilers. All in all a fun podcast to for "He Said, She Said" to end the calendar year, and we will definitely try and do a Q&A once every couple months. You guys sent in some good questions. It's been a great year for the "He Said, She Said" podcast and we hope 2020 is even better. Anyone who wants to be on a future show, just contact me or Ashley, let us know your situation, let us know what time zone you're in and the best times for you to record. We definitely want to get back on an every-other-Tuesday schedule again when 2020 rolls around, so lets get to it.
You can listen to today's podcast on a number of platforms, but you can also tune in by clicking the player below:

Subscribe: Apple Podcasts, RSS, Stitcher, Spotify
Music written by Kate Bass
So here is the plan for this weeks podcast. I leave for CA on Thursday for the weekend. As we know, Part 2 of the final bonfires for "Temptation Island" airs Thursday night followed by the reunion show. I don't want you to have to wait a week to hear from some directly involved with what goes down, so this week's podcast will be up on Friday morning so we can talk about what happened in the Thursday finale. I'm planning on getting you some TI guests this week, but I don't know who yet. You're gonna want to hear from those directly involved since as I've been teasing, every outcome you see in the final bonfires has changed once the reunion rolls around. And in present time, most of those are even different now. It's wild and I don't even know if I have every answer, so that's why I wanna get people on to talk about it. But just know this week's podcast will run on Friday so we can cover what happens in the finale and reunion show.
As you probably saw yesterday, the cast bios and headshots were released via a live announcement from Chris Harrsion on social media, then posted to ABC's website. Here was Chris' intro of the women if you didn't see it:
Meet the women of Peter's season NOW with Chris Harrison before #TheBachelor premieres January 6 on ABC! Who's got your rose? https://t.co/tfTkQYuMm1

— The Bachelor (@BachelorABC) December 16, 2019
Also, if you want links to all their IG accounts, this article from ET Online has it. Chris did a few interviews yesterday promoting the season, and basically said in so many words that yeah, Victoria Fuller will be a "villain" this season. I don't think that should shock anyone that's read anything I've written since the day of her hometown date.
What's interesting is that yesterday when the bios were first released, whoever decided to write these up made sure to include two extra sentences for Victoria's bio that read like this: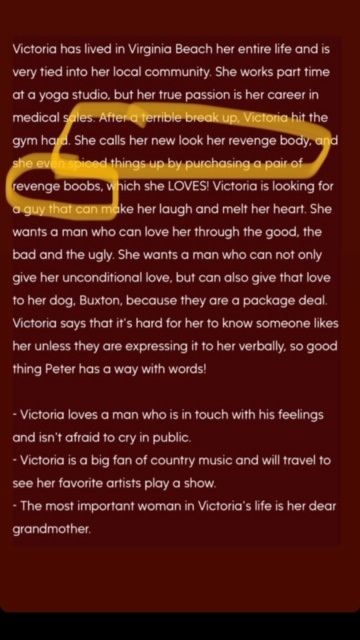 A short time later (I'm assuming after Victoria contacted her producer and asked "what the hell was that in there for", just speculating here because why else would they take it down), her bio was changed to this: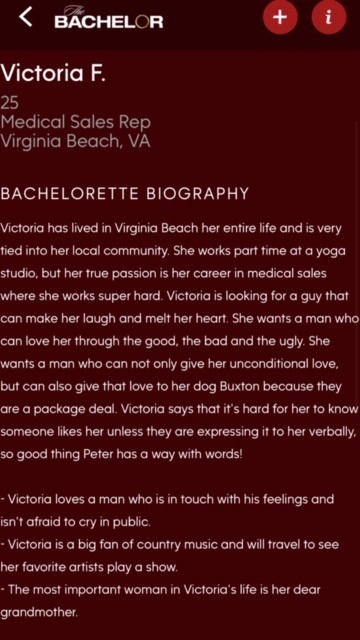 Essentially the same bio except for the "revenge body" and "revenge boobs" part taken out. I did not read all 30 bio's yesterday. In fact, I haven't read any of them yet. But I was made aware of hers, with proof, and considering her narrative this season, well, they certainly don't have her best interest at heart as much as she wants to think they do. There have been bios that have changed in the past as well. She's not the first one and I'm sure won't be the last. But hers was definitely the most prominent one yesterday considering what they wrote about her knowing what we know about her. Like, does that help her case in any way they originally just happened to throw that in there about getting a revenge body and revenge boobs after an ex dumped her? Ummmmm no, it doesn't. Obviously whoever writes these bios it's out of Victoria's hands, but here we are three weeks from the premiere, and in the first "official" announcement of who Peter's women are, that's what they presented Victoria as. Not to mention what Chris Harrison said about her on the live reveal and in that ET interview. Again, none of this is news to anyone who's read anything here over the last two months, but just thought I'd point that out. I said it before and I'll say it again: Victoria has no idea what she's in store for. None. This goes much deeper than only posting one IG photo since returning home and having to disable the comments after 48 hrs because it got so bad.
Send all links and emails to: steve@realitysteve.com. To follow me on Twitter, it's: www.twitter.com/RealitySteve. Instagram name is "RealitySteve," or join my Reality Steve Facebook Fan Page. Talk to you Friday.