We're only six days away from the premiere of "Survivor 40: Winners at War" and what better person to bring on the podcast than Dalton Ross of EW.com. He and Stephen Fishbach are my two go-to guys for all things "Survivor" and Dalton definitely doesn't disappoint today. He is an encyclopedia when it comes to this show and how easy and effortless he can recall past seasons, past storylines, etc is awesome. One of my favorite podcast guests to have on, and coming up on arguably the most anticipated "Survivor" season ever, it was great to get his insight. Remember, he goes out to filming pre-show and gets to interview all the contestants, and you can see all the effort he puts into his coverage on EW.com. Nobody tackles this show like Dalton does and his work is second to none on "Survivor." I hope if you're a fan of this show as I am, you are reading Dalton's stuff daily leading up to the premiere, and then are there every Thursday for his recaps, interviews with Probst, and interviews with contestants. We cover a lot of areas around season 40, plus end with a quick look back on the disaster that was season 39. As always, if you'd like to reply to the interview, please include Dalton's Twitter handle (@DaltonRoss) in your replies. Loved having Dalton on and I hope you enjoy it.
You can listen to today's podcast on a number of platforms, but you can also tune in by clicking the player below:

Subscribe: Apple Podcasts, RSS, Stitcher, Spotify
Music written by Jimmer Podrasky
(B'Jingo Songs/Machia Music/Bug Music BMI)
(SPOILERS) First I begin by giving thoughts on last night's "Bachelor" episode. Then Dalton Ross joins me to talk about "Survivor 40: Winners at War." We talk about his visit to Fiji pre-show and interviews with the cast, strategies going into the game, are some contestants at a disadvantage, who impressed him the most pre-show, who his prediction is to win, and we end with final thoughts on last season's harassment scandal (10:29).
Twitter – @DaltonRoss
Instagram – thedaltonross
The complaining about this season has pretty much reached an all-time high. And yeah, the women this season seem like a very catty bunch. But this notion that things will change, or they need to cast better, etc. That ain't happening. Remember Hannah's season? It was the Luke P. show for every episode. That's all anyone talked about on Tuesday's, which was what Luke did the night before. They were annoyed with it. They complained about it every week. They said we never saw a love story. But every episode still followed the same format we saw every season. Travel begins, two 1-on-1 dates and a group date. They just chose to put a ton of focus on Luke P. And tons of people watched Hannah's season. So to me, nothing is different this season. Same stuff, different cast.
My issue is more about HOW they talk to each other, not necessarily what they're bickering about. Because this show thrives on drama and people are always not gonna get along with someone else in the house for as long as this show is on the air. That's a given. But the constant name calling, telling people to f**k off, woman continually hating on other women – it's all just a bit much. And look, the show doesn't care. The show encourages it behind the scenes. If every season, every single contestant got along, they all loved each other, they were all buddies/friends, and there was NO drama in the house, everyone at home would complain how boring the show is. You want controversy. You want drama. That's why you watch reality TV. Hell, it's WHAT reality TV is. Who wants to watch a show where everyone gets along and there isn't in-fighting amongst the cast? I watch these women this season in particular and just constantly wonder if they remembered they were being filmed. It's one thing to have a beef with someone in the house, not like them, and disagree with them. But these women don't know how to argue, and it's showing their age.
One thing we saw last night was Hannah Ann tell Peter that she'd never been in love before, even though she was in a 3 ½ year relationship. This was her ex, Ben Taylor: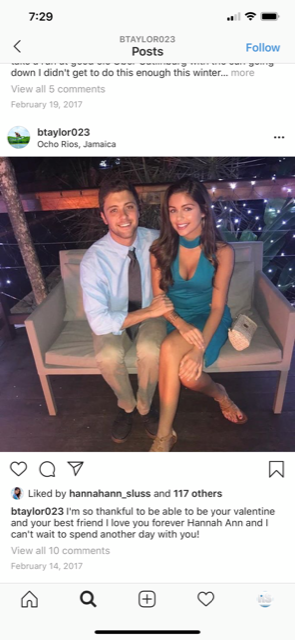 And I posted that just because I knew people would want to know who her ex was. There's still a couple pics on her IG, and some on his still. There are other pics floating around where you can see Hannah Ann's comments on his page saying she loves him, can't wait to be together forever, etc. I think that's kind of a cheap shot. I don't have an issue with Hannah Ann saying "I love you" on pictures but then telling Peter she's never been in love. I don't think she's trying to hide anything. I think a lot of us have been in relationships where we've told someone we love them, but once the relationship ended, you realize that you were never in love with that person. I don't think that's far fetched to think. Some of us have been there before, so I don't hold that against Hannah Ann like others are on the internet.
So was off on the detail that Mykenna and Tammy both got sent home on the 2-on-1 date, but knew that Mykenna didn't make it out of the episode, so it wasn't surprising she got eliminated at the rose ceremony. I mean, was it really even a 2-on-1 date if he doesn't give a rose to one and not the other? Tammy gets sent away, but when he doesn't give a rose to Mykenna, that seemed kinda pointless, when just hours later in real time he sends her home. Huh? How did that make any sense. "Ok Mykenna, I believe you over Tammy, so thank you. You're staying. But in a couple hours I'm gonna tell you you're not good enough to stay over the others." Geez. Just send her home with Tammy then. That made zero sense.
Send all links and emails to: steve@realitysteve.com. To follow me on Twitter, it's: www.twitter.com/RealitySteve. Instagram name is "RealitySteve," or join my Reality Steve Facebook Fan Page. Talk to you next week.