We've finally made it. Podcast #200. Crazy to think I've done that many and we're coming up on 4 years now that I've been doing this every week. We're gonna keep this thing going as long as we can. And what better couple to bring on for episode #200 than seemingly the ones that put Reality Steve on the map, and that's Jason and Molly Mesnick. Lest we forget, their season was my first spoiler back in January of 2010. Geez, seems like it was just yesterday. We talk more about what was going on behind the scenes of what went down since everyone involved has moved on since that day. Also, we get into the franchise now, and then end with a fun little trivia game for Jason. The Colton/Cassie situation starts off the podcast, but I saved almost all of it for today's column. So continue to read the rest of this page and page 2 for more info on some of the misinformation media sites are putting out there and my thoughts on the whole situation. As always, if you'd like to respond to the interview, please include Jason and/or Molly's Twitter handles (@jason_mesnick & @MollyMesnick) in your replies. Can't believe it took me this long to have them on, but I'm glad I did. I think you'll enjoy this conversation.
You can listen to today's podcast on a number of platforms, but you can also tune in by clicking the player below:

Subscribe: Apple Podcasts, RSS, Stitcher, Spotify
Music written by Jimmer Podrasky
(B'Jingo Songs/Machia Music/Bug Music BMI)
(SPOILERS) I start by giving a brief update and thoughts on the Colton/Cassie situation (go to my column in today's post for a more detailed breakdown). Then Jason & Molly join me (9:53) to talk about their season, what was going on behind the scenes, how their season put me on the map, dealing with the aftermath of Jason's decision, the current state of the franchise and how social media plays such a huge role, and we end with a game of trivia where we see if Jason's answers match up with Molly's answers to questions I gave her pre-interview.
Twitter – @jason_mesnick
Twitter – @MollyMesnick
Instagram – @jasonmesnick
Instagram – @mollymesnick
CampaignZero – link
8CantWait – link
PoliceScorecard – link
Music written by Jimmer Podrasky
(B'Jingo Songs/Machia Music/Bug Music BMI)
Ads:
Empathize – www.Empathize.com/STEVE
Been a crazy last week in Bachelor Nation due to this Cassie/Colton situation. It all started last Friday when she filed for a temporary restraining order against him. It was the first any of us had heard about it. You heard Colton on my podcast less than a month ago and seemingly they were on good terms. Behind the scenes though, we've now come to find out how he presented himself on the podcast wasn't lining up with how their relationship was going. In fact, almost 180 degrees different. I not mad for having Colton on the podcast. I'm glad I did. I also didn't have the slightest idea at the time (nor did anyone else other than people in that inner circle) what was going on in his relationship with Cassie. It's all come to light, and looking back on the podcast, I clearly think now he came on with agenda. Because after reviewing the TRO (temporary restraining order), I can see now that most of these incidents you're reading about all happened before Aug 11th, which was the day I recorded with him. It sucks, but there's nothing I can do now other than realize he fed me a lot of BS in that interview and he won't be on again.
So for those maybe behind or haven't read the stories, here was one of the first ones that was posted. Then earlier this week, E! came out with a summary of what they read in the TRO documents that are public record with the LA court system. Here's what I'll say about that one: transcribing what SOME of the texts said don't do it justice. I've been given the TRO. I have it my possession. I've read all 25 pages. Most of you have seen the 2 page "summary" of what Cassie alleges, but the last 10 pages are all screenshots Cassie provided of text messages Colton has sent to her, her brother, her friend Linda, and her ex-boyfriend Caelan. Also included are text messages he sent to her and himself that he admitted later on he made up himself. E! Online deciding to just transcribe certain words, phrases, and even some sentences don't tell the full story. So any reaction of, "These aren't that bad"…I'm sorry, while we're all allowed to have an opinion – that's an uninformed one.
Unless any of you out there read every single text in every screen shot she provided, you're not getting the full picture. And if you don't have the full picture, but yet you're already playing judge, jury, and executioner in this, you're missing the story. People are always screaming they won't believe anything until they see the evidence. THIS IS THE EVIDENCE. Read the TRO. And if you're choosing to ignore it, then you're either 1) anti-Cassie 2) pro-Colton or 3) a troll. Because nobody who is neutral to either party in the situation, AND READS EVERY WORD IN EVERY TEXT CASSIE PROVIDED IN THE TRO, I don't believe can say with any objectivity that she's making all this up. I do not think Cassie wants to lie to a judge and a court on matters such like these. Call me crazy. Please, just think rationally is all I'm asking.
One of the things also brought up in that story from E! in regards to what the texts said, and a lot of other outlets ran with it as a headline as well, was something to the effect of Colton and Cassie were shooting a reality show at the time all this happened. Lets make one thing clear: that part of the story that was leaked (seemingly from people in Colton's camp) is nothing more than to distract from what Cassie filed last Friday. What the hell? What does shooting a reality show have to do with anything regarding him sending harassing and/or threatening text messages and planting a tracking device? I'll tell you: nothing. It's a diversion. Not to mention, the entertainment sites goaded you with salacious, click-bait headlines that made you think they had some major show in the works, they'd shot a bunch of episodes, Cassie and Colton were working daily together, etc. From everything I've heard from people in the know, that couldn't be further from the truth. This was a show that Colton came to Cassie with, it was put together AFTER he had COVID, it wasn't about them as a couple, and it was about the two of them separately. Not to mention, it hadn't been picked up by a network, barely anything had been shot for it, Colton did NOT back out of it – Cassie did, and E!'s story that Cassie's family were involved was, once again, not true. Hence the reason Cassie's sister Michelle posted this to her IG story within an hour of that story getting released: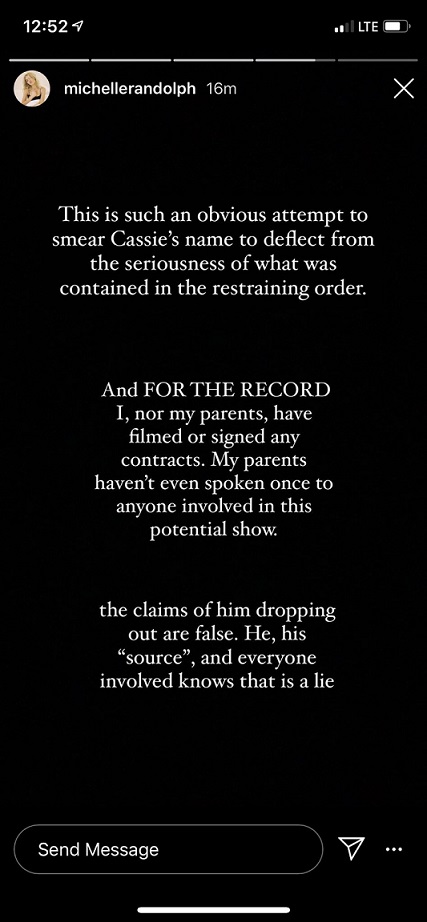 So why is this even part of the narrative? Well, I know why Colton's side (whoever that may be) decided to alert the media sites with it, but c'mon, that has nothing to do with anything. The other thing to distract from her filing was this headline of "Colton has been in Colorado and hasn't spoken to Cassie in a month." Yeah? And? The TRO clearly states that Colton's harassment, texts, and acknowledgment of the tracking device was all done before he left for Colorado. I believe Aug. 16-19th was the last contact she reported in the TRO. So while he may have been in Colorado since then, it has nothing to do with his actions before he left.
Which brings up the question a lot of people seem to be victim blaming asking about Cassie which is, "Why did she wait a month to file?" The fact that anyone is even asking that is already a problem in and of itself and basically answers the question as to why women wait to come forward with anything. For fear of not being believed. Why did she wait? I don't know. Ask her. Maybe at some point she'll address it. My point is, should it matter? She filed on Sept. 11th because of what she presented in the TRO documents – she clearly felt unsafe. Because it took her a month has nothing to do with whether or not it's true. If your mind wants to go there and is already thinking, "See, she took a month to concoct the whole plan, hence the reason she waited," then you're a lost cause and aren't thinking objectively. I'm sure once Cassie can talk publicly about it, maybe she'll answer that for you people curious, even though she really shouldn't have to. If her being scared and her fearing being stalked isn't a good enough answer for you as to why it took her a month to file, I guess you'll have to find another reason to victim blame her.